Abstract
Chromosomal rearrangements of the human MLL gene are associated with high-risk pediatric, adult and therapy-associated acute leukemias. These patients need to be identified, treated appropriately and minimal residual disease was monitored by quantitative PCR techniques. Genomic DNA was isolated from individual acute leukemia patients to identify and characterize chromosomal rearrangements involving the human MLL gene. A total of 760 MLL-rearranged biopsy samples obtained from 384 pediatric and 376 adult leukemia patients were characterized at the molecular level. The distribution of MLL breakpoints for clinical subtypes (acute lymphoblastic leukemia, acute myeloid leukemia, pediatric and adult) and fused translocation partner genes (TPGs) will be presented, including novel MLL fusion genes. Combined data of our study and recently published data revealed 104 different MLL rearrangements of which 64 TPGs are now characterized on the molecular level. Nine TPGs seem to be predominantly involved in genetic recombinations of MLL: AFF1/AF4, MLLT3/AF9, MLLT1/ENL, MLLT10/AF10, MLLT4/AF6, ELL, EPS15/AF1P, MLLT6/AF17 and SEPT6, respectively. Moreover, we describe for the first time the genetic network of reciprocal MLL gene fusions deriving from complex rearrangements.
Relevant articles
Open Access articles citing this article.
Pin Zhao

&

Samiullah Malik

Cell & Bioscience Open Access 03 June 2022

Yang Cao

,

Yue Liu

…

Xiaoying Zhang

International Journal of Clinical Oncology Open Access 10 May 2022

Mary McGrath

&

Gayle Smink

Journal of Medical Case Reports Open Access 07 May 2021
Access options
Subscribe to this journal
Receive 12 print issues and online access
$259.00 per year
only $21.58 per issue
Rent or buy this article
Get just this article for as long as you need it
$39.95
Prices may be subject to local taxes which are calculated during checkout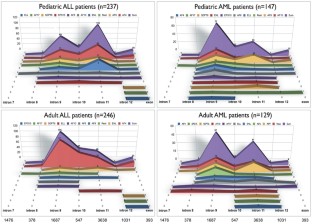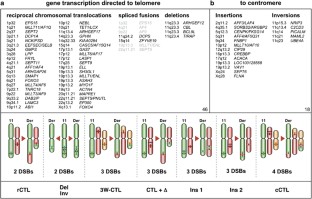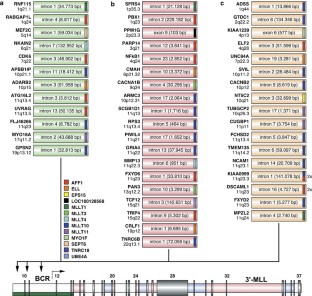 References
Pui CH, Gaynon PS, Boyett JM, Chessells JM, Baruchel A, Kamps W et al. Outcome of treatment in childhood acute lymphoblastic leukaemia with rearrangements of the 11q23 chromosomal region. Lancet 2002; 359: 1909–1915.

Pui CH, Chessells JM, Camitta B, Baruchel A, Biondi A, Boyett JM et al. Clinical heterogeneity in childhood acute lymphoblastic leukemia with 11q23 rearrangements. Leukemia 2003; 17: 700–706.

Johansson B, Moorman AV, Secker-Walker LM . Derivative chromosomes of 11q23-translocations in hematologic malignancies. European 11q23 Workshop participants. Leukemia 1998; 12: 828–833.

Heerema NA, Sather HN, Ge J, Arthur DC, Hilden JM, Trigg ME et al. Cytogenetic studies of infant acute lymphoblastic leukemia: poor prognosis of infants with t(4;11)—a report of the Children's Cancer Group. Leukemia 1999; 13: 679–686.

van der Burg M, Beverloo HB, Langerak AW, Wijsman J, van Drunen E, Slater R et al. Rapid and sensitive detection of all types of MLL gene translocations with a single FISH probe set. Leukemia 1999; 13: 2107–2113.

van der Burg M, Poulsen TS, Hunger SP, Beverloo HB, Smit EM, Vang-Nielsen K et al. Split-signal FISH for detection of chromosome aberrations in acute lymphoblastic leukemia. Leukemia 2004; 18: 895–908.

Harrison CJ, Moorman AV, Barber KE, Broadfield ZJ, Cheung KL, Harris RL et al. Interphase molecular cytogenetic screening for chromosomal abnormalities of prognostic significance in childhood acute lymphoblastic leukaemia: a UK Cancer Cytogenetics Group Study. Br J Haematol 2005; 129: 520–530.

van Dongen JJ, Macintyre EA, Gabert JA, Delabesse E, Rossi V, Saglio G et al. Standardized RT–PCR analysis of fusion gene transcripts from chromosome aberrations in acute leukemia for detection of minimal residual disease. Report of the BIOMED-1 Concerted Action: investigation of minimal residual disease in acute leukemia. Leukemia 1999; 13: 1901–1928.

Reichel M, Gillert E, Angermüller S, Hensel JP, Heidel F, Lode M et al. Biased distribution of chromosomal breakpoints involving the MLL gene in infants versus children and adults with t(4;11) ALL. Oncogene 2001; 20: 2900–2907.

Langer T, Metzler M, Reinhardt D, Viehmann S, Borkhardt A, Reichel M et al. Analysis of t(9;11) chromosomal breakpoint sequences in childhood acute leukemia: almost identical MLL breakpoints in therapy-related AML after treatment without etoposides. Genes Chrom Cancer 2003; 36: 393–401.

Meyer C, Schneider B, Reichel M, Angermueller S, Strehl S, Schnittger S et al. Diagnostic tool for the identification of MLL rearrangements including unknown partner genes. Proc Natl Acad Sci USA 2005; 102: 449–454.

Meyer C, Schneider B, Jakob S, Strehl S, Schnittger S, Schoch C et al. The MLL recombinome of acute leukemias. Leukemia 2006; 20: 777–784.

Daser A, Rabbitts TH . The versatile mixed lineage leukaemia gene MLL and its many associations in leukaemogenesis. Semin Cancer Biol 2005; 15: 175–188.

Krivtsov AV, Armstrong SA . MLL translocations, histone modifications and leukaemia stem-cell development. Nat Rev Cancer 2007; 7: 823–833.

Lykke-Andersen J . Identification of a human decapping complex associated with hUpf proteins in nonsense-mediated decay. Mol Cell Biol 2002; 22: 8114–8121.

Moncman CL, Wang K . Targeted disruption of nebulette protein expression alters cardiac myofibril assembly and function. Exp Cell Res 2002; 273: 204–218.

Carén H, Holmstrand A, Sjöberg RM, Martinsson T . The two human homologues of yeast UFD2 ubiquitination factor, UBE4A and UBE4B, are located in common neuroblastoma deletion regions and are subject to mutations in tumours. Eur J Cancer 2006; 42: 381–387.

Bartolomé RA, Molina-Ortiz I, Samaniego R, Sánchez-Mateos P, Bustelo XR, Teixidó J . Activation of Vav/Rho GTPase signaling by CXCL12 controls membrane-type matrix metalloproteinase-dependent melanoma cell invasion. Cancer Res 2006; 66: 248–258.

Kikuchi S, Honda K, Tsuda H, Hiraoka N, Imoto I, Kosuge T et al. Expression and gene amplification of actinin-4 in invasive ductal carcinoma of the pancreas. Clin Cancer Res 2008; 14: 5348–5356.

Ding Z, Liang J, Lu Y, Yu Q, Songyang Z, Lin SY et al. A retrovirus-based protein complementation assay screen reveals functional AKT1-binding partners. Proc Natl Acad Sci USA 2006; 103: 15014–15019.

Talior-Volodarsky I, Randhawa VK, Zaid H, Klip A . Alpha-actinin-4 is selectively required for insulin-induced GLUT4 translocation. J Biol Chem 2008; 283: 25115–25123.

Browne KA, Johnstone RW, Jans DA, Trapani JA . Filamin (280-kDa actin-binding protein) is a caspase substrate and is also cleaved directly by the cytotoxic T lymphocyte protease granzyme B during apoptosis. J Biol Chem 2000; 275: 39262–39266.

Loy CJ, Sim KS, Yong EL . Filamin-A fragment localizes to the nucleus to regulate androgen receptor and coactivator functions. Proc Natl Acad Sci USA 2003; 100: 4562–4567.

Stahlhut M, van Deurs B . Identification of filamin as a novel ligand for caveolin-1: evidence for the organization of caveolin-1-associated membrane domains by the actin cytoskeleton. Mol Biol Cell 2000; 11: 325–337.

Fiucci G, Ravid D, Reich R, Liscovitch M . Caveolin-1 inhibits anchorage-independent growth, anoikis and invasiveness in MCF-7 human breast cancer cells. Oncogene 2002; 21: 2365–2375.

Reichel M, Gillert E, Nilson I, Siegler G, Greil J, Fey GH et al. Fine structure of translocation breakpoints in leukemic blasts with chromosomal translocation t(4;11): the DNA damage-repair model of translocation. Oncogene 1998; 17: 3035–3044.

Richardson C, Jasin M . Frequent chromosomal translocations induced by DNA double-strand breaks. Nature 2000; 405: 697–700.

Schichman SA, Caligiuri MA, Gu Y, Strout MP, Canaani E, Bloomfield CD, Croce CM . ALL-1 partial duplication in acute leukemia. Proc Natl Acad Sci USA 1994; 91: 6236–6239.

Caligiuri MA, Strout MP, Schichman SA, Mrozek K, Arthur DC, Herzig GP et al. Partial tandem duplication of ALL1 as a recurrent molecular defect in acute myeloid leukemia with trisomy 11. Cancer Res 1996; 56: 1418–1425.

Schnittger S, Kinkelin U, Schoch C, Heinecke A, Haase D, Haferlach T et al. Screening for MLL tandem duplication in 387 unselected patients with AML identify a prognostically unfavorable subset of AML. Leukemia 2000; 14: 796–804.

Martin ME, Milne TA, Bloyer S, Galoian K, Shen W, Gibbs D et al. Dimerization of MLL fusion proteins immortalizes hematopoietic cells. Cancer Cell 2003; 4: 197–207.

Bäsecke J, Whelan JT, Griesinger F, Bertrand FE . The MLL partial tandem duplication in acute myeloid leukaemia. Br J Haematol 2006; 135: 438–449.

Shih LY, Liang DC, Fu JF, Wu JH, Wang PN, Lin TL et al. Characterization of fusion partner genes in 114 patients with de novo acute myeloid leukemia and MLL rearrangement. Leukemia 2006; 20: 218–223.

Meyer C, Burmeister T, Strehl S, Schneider B, Hubert D, Zach O et al. Spliced MLL fusions: a novel mechanism to generate functional chimeric MLL-MLLT1 transcripts in t(11;19)(q23;p13.3) leukemia. Leukemia 2007; 21: 588–590.

Aspland SE, Bendall HH, Murre C . The role of E2A-PBX1 in leukemogenesis. Oncogene 2001; 20: 5708–5717.

Scharf S, Zech J, Bursen A, Schraets D, Oliver PL, Kliem S et al. Transcription linked to recombination: a gene-internal promoter coincides with the recombination hot spot II of the human MLL gene. Oncogene 2007; 26: 1361–1371.

Burmeister T, Marschalek R, Schneider B, Meyer C, Gökbuget N, Schwartz S et al. Monitoring minimal residual disease by quantification of genomic chromosomal breakpoint sequences in acute leukemias with MLL aberrations. Leukemia 2006; 20: 451–457.

Okada Y, Feng Q, Lin Y, Jiang Q, Li Y, Coffield VM et al. hDOT1L links histone methylation to leukemogenesis. Cell 2005; 121: 167–178.

Zeisig DT, Bittner CB, Zeisig BB, García-Cuéllar MP, Hess JL, Slany RK . The eleven-nineteen-leukemia protein ENL connects nuclear MLL fusion partners with chromatin. Oncogene 2005; 24: 5525–5532.

Bitoun E, Oliver PL, Davies KE . The mixed-lineage leukemia fusion partner AF4 stimulates RNA polymerase II transcriptional elongation and mediates coordinated chromatin remodeling. Hum Mol Genet 2007; 16: 92–106.

Zhang Y, Reinberg D . Transcription regulation by histone methylation: interplay between different covalent modifications of the core histone tails. Genes Dev 2001; 15: 2343–2360.

Krivtsov AV, Feng Z, Lemieux ME, Faber J, Vempati S, Sinha AU et al. H3K79 methylation profiles define murine and human MLL-AF4 leukemias. Cancer Cell 2008; 14: 355–368.
Acknowledgements
This work was made possible by and conducted within the framework of the International BFM Study Group. This study was supported by grant 107819 from the Deutsche Krebshilfe to RM, TD and TK; supported by grant R06/22 from the German José Carreras Leukemia foundation to TB and supported by grant 2 P054 095 30 from the Polish Ministry of Science and Higher Education to TS.
About this article
Cite this article
Meyer, C., Kowarz, E., Hofmann, J. et al. New insights to the MLL recombinome of acute leukemias. Leukemia 23, 1490–1499 (2009). https://doi.org/10.1038/leu.2009.33
Received:

Revised:

Accepted:

Published:

Issue Date:

DOI: https://doi.org/10.1038/leu.2009.33
Keywords
MLL

translocations partner genes

acute leukemia

ALL

AML