Abstract
The hematopoietic cell transplantation specific comorbidity index (HCT-CI) has been developed to identify patients at high risk of mortality after an allograft. Reduced-intensity/non-myeloablative regimens have decreased the non-relapse mortality (NRM) in elderly and/or heavily pretreated patients. We performed a retrospective study to assess whether HCT-CI may predict clinical outcomes in a cohort of 203 patients with non-Hodgkin's (NHL; n=108), Hodgkin's lymphomas (HL; n=26), and multiple myeloma (MM; n=69), who were transplanted from a human leucocyte antigen (HLA)-matched sibling (n=121) or an unrelated donor (n=82) after a reduced-intensity regimen (n=154) or a low-dose total body irradiation-based non-myeloblative regimen (n=49). Cumulative incidence of NRM was 5, 16 and 20% at 1 year and 6, 24 and 27% at 2 years, for patients with an HCT-CI of 0, 1–2 and ⩾3, respectively. By multivariate analysis, HCT-CI significantly predicted NRM (hazard ratio (HR)=1.6, P=0.03), overall survival (OS; HR=1.62, P<0.001) and progression-free survival (PFS; HR=1.43, P=0.002). Moreover, the Karnofsky performance status was also significantly associated with OS and NRM (HR=1.62, P<0.001 and HR=2.12, P=0.04, respectively). Conditioning type did not affect outcome after stratifying patients by HCT-CI. In the light of our study, all future prospective trials of the Gruppo Italiano Trapianti di Midollo (GITMO) will include the HCT-CI to stratify patients.
Relevant articles
Open Access articles citing this article.
Donata Backhaus

,

Dominic Brauer

…

Sebastian Schwind

Bone Marrow Transplantation Open Access 04 October 2022

Swaroop Revannasiddaiah

,

Prathap Raja Varma Muppalla Ayalgar Nagaraju

…

Santhosh Kumar Devadas

Journal of the Egyptian National Cancer Institute Open Access 16 May 2022

Jean-Sébastien Claveau

,

Francis K. Buadi

&

Shaji Kumar

Oncology and Therapy Open Access 04 April 2022
Access options
Subscribe to Journal
Get full journal access for 1 year
$119.00
only $9.92 per issue
All prices are NET prices.
VAT will be added later in the checkout.
Tax calculation will be finalised during checkout.
Buy article
Get time limited or full article access on ReadCube.
$32.00
All prices are NET prices.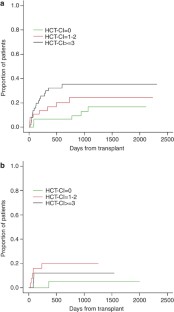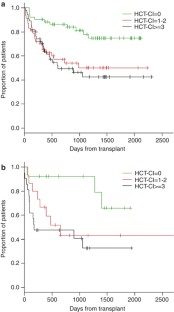 References
McSweeney PA, Niederwieser D, Shizuru JA, Sandmaier BM, Molina AJ, Maloney DG et al. Hematopoietic cell transplantation in older patients with hematologic malignancies: replacing high-dose cytotoxic therapy with graft-versus-tumor effects. Blood 2001; 97: 3390–3400.

Robinson SP, Goldstone AH, Mackinnon S, Carella A, Russell N, de Elvira CR et al. Chemoresistant or aggressive lymphoma predicts for a poor outcome following reduced-intensity allogeneic progenitor cell transplantation: an analysis from the Lymphoma Working Party of the European Group for Blood and Bone Marrow Transplantation. Blood 2002; 100: 4310–4316.

Peggs KS, Sureda A, Qian W, Caballero D, Hunter A, Urbano-Ispizua A et al. Reduced-intensity conditioning for allogeneic haematopoietic stem cell transplantation in relapsed and refractory Hodgkin lymphoma: impact of alemtuzumab and donor lymphocyte infusions on long-term outcomes. Br J Haematol 2007; 139: 70–80.

Badros A, Barlogie B, Siegel E, Cottler-Fox M, Zangari M, Fassas A et al. Improved outcome of allogeneic transplantation in high-risk multiple myeloma patients after non myeloablative conditioning. J Clin Oncol 2002; 5: 1295–1303.

Kroger N, Sayer HG, Schwerdtfeger R, Kiehl M, Nagler A, Renges H et al. Unrelated stem cell transplantation in multiple myeloma after a reduced-intensity conditioning with pretransplantation antithymocyte globulin is highly effective with low transplantation-related mortality. Blood 2002; 100: 3919–3924.

Rezvani AR, Storer B, Maris M, Sorror ML, Agura E, Maziarz RT et al. Nonmyeloablative allogeneic hematopoietic cell transplantation in relapsed, refractory, and transformed indolent non-Hodgkin's lymphoma. J Clin Oncol 2008; 26: 211–217.

Morris E, Thomson K, Craddock C, Mahendra P, Milligan D, Cook G et al. Outcome following alemtuzumab (CAMPATH-1H)-containing reduced intensity allogeneic transplant regimen for relapsed and refractory non-Hodgkin's lymphoma. Blood 2004; 104: 3865–3871.

Faulkner RD, Craddock C, Byrne JL, Mahendra P, Haynes AP, Prentice HG et al. BEAM-alemtuzumab reduced-intensity allogeneic stem cell transplantation for lymphoproliferative diseases: GVHD, toxicity, and survival in 65 patients. Blood 2004; 103: 428–434.

Corradini P, Zallio F, Mariotti J, Farina L, Bregni M, Valagussa P et al. Effect of age and previous autologous transplantation on nonrelapse mortality and survival in patients treated with reduced-intensity conditioning and allografting for advanced hematologic malignancies. J Clin Oncol 2005; 23: 6690–6698.

Crawley C, Lalancette M, Szydlo R, Gilleece M, Peggs K, Mackinnon S et al. Outcomes for reduced-intensity allogeneic transplantation for multiple myeloma: an analysis of prognostic factors from the Chronic Leukaemia Working Party of the EBMT. Blood 2005; 105: 4532–4539.

Sureda A, Robinson S, Canals C, Carella AM, Boogaerts MA, Caballero D et al. Reduced-intensity conditioning compared with conventional allogeneic stem-cell transplantation in relapsed or refractory Hodgkin's lymphoma: an analysis from the Lymphoma Working Party of the European Group for Blood and Marrow Transplantation. J Clin Oncol 2008; 26: 455–462.

Escalón MP, Champlin RE, Saliba RM, Acholonu SA, Hosing C, Fayad L et al. Nonmyeloablative allogeneic hematopoietic transplantation: a promising salvage therapy for patients with non-Hodgkin's lymphoma whose disease has failed a prior autologous transplantation. J Clin Oncol 2004; 22: 2419–2423.

Baron F, Storb R, Storer BE, Maris MB, Niederwieser D, Shizuru JA et al. Factors associated with outcomes in allogeneic hematopoietic cell transplantation with nonmyeloablative conditioning after failed myeloablative hematopoietic cell transplantation. J Clin Oncol 2006; 24: 4150–4157.

Sorror ML, Maris MB, Storb R, Baron F, Sandmaier BM, Maloney DG et al. Hematopoietic cell transplantation (HCT)-specific comorbidity index: a new tool for risk assessment before allogeneic HCT. Blood 2005; 106: 2912–2919.

Charlson M, Szatrowsky TP, Peterson J, Gold J . Validation of a combined comorbidity index. J Clin Epidemiol 1994; 47: 1245–1251.

Sorror M, Storer B, Sandmaier BM, Maloney DG, Chauncey TR, Langston A et al. Hematopoietic cell transplantation-comorbidity index and Karnofsky performance status are independent predictors of morbidity and mortality after allogeneic nonmyeloablative hematopoietic cell transplantation. Cancer 2008; 112: 1992–2001.

Przepiorka D, Weisdorf D, Martin P, Klingemann HG, Beatty P, Hows J et al. 1994 consensus conference on acute GVHD grading. Bone Marrow Transplant 1995; 15: 825–828.

Sullivan KM, Shulman HM, Storb R, Weiden PL, Witherspoon RP, McDonald GB et al. Chronic graft-versus-host disease in 52 patients: adverse natural course and successful treatment with combination immunosuppression. Blood 1981; 57: 267–276.

Cheson BD, Horning SJ, Coiffier B, Shipp MA, Fisher RI, Connors JM et al. Report of an international workshop to standardize response criteria for non-Hodgkin's lymphomas. NCI Sponsored International Working Group. J Clin Oncol 1999; 17: 1244–1253.

Juweid ME, Stroobants S, Hoekstra OS, Mottaghy FM, Dietlein M, Guermazi A et al. Imaging subcommittee of international harmonization project in lymphoma. Use of positron emission tomography for response assessment of lymphoma: consensus of the Imaging Subcommittee of International Harmonization Project in Lymphoma. J Clin Oncol 2007; 25: 571–578.

Durie BG, Harousseau JL, Miguel JS, Bladé J, Barlogie B, Anderson K et al. International uniform response criteria for multiple myeloma. Leukemia 2006; 20: 1467–1473.

Karnofsky DA, Burchenal JH . The clinical evaluation of chemotherapeutic agents in cancer. In: Macleod CM, (eds). Evaluation of chemotherapeutic agents. Columbia University Press: New York, 1949, p 91.

Sorror ML, Storer BE, Maloney DG, Sandmaier BM, Martin PJ, Storb R . Outcomes after allogeneic hematopoietic cell transplantation with nonmyeloablative or myeloablative conditioning regimens for treatment of lymphoma and chronic lymphocytic leukemia. Blood 2008; 111: 446–452.

Xhaard A, Porcher R, Chien JW, de Latour RP, Robin M, Ribaud P et al. Impact of comorbidity indexes on non-relapse mortality. Leukemia 2008; 22: 2062–2069.

Guilfoyle R, Demers A, Bredeson C, Richardson E, Rubinger M, Szwajcer D et al. Performance status, but not the Hematopoietic Cell Transplantation Comorbidity Index (HCT-CI), predicts mortality at a Canadian transplant center. Bone Marrow Transplant 2008, 1 September 2008 [e-pub ahead of print].

Majhail NS, Brunstein CG, Tomblyn M, Thomas AJ, Miller JS, Arora M et al. Reduced-intensity allogeneic transplant in patients older than 55 years: unrelated umbilical cord blood is safe and effective for patients without a matched related donor. Biol Blood Marrow Transplant 2008; 14: 282–289.

Sorror ML, Giralt S, Sandmaier BM, De Lima M, Shahjahan M, Maloney DG et al. Hematopoietic cell transplantation specific comorbidity index as an outcome predictor for patients with acute myeloid leukemia in first remission: combined FHCRC and MDACC experiences. Blood 2007; 110: 4606–4613.

Savani BN, Montero A, Srinivasan R, Singh A, Shenoy A, Mielke S et al. Chronic GVHD and pretransplantation abnormalities in pulmonary function are the main determinants predicting worsening pulmonary function in long-term survivors after stem cell transplantation. Biol Blood Marrow Transplant 2006; 12: 1261–1269.

Ball LM, Egeler RM, EBMT Paediatric Working Party. Acute GvHD: pathogenesis and classification. Bone Marrow Transplant 2008; 41 (Suppl 2): S58–S64.
Acknowledgements
This study was supported in part by Ricerca Finalizzata Regione Piemonte 2006 e 2007; Fondazione Cassa di Risparmio di Torino (CRT) (BM) and Comitato Regionale Piemontese Gigi Ghirotti (Progetto Vita Vitae) (BM); Fondazione Neoplasie Sangue Onlus (BM); Associazione Italiana Ricerca sul Cancro (AIRC) and Fondazione Michelangelo.
About this article
Cite this article
Farina, L., Bruno, B., Patriarca, F. et al. The hematopoietic cell transplantation comorbidity index (HCT-CI) predicts clinical outcomes in lymphoma and myeloma patients after reduced-intensity or non-myeloablative allogeneic stem cell transplantation. Leukemia 23, 1131–1138 (2009). https://doi.org/10.1038/leu.2009.1
Received:

Revised:

Accepted:

Published:

Issue Date:

DOI: https://doi.org/10.1038/leu.2009.1
Keywords
HCT-CI

lymphoma

myeloma

allogeneic transplant