Abstract
The chemokine stromal cell-derived factor-1 (SDF-1) and its receptor, CXCR4, participate in the retention of acute myeloblastic leukemia (AML) cells within the bone marrow microenvironment and their release into the circulation. AML cells also constitutively express SDF-1-dependent elastase, which regulates their migration and proliferation. To study the molecular events and genes regulated by the SDF-1/CXCR4 axis and elastase in AML cells, we examined gene expression profiles of the AML cell line, U937, under treatment with a neutralizing anti-CXCR4 antibody or elastase inhibitor, as compared with non-treated cells, using DNA microarray technology. Unsupervised hierarchical clustering analysis demonstrated similar gene expression profiles of anti-CXCR4 antibody or elastase inhibitor-treated cells, as compared with control. Pathway and functional analysis showed a greater tendency toward differentiation in cells under either one of both treatment modalities. Thus given, we further analyzed the effects of CXCR4 inhibition on AML cell growth and differentiation using the antagonist AMD3100. AMD3100 arrested proliferation in AML cell lines and triggered changes that mimicked differentiation, including morphological changes and the expression of myeloid differentiation antigens. Inhibition of elastase also triggered the differentiation of AML cells. Our study defines a new role for the SDF-1/CXCR4 axis in the regulation of leukemic cell survival and differentiation.
Relevant articles
Open Access articles citing this article.
Laurence C. Cheung

,

Jennifer Tickner

…

Ursula R. Kees

Leukemia Open Access 08 May 2018

S C Nimmagadda

,

S Frey

…

T Fischer

Leukemia Open Access 07 November 2017

R E Clark

,

J Bell

…

R Salim

Blood Cancer Journal Open Access 31 October 2014
Access options
Subscribe to Journal
Get full journal access for 1 year
$119.00
only $9.92 per issue
All prices are NET prices.
VAT will be added later in the checkout.
Tax calculation will be finalised during checkout.
Buy article
Get time limited or full article access on ReadCube.
$32.00
All prices are NET prices.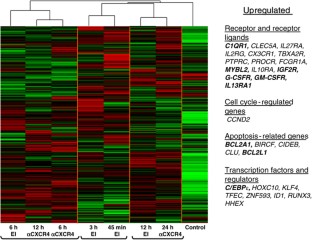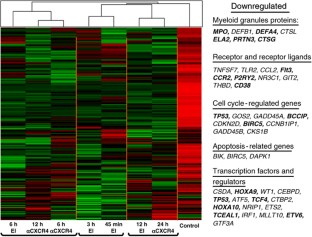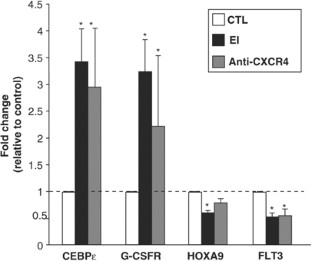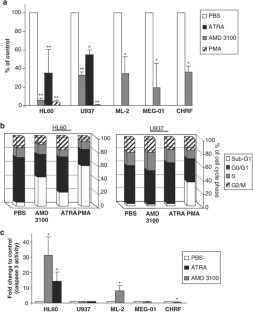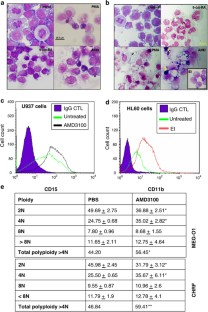 References
Charrad RS, Li Y, Delpech B, Balitrand N, Clay D, Jasmin C et al. Ligation of the CD44 adhesion molecule reverses blockage of differentiation in human acute myeloid leukemia. Nat Med 1999; 5: 669–676.

Matsunaga T, Takemoto N, Sato T, Takimoto R, Tanaka I, Fujimi A et al. Interaction between leukemic-cell VLA-4 and stromal fibronectin is a decisive factor for minimal residual disease of acute myelogenous leukemia. Nat Med 2003; 9: 1158–1165.

Bradstock KF, Gottlieb DJ . Interaction of acute leukemia cells with the bone marrow microenvironment: implications for control of minimal residual disease. Leuk Lymphoma 1995; 18: 1–16.

Garrido SM, Appelbaum FR, Willman CL, Banker DE . Acute myeloid leukemia cells are protected from spontaneous and drug-induced apoptosis by direct contact with a human bone marrow stromal cell line (HS-5). Exp Hematol 2001; 29: 448–457.

Aiuti A, Webb IJ, Bleul C, Springer T, Gutierrez-Ramos JC . The chemokine SDF-1 is a chemoattractant for human CD34+ hematopoietic progenitor cells and provides a new mechanism to explain the mobilization of CD34+ progenitors to peripheral blood. J Exp Med 1997; 185: 111–120.

Wright DE, Bowman EP, Wagers AJ, Butcher EC, Weissman IL . Hematopoietic stem cells are uniquely selective in their migratory response to chemokines. J Exp Med 2002; 195: 1145–1154.

Lapidot T, Sirard C, Vormoor J, Murdoch B, Hoang T, Caceres-Cortes J et al. A cell initiating human acute myeloid leukaemia after transplantation into SCID mice. Nature 1994; 367: 645–648.

Ailles LE, Gerhard B, Kawagoe H, Hogge DE . Growth characteristics of acute myelogenous leukemia progenitors that initiate malignant hematopoiesis in nonobese diabetic/severe combined immunodeficient mice. Blood 1999; 94: 1761–1772.

Peled A, Petit I, Kollet O, Magid M, Ponomaryov T, Byk T et al. Dependence of human stem cell engraftment and repopulation of NOD/SCID mice on CXCR4. Science 1999; 283: 845–848.

Kollet O, Spiegel A, Peled A, Petit I, Byk T, Hershkoviz R et al. Rapid and efficient homing of human CD34(+)CD38(-/low)CXCR4(+) stem and progenitor cells to the bone marrow and spleen of NOD/SCID and NOD/SCID/B2m(null) mice. Blood 2001; 97: 3283–3291.

Yahata T, Ando K, Sato T, Miyatake H, Nakamura Y, Muguruma Y et al. A highly sensitive strategy for SCID-repopulating cell assay by direct injection of primitive human hematopoietic cells into NOD/SCID mice bone marrow. Blood 2003; 101: 2905–2913.

Tavor S, Petit I, Porozov S, Avigdor A, Dar A, Leider-Trejo L et al. CXCR4 regulates migration and development of human acute myelogenous leukemia stem cells in transplanted NOD/SCID mice. Cancer Res 2004; 64: 2817–2824.

Lataillade JJ, Clay D, Bourin P, Herodin F, Dupuy C, Jasmin C et al. Stromal cell-derived factor 1 regulates primitive hematopoiesis by suppressing apoptosis and by promoting G(0)/G(1) transition in CD34(+) cells: evidence for an autocrine/paracrine mechanism. Blood 2002; 99: 1117–1129.

Lee Y, Gotoh A, Kwon HJ, You M, Kohli L, Mantel C et al. Enhancement of intracellular signaling associated with hematopoietic progenitor cell survival in response to SDF-1/CXCL12 in synergy with other cytokines. Blood 2002; 99: 4307–4317.

Tavor S, Petit I, Porozov S, Goichberg P, Avigdor A, Sagiv S et al. Motility, proliferation, and egress to the circulation of human AML cells are elastase dependent in NOD/SCID chimeric mice. Blood 2005; 106: 2120–2127.

Sugiyama T, Kohara H, Noda M, Nagasawa T . Maintenance of the hematopoietic stem cell pool by CXCL12–CXCR4 chemokine signaling in bone marrow stromal cell niches. Immunity 2006; 25: 977–988.

Zeng Z, Samudio IJ, Munsell M, An J, Huang Z, Estey E et al. Inhibition of CXCR4 with the novel RCP168 peptide overcomes stroma-mediated chemoresistance in chronic and acute leukemias. Mol Cancer Ther 2006; 5: 3113–3121.

Spoo AC, Lubbert M, Wierda WG, Burger JA . CXCR4 is a prognostic marker in acute myelogenous leukemia. Blood 2007; 109: 786–791.

Rombouts EJ, Pavic B, Lowenberg B, Ploemacher RE . Relation between CXCR-4 expression, Flt3 mutations, and unfavorable prognosis of adult acute myeloid leukemia. Blood 2004; 104: 550–557.

Shellard JE, Leitch HA, Logan PM, McMaster WR, Levy JG . Purification of an in vitro inhibitor of normal myelopoiesis using a monoclonal antibody directed to a common antigen of myelogenous leukemia (CAMAL). Exp Hematol 1991; 19: 136–142.

Leitch HA, Buskard N, Levy JG . Stimulation of leukemic myelopoiesis by P30-35 CAMAL, an inhibitor of normal myelopoiesis. Leukemia 1993; 7: 1394–1401.

Bories D, Raynal MC, Solomon DH, Darzynkiewicz Z, Cayre YE . Down-regulation of a serine protease, myeloblastin, causes growth arrest and differentiation of promyelocytic leukemia cells. Cell 1989; 59: 959–968.

Borregaard N, Sehested M, Nielsen BS, Sengelov H, Kjeldsen L . Biosynthesis of granule proteins in normal human bone marrow cells. Gelatinase is a marker of terminal neutrophil differentiation. Blood 1995; 85: 812–817.

Berliner N, Hsing A, Graubert T, Sigurdsson F, Zain M, Bruno E et al. Granulocyte colony-stimulating factor induction of normal human bone marrow progenitors results in neutrophil-specific gene expression. Blood 1995; 85: 799–803.

Theilgaard-Monch K, Jacobsen LC, Borup R, Rasmussen T, Bjerregaard MD, Nielsen FC et al. The transcriptional program of terminal granulocytic differentiation. Blood 2005; 105: 1785–1796.

Burnett AK, Goldstone AH, Stevens RM, Hann IM, Rees JK, Gray RG et al. Randomised comparison of addition of autologous bone-marrow transplantation to intensive chemotherapy for acute myeloid leukaemia in first remission: results of MRC AML 10 trial. UK Medical Research Council Adult and Children's Leukaemia Working Parties. Lancet 1998; 351: 700–708.

Huntly BJ, Gilliland DG . Leukaemia stem cells and the evolution of cancer-stem-cell research. Nat Rev Cancer 2005; 5: 311–321.

Charrad RS, Gadhoum Z, Qi J, Glachant A, Allouche M, Jasmin C et al. Effects of anti-CD44 monoclonal antibodies on differentiation and apoptosis of human myeloid leukemia cell lines. Blood 2002; 99: 290–299.

Jin L, Hope KJ, Zhai Q, Smadja-Joffe F, Dick JE . Targeting of CD44 eradicates human acute myeloid leukemic stem cells. Nat Med 2006; 12: 1167–1174.

Mohle R, Schittenhelm M, Failenschmid C, Bautz F, Kratz-Albers K, Serve H et al. Functional response of leukaemic blasts to stromal cell-derived factor-1 correlates with preferential expression of the chemokine receptor CXCR4 in acute myelomonocytic and lymphoblastic leukaemia. Br J Haematol 2000; 110: 563–572.

Konoplev S, Rassidakis GZ, Estey E, Kantarjian H, Liakou CI, Huang X et al. Overexpression of CXCR4 predicts adverse overall and event-free survival in patients with unmutated FLT3 acute myeloid leukemia with normal karyotype. Cancer 2007; 109: 1152–1156.

Zimmer M, Medcalf RL, Fink TM, Mattmann C, Lichter P, Jenne DE . Three human elastase-like genes coordinately expressed in the myelomonocyte lineage are organized as a single genetic locus on 19pter. Proc Natl Acad Sci USA 1992; 89: 8215–8219.

Labbaye C, Zhang J, Casanova JL, Lanotte M, Teng J, Miller Jr WH et al. Regulation of myeloblastin messenger RNA expression in myeloid leukemia cells treated with all-trans retinoic acid. Blood 1993; 81: 475–481.

Seale J, Delva L, Renesto P, Balitrand N, Dombret H, Scrobohaci ML et al. All-trans retinoic acid rapidly decreases cathepsin G synthesis and mRNA expression in acute promyelocytic leukemia. Leukemia 1996; 10: 95–101.

Liesveld JL, Bechelli J, Rosell K, Lu C, Bridger G, Phillips II G et al. Effects of AMD3100 on transmigration and survival of acute myelogenous leukemia cells. Leuk Res 2007; 31: 1553–1563.
Acknowledgements
This work was supported, in part, by grants from the joint program, Weizmann Institute & Tel-Aviv Sourasky Medical Center (ST), the Israel Cancer Association through the Ber-Lehmsdorf Memorial Fund (ST) and the Biodisc program of the German Federal Ministry of Education and Science (BMBF) (VD). We thank the Kahn Family Foundation for their support. G Rechavi holds the Djerassi Chair in Oncology at the Sackler Faculty of Medicine, Tel-Aviv University (Tel-Aviv, Israel).
About this article
Cite this article
Tavor, S., Eisenbach, M., Jacob-Hirsch, J. et al. The CXCR4 antagonist AMD3100 impairs survival of human AML cells and induces their differentiation. Leukemia 22, 2151–2158 (2008). https://doi.org/10.1038/leu.2008.238
Received:

Revised:

Accepted:

Published:

Issue Date:

DOI: https://doi.org/10.1038/leu.2008.238
Keywords
SDF-1/CXCR4

elastase

AML

differentiation

survival