Abstract
L-asparaginase is an effective drug for treatment of children with acute lymphoblastic leukemia (ALL). The effectiveness is thought to result from depletion of asparagine in serum and cells. We investigated the clinical response in vivo of 1000 IU/m2 pegylated (PEG)-asparaginase and its pharmacokinetic, pharmacodynamic and intracellular effects in children with newly diagnosed ALL before start of combination chemotherapy. The in vivo window response was significantly related to immunophenotype and genotype: 26/38 common/pre B-ALL cases, especially those with hyperdiploidy and TELAML1 rearrangement, demonstrated a good clinical response compared to 8/17 T-ALL (P=0.01) and BCRABL-positive ALL (P=0.04). A poor in vivo clinical window response was related to in vitro resistance to L-asparaginase (P=0.02) and both were prognostic factors for long-term event-free survival (hazard ratio 6.4, P=0.004; hazard ratio 3.7, P=0.01). After administration of one in vivo dose of PEG-asparaginase no changes in apoptotic parameters or in intracellular levels of twenty amino acids in leukemic cells could be measured, in contradiction to the changes found after in vitro exposure. This may be explained by the rapid removal of apoptotic cells from the circulation in vivo. One additional dose of PEG-asparaginase upfront ALL treatment did not lead to other severe toxicities.
Relevant articles
Open Access articles citing this article.
Katerina Hlozkova

,

Ivana Hermanova

…

Julia Starkova

Scientific Reports Open Access 08 March 2022

Gilbert T. Chua

,

Jaime S. Rosa Duque

…

Janette Kwok

Journal of Hematology & Oncology Open Access 30 October 2021

Katerina Hlozkova

,

Alena Pecinova

…

Julia Starkova

BMC Cancer Open Access 05 June 2020
Access options
Subscribe to this journal
Receive 12 print issues and online access
$259.00 per year
only $21.58 per issue
Rent or buy this article
Get just this article for as long as you need it
$39.95
Prices may be subject to local taxes which are calculated during checkout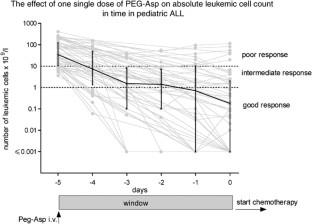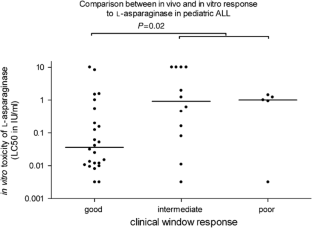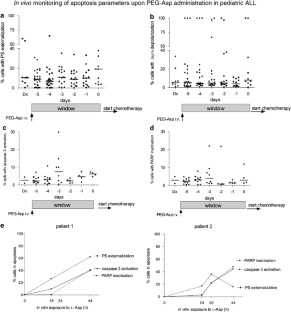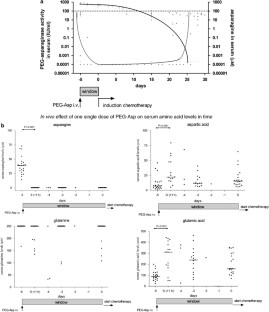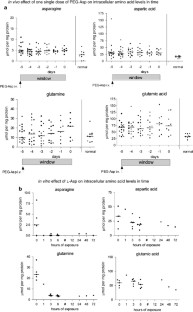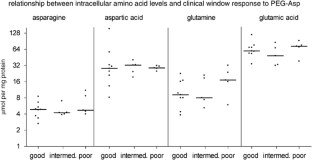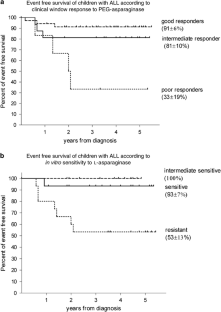 References
Capizzi RL, Bertino JR, Skeel RT, Creasey WA, Zanes R, Olayon C et al. L-asparaginase: clinical, biochemical, pharmacological, and immunological studies. Ann Intern Med 1971; 74: 893–901.

Silverman LB, Gelber RD, Dalton VK, Asselin BL, Barr RD, Clavell LA et al. Improved outcome for children with acute lymphoblastic leukemia: results of Dana–Farber Consortium Protocol 91-01. Blood 2001; 97: 1211–1218.

Pieters R, Loonen AH, Huismans DR, Broekema GJ, Dirven MW, Heyenbrok MW et al. In vitro drug sensitivity of cells from children with leukemia using the MTT assay with improved culture conditions. Blood 1990; 76: 2327–2336.

Yamada S, Hongo T, Okada S, Watanabe C, Fujii Y, Ohzeki T . Clinical relevance of in vitro chemoresistance in childhood acute myeloid leukemia. Leukemia 2001; 15: 1892–1897.

Janka-Schaub GE, Harms DO, den Boer ML, Veerman AJ, Pieters R . [In vitro drug resistance as independent prognostic factor in the study COALL-O5-92 Treatment of childhood acute lymphoblastic leukemia; two-tiered classification of treatments based on accepted risk criteria and drug sensitivity profiles in study COALL-06-97]. Klin Padiatr 1999; 211: 233–238.

Pieters R, Huismans DR, Loonen AH, Hahlen K, van der Does-van den Berg A, van Wering ER et al. Relation of cellular drug resistance to long-term clinical outcome in childhood acute lymphoblastic leukaemia. Lancet 1991; 338: 399–403.

Kaspers GJ, Veerman AJ, Pieters R, Van Zantwijk CH, Smets LA, Van Wering ER et al. In vitro cellular drug resistance and prognosis in newly diagnosed childhood acute lymphoblastic leukemia. Blood 1997; 90: 2723–2729.

Den Boer ML, Harms DO, Pieters R, Kazemier KM, Gobel U, Korholz D et al. Patient stratification based on prednisolone-vincristine-asparaginase resistance profiles in children with acute lymphoblastic leukemia. J Clin Oncol 2003; 21: 3262–3268.

Asselin BL, Kreissman S, Coppola DJ, Bernal SD, Leavitt PR, Gelber RD et al. Prognostic significance of early response to a single dose of asparaginase in childhood acute lymphoblastic leukemia. J Pediatr Hematol Oncol 1999; 21: 6–12.

Ollenschlager G, Roth E, Linkesch W, Jansen S, Simmel A, Modder B . Asparaginase-induced derangements of glutamine metabolism: the pathogenetic basis for some drug-related side-effects. Eur J Clin Invest 1988; 18: 512–516.

Broome JD . -asparaginase: discovery and development as a tumor-inhibitory agent. Cancer Treat Rep 1981; 65 (Suppl 4): 111–114.

Miller HK, Salser JS, Balis ME . Amino acid levels following L-asparagine amidohydrolase (EC.3.5.1.1) therapy. Cancer Res 1969; 29: 183–187.

Muller HJ, Boos J . Use of L-asparaginase in childhood ALL. Crit Rev Oncol Hematol 1998; 28: 97–113.

Bussolati O, Belletti S, Uggeri J, Gatti R, Orlandini G, Dall'Asta V et al. Characterization of apoptotic phenomena induced by treatment with L-asparaginase in NIH3T3 cells. Exp Cell Res 1995; 220: 283–291.

Andrulis IL, Argonza R, Cairney AE . Molecular and genetic characterization of human cell lines resistant to L-asparaginase and albizziin. Somat Cell Mol Genet 1990; 16: 59–65.

Jousse C, Averous J, Bruhat A, Carraro V, Mordier S, Fafournoux P . Amino acids as regulators of gene expression: molecular mechanisms. Biochem Biophys Res Commun 2004; 313: 447–452.

Appel IM, den Boer ML, Meijerink JP, Veerman AJ, Reniers NC, Pieters R . Up-regulation of asparagine synthetase expression is not linked to the clinical response L-asparaginase in pediatric acute lymphoblastic leukemia. Blood 2006; 107: 4244–4249.

Holleman A, Cheok MH, den Boer ML, Yang W, Veerman AJ, Kazemier KM et al. Gene-expression patterns in drug-resistant acute lymphoblastic leukemia cells and response to treatment. N Engl J Med 2004; 351: 533–542.

Holleman A, den Boer ML, Kazemier KM, Janka-Schaub GE, Pieters R . Resistance to different classes of drugs is associated with impaired apoptosis in childhood acute lymphoblastic leukemia. Blood 2003; 102: 4541–4546.

Veerman AJ, Hahlen K, Kamps WA, Van Leeuwen EF, De Vaan GA, Solbu G et al. High cure rate with a moderately intensive treatment regimen in non-high-risk childhood acute lymphoblastic leukemia. Results of protocol ALL VI from the Dutch Childhood Leukemia Study Group. J Clin Oncol 1996; 14: 911–918.

Muller HJ, Loning L, Horn A, Schwabe D, Gunkel M, Schrappe M et al. Pegylated asparaginase (Oncaspar) in children with ALL: drug monitoring in reinduction according to the ALL/NHL-BFM 95 protocols. Br J Haematol 2000; 110: 379–384.

Yoshimoto T, Nishimura H, Saito Y, Sakurai K, Kamisaki Y, Wada H et al. Characterization of polyethylene glycol-modified L-asparaginase from Escherichia coli and its application to therapy of leukemia. Jpn J Cancer Res 1986; 77: 1264–1270.

Slater RM, Smeets DF, Hagemeijer A, De Jong B, Beverstock CG, Geraedts JP et al. Update of the cytogenetic study of childhood non-high-risk acute lymphocytic leukemia at diagnosis in protocol VI of the Dutch Childhood Leukemia Study Group. Haematol Blood Transfus 1990; 33: 169–173.

Kaspers GJ, Veerman AJ, Pieters R, Broekema GJ, Huismans DR, Kazemier KM et al. Mononuclear cells contaminating acute lymphoblastic leukaemic samples tested for cellular drug resistance using the methyl-thiazol-tetrazolium assay. Br J Cancer 1994; 70: 1047–1052.

Schrappe M, Reiter A, Zimmermann M, Harbott J, Ludwig WD, Henze G et al. Long-term results of four consecutive trials in childhood ALL performed by the ALL-BFM study group from 1981 to 1995. Berlin-Frankfurt-Munster. Leukemia 2000; 14: 2205–2222.

Lanvers C, Vieira Pinheiro JP, Hempel G, Wuerthwein G, Boos J . Analytical validation of a microplate reader-based method for the therapeutic drug monitoring of L-asparaginase in human serum. Anal Biochem 2002; 309: 117–126.

Lenda K, Svenneby G . Rapid high-performance liquid chromatographic determination of amino acids in synaptosomal extracts. J Chromatogr 1980; 198: 516–519.

Appel IM, Pinheiro JP, den Boer ML, Lanvers C, Reniers NC, Boos J et al. Lack of asparagine depletion in the cerebrospinal fluid after one intravenous dose of PEG-asparaginase: a window study at initial diagnosis of childhood ALL. Leukemia 2003; 17: 2254–2256.

Smith PK, Krohn RI, Hermanson GT, Mallia AK, Gartner FH, Provenzano MD et al. Measurement of protein using bicinchoninic acid. Anal Biochem 1985; 150: 76–85.

Appel IM, Hop WC, Pieters R . Changes in hypercoagulability by asparaginase: a randomized study between two asparaginases. Blood Coagul Fibrinolysis 2006; 17: 139–146.

Monagle P, Barnes C, Ignjatovic V, Furmedge J, Newall F, Chan A et al. Developmental haemostasis. Impact for clinical haemostasis laboratories. Thromb Haemost 2006; 95: 362–372.

Flanders MM, Phansalkar AR, Crist RA, Roberts WL, Rodgers GM . Pediatric reference intervals for uncommon bleeding and thrombotic disorders. J Pediatr 2006; 149: 275–277.

Ries M, Klinge J, Rauch R . Age-related reference values for activation markers of the coagulation and fibrinolytic systems in children. Thromb Res 1997; 85: 341–344.

Pieters R, den Boer ML, Durian M, Janka G, Schmiegelow K, Kaspers GJ et al. Relation between age, immunophenotype and in vitro drug resistance in 395 children with acute lymphoblastic leukemia—implications for treatment of infants. Leukemia 1998; 12: 1344–1348.

Appel IM, Hop WCJ, van Kessel-Bakvis C, Stigter R, Pieters R . Age-related changes by asparaginase on coagulation and fibrinolysis in childhood acute lymphoblastic leukemia. Thromb Haemost August 2008.

Stahnke K, Fulda S, Friesen C, Strauss G, Debatin KM . Activation of apoptosis pathways in peripheral blood lymphocytes by in vivo chemotherapy. Blood 2001; 98: 3066–3073.

Durrieu F, Belloc F, Lacoste L, Dumain P, Chabrol J, Dachary-Prigent J et al. Caspase activation is an early event in anthracycline-induced apoptosis and allows detection of apoptotic cells before they are ingested by phagocytes. Exp Cell Res 1998; 240: 165–175.

Boos J, Werber G, Ahlke E, Schulze-Westhoff P, Nowak-Gottl U, Wurthwein G et al. Monitoring of asparaginase activity and asparagine levels in children on different asparaginase preparations. Eur J Cancer 1996; 32A: 1544–1550.

Franek F, Fismolova I, Eckschlager T . Antiapoptotic and proapoptotic action of various amino acids and analogs in starving MOLT-4 cells. Arch Biochem Biophys 2002; 398: 141–146.

Simpson NH, Singh RP, Perani A, Goldenzon C, Al-Rubeai M . In hybridoma cultures, deprivation of any single amino acid leads to apoptotic death, which is suppressed by the expression of the bcl-2 gene. Biotechnol Bioeng 1998; 59: 90–98.

Iwamoto S, Mihara K, Downing JR, Pui CH, Campana D . Mesenchymal cells regulate the response of acute lymphoblastic leukemia cells to asparaginase. J Clin Invest 2007; 117: 1049–1057.

Rotoli BM, Uggeri J, Dall'Asta V, Visigalli R, Barilli A, Gatti R et al. Inhibition of glutamine synthetase triggers apoptosis in asparaginase-resistant cells. Cell Physiol Biochem 2005; 15: 281–292.

Tardito S, Uggeri J, Bozzetti C, Bianchi MG, Rotoli BM, Franchi-Gazzola R et al. The inhibition of glutamine synthetase sensitizes human sarcoma cells to L-asparaginase. Cancer Chemother Pharmacol 2007; 60: 751–758.

Wagner A, Boos J . Unphysiological effects contributing to asparaginase toxicity in vitro. Am J Physiol 1998; 274 (4 Part 1): C1185–C1186.

Fine BM, Kaspers GJ, Ho M, Loonen AH, Boxer LM . A genome-wide view of the in vitro response to L-asparaginase in acute lymphoblastic leukemia. Cancer Res 2005; 65: 291–299.

Newsholme EA, Crabtree B, Ardawi MS . Glutamine metabolism in lymphocytes: its biochemical, physiological and clinical importance. Q J Exp Physiol 1985; 70: 473–489.

Iiboshi Y, Papst PJ, Hunger SP, Terada N . -asparaginase inhibits the rapamycin-targeted signaling pathway. Biochem Biophys Res Commun 1999; 260: 534–539.

Wakayama K, Besa EC, Baskin SI . Changes in intracellular taurine content of human leukemic cells. Nagoya J Med Sci 1983; 45: 89–96.

Chakrabarti R, Schuster SM . -asparaginase: perspectives on the mechanism of action and resistance. Int J Ped Hem/Oncol 1997; 4: 597–611.

Ryan WL, Sornson HC . Glycine inhibition of asparaginase. Science 1970; 167: 1512–1513.

Keefer JF, Moraga DA, Schuster SM . Comparison of glycine metabolism in mouse lymphoma cells either sensitive or resistant to L-asparaginase. Biochem Pharmacol 1985; 34: 559–565.

Sobin LH, Kidd JG . A metabolic difference between two lines of lymphoma 6c3hed cells in relation to asparagine. Proc Soc Exp Biol Med 1965; 119: 325–327.

Bushman JE, Palmieri D, Whinna HC, Church FC . Insight into the mechanism of asparaginase-induced depletion of antithrombin III in treatment of childhood acute lymphoblastic leukemia. Leuk Res 2000; 24: 559–565.

Reinert RB, Oberle LM, Wek SA, Bunpo P, Wang XP, Mileva I et al. Role of glutamine depletion in directing tissue-specific nutrient stress responses to L-asparaginase. J Biol Chem 2006; 281: 31222–31233.
Additional information
Authorship
IMA designed and analyzed experiments and wrote the paper; KMK performed the research on the laboratory and analyzed the data; JB contributed vital tools for experiments on serum L-asparaginase activity and serum amino-acid analyses; CL performed experiments and contributed vital tools for experiments on serum L-asparaginase activity and serum amino-acid analyses; JH contributed vital tools for experiments on intracellular amino-acid analyses; AJPV is chairman of the DCOG-ALL-9 protocol; EvW contributed vital tools on behalf of the DCOG; MLdB designed and analyzed experiments and contributed to writing the paper; RP designed and analyzed experiments and contributed to writing the paper.
About this article
Cite this article
Appel, I., Kazemier, K., Boos, J. et al. Pharmacokinetic, pharmacodynamic and intracellular effects of PEG-asparaginase in newly diagnosed childhood acute lymphoblastic leukemia: results from a single agent window study. Leukemia 22, 1665–1679 (2008). https://doi.org/10.1038/leu.2008.165
Received:

Revised:

Accepted:

Published:

Issue Date:

DOI: https://doi.org/10.1038/leu.2008.165
Keywords
PEG-asparaginase

intracellular effects

window response

drug resistance

ALL