This is a preview of subscription content
Access options
Subscribe to Journal
Get full journal access for 1 year
We are sorry, but there is no personal subscription option available for your country.
Rent or Buy article
Get time limited or full article access on ReadCube.
from$8.99
All prices are NET prices.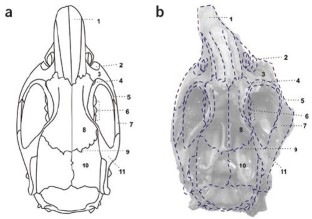 References
1

Kohn, D.F. & Clifford, C.B. Biology and diseases of rats. in Laboratory Animal Medicine 2nd edn. (Fox J.G. et al., eds.) 121–167 (Academic, San Diego, 2002).

2

Kumar, V. et al. Robbins and Cotran Pathologic Basis of Disease 7th edn. (Elsevier Saunders, Philadelphia, 2005).

3

Renier, J.C. et al. An etiologic study of Paget's disease. Rev. Rhum. Engl. Ed. 63, 606–611 (1996).

4

Tucker, M.J. A survey of bone disease in the Alpk/AP rat. J. Comp. Pathol. 96, 197–203 (1986).

5

Yamada, K. et al. A case of a dog with thickened calvaria with neurologic symptoms: magnetic resonance imaging (MRI) findings. J. Vet. Med. Sci. 61, 1055–1057 (1999).

6

Selman, A.J. & Sarnat, B.G. Growth of the rabbit snout after extirpation of the frontonasal suture: a gross and serial roentgenographic study by means of metallic implants. Am. J. Anat. 101, 273–293 (1957).

7

Sarnat, B.G. & Wexler, M.R. Growth of the face and jaws after resection of the septal cartilage in the rabbit. Am. J. Anat. 118, 755–767 (1966).

8

Sarnat, B.G. & Selman, A.J. Growth pattern of the rabbit snout dorsum: a serial cephalometric radiographic study with radiopaque implants. J. Anat. 124, 469–474 (1977).

9

Sarnat, B.G. & Selman, A.J. Growth pattern of the rabbit nasal bone region. A combined serial gross and radiographic study with metallic implants. Acta Anat. (Basel) 101, 193–201 (1978).

10

Massler, M. & Schour, I. The growth pattern of the cranial vault in the albino rat as measured by vital staining with alizarine red "S". Anat. Rec. 110, 83–101 (1951).

11

Itoh, K. Growth analysis of experimentally-induced unilateral premature fusion of the coronal suture in rat. Kokubyo Gakkai Zasshi 67, 23–37 (2000).

12

Lopez-Abente, G. et al. Cattle, pets, and Paget's disease of bone. Epidemiology 8, 247–251 (1997).

13

Weidinger, G. Measles virus-specific T-cell immunity in rodent models. Viral Immunol. 15, 429–434 (2002).

14

Wyde, P.R. et al. Use of cotton rats for preclinical evaluation of measles vaccines. Vaccine 19, 42–53 (2000).

15

Helfrich, M.H. & Hocking, L.J. Genetics and aetiology of Pagetic disorders of bone. Arch. Biochem. Biophys. 473, 172–182 (2008).

16

Kurihara, N. et al. Mutation of the sequestosome 1 (p62) gene increases osteoclastogenesis but does not induce Paget disease. J. Clin. Invest. 117, 133–142 (2007).

17

Kiliaridis, S. et al. Craniofacial bone remodeling in growing rats fed a low-calcium and vitamin-D-deficient diet and the influence of masticatory muscle function. Acta Odontol. Scand. 54, 320–326 (1996).
About this article
Cite this article
Diagnosis | Osteitis deformans or Paget's disease of bone. Lab Anim 37, 450–451 (2008). https://doi.org/10.1038/laban1008-450