Access options
Subscribe to Journal
Get full journal access for 1 year
We are sorry, but there is no personal subscription option available for your country.
Rent or Buy article
Get time limited or full article access on ReadCube.
from$8.99
All prices are NET prices.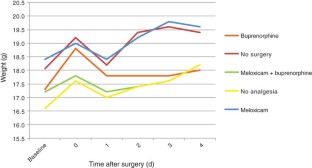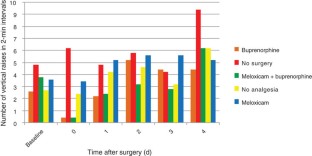 References
1

US Department of Agriculture. Animal Care Policy Manual (USDA, Riverdale, MD, 2014).

2

Institute for Laboratory Animal Research. Guide for the Care and Use of Laboratory Animals 8th edn. (National Academies Press, Washington, DC, 2011).

3

Bourque, S.L., Adams, M.A., Nakatsu, K. & Winterborn, A. Comparison of Buprenorphine and Meloxicam for postsurgical analgesia in rats: effects on body weight, locomotor activity, and hemodynamic parameters. J. Am. Assoc. Lab. Anim. Sci. 49, 617–622 (2010).

4

Carbone, E.T., Lindstrom, K.E., Diep, S. & Carbone, L. Duration of action of sustained-release Buprenorphine in 2 strains of mice. J. Am. Assoc. Lab. Anim. Sci. 51, 815–819 (2012).

5

Clark, M.D. et al. Evaluation of liposome-encapsulated oxymorphone hydrochloride in mice after splenectomy. Comp. Med. 84, 558–563 (2004).

6

Stasiak, K.L., Maul, D., French, E., Hellyer, P.W. & Vandewoude, S. Species-specific assessment of pain in laboratory animals. J. Am. Assoc. Lab. Anim. Sci. 42, 13–20 (2003).

7

Lamont, L.A. Multimodal pain management in veterinary medicine: the physiologic basis of pharmacologic therapies. Vet. Clin. North Am. Small Anim. Pract. 38, 1173–1186 (2008).

8

Foley, P.L., Haixaing, L. & Crichlow, A.R. Evaluation of a sustained-release formulation of Buprenorphine for analgesia in rats. J. Am. Assoc. Lab. Anim. Sci. 50, 198–204 (2011).

9

Plumb, D.C. Buprenorphine HCl. in Plumb's Veterinary Drug Handbook 7th edn. (Wiley-Blackwell, Ames, IA, 2011).
About this article
Cite this article
Kuchinsky, S., Ascher, J. Postoperative multimodal pain management. Lab Anim 44, 132–134 (2015). https://doi.org/10.1038/laban.744