Abstract
Objective:
To determine whether CS delivery and receipt of antenatal steroids (ANS) in vertex-presenting singletons with a gestational age (GA) between 24 and 30 weeks is associated with improved survival and improved severe intraventricular hemorrhage (sIVH)-free survival.
Study Design:
Multicenter cohort, retrospective analysis of prospectively collected data. Vertex-presenting singletons newborns with GA 24 to 30 weeks, birth weight between 500 and 1500 g, without major congenital malformations, born between 2001 and 2011 at Neocosur centers were included.
Results:
Four thousand three hundred and eighty-six infants fulfilled inclusion criteria: 45.8% were delivered vaginally and 54.2% by cesarean section (CS). Newborns delivered vaginally received less ANS, had lower GA, Apgar scores and a lower incidence of survival and sIVH-free survival (P<0.001). Newborns with better survival were those with ANS, independent of mode of delivery. At 24 to 25 weeks GA, increased survival and sIVH-free survival were associated with ANS and CS delivery, compared with those who received ANS and delivered vaginally.
Conclusions:
Among vertex-presenting singletons with GA 24 to 30 weeks, better survival and IVH-free survival were associated with ANS, independent of mode of delivery. In infants at 24 to 25 weeks gestation the combination of ANS/CS was associated with improvement in both outcomes.
Access options
Access options
Subscribe to Journal
Get full journal access for 1 year
$248.00
only $20.67 per issue
All prices are NET prices.
VAT will be added later in the checkout.
Rent or Buy article
Get time limited or full article access on ReadCube.
from$8.99
All prices are NET prices.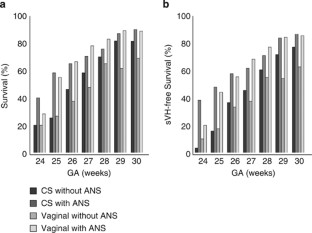 References
1

Rysavy MA, Li L, Bell EF, Das A, Hintz SR, Stoll BJ et al. Between-hospital variation in treatment and outcomes in extremely preterm infants. N Engl J Med 2015; 372: 1801–1811.

2

Alleman BW, Bell EF, Li L, Dagle JM, Smith PB, Ambalavanan N et al. Individual and center-level factors affecting mortality among extremely low birth weight infants. Pediatrics 2013; 132 (1): e175–e184.

3

Hannah ME, Hannah WJ, Hewson SA, Hodnett ED, Saigal S, Willan AR . Planned cesarean section versus planned vaginal birth for breech presentation at term: a randomised multicentre trial. Term Breech Trial Collaborative Group. Lancet 2000; 356: 1375–1383.

4

Mercer B . Mode of delivery for periviable birth. Semin Perinatol 2013; 37: 417–421.

5

Mcelrath T . Cesarean delivery at the limits of neonatal viability. Clin Obstet Gynecol 2004; 47: 342–351.

6

Malloy MH . Impact of cesarean section on neonatal mortality rates among very preterm infants in the United States, 2000-2003. Pediatrics 2008; 122: 285–292.

7

Gabriel R, Grolier F, Graesslin O . Can obstetric care provide further improvement in the outcome of preterm infants? Eur J Obstet Gynecol Reprod Biol 2004; 117 S: 25–28.

8

Crowley P . Prophylactic corticosteroids for preterm birth. Cochrane Database Syst Rev 2007; 18 (3): CD000065.

9

NIH Consensus Development Panel on the Effect of Corticosteroids for Fetal Maturation on Perinatal Outcomes. Effect of corticosteroids for fetal maturation on perinatal outcomes. JAMA 1995; 273: 413–418.

10

Wapner R, Jobe AH . Controversy: antenatal steroids. Clin Perinatol 2011; 38 (3): 529–545.

11

Milad M, Novoa JM, Fabres J, Samame M, Aspillaga C . Recomendación sobre curvas de crecimiento intrauterino. Rev Chi Pediatr 2010; 8 (3): 264–274.

12

Papile LA, Burstein J, Burstein R, Koffler H . Incidence and evolution of subependimal and intraventricular haemorrhage: a study of infants with birth weight less than 1500 gm. J Pediatr 1978; 92: 529–534.

13

Chaudhuri Bhatta SR, Keriakos R . Review of the recent literature on the mode of delivery for singleton vertex preterm babies. J Pregnancy 2011; 10: 1–5.

14

Silver RM, for the MFMU Metworkof the NICH. The MFMU Cesarean Section Registry: maternal morbidity associated with multiple repeat cesarean delivery. Am J Obstet Gynecol 2004; 191: S17.

15

Shah YG, Ronner W, Eckl CJ, Stinson SK . Acute maternal morbidity following classical cesarean delivery of the preterm infant. Obstet Gynecol 1990; 76: 16–19.

16

Skupski DW, Greenough A, Donn SM, Arabin B, Bancalari E, Vladareanu R . Delivery mode for the extremely premature fetus: a statement of the prematurity working group of the World Association of Perinatal Medicine. J Perinatal Med 2009; 37: 583–586.

17

Bottoms SF, Paul RH, Iams JD, Mercer BM, Thom EA, Roberts JM et al. Obstetric determinants of neonatal survival: influence of willingness to perform cesarean delivery on survival of extremely low-birth-weight infants. Am J Obstet Gynecol 1997; 176 (5): 960–966.

18

Althabe F, Belizan JM, McClure EM, Hemingway-Foday J, Berrueta M, Mazzoni A et al. A population-based, multifaceted strategy to implement antenatal corticosteroid treatment versus standard care for the reduction of neonatal mortality due to preterm birth in low-income and middle-income countries: the ACT cluster randomised trial. Lancet 2015; 385: 629–639.

19

Deulofeut R, Sola A, Lee B, Buchter S, Rahman M, Rogido M . The impact of vaginal delivery in premature infants weighing less than 1251 grams. Obstet Gynecol 2005; 105 (3): 525–531.

20

Luque MJ, Tapia JL, Villarroel L, Marshall G, Musante G, Carlo W et al. A risk prediction model for severe intraventricular hemorrhage in very low birth weight infants and the effect of prophylactic indomethacin. J Perinatol 2014; 34: 43–48.

21

Alfirevic Z, Milan SJ, Livio S . Caesarean section versus vaginal delivery for preterm birth in singletons. Cochrane Database Syst Rev 2013; 12 (9): CD000078.
Acknowledgements
We thank Dr Linda Wright for her critical review of this manuscript.
Collaborators from the Neocosur Network Collaborative Group
The following collaborators from the Neocosur Network collaborative group participated in this study: Argentina: Guillermo Colantonio, Jorge Zapata, Gaston Perez, Susana Garcia Ana Pedraza (Clinica y Maternidad Suizo Argentina, Buenos Aires); Isabel Kurlat, Oscar Di Siervi, Adriana Escarate (Hospital de Clinicas Jose de San Martin); Gonzalo Mariani, Jose Maria Ceriani, Silvia Fernandez, Carlos Fustinana, Pablo Brener, Eleonora Edwards (Hospital Italiano, Buenos Aires); Jorge Tavosnaska, Liliana Roldan, Hector Sexer, Gladys Saa, Debora Sabatelli, Maria Laura Gendra, Maria Fernanda Buraschi, Paula Molina (Hospital Juan Fernandez, Buenos Aires); Daniel Agost, Federico Morganti, Adriana Fontana, Daniela Chandias, Monica Rinaldi (Hospital Lagomaggiore, Mendoza); Carlos Grandi, Elio Rojas, Claudio Solana, Ricardo Nieto, Javier Meritano, Miguel Larguia, Laura Kasten, Lucrecia Cuneo (Maternidad Sarda, Buenos Aires); Marcelo Decaro, Lionel Cracco, Gustavo Bassi, Noemi Jacobi, Andrea Brum, Nestor Vain (Sanatorio de la Trinidad, Buenos Aires); Adriana Aguilar, Miriam Guerrero, Edgardo Szyld, Alcira Escandar (Hospital Dr Diego Paroissien, Buenos Aires); Daniel Abdala, MartinGuida, Lucila Ferrin, Horacio Roge (Hospital Español de Mendoza); Gabriel Musante, Maria C. Capelli, Juan Pablo Berazategui, Magdalena de Elizalde, Juan Ignacio Fraga, Rodolfo Keller (Hospital Universitario Austral, Buenos Aires); Luis Ahumada, Mirta Ferreyra (Hospital Nuestra Señora de la Misericordia, Cordoba); Brazil: Vanda Ferreira, Roberta Borges, Marynea Do Vale, Silvia Cavalcante, Joama Gusmao, Patricia Franco, Maria Jose Silva (Hospital Universidad Federal de Maranhao, Sao Luis); Chile: Jorge Fabres, Alberto Estay, Alvaro Gonzalez, Javier Kattan, Mariela Quezada, Soledad Urzua (Hospital Clinico Pontificia Universidad Catolica de Chile, Santiago); Lilia Campos, Lilian Cifuentes, Jorge Leon, Roxana Aguilar, Sergio Treuer, Jimena Giaconi, Aldo Bancalari (Hospital Guillermo Grant, Concepcion); Jane Standen, Marisol Escobar, Viviana Veas, Daniela Sandino (Hospital Gustavo Fricke, Viña del Mar); Agustina Gonzalez, Claudia Avila, Carla Guzman (Hospital San Jose, Santiago); Claudia Toro, Patricia Mena, Beatriz Milet, Enrica Pittaluga (Hospital Dr Sotero del Rio, Santiago); Veronica Peña, Rafael Mendizabal, Dagoberto Pizarro (Hospital San Borja Arriaran, Santiago); Ivonne D'Apremont, Jose L Tapia, Guillermo Marshall, Luis Villarroel, Mariela Quezada, Angelica Dominguez (Unidad Base de Datos, Pontificia Universidad Catolica de Chile, Santiago). Paraguay: Jose Lacarruba, Elizabeth Cespedes, Ramon Mir, Elvira Mendieta, Larissa Genes, Carlos Caballero (Departamento de Hospital de Clinicas de Asuncion). Peru: Veronica Webb, Fabiola Rivera, Margarita Llontop, Sicilia Bellomo, Jaime Zegarra (Hospital Cayetano Heredia, Lima); Oscar Chumbes, Anne Castañeda, Walter Cabrera, Raul Llanos, Jorge Mucha, Gustavo Garcia (Hospital Guillermo Almenara, Lima). Uruguay: Beatriz Ceruti, Daniel Borbonet, Sandra Gugliucci, Ana Lain, Mariza Martinez, Gabriela Bazan, Susana Piffaretti, Isabel Cuña, Patricia Bermudez (Facultad de Medicina Servicio de Recien Nacidos).
Ethics declarations
Competing interests
The authors declare no conflict of interest.
Further reading
Islam Gamaleldin

,

David Harding

,

Dimitrios Siassakos

,

Tim Draycott

&

David Odd

The Journal of Maternal-Fetal & Neonatal Medicine (2019)

Jenna E. Koschnitzky

,

Richard F. Keep

,

David D. Limbrick

,

James P. McAllister

,

Jill A. Morris

,

Jennifer Strahle

&

Yun C. Yung

Fluids and Barriers of the CNS (2018)