Abstract
Neonatal mortality increases with altitude. For example, in Peru the incidence of neonatal mortality in the highlands has been shown to be about double that at lower altitudes. An important factor is the low inspired PO2 of newborn babies. Typically, expectant mothers at high altitude will travel to low altitude to have their babies if possible, but often this is not feasible because of economic factors. The procedure described here raises the oxygen concentration in the air of rooms where neonates are being housed and, in effect, this means that both the mother and baby are at a much lower altitude. Oxygen conditioning is similar to air conditioning except that the oxygen concentration of the air is increased rather than the temperature being reduced. The procedure is now used at high altitude in many hotels, dormitories and telescope facilities, and has been shown to be feasible and effective.
Your institute does not have access to this article
Access options
Subscribe to Journal
Get full journal access for 1 year
$99.00
only $8.25 per issue
All prices are NET prices.
VAT will be added later in the checkout.
Tax calculation will be finalised during checkout.
Buy article
Get time limited or full article access on ReadCube.
$32.00
All prices are NET prices.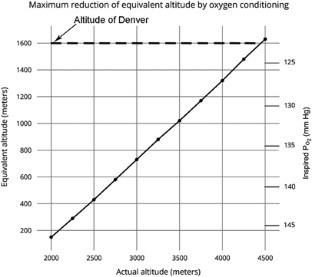 References
Beall CM . The effects of high altitude on growth, morbidity, and mortality of Peruvian infants. PhD dissertation. Pennsylvania State University,, 1976.

Beall CM . Optimal birth weights in Peruvian populations at low and high altitudes. Am J Phys Anthropol 1981; 56: 209–216.

Frisancho AR, Cossman J . Secular trend in neonatal mortality in the mountain states. Am J Phys Anthropol 1970; 33: 103–106.

Grahn D, Kratchman J . Variation in neonatal death rate and birth weight in the United States and possible relations to environmental radiation, geology and altitude. Am J Hum Genet 1963; 15: 329–352.

Lichty JA . Neonatal mortality and prematurity in Colorado. Rocky Mt Med J 1957; 54: 251–254.

Mazess RB . Neonatal mortality and altitude in Peru. Am J Phys Anthropol 1965; 23: 209–214.

Unger C, Weiser JK, McCullough RE, Keefer S, Moore LG . Altitude, low birth weight, and infant mortality in Colorado. JAMA 1988; 259: 3427–3432.

Wiley AS . Neonatal size and infant mortality at high altitude in the western Himalaya. Am J Phys Anthropol 1994; 94: 289–305.

Gonzales GF, Salirrosas A . Arterial oxygen saturation in healthy newborns delivered at term in Cerro de Pasco (4340 m) and Lima (150 m). Reprod Biol Endocrinol 2005; 3: 46–53.

Yip R . Altitude and birth weight. J Pediatr 1987; 111: 869–876.

Moore LG, Young D, McCullough RE, Droma T, Zamudio S . Tibetan protection from intrauterine growth restriction (IUGR) and reproductive loss at high altitude. Am J Hum Biol 2001; 13: 634–644.

West JB . Oxygen enrichment of room air to relieve the hypoxia of high altitude. Respir Physiol 1995; 99: 225–232.

National Fire Protection Association. Standard for Hypobaric Facilities, NFPA Code 99B. National Fire Protection Association: Quincy, MA, 1999.

West JB . Safe upper limits for oxygen enrichment of room air at high altitude. High Alt Med Biol 2001; 2: 47–51.

West JB . Potential use of oxygen enrichment of room air in mountain resorts. High Alt Med Biol 2002; 3: 59–64.
Ethics declarations
Competing interests
The authors declare no conflict of interest.
About this article
Cite this article
West, J. A strategy for reducing neonatal mortality at high altitude using oxygen conditioning. J Perinatol 35, 900–902 (2015). https://doi.org/10.1038/jp.2015.108
Received:

Revised:

Accepted:

Published:

Issue Date:

DOI: https://doi.org/10.1038/jp.2015.108
Further reading
Angela B. Hoyos
Pablo Vasquez-Hoyos

Journal of Perinatology (2021)