Abstract
Objective:
We reviewed the occurrence of prematurity, low birth weight, multiple gestations, frequency of stillbirths and maternity care-associated variables including hospital stay and hospital charges of women conceiving using assisted reproductive technology (ART) or artificial insemination (AI) compared with women with a history of infertility who conceived naturally, and all other naturally conceived pregnancies in California at non-federal hospitals between 2009 and 2011. At a single center, infants born after ART/AI were compared with infants provided care in the normal nursery.
Study design:
Publically available inpatient data sets from the California Office of Statewide Health Planning and Development for years 2009–2011 using data from all California non-federal hospitals were used to determine the impact of ART on a variety of pregnancy-related outcomes and infant characteristics. Infant data from a single center was used to determine hospital charges for infants delivered over an 18-month period to compare the hospital and physician charges indexed to similar charges for infants admitted to the 'normal' newborn nursery.
Result:
Among ART/AI pregnancies, there was a 4–5-fold increase in stillbirths, compared with a 2–3-fold increase among women with infertility compared with other naturally conceiving women. ART/AI pregnancies underwent more cesarean sections (fourfold), and a near fourfold increase in the rate of preterm deliveries. Multiple gestations were increased 24–27-fold compared with naturally conceived pregnancies. Maternal hospital stay and hospital charges were increased among those undergoing ART/AI. Infant charges were increased multi-fold for singletons, twins and triplets delivered after ART/AI compared with naturally conceived infants.
Conclusion:
Multiple births, preterm births and a higher overall rate of fetal anomalies were found in California after ART/AI for 2009–2011. Cesarean section rates, longer length of maternal stay and hospital charges among women receiving ART/AI could be lowered if emphasis on elective single embryo transfers was a higher priority among providers. Charges for the care of infants delivered after ART/AI are substantially higher than among naturally conceived infants born late preterm or at term. Families seeking ART/AI need to be informed of the impact of these adverse pregnancy outcomes, including neonatal outcomes and charges for medical care for their infant(s), when considering ART/AI.
Access options
Subscribe to this journal
Receive 12 print issues and online access
$259.00 per year
only $21.58 per issue
Rent or buy this article
Prices vary by article type
from$1.95
to$39.95
Prices may be subject to local taxes which are calculated during checkout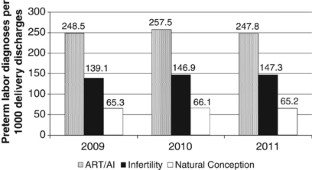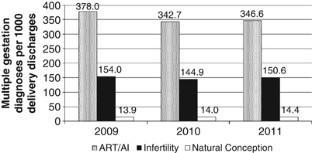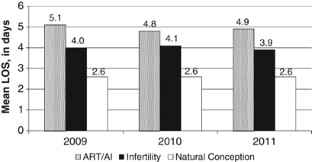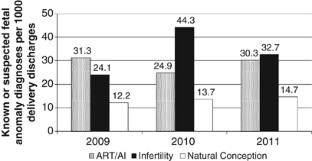 References
Chandra A, Martinez GM, Mosher WD, Abma JC, Jones J . Fertility, family planning, reproductive health of U.S. women: data from the 2002 National Survey of Family Growth. Vital Health Stat 2005; 23: 1–160.

Steptoe PC, Edwards RG . Birth after the reimplantation of a human embryo. Lancet 1978; 12 (2): 366.

Sullivan W . First 'Test-Tube' Baby in U.S., joining Successes Around World. NY Times 1981 page 1.

Sunderam S, Kissin DM, Flower L, Anderson JE, Folger SG, Jamieson DJ et al. Centers for Disease Control and Prevention (CDC). Assisted reproductive technology surveillance-United States, 2009. MMWR Surveill Summ 2012; 61 (7 ss7): 1–28.

Mneimneh AS, Boulet SL, Sunderam S, Zhang Y, Jamieson DJ, Crawford S et al. States Monitoring Assisted Reproductive Technology (SMART) Collaborative: Data Collection, Linkage, Dissemination, and Use. J Women's Health 2013; 22 (7): 571–577.

Office of Statewide Health Planning and Development. Patient discharge data file documentation January-December 2009-2011 http://www.oshpd.ca.gov/HID/Products/PatDiscjhargeData/PublicDataSet/index.html Accessed 2013.

MIRCal The basics of MIRCal Edit Programs for IP E, and AS data. Office of Statewide Health Planning and Development 2007 http://www.oshpd.ca.gov/HID/MIRCal/ManualsGuides.html Accessed 2013.

National Vifel statistics Reports 60(1); 11/3/11.

Reddy UM, Wapner JR, Rebar RW, Tasca RJ . Infertility, assisted reproductive technology, and adverse pregnancy outcomes: executive summary of a National Institute of Child Health and Human Development workshop. Obstet Gynecol 2007; 109: 967–977.

Boulet S Infertility Insurance mandates: Impact on ART use and outcomes, Division of Reproductive Health, August 14, 2013, Presented at Centers for Disease Control and Prevention, Atlanta, Ga. And Bernson D., Insurance Coverage for Infertility Treatments, presented at Centers for Disease Control and Prevention, Division of Reproductive Health Seminar, August 14 2013.

McLernon DJ, Harrild K, Bergh C, Davies MJ, de Neubourg D, Dumoulin JC et al. Clinical effectiveness of elective single versus double embryo transfer: meta-analysis of individual patient data from randomized trials. BMJ 2010; 341: 6945.

Practice Committee of Society for Assisted Reproductive Technology; Practice Committee of American Society for Reproductive Medicine. Elective single-embryo transfer. Fertil Steril 2012; 97 (4): 835–842.

Adashi EY, Ekins MN, Lacoursiere Y . On the discharge of Hippocratic obligations: challenges and opportunities. Am J Obstet Gynecol 2004; 190 (4): 885–893.

Templeton A . Avoiding multiples pregnancies in ART: replace as many embryos as you like-0ne at a time. Hum Reprod 2000; 15: 1663–1665.

Kulkami AD, Jamieson DJ, Hones HW, Kissin DM, Gallo MF, Macaluso M et al. fertility treatments and multiple births in the United States. N Engl J Med 2013; 369: 2218–2225.

Reynolds MA, Schieve LA, Martin JA, Jeng G, Macaluso M . Trends in multiple birth conceived using assisted reproductive technology. United States, 1997-2000. Pediatrics 2003; 111: 1159–1162.

Guzich DS, Carson SA, Coutifaris C, Overstreet JW, Factor-Litvak P, Steinkampf MP et al. Efficacy of superovulation and intrauterine insemination in the treatment of infertility. N Engl J Med 1999; 340: 177–183.

Lambert RD, Mélançon MJ . Health of ART babies and the responsibility towards future generations In: Daya S, Pierson RA, Gunby J, eds. Research Papers in Fertility and Reproductive Medicine: Proceedings of the 18th World Congress on Fertility and Sterility (IFFS 2004). Elsevier: San Diego, CA, 2004; 349–352.

Behrman RE, Butler AS (eds). Preterm Birth: Causes, Consequences, and Prevention. The National Academies Press: Washington, DC, 2007.

Kelley-Quon LI, Tseng C-H, Janzen C, Shew SB . Congenital malformations associated with assisted reproductive technology: a California statewide analysis. J Pediatr Surg 2013; 48: 1218–1224.

Katz P, Nachtigall R, Showstack J . The economic impact of the assisted reproductive technologies. Nat Med 2002; 8 (S1): S29–S32.

Connolly MP, Hoorens S, Chambers GM ESHRE Reproduction and Society Task Force. The costs and consequences of assisted reproductive technology: an economic perspective. Human Reprod Update 2010; 16 (6): 603–613.

Gadzinowski J, Merritt TA, Jopek A, Kochanski A, Lavery A, Merritt T . In vitro babies- medical and legal aspects: a European and North American Perspective. BioTechnologia 2012; 93 (1): 9–26.

Sazonova A, Källen K, Thurin-Kjellberg A, Wennerholm U-B, Bergh C . Factors affecting obstetric outcome of singletons born after IVF. Human Reprod 2011; 26 (10): 2878–2886.

Schmitt SK, Sneed L, Phibbs C . Costs of newborn care in California: a population-based study. Pediatrics 2006; 117: 154–160.

Wadhawan R, Oh W, Vohr B, Wrange L, Das A, Bell EF et al. Neurodevelopmental outcomes of triplets or higher-order extremely low birth weight infants. Pediatrics 2011; 127: e654–e660.

Lorenz JM . Neurodevelopmental outcomes of twins. Sem Perinatol 2012; 26 (3): 201–212.

Bodeau-Livinec F, Zellin J, Blondel B, Fresson J, Fresson J, Burguet A et al. Do very preterm twins and singletons differ in their neurodevelopment at 5 years of age. Arch Dis Child Fetal Neonatal Ed 2013; 98 (8): F480–F487.

Luu T, Vohr B . Twinning on the brain: the effect on neurodevelopmental outcomes. Am J Med Genetics Part C: Sem in Med Genetics 2009; 151C (2): 142–147.
Acknowledgements
Appreciation is expressed to the hospital financial auditing department of Loma Linda University Medical Center and to Department financial auditors. This study was funded, in part, from a community services grant from Medimmune to the Perinatal Advocacy Committee of Greater Los Angeles.
Ethics declarations
Competing interests
The authors declare no conflict of interest.
About this article
Cite this article
Merritt, T., Goldstein, M., Philips, R. et al. Impact of ART on pregnancies in California: an analysis of maternity outcomes and insights into the added burden of neonatal intensive care. J Perinatol 34, 345–350 (2014). https://doi.org/10.1038/jp.2014.17
Received:

Revised:

Accepted:

Published:

Issue Date:

DOI: https://doi.org/10.1038/jp.2014.17
Keywords
This article is cited by
J M Lorenz
C V Ananth
M E D'Alton

Journal of Perinatology (2016)