Abstract
Objective:
To evaluate the association between parents' ethnic/religious affiliation (secular Jewish, religious Jewish, ultra-orthodox Jewish, Muslim Arabs) and survival of premature infants with severe intraventricular hemorrhage (IVH).
Study Design:
Survival of 102 infants (birth weight⩽1500 g) born at the Hadassah hospitals in Jerusalem from 1 January 1996 through 31 December 2005, who sustained severe IVH and who survived over 48 h, was assessed in relation to their parents' ethnic/religious affiliation and accounting for relevant clinical and demographic variables.
Result:
There were 38 cases of demise among 72 infants with IVH grade IV (52.8%), and 4 among 30 infants with IVH grade III (13.3%). In a multivariate logistic regression analysis accounting for relevant perinatal variables, the odds for mortality compared to the reference Arab group was significantly lower only with regard to ultra-orthodox patients (odds ratio, OR=0.06; 95% confidential interval, CI=0.00 to 0.80; P=0.033). In a logistic and in the Cox stepwise regression analyses with religion as forced in variable, comparing infants with IVH grade IV of religious and ultra-orthodox Jewish families with those of secular Jewish families, the OR/hazard ratio (HR) for mortality were OR=0.10; 95% CI=0.01 to 0.06; P=0.017, and HR=0.37; 95% CI=0.16 to 0.85; P=0.019, respectively. No significant difference between the groups was demonstrated when infants with IVH grade III were analyzed apart.
Conclusion:
Parental religious affiliation may be influential on the outcome of premature infants with severe brain damage.
Access options
Subscribe to this journal
Receive 12 print issues and online access
$259.00 per year
only $21.58 per issue
Rent or buy this article
Prices vary by article type
from$1.95
to$39.95
Prices may be subject to local taxes which are calculated during checkout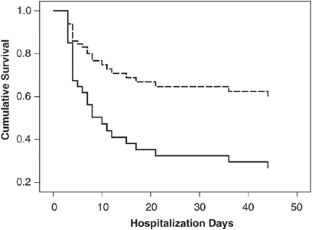 References
Kopelman DM, Irons TG, Kopelman AE . Neonatologists judge the 'Baby Doe' regulations. N Engl J Med 1988; 318: 677–683.

Lorenz JM, Paneth N, Jetton JR, den Ouden L, Tyson J . Comparison of management strategies of extreme prematurity in New Jersey and the Netherlands: outcome and resource expenditure. Pediatrics 2001; 108: 1269–1274.

Rebagliato M, Cuttini M, Broggin L, Berbik I, de Vonderweid U, Hansen G et al. Neonatal end-of-life decision making. Physicians' attitudes and relationship with self-reported practices in 10 European countries. JAMA 2000; 284: 2451–2459.

Cuttini M, Nadai M, Kaminsky M, Hansen G, de Leeuw R, Lenoir S et al. End-of-life decisions in neonatal intensive care: physicians' self-reported practices in seven European countries. Lancet 2000; 355: 2112–2118.

Baume P, O'Malley E, Bauman A . Professed religious affiliation and the practice of euthanasia. J Med Ethics 1995; 21: 49–54.

Wainer S, Khuzwayo H . Attitudes of mothers, doctors, and nurses toward neonatal intensive care in a developing society. Pediatrics 1993; 91: 1171–1175.

Gatrad AR, Sheikh A . Medical ethics and Islam: principles and practice. Arch Dis Child 2001; 84: 72–75.

da Costa DE, Ghazal H, Al Khusaiby S . Do not resuscitate orders and ethical decisions in a neonatal intensive care unit in a Muslim community. Arch Dis Child Fetal Neonatal Ed 2002; 86: F115–F119.

de Garis C, Kuhse H, Singer P, Yu VY . Attitudes of Australian paediatricians to the treatment of extremely preterm infants. Aust Paediatr J 1987; 23: 223–226.

Campbell AGM, McHaffie HE . Prolonging life and allowing death: infants. J Med Ethics 1995; 21: 339–344.

Versluys Z, de Leeuw R . A Dutch report on the ethics of neonatal care. J Med Ethics 1995; 21: 14–16.

McHaffie HE, Laing IA, Parker M, McMillan J . Deciding for imperiled newborns: medical authority or parental autonomy? J Med Ethics 2001; 27: 104–109.

Trip J, McGregor D . Withholding and withdrawing of life sustaining treatment in the newborn. Arch Dis Child Fetal Neonatal ED 2006; 91: F67–F71.

McHaffie HE, Lyon AJ, Hume R . Deciding on treatment limitation of neonates: the parents' perspective. Eur J Pediatr 2001; 160: 339–344.

Brinchmann BS, Forde R, Nortvedt P . What matters to parents? A qualitative study of parents' experience with life-and-death decisions concerning their premature infants. Nurs Ethics 2002; 9: 388–404.

Doyal L, Wilsher D . Towards guidelines for withholding and withdrawing of life prolonging treatment in neonatal medicine. Arch Dis Child 1994; 70: F66–F70.

Papille LA, Burstein J, Burstein R, Koffler H . Incidence and evolution of subependymal and intraventricular hemorrhage: a study of infants with birth weights of less than 1500 grams. J Pediatr 1978; 92: 529–534.

Guzzetta F, Shackelford GK, Volpe S, Perlman JM, Volpe JJ . Periventricular intraparenchymal echodensities in the premature newborn: critical determinant of neurologic outcome. Pediatrics 1986; 78: 995–1006.

Leviton A, Kuban K, Paneth N . Intraventricular haemorrhage grading scheme: time to abandon? Acta Paediatr 2007; 96: 1254–1256.

Emanuel EJ, Emanuel LL . Four models of the physician–patient relationship. JAMA 1992; 267: 2221–2226.

Ravitsky V . Timers on ventilators. BMJ 2005; 330: 415–417.

Volpe JJ . Intracranial hemorrhage: germinal matrix-intraventricular hemorrhage of the premature infant. In: Volpe JJ (ed). Neurology of the Newborn. WB Saunders: Philadelphia, 2001, p 451.
About this article
Cite this article
Arad, I., Braunstein, R. & Netzer, D. Parental religious affiliation and survival of premature infants with severe intraventricular hemorrhage. J Perinatol 28, 361–367 (2008). https://doi.org/10.1038/jp.2008.12
Received:

Revised:

Accepted:

Published:

Issue Date:

DOI: https://doi.org/10.1038/jp.2008.12
Keywords