Abstract
We aimed to evaluate efficacy and tolerability of a protocol including lifestyle modifications and a novel combination of dietary supplements in prehypertension. A prospective, double-blind, randomised, placebo-controlled trial was conducted in 176 subjects (103 men, aged 52±10 years), with blood pressure (BP) of 130–139 mm Hg systolic and/or 85–89 mm Hg diastolic entered. After a single-blind run-in period, participants were randomised to twice daily placebo (n=88) or a commercially available combination pill (n=88). Primary endpoints were the differences in clinic BP between the two groups at the end of the trial. Secondary endpoints included intragroup differences in clinic BP during the study period and response rates (that is, BP <130/85 mm Hg or a BP reduction >5 mm Hg on week 12). Baseline characteristics were similar among the treatment groups. At 12 weeks, the supplement group had lower systolic BP (124±9 versus 132±7 mm Hg, P<0.0001) and similar diastolic BP (81±8 versus 82±7 mm Hg, P=0.382) compared to the placebo group. With respect to baseline measures, changes in BP with supplements were statistically significant for systolic (−9.3±4.2 mm Hg, P<0.0001) and diastolic values (−4.2±3.6 mm Hg, P<0.0001). Changes versus baseline in systolic and diastolic BP, conversely, were not different on placebo. The overall response rate at week 12 was significantly greater with supplements than placebo (58% (51 of 88) and 25% (22 of 88), respectively, P<0.0001). This randomised trial shows that combination of supplements with BP-lowering effect is an effective additional treatment to conventional lifestyle modifications for a better control of systolic BP in prehypertension.
Access options
Subscribe to this journal
Receive 12 digital issues and online access to articles
$119.00 per year
only $9.92 per issue
Rent or buy this article
Prices vary by article type
from$1.95
to$39.95
Prices may be subject to local taxes which are calculated during checkout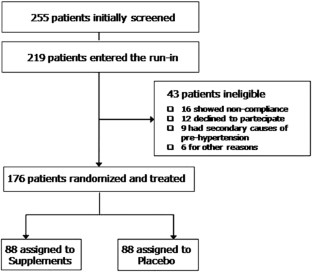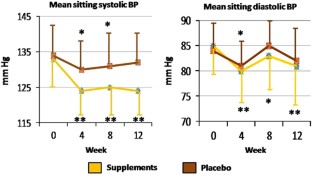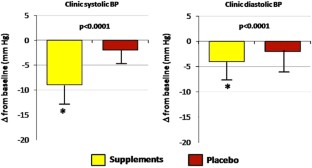 References
Egan BM, Stevens-Fabry S . Prehypertension-prevalence, health risks, and management strategies. Nat Rev Cardiol 2015; 12: 289–300.

Vasan RS, Larson MG, Leip EP, Kannel WB, Levy D . Assessment of frequency of progression to hypertension in non-hypertensive participants in the Framingham Heart Study: a cohort study. Lancet 2001; 358: 1682–1686.

Vasan RS, Larson MG, Leip EP, Evans JC, O'Donnell CJ, Kannel WB et al. Impact of high-normal blood pressure on the risk of cardiovascular disease. N Engl J Med 2001; 345: 1291–1297.

Chobanian AV, Bakris GL, Black HR, Cushman WC, Green LA, Izzo JL Jr et al. The seventh report of the joint national committee on prevention, detection, evaluation, and treatment of high blood pressure: the JNC 7 report. JAMA 2003; 289: 2560–2572.

Messerli FH, Panjrath GS . The J-curve between blood pressure and coronary artery disease or essential hypertension: exactly how essential? J Am Coll Cardiol 2009; 54: 1827–1834.

Mancia G, Fagard R, Narkiewicz K, Redon J, Zanchetti A, Böhm M et al. ESH/ESC guidelines for the management of arterial hypertension: The Task Force for the Management of Arterial Hypertension of the European Society of Hypertension (ESH) and of the European Society of Cardiology (ESC). Eur Heart J 2013; 34: 2159–2219.

James PA, Oparil S, Carter BL, Cushman WC, Dennison-Himmelfarb C, Handler J et al. 2014 evidence-based guideline for the management of high blood pressure in adults: report from the panel members appointed to the Eighth Joint National Committee (JNC 8). JAMA 2014; 311: 507–520.

Dickinson HO, Mason JM, Nicolson DJ, Campbell F, Beyer FR, Cook JV et al. Lifestyle interventions to reduce raised blood pressure: a systematic review of randomized controlled trials. J Hypertens 2006; 24: 215–233.

Rasmussen CB, Glisson JK, Minor DS . Dietary supplements and hypertension: potential benefits and precautions. J Clin Hypertens 2012; 14: 467–471.

Trimarco V, Cimmino CS, Santoro M, Pagnano G, Manzi MV, Piglia A et al. Nutraceuticals for blood pressure control in patients with high-normal or grade 1 hypertension. High Blood Press Cardiovasc Prev 2012; 19: 117–122.

O'Brien E, Waeber B, Parati G, Staessen J, Myers MG . Blood pressure measuring devices: recommendations of the European Society of Hypertension. BMJ 2001; 322: 531–536.

White WB, Berson AS, Robbins C, Jamieson MJ, Prisant LM, Roccella E et al. National standard for measurement of resting and ambulatory blood pressures with automated sphygmomanometers. Hypertension 1993; 21: 504–509.

Pickering TG, Hall JE, Appel LJ, Falkner BE, Graves J, Hill MN et al. Recommendations for blood pressure measurement in humans and experimental animals: part 1: blood pressure measurement in humans: a statement for professionals from the Subcommittee of Professional and Public Education of the American Heart Association Council on High Blood Pressure Research. Circulation 2005; 111: 697–716.

Huang Y, Cai X, Li Y, Su L, Mai W, Wang S et al. Prehypertension and the risk of stroke: a meta-analysis. Neurology 2014; 82: 1153–1161.

Hsia J, Margolis KL, Eaton CB, Wenger NK, Allison M, Wu L et al. Prehypertension and cardiovascular disease risk in the Women's Health Initiative. Circulation 2007; 115: 855–860.

Sacks FM, Svetkey LP, Vollmer WM, Appel LJ, Bray GA, Harsha D et al. Effects on blood pressure of reduced dietary sodium and the Dietary Approaches to Stop Hypertension (DASH) diet. DASH-Sodium Collaborative Research Group. N Engl J Med 2001; 344: 3–10.

Yeh GY, Davis RB, Phillips RS . Use of complementary therapies in patients with cardiovascular disease. Am J Cardiol 2006; 98: 673–680.

Wu CH, Wang CC, Kennedy J . Changes in herb and dietary supplement use in the U.S. adult population: a comparison of the 2002 and 2007 National Health Interview Surveys. Clin Ther 2011; 33: 1749–1758.

Sirtori CR, Arnoldi A, Cicero AF . Nutraceuticals for blood pressure control. Ann Med 2015; 47: 447–456.

Ried K, Frank OR, Stocks NP, Fakler P, Sullivan T . Effect of garlic on blood pressure: a systematic review and meta-analysis. BMC Cardiovasc Disord 2008; 8: 13.

Reinhart KM, Coleman CI, Teevan C, Vachhani P, White CM . Effects of garlic on blood pressure in patients with and without systolic hypertension: a meta-analysis. Ann Pharmacother 2008; 42: 1766–1771.

Tanaka S, Watabe K, Yamaguchi H . Studies on the mechanism of antihypertensive action of a garlic homogenate-based diet 'Dento Ninniku Ran-ou' using isolated rat aorta preparations. Oyo Yakuri 2012; 82: 21–28.

Borrelli F, Capasso R, Izzo AA . Garlic (Allium sativum L.): adverse effects and drug interactions in humans. Mol Nutr Food Res 2007; 51: 1386–1397.

Chang Q, Zuo Z, Harrison F, Chow MS . Hawthorn. J Clin Pharmacol 2002; 42: 605–612.

Brixius K, Willms S, Napp A, Tossios P, Ladage D, Bloch W et al. Crataegus special extract WS 1442 induces an endothelium-dependent, NO-mediated vasorelaxation via eNOSphosphorylation at serine 1177. Cardiovasc Drugs Ther 2006; 20: 177–184.

Asgary S, Naderi GH, Sadeghi M, Kelishadi R, Amiri M . Antihypertensive effect of Iranian Crataegus curvisepala Lind.: a randomized, double-blind study. Drugs Exp Clin Res 2004; 30: 221–225.

Walker AF, Marakis G, Morris AP, Robinson PA . Promising hypotensive effect of hawthorn extract: a randomized double-blind pilot study of mild, essential hypertension. Phytother Res 2002; 16: 48–54.

Walker AF, Marakis G, Simpson E, Hope JL, Robinson PA, Hassanein M et al. Hypotensive effects of hawthorn for patients with diabetes taking prescription drugs: a randomised controlled trial. Br J Gen Pract 2006; 56: 437–443.

Hirunpanich V, Utaipat A, Morales NP, Bunyapraphatsara N, Sato H, Herunsalee A et al. Antioxidant effects of aqueous extracts from dried calyx of Hibiscus sabdariffa Linn. (Roselle) in vitro using rat low-density lipoprotein (LDL). Biol Pharm Bull 2005; 28: 481–484.

European Medicines Agency. Evaluation of medicines for human use. Assessment Report on Orthosiphon stamineus Benth., folium. EMA/HMPC/135701/ 2009 Committee on Herbal Medicinal Products (HMPC): London, UK, 2010.

Manshor NM, Dewa A, Asmawi MZ, Ismail Z, Razali N, Hassan Z . Vascular reactivity concerning Orthosiphon stamineus BenthMediated anti-hypertensive in aortic rings of spontaneously hypertensive rats. Int J Vasc Med 2013; 2013: 456852.

Mozaffari-Khosravi H, Jalali-Khanabadi BA, Afkhami-Ardekani M, Fatehi F, Noori-Shadkam M . The effects of sour tea (Hibiscus sabdariffa on hypertension in patients with type II diabetes. J Hum Hypertens 2009; 23: 48–54.

Lewington S, Clarke R, Qizilbash N, Peto R, Collins R . Age-specific relevance of usual blood pressure to vascular mortality: a meta-analysis of individual data for one million adults in 61 prospective studies. Lancet 2002; 360: 1903–1913.

McInnes GT . Lowering blood pressure for cardiovascular risk reduction. J Hypertens Suppl 2005; 23: S3–S8.

Arora P, Song Y, Dusek J, Plotnikoff G, Sabatine MS, Cheng S et al. VitaminDtherapy in individuals with prehypertension or hypertension: the DAYLIGHT trial. Circulation 2015; 131: 254–262.

Davis JT, Rao F, Naqshbandi D, Fung MM, Zhang K, Schork AJ et al. Autonomic and hemodynamic origins of pre-hypertension: central role of heredity. J Am Coll Cardiol 2012; 59: 2206–2216.
Ethics declarations
Competing interests
The authors declare no conflict of interest.
About this article
Cite this article
Pelliccia, F., Pasceri, V., Marazzi, G. et al. Randomised, double-blind, placebo-controlled, assessment of the efficacy and safety of dietary supplements in prehypertension. J Hum Hypertens 31, 647–653 (2017). https://doi.org/10.1038/jhh.2017.35
Received:

Revised:

Accepted:

Published:

Issue Date:

DOI: https://doi.org/10.1038/jhh.2017.35