Abstract
Metabolic syndrome (MS) has been shown to predict cardiovascular events in hypertension. Recently, a new four-group left ventricular (LV) hypertrophy classification based on both LV dilatation and concentricity was proposed. This classification has been shown to provide a more accurate prediction of cardiovascular events, suggesting that the presence of LV dilatation may add prognostic information. We investigated the relationship between MS and the new classification of LV geometry in patients with primary hypertension. A total of 372 untreated hypertensive patients were studied. Four different patterns of LV hypertrophy (eccentric nondilated, eccentric dilated, concentric nondilated and concentric dilated hypertrophy) were identified by echocardiography. A modified National Cholesterol Education Program definition for MS was used, with body mass index replacing waist circumference. The overall prevalence of MS and LV hypertrophy (LVH) was 29% and 61%, respectively. Patients with MS showed a higher prevalence of LVH (P=0.0281) and dilated LV geometries, namely eccentric dilated and concentric dilated hypertrophy (P=0.0075). Moreover, patients with MS showed higher LV end-diastolic volume (P=0.0005) and prevalence of increased LV end-diastolic volume (P=0.0068). The prevalence of LV chamber dilatation increased progressively with the number of components of MS (P=0.0191). Logistic regression analysis showed that the presence of MS entails a three times higher risk of having LV chamber dilatation even after adjusting for several potential confounding factors. MS is associated with LV dilatation in hypertension. These findings may, in part, explain the unfavourable prognosis observed in patients with MS.
Your institute does not have access to this article
Relevant articles
Open Access articles citing this article.
Shasha Yu

,

Yintao Chen

…

Yingxian Sun

BMC Cardiovascular Disorders Open Access 03 February 2020
Access options
Subscribe to Journal
Get full journal access for 1 year
$119.00
only $9.92 per issue
All prices are NET prices.
VAT will be added later in the checkout.
Tax calculation will be finalised during checkout.
Buy article
Get time limited or full article access on ReadCube.
$32.00
All prices are NET prices.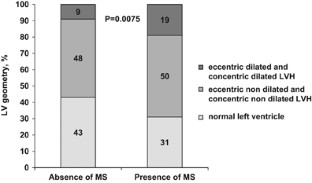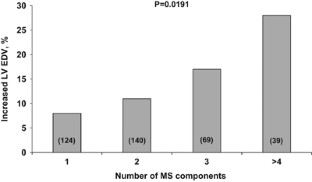 References
Cuspidi C, Meani S, Fusi V, Severgnini B, Valerio C, Catini E et al. Metabolic syndrome and target organ damage in untreated essential hypertensives. J Hypertens 2004; 22: 1991–1998.

Scholze J, Alegria E, Ferri C, Langham S, Stevens W, Jeffries D et al. Epidemiological and economic burden of metabolic syndrome and its consequences in patients with hypertension in Germany, Spain and Italy; a prevalence-based model. BMC Public Health 2010; 10: 529.

Schillaci G, Pirro M, Vaudo G, Gemelli F, Marchesi S, Porcellati C et al. Prognostic value of the metabolic syndrome in essential hypertension. J Am Coll Cardiol 2004; 43: 1817–1822.

Levy D, Garrison RJ, Savage DD, Kannel WB, Castelli WP . Prognostic implications of echocardiographically determined left ventricular mass in the Framingham Heart Study. N Engl J Med 1990; 322: 1561–1566.

Okin PM, Devereux RB, Jern S, Kjeldsen SE, Julius S, Nieminen MS et al. Regression of electrocardiographic left ventricular hypertrophy during antihypertensive treatment and the prediction of major cardiovascular events. JAMA 2004; 292: 2343–2349.

Verdecchia P, Schillaci G, Borgioni C, Ciucci A, Gattobigio R, Zampi I et al. Prognostic significance of serial changes in left ventricular mass in essential hypertension. Circulation 1998; 97: 48–54.

Devereux RB, Wachtell K, Gerdts E, Boman K, Nieminen MS, Papademetriou V et al. Prognostic significance of left ventricular mass change during treatment of hypertension. JAMA 2004; 292: 2350–2356.

Ganau A, Devereux RB, Roman MJ, de Simone G, Pickering TG, Saba PS et al. Patterns of left ventricular hypertrophy and geometric remodeling in essential hypertension. J Am Coll Cardiol 1992; 19: 1550–1558.

Khouri MG, Peshock RM, Ayers CR, de Lemos JA, Drazner MH . A 4-tiered classification of left ventricular hypertrophy based on left ventricular geometry: the Dallas heart study. Circ Cardiovasc Imaging 2010; 3: 164–171.

Bang CN, Gerdts E, Aurigemma GP, Boman K, de Simone G, Dahlöf B et al. Four-group classification of left ventricular hypertrophy based on ventricular concentricity and dilatation identifies a low-risk subset of eccentric hypertrophy in hypertensive patients. Circ Cardiovasc Imaging 2014; 7: 422–429.

Pontremoli R, Sofia A, Ravera M, Nicolella C, Viazzi F, Tirotta A et al. Prevalence and clinical correlates of microalbuminuria in essential hypertension: the MAGIC Study. Microalbuminuria: A Genoa Investigation on Complications. Hypertension 1997; 30: 1135–1143.

Friedewald WT, Levy RI, Fredrickson DS . Estimation of the concentration of low-density lipoprotein cholesterol in plasma, without use of the preparative ultracentrifuge. Clin Chem 1972; 18: 499–502.

Levey AS, Stevens LA, Schmid CH, Zhang YL, Castro AF 3rd, Feldman HI et al. CKD-EPI (Chronic Kidney Disease Epidemiology Collaboration). A new equation to estimate glomerular filtration rate. Ann Intern Med 2009; 150: 604–612.

Lang RM, Bierig M, Devereux RB, Flachskampf FA, Foster E, Pellikka PA et al. Recommendations for chamber quantification: a report from the American Society of Echocardiography's Guidelines and Standards Committee and the Chamber Quantification Writing Group, developed in conjunction with the European Association of Echocardiography, a branch of the European Society of Cardiology. J Am Soc Echocardiogr 2005; 18: 1440–1463.

Devereux RB, Alonso DR, Lutas EM, Gottlieb GJ, Campo E, Sachs I et al. Echocardiographic assessment of left ventricular hypertrophy: comparison to necropsy findings. Am J Cardiol 1986; 57: 450–458.

Teichholz LE, Kreulen T, Herman MV, Gorlin R . Problems in echocardiographic volume determinations: echocardiographic-angiographic correlations in the presence of absence of asynergy. Am J Cardiol 1976; 37: 7–11.

Mancia G, Fagard R, Narkiewicz K, Redón J, Zanchetti A, Böhm M et al2013 ESH/ESC Guidelines for the management of arterial hypertension: the Task Force for the management of arterial hypertension of the European Society of Hypertension (ESH) and of the European Society of Cardiology (ESC). J Hypertens 2013; 31: 1281–1357.

Expert Panel on Detection, Evaluation, and Treatment of High Blood Cholesterol in Adults. Executive Summary of the Third Report of the National Cholesterol Education Program (NCEP) Expert Panel on Detection, Evaluation, and Treatment of High Blood Cholesterol in Adults (Adult Treatment Panel III). JAMA 2001; 285: 2486–2497.

Genuth S, Alberti KG, Bennett P, Buse J, Defronzo R, Kahn R et al. Follow-up report on the diagnosis of diabetes mellitus. Diabetes Care 2003; 26: 3160–3167.

Butler J, Rodondi N, Zhu Y, Figaro K, Fazio S, Vaughan DE et al. Metabolic syndrome and the risk of cardiovascular disease in older adults. J Am Coll Cardiol 2006; 47: 1595–15602.

Ratto E, Viazzi F, Bonino B, Gonnella A, Garneri D, Parodi EL et al. Left ventricular dilatation and subclinical renal damage in primary hypertension. J Hypertens 2015; 33: 605–611.

Bang CN, Gerdts E, Aurigemma GP, Boman K, Dahlöf B, Roman MJ et al. Systolic left ventricular function according to left ventricular concentricity and dilatation in hypertensive patients: the Losartan Intervention for Endpoint reduction in hypertension study. J Hypertens 2013; 31: 2060–2068.

Schillaci G, Pirro M, Pucci G, Mannarino MR, Gemelli F, Siepi D et al. Different impact of the metabolic syndrome on left ventricular structure and function in hypertensive men and women. Hypertension 2006; 47: 881–886.

Grandi AM, Maresca AM, Giudici E, Laurita E, Marchesi C, Solbiati F et al. Metabolic syndrome and morphofunctional characteristics of the left ventricle in clinically hypertensive nondiabetic subjects. Am J Hypertens 2006; 19: 199–205.

Mottillo S, Filion KB, Genest J, Joseph L, Pilote L, Poirier P et al. The metabolic syndrome and cardiovascular risk a systematic review and meta-analysis. J Am Coll Cardiol 2010; 56: 1113–1132.

Guerra F, Mancinelli L, Angelini L, Fortunati M, Rappelli A, Dessì-Fulgheri P et al. The association of left ventricular hypertrophy with metabolic syndrome is dependent on body mass index in hypertensive overweight or obese patients. PLoS One 2011; 6: e16630.

de Simone G, Devereux RB, Roman MJ, Alderman MH, Laragh JH . Relation of obesity and gender to left ventricular hypertrophy in normotensive and hypertensive adults. Hypertension 1994; 23: 600–606.

Frohlich ED, Apstein C, Chobanian AV, Devereux RB, Dustan HP, Dzau V et al. The heart in hypertension. N Engl J Med 1992; 327: 998–1008.

Strazzullo P, Barba G, Cappuccio FP, Siani A, Trevisan M, Farinaro E et al. Altered renal sodium handling in men with abdominal adiposity: a link to hypertension. J Hypertens 2001; 19: 2157–2164.

Koomans HA, Boer WH, Dorhout Mees EJ . Evaluation of lithium clearance as a marker of proximal tubule sodium handling. Kidney Int 1989; 36: 2–12.
Acknowledgements
This work was partly supported by a grant from the Italian Ministero della Salute (Bando Giovane Ricercatore 2008, CUP G35J11000130001).
Ethics declarations
Competing interests
The authors declare no conflict of interest.
About this article
Cite this article
Ratto, E., Viazzi, F., Verzola, D. et al. Metabolic syndrome is associated with left ventricular dilatation in primary hypertension. J Hum Hypertens 30, 158–163 (2016). https://doi.org/10.1038/jhh.2015.67
Received:

Revised:

Accepted:

Published:

Issue Date:

DOI: https://doi.org/10.1038/jhh.2015.67
Further reading
Shasha Yu
Yintao Chen
Yingxian Sun

BMC Cardiovascular Disorders (2020)