Abstract
Blood pressure (BP) is a mandatory safety measure during graded intensity clinical exercise stress testing. While it is generally accepted that exercise hypotension is a poor prognostic sign linked to severe cardiac dysfunction, recent meta-analysis data also implicate excessive rises in submaximal exercise BP with adverse cardiovascular events and mortality, irrespective of resting BP. Although more data is needed to derive submaximal normative BP thresholds, the association of a hypertensive response to exercise with increased cardiovascular risk may be due to underlying hypertension that has gone unnoticed by conventional resting BP screening methods. Delayed BP decline during recovery is also associated with adverse clinical outcomes. Thus, above and beyond being used as a routine safety measure during stress testing, exercise (and recovery) BP may be useful for identifying high-risk individuals and also as an aid to optimise care through appropriate follow-up after exercise stress testing. Accordingly, careful attention should be paid to correct measurement of exercise stress test BP (before, during and after exercise) using a standardised approach with trained operators and validated BP monitoring equipment (manual or automated). Recommendations for exercise BP measurement based on consolidated international guidelines and expert consensus are presented in this review.
Relevant articles
Open Access articles citing this article.
Agostino Faletra

,

Giuseppe Bellin

…

Firas Mourad

BMC Musculoskeletal Disorders Open Access 04 August 2022

Suhong Park

&

Hyo Youl Moon

European Journal of Applied Physiology Open Access 04 July 2022

Neha Bala

,

Aashish Negi

…

Sarfaraz Alam

Bulletin of Faculty of Physical Therapy Open Access 29 October 2021
Access options
Subscribe to Journal
Get full journal access for 1 year
$119.00
only $9.92 per issue
All prices are NET prices.
VAT will be added later in the checkout.
Tax calculation will be finalised during checkout.
Buy article
Get time limited or full article access on ReadCube.
$32.00
All prices are NET prices.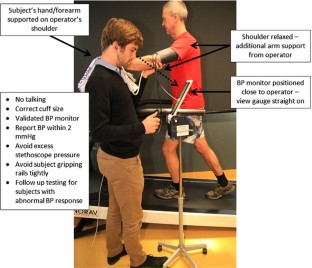 References
Hambrecht RP, Schuler GC, Muth T, Grunze MF, Marburger CT, Niebauer J et al. Greater diagnostic sensitivity of treadmill versus cycle exercise testing of asymptomatic men with coronary artery disease. Am J Cardiol 1992; 70: 141–146.

American Thoracic Society American College of Chest Physicians. ATS/ACCP Statement on cardiopulmonary exercise testing. Am J Respir Crit Care Med 2003; 167: 211–277.

Linda SP . (eds). American College of Sports Medicine ACSM's Guidelines for Exercise Testing and Prescription. 9th edn Wolters Kluwer: Philadelphia, PA, USA, 2014.

Lauer MS, Levy D, Anderson KM, Plehn JF . Is there a relationship between exercise systolic blood pressure response and left ventricular mass? The Framingham Heart Study. Ann Intern Med 1992; 116: 203–210.

Daida H, Allison TG, Squires RW, Miller TD, Gau GT . Peak exercise blood pressure stratified by age and gender in apparently healthy subjects. Mayo Clin Proc 1996; 71: 445–452.

Criqui MH, Haskell WL, Heiss G, Tyroler HA, Green P, Rubenstein CJ . Predictors of systolic blood pressure response to treadmill exercise: the Lipid Research Clinics Program Prevalence Study. Circulation 1983; 68: 225–233.

Menghini F, Dally L, Fazzini PF, Menotti A, Prati PL, Rovelli F et al. Normal behaviour of circulatory parameters during exercise. Reference values for heart rate and systemic blood pressure. The ECCIS Project data. Epidemiologia e Clinica della Cardiopatia Ischemica Silente. G Ital Cardiol 1995; 25: 967–975.

Thanassoulis G, Lyass A, Benjamin EJ, Larson MG, Vita JA, Levy D et al. Relations of exercise blood pressure response to cardiovascular risk factors and vascular function in the framingham heart study. Circulation 2012; 125: 2836–2843.

Irving JB, Bruce RA, DeRouen TA . Variations in and significance of systolic pressure during maximal exercise (treadmill) testing. Am J Cardiol 1977; 39: 841–848.

Kokkinos PF, Andreas PE, Coutoulakis E, Colleran JA, Narayan P, Dotson CO et al. Determinants of exercise blood pressure response in normotensive and hypertensive women: role of cardiorespiratory fitness. J Cardiopulm Rehabil 2002; 22: 178–183.

Fletcher GF, Balady GJ, Amsterdam EA, Chaitman B, Eckel R, Fleg J et al. Exercise standards for testing and training: a statement for healthcare professionals from the American Heart Association. Circulation 2001; 104: 1694–1740.

Watson G, Mechling E, Ewy GA . Clinical significance of early vs late hypotensive blood pressure response to treadmill exercise. Arch Intern Med 1992; 152: 1005–1008.

Barlow PA, Otahal P, Schultz MG, Shing CM, Sharman JE . Low exercise blood pressure and risk of cardiovascular events and all-cause mortality: systematic review and meta-analysis. Atherosclerosis 2014; 237: 13–22.

Lewington S, Clarke R, Qizilbash N, Peto R, Collins R . Age-specific relevance of usual blood pressure to vascular mortality: a meta-analysis of individual data for one million adults in 61 prospective studies. Lancet 2002; 360: 1903–1913.

Best PJ, Tajik AJ, Gibbons RJ, Pellikka PA . The safety of treadmill exercise stress testing in patients with abdominal aortic aneurysms. Ann Intern Med 1998; 129: 628–631.

Armentano RL, Levenson J, Barra JG, Fischer EI, Breitbart GJ, Pichel RH et al. Assessment of elastin and collagen contribution to aortic elasticity in conscious dogs. Am J Physiol 1991; 260: H1870–H1877.

MacDougall JD, Tuxen D, Sale DG, Moroz JR, Sutton JR . Arterial blood pressure response to heavy resistance exercise. J Appl Physiol 1985; 58: 785–790.

Haykowsky M, Taylor D, Teo K, Quinney A, Humen D . Left ventricular wall stress during leg-press exercise performed with a brief Valsalva maneuver. Chest 2001; 119: 150–154.

La Gerche A, MacIsaac AI, Burns AT, Mooney DJ, Inder WJ, Voigt JU et al. Pulmonary transit of agitated contrast is associated with enhanced pulmonary vascular reserve and right ventricular function during exercise. J Appl Physiol 2010; 109: 1307–1317.

Palatini P, Mos L, Mormino P, Munari L, Del Torre M, Valle F et al. Intra-arterial blood pressure monitoring in the evaluation of the hypertensive athlete. Eur Heart J 1990; 11: 348–354.

Itoh H, Ajisaka R, Koike A, Makita S, Omiya K, Kato Y et al. Heart rate and blood pressure response to ramp exercise and exercise capacity in relation to age, gender, and mode of exercise in a healthy population. J Cardiol 2013; 61: 71–78.

Wolthuis R, Froelicher V Jr, Fischer J, Triebwasser J . The response of healthy men to treadmill exercise. Circulation 1977; 55: 153–157.

Kokkinos P, Pittaras A, Narayan P, Faselis C, Singh S, Manolis A . Exercise capacity and blood pressure associations with left ventricular mass in prehypertensive individuals. Hypertension 2007; 49: 55–61.

Lim PO, Donnan PT, MacDonald TM . Blood pressure determinants of left ventricular wall thickness and mass index in hypertension: comparing office, ambulatory and exercise blood pressures. J Hum Hypertens 2001; 15: 627–633.

Schultz MG, Otahal P, Cleland VJ, Blizzard L, Marwick TH, Sharman JE . Exercise-induced hypertension, cardiovascular events, and mortality in patients undergoing exercise stress testing: a systematic review and meta-analysis. Am J Hypertens 2013; 26: 357–366.

Schultz MG, Hare JL, Marwick TH, Stowasser M, Sharman JE . Masked hypertension is 'unmasked' by low-intensity exercise blood pressure. Blood Press 2011; 20: 284–289.

Sharman JE . New insights into cardiovascular risk from the exercise central waveform. Artery Research 2009; 2: 132–137.

Cuspidi C . Is exaggerated exercise blood pressure increase related to masked hypertension. Am J Hypertens 2011; 24: 861.

Mancia G, Fagard R, Narkiewicz K, Redón J, Zanchetti A, Böhm M et al. 2013 ESH/ESC Guidelines for the management of arterial hypertension: the Task Force for the management of arterial hypertension of the European Society of Hypertension (ESH) and of the European Society of Cardiology (ESC). J Hypertens 2013; 31: 1281–1357.

Tsioufis C, Dimitriadis K, Thomopoulos C, Tsiachris D, Selima M, Stefanadi E et al. Exercise blood pressure response, albuminuria, and arterial stiffness in hypertension. Am J Med 2008; 121: 894–902.

Sharman JE, Hare JL, Thomas S, Davies JE, Leano R, Jenkins C et al. Association of masked hypertension and left ventricular remodeling with the hypertensive response to exercise. Am J Hypertens 2011; 24: 898–903.

Scott JA, Coombes JS, Prins JB, Leano RL, Marwick TH, Sharman JE . Patients with type 2 diabetes have exaggerated brachial and central exercise blood pressure: Relation to left ventricular relative wall thickness. Am J Hypertens 2008; 21: 715–721.

Tsioufis C, Chatzis D, Tsiachris D, Katsi V, Toutouzas K, Tousoulis D et al. Exaggerated exercise blood pressure response is related to tissue Doppler imaging estimated diastolic dysfunction in the early stages of hypertension. J Am Soc Hypertens 2008; 2: 158–164.

Holmqvist L, Mortensen L, Kanckos C, Ljungman C, Mehlig K, Manhem K . Exercise blood pressure and the risk of future hypertension. J Hum Hypertens 2012; 26: 691–695.

Laukkanen JA, Kurl S . Blood pressure responses during exercise testing-is up best for prognosis?. Ann Med 2012; 44: 218–224.

Kayrak M, Bacaksiz A, Vatankulu MA, Ayhan SS, Kaya Z, Ari H et al. Exaggerated Blood Pressure Response to Exercise—A New Portent of Masked Hypertension. Clin Exp Hypertens 2010; 32: 560–568.

Singh JP, Larson MG, Manolio TA, O'Donnell CJ, Lauer M, Evans JC et al. Blood pressure response during treadmill testing as a risk factor for new-onset hypertension: the Framingham Heart Study. Circulation 1999; 99: 1831–1836.

McHam SA, Marwick TH, Pashkow FJ, Lauer MS . Delayed systolic blood pressure recovery after graded exercise: an independent correlate of angiographic coronary disease. J Am Coll Cardiol 1999; 34: 754–759.

Laukkanen JA, Kurl S, Salonen R, Lakka TA, Rauramaa R, Salonen JT . Systolic blood pressure during recovery from exercise and the risk of acute myocardial infarction in middle-aged men. Hypertension 2004; 44: 820–825.

Huang C-L, Su T-C, Chen W-J, Lin L-Y, Wang W-L, Feng M-H et al. Usefulness of paradoxical systolic blood pressure increase after exercise as a predictor of cardiovascular mortality. Am J Cardiol 2008; 102: 518–523.

Michaelides AP, Liakos CI, Vyssoulis GP, Chatzistamatiou EI, Markou MI, Tzamou V et al. The interplay of exercise heart rate and blood pressure as a predictor of coronary artery disease and arterial hypertension. J Clin Hypertens 2013; 15: 162–170.

Choi HM, Stebbins CL, Lee OT, Nho H, Lee JH, Chun JM et al. Augmentation of the exercise pressor reflex in prehypertension: roles of the muscle metaboreflex and mechanoreflex. Appl Physiol Nutr Metab 2013; 38: 209–215.

Vongpatanasin W, Wang Z, Arbique D, Arbique G, Adams-Huet B, Mitchell JH et al. Functional sympatholysis is impaired in hypertensive humans. J Physiol 2011; 589: 1209–1220.

Campbell R, Fisher JP, Sharman JE, McDonnell BJ, Frenneaux MP . Contribution of nitric oxide to the blood pressure and arterial responses to exercise in humans. J Hum Hypertens 2011; 25: 262–270.

Cowley AJ, Stainer K, Rowley JM, Wilcox RG . Effect of aspirin and indomethacin on exercise-induced changes in blood pressure and limb blood flow in normal volunteers. Cardiovasc Res 1985; 19: 177–180.

Sung J, Choi SH, Choi YH, Kim DK, Park WH . The relationship between arterial stiffness and increase in blood pressure during exercise in normotensive persons. J Hypertens 2012; 30: 587–591.

Stewart KJ, Sung J, Silber HA, Fleg JL, Kelemen MD, Turner KL et al. Exaggerated exercise blood pressure is related to impaired endothelial vasodilator function. Am J Hypertens 2004; 17: 314–320.

Chang HJ, Chung JH, Choi BJ, Choi TY, Choi SY, Yoon MH et al. Endothelial dysfunction and alteration of nitric oxide/cyclic GMP pathway in patients with exercise-induced hypertension. Yonsei Med J 2003; 44: 1014–1020.

Lim PO, Donnan PT, MacDonald TM . Aldosterone to renin ratio as a determinant of exercise blood pressure response in hypertensive patients. J Hum Hypertens 2001; 15: 119–123.

Papavasileiou MV, Thomopoulos C, Antoniou I, Papadimitriou G, Seferou M, Makris TK . Impaired glucose metabolism and the exaggerated blood pressure response to exercise treadmill testing in normotensive patients. J Clin Hypertens 2009; 11: 627–635.

Omvik P, Lund-Johansen P . Long-term hemodynamic effects at rest and during exercise of newer antihypertensive agents and salt restriction in essential hypertension: review of epanolol, doxazosin, amlodipine, felodipine, diltiazem, lisinopril, dilevalol, carvedilol, and ketanserin. Cardiovasc Drugs Ther 1993; 7: 193–206.

Swift DL, Earnest CP, Katzmarzyk PT, Rankinen T, Blair SN, Church TS . The effect of different doses of aerobic exercise training on exercise blood pressure in overweight and obese postmenopausal women. Menopause 2012; 19: 503–509.

Cornelissen VA, Verheyden B, Aubert AE, Fagard RH . Effects of aerobic training intensity on resting, exercise and post-exercise blood pressure, heart rate and heart-rate variability. J Hum Hypertens 2010; 24: 175–182.

Lovell DI, Cuneo R, Gass GC . Resistance training reduces the blood pressure response of older men during submaximum aerobic exercise. Blood Press Monit 2009; 14: 137–144.

Griffin SE, Robergs RA, Heyward VH . Blood pressure measurement during exercise: a review. Med Sci Sports Exerc 1997; 29: 149–159.

Cameron JD, Stevenson I, Reed E, McGrath BP, Dart AM, Kingwell BA . Accuracy of automated auscultatory blood pressure measurement during supine exercise and treadmill stress electrocardiogram-testing. Blood Press Monit 2004; 9: 269–275.

MacRae HS, Allen PJ . Automated blood pressure measurement at rest and during exercise: evaluation of the motion tolerant CardioDyne NBP 2000. Med Sci Sports Exerc 1998; 30: 328–331.

Myers J, Arena R, Franklin B, Pina I, Kraus WE, McInnis K et al. Recommendations for clinical exercise laboratories: a scientific statement from the american heart association. Circulation 2009; 119: 3144–3161.

O'Brien E . Replacing the mercury sphygmomanometer. Br Med J 2000; 320 (7238): 815–816.

Stergiou GS, Giovas PP, Gkinos CP, Tzamouranis DG . Validation of the A&D UM-101 professional hybrid device for office blood pressure measurement according to the International Protocol. Blood Press Monit 2008; 13: 37–42.

Beevers G, Lip GY, O'Brien E . ABC of hypertension: blood pressure measurement. Part II-conventional sphygmomanometry: technique of auscultatory blood pressure measurement. Br Med J 2001; 322: 1043–1047.

Burke MJ, Towers HM, O'Malley K, Fitzgerald DJ, O'Brien ET . Sphygmomanometers in hospital and family practice: problems and recommendations. Br Med J 1982; 285: 469–471.

O'Brien E, Atkins N, Stergiou G, Karpettas N, Parati G, Asmar R et al. European Society of Hypertension International Protocol revision 2010 for the validation of blood pressure measuring devices in adults. Blood Press Monit 2010; 15: 23–38.

Lightfoot JT, Tuller B, Williams DF . Ambient noise interferes with auscultatory blood pressure measurement during exercise. Med Sci Sports Exerc 1996; 28: 502–508.

Sagiv M, Ben-Sira D, Goldhammer E . Direct vs indirect blood pressure measurement at peak anaerobic exercise. Int J Sports Med 1999; 20: 275–278.

Jellema WT, Imholz BP, van Goudoever J, Wesseling KH, van Lieshout JJ . Finger arterial versus intrabrachial pressure and continuous cardiac output during head-up tilt testing in healthy subjects. Clin Sci 1996; 91: 193–200.

Eckert S, Horstkotte D . Comparison of Portapres non-invasive blood pressure measurement in the finger with intra-aortic pressure measurement during incremental bicycle exercise. Blood Press Monit 2002; 7: 179–183.

Eeftinck Schattenkerk DW, van Lieshout JJ, van den Meiracker AH, Wesseling KR, Blanc S, Wieling W et al. Nexfin noninvasive continuous blood pressure validated against Riva-Rocci/Korotkoff. Am J Hypertens 2009; 22: 378–383.

Buclin T, Buchwalder-Csajka C, Brunner HR, Biollaz J . Evaluation of noninvasive blood pressure recording by photoplethysmography in clinical studies using angiotensin challenges. Br J Clin Pharmacol 1999; 48: 586–593.

Pickering TG, Hall JE, Appel LJ, Falkner BE, Graves J, Hill MN et al. Recommendations for blood pressure measurement in humans and experimental animals: Part 1: blood pressure measurement in humans: a statement for professionals from the Subcommittee of Professional and Public Education of the American Heart Association Council on High Blood Pressure Research. Hypertension 2005; 45: 142–161.

Balady GJ, Arena R, Sietsema K, Myers J, Coke L, Fletcher GF et al. Clinician's guide to cardiopulmonary exercise testing in adults: a scientific statement from the American Heart Association. Circulation 2010; 122: 191–225.

Fletcher GF, Ades PA, Kligfield P, Arena R, Balady GJ, Bittner VA et al. Exercise standards for testing and training: a scientific statement from the American Heart Association. Circulation 2013; 128: 873–934.

O'Brien E, Mee F, Tan KS, Atkins N, O'Malley K . Training and assessment of observers for blood pressure measurement in hypertension research. J Hum Hypertens 1991; 5: 7–10.
Acknowledgements
JES was supported by a National Health and Medical Research Council of Australia Career Development Award (reference 1045373). AL was supported by a National Health and Medical Research Council of Australia post-doctoral scholarship.
Ethics declarations
Competing interests
The authors declare no conflict of interest.
About this article
Cite this article
Sharman, J., LaGerche, A. Exercise blood pressure: clinical relevance and correct measurement. J Hum Hypertens 29, 351–358 (2015). https://doi.org/10.1038/jhh.2014.84
Received:

Revised:

Accepted:

Published:

Issue Date:

DOI: https://doi.org/10.1038/jhh.2014.84