Abstract
Left ventricular (LV) hypertrophy and remodeling are frequently seen in hypertensive subjects and result from a complex interaction of several hemodynamic and non-hemodynamic variables. Although increased blood pressure is considered the major determinant of LV structural alterations, ethnicity, gender, environmental factors, such as salt intake, obesity and diabetes mellitus, as well as neurohumoral and genetic factors might influence LV mass and geometry. The conventional concept of hypertensive LV remodeling has been that hypertension leads to concentric hypertrophy, as an adaptive response to normalize wall stress, which is then followed by chamber dilation and heart failure. However, several lines of evidence have challenged this dogma. Concentric hypertrophy is not the most frequent geometric pattern and is less usually seen than eccentric hypertrophy in hypertensive subjects. In addition, data from recent studies suggested that transition from LV concentric hypertrophy to dilation and systolic dysfunction is not a common finding, especially in the absence of coronary heart disease. LV hypertrophy is also consistently associated with increased cardiovascular morbidity and mortality, raising doubts whether this phenotype is an adaptive response. Experimental evidence exists that a blunting of load-induced cardiomyocyte hypertrophy does not necessarily result in LV dysfunction or failure. Furthermore, the hypertrophic myocardium shows fibrosis, alterations in the coronary circulation and cardiomyocyte apoptosis, which may result in heart failure, myocardial ischemia and arrhythmias. Overall, this body of evidence suggests that LV hypertrophy is a complex phenotype that predicts adverse cardiovascular outcomes and may not be necessarily considered as an adaptive response to systemic hypertension.
Relevant articles
Open Access articles citing this article.
Yongjae Lee

,

Barış Cansız

&

Michael Kaliske

Computational Mechanics Open Access 13 June 2023

Giacomo Tini

,

Giuliano Tocci

…

Paolo Spallarossa

Current Heart Failure Reports Open Access 25 January 2023

Mengwei Li

,

Limei Zhang

…

You Zhou

Scientific Reports Open Access 25 October 2022
Access options
Subscribe to this journal
Receive 12 digital issues and online access to articles
$119.00 per year
only $9.92 per issue
Rent or buy this article
Prices vary by article type
from$1.95
to$39.95
Prices may be subject to local taxes which are calculated during checkout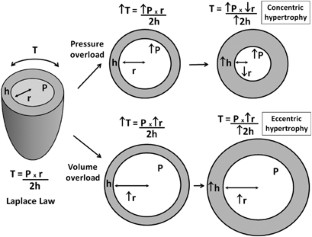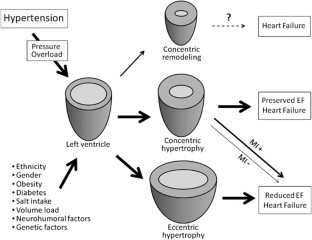 References
Cohn JN, Ferrari R, Sharpe N . Cardiac remodeling–concepts and clinical implications: a consensus paper from an international forum on cardiac remodeling. Behalf of an International Forum on Cardiac Remodeling. J Am Coll Cardiol 2000; 35: 569–582.

Frohlich ED, Susic D . Pressure overload. Heart Fail Clin 2012; 8: 21–32.

Drazner MH . The progression of hypertensive heart disease. Circulation 2011; 123: 327–334.

Dávila DF, Donis JH, Odreman R, Gonzalez M, Landaeta A . Patterns of left ventricular hypertrophy in essential hypertension: should echocardiography guide the pharmacological treatment? Int J Cardiol 2008; 124: 134–138.

Koren MJ, Devereux RB, Casale PN, Savage DD, Laragh JH . Relation of left ventricular mass and geometry to morbidity and mortality in uncomplicated essential hypertension. Ann Intern Med 1991; 114: 345–352.

Díez J . Towards a new paradigm about hypertensive heart disease. Med Clin North Am 2009; 93: 637–645.

Vakili BA, Okin PM, Devereux RB . Prognostic implications of left ventricular hypertrophy. Am Heart J 2001; 141: 334–341.

Samuel JL, Swynghedauw B . Is cardiac hypertrophy a required compensatory mechanism in pressure-overloaded heart? J Hypertens 2008; 26: 857–858.

Sadoshima J, Izumo S . The cellular and molecular response of cardiac myocytes to mechanical stress. Annu Rev Physiol 1997; 59: 551–571.

Ruilope LM, Schmieder RE . Left ventricular hypertrophy and clinical outcomes in hypertensive patients. Am J Hypertens 2008; 21: 500–508.

Norton GR, Majane OH, Maseko MJ, Libhaber C, Redelinghuys M, Kruger D et al. Brachial blood pressure-independent relations between radial late systolic shoulder-derived aortic pressures and target organ changes. Hypertension 2012; 59: 885–892.

Gemignani T, Matos-Souza JR, Franchini KG, Nadruz W Jr . Leg blood pressure measured in orthostatic posture is associated with left ventricular mass in normotensive subjects. Am J Hypertens 2012; 25: 1083–1087.

Ruwhof C, van der Laarse A . Mechanical stress-induced cardiac hypertrophy: mechanisms and signal transduction pathways. Cardiovasc Res 2000; 47: 23–37.

Velagaleti RS, Gona P, Levy D, Aragam J, Larson MG, Tofler GH et al. Relations of biomarkers representing distinct biological pathways to left ventricular geometry. Circulation 2008; 118: 2252–2258.

Gerdts E, Cramariuc D, de Simone G, Wachtell K, Dahlöf B, Devereux RB . Impact of left ventricular geometry on prognosis in hypertensive patients with left ventricular hypertrophy (the LIFE study). Eur J Echocardiogr 2008; 9: 809–815.

Armstrong AC, Gidding S, Gjesdal O, Wu C, Bluemke DA, Lima JA . LV mass assessed by echocardiography and CMR, cardiovascular outcomes, and medical practice. JACC Cardiovasc Imaging 2012; 5: 837–848.

Raman SV . The hypertensive heart. An integrated understanding informed by imaging. J Am Coll Cardiol 2010; 55: 91–96.

Coelho-Filho OR, Mongeon FP, Mitchell R, Moreno H Jr, Nadruz W Jr, Kwong R et al. Role of transcytolemmal water-exchange in magnetic resonance measurements of diffuse myocardial fibrosis in hypertensive heart disease. Circ Cardiovasc Imaging 2013; 6: 134–141.

Coelho-Filho OR, Shah RV, Mitchell R, Neilan TG, Moreno H Jr, Simonson B et al. Quantification of cardiomyocyte hypertrophy by cardiac magnetic resonance: implications for early cardiac remodeling. Circulation 2013; 128: 1225–1233.

Cuspidi C, Sala C, Negri F, Mancia G, Morganti A . Italian Society of Hypertension. Prevalence of left-ventricular hypertrophy in hypertension: an updated review of echocardiographic studies. J Hum Hypertens 2012; 26: 343–349.

Chobanian AV, Bakris GL, Black HR, Cushman WC, Green LA, Izzo JL Jr et al. Seventh report of the Joint National Committee on Prevention, Detection, Evaluation, and Treatment of High Blood Pressure. Hypertension 2003; 42: 1206–1252.

Frisoli TM, Schmieder RE, Grodzicki T, Messerli FH . Salt and hypertension: is salt dietary reduction worth the effort? Am J Med 2012; 125: 433–439.

Reisin E, Jack AV . Obesity and hypertension: mechanisms, cardio-renal consequences, and therapeutic approaches. Med Clin North Am 2009; 93: 733–751.

de Simone G, Izzo R, De Luca N, Gerdts E . Left ventricular geometry in obesity: is it what we expect? Nutr Metab Cardiovasc Dis 2013; 23: 905–912.

Murarka S, Movahed MR . Diabetic cardiomyopathy. J Card Fail 2010; 16: 971–979.

Palmieri V, Bella JN, Arnett DK, Liu JE, Oberman A, Schuck MY et al. Effect of type 2 diabetes mellitus on left ventricular geometry and systolic function in hypertensive subjects: Hypertension Genetic Epidemiology Network (HyperGEN) study. Circulation 2001; 103: 102–107.

Arnett DK, de las Fuentes L, Broeckel U . Genes for left ventricular hypertrophy. Curr Hypertens Rep 2004; 6: 36–41.

Osler W . The Principles and Practice of Medicine. Appleton: New York, NY, USA, 1892.

Milani RV, Drazner MH, Lavie CJ, Morin DP, Ventura HO . Progression from concentric left ventricular hypertrophy and normal ejection fraction to left ventricular dysfunction. Am J Cardiol 2011; 108: 992–996.

Krishnamoorthy A, Brown T, Ayers CR, Gupta S, Rame JE, Patel PC et al. Progression from normal to reduced left ventricular ejection fraction in patients with concentric left ventricular hypertrophy after long-term follow-up. Am J Cardiol 2011; 108: 997–1001.

Velagaleti RS, Gona P, Pencina MJ, Aragam J, Wang TJ, Levy D et al. Left ventricular hypertrophy patterns and incidence of heart failure with preserved versus reduced ejection fraction. Am J Cardiol 2014; 113: 117–122.

Verdecchia P, Carini G, Circo A, Ciucci A, Battistelli M, Bartoccini C et al. Left ventricular mass and cardiovascular morbidity in essential hypertension: the MAVI study. J Am Coll Cardiol 2001; 38: 1829–1835.

Verdecchia P, Angeli F, Borgioni C, Gattobigio R, de Simone G, Devereux RB et al. Changes in cardiovascular risk by reduction of left ventricular mass in hypertension: a meta-analysis. Am J Hypertens 2003; 16: 895–859.

Verdecchia P, Angeli F, Achilli P, Castellani C, Broccatelli A, Gattobigio R et al. Echocardiographic left ventricular hypertrophy in hypertension: marker for future events or mediator of events? Curr Opin Cardiol 2007; 22: 329–334.

Schäfer S, Kelm M, Mingers S, Strauer BE . Left ventricular remodeling impairs coronary flow reserve in hypertensive patients. J Hypertens 2002; 20: 1431–1437.
Ethics declarations
Competing interests
The author declares no conflict of interest.
About this article
Cite this article
Nadruz, W. Myocardial remodeling in hypertension. J Hum Hypertens 29, 1–6 (2015). https://doi.org/10.1038/jhh.2014.36
Received:

Revised:

Accepted:

Published:

Issue Date:

DOI: https://doi.org/10.1038/jhh.2014.36