Abstract
It has been suggested that fibrates, lipid-lowering agents with a peroxisome proliferator-activated receptor-α agonistic property, lower blood pressure (BP) in some experimental models of hypertension. However, the effect of fibrates on BP in humans has been inconsistent, and there are few studies using home or ambulatory BP monitoring. We investigated the effects of bezafibrate on office, home and ambulatory BP in hypertensive patients with dyslipidemia. Thirty-two essential hypertensive patients with dyslipidemia (6 men and 26 women, mean age 65±8 years old) were assigned to a control period and a bezafibrate period (200 mg twice daily) for 8 weeks each in a randomized crossover manner. Bezafibrate significantly reduced serum triglyceride, total and low-density lipoprotein-cholesterol, blood glucose, plasma insulin, the homeostasis model assessment ratio and increased high-density lipoprotein-cholesterol. Compared with the control period, changes in office, home and 24-h BP with bezafibrate were −0.7±2.1/−1.6±1.2 mm Hg, +0.9±1.0/−0.5±0.6 and +0.8±1.4/−0.6±0.9 mm Hg, respectively. None of these differences in BP was significant. In conclusion, bezafibrate improved lipid metabolism and insulin sensitivity but did not affect office, home or ambulatory BP in hypertensive patients with dyslipidemia. Fibrates do not appear to lower BP in patients with essential hypertension.
Access options
Subscribe to Journal
Get full journal access for 1 year
$119.00
only $9.92 per issue
All prices are NET prices.
VAT will be added later in the checkout.
Tax calculation will be finalised during checkout.
Buy article
Get time limited or full article access on ReadCube.
$32.00
All prices are NET prices.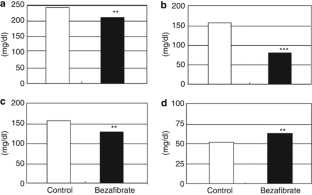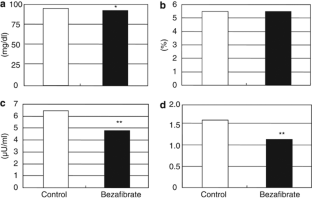 References
Castelli WP, Anderson K . A population at risk. Prevalence of high cholesterol levels in hypertensive patients in the Framingham Study. Am J Med 1986; 14: 23–32.

Hopkins PN, Hunt SC, Wu LL, Williams GH, Williams RR . Hypertension, dyslipidemia, and insulin resistance: links in a chain or spokes on a wheel? Curr Opin Lipidol 1996; 7: 241–253.

Gaziano JM, Sesso HD, Breslow JL, Hennekens CH, Buring JE . Relationship between systemic hypertension and blood lipids on the risk of myocardial infarction. Am J Cardiol 1999; 84: 768–773.

DeFronzo RA, Ferrannini E . Insulin resistance: a multifaceted syndrome responsible for NIDDM, obesity, hypertension, dyslipidemia, and atherosclerotic cardiovascular disease. Diabetes Care 1991; 14: 173–186.

Afonso LC, Edelson GW, Sowers JR . Metabolic abnormalities in hypertension. Curr Opin Nephrol Hypertens 1997; 6: 219–223.

van Raalte DH, Li M, Prichard PH, Wasan KM . Peroxisome proliferator-activated receptor (PPAR)-alpha: a pharmacological target with a promising future. Pharm Res 2004; 21: 1531–1538.

Han SH, Quon MJ, Koh KK . Beneficial vascular and metabolic effects of peroxisome proliferator-activated receptor α activities. Hypertension 2005; 46: 1086–1092.

Tenenbaum A, Fisman EZ, Boyko V, Benderly M, Tanne D, Haim M et al. attenuation of progression of insulin resistance in patients with coronary artery disease by bezafibrate. Arch Intern Med 2006; 166: 737–741.

Roman RJ, Ma YH, Frohlich B, Markham B . Clofibrate prevents the development of hypertension in Dahl salt-sensitive rats. Hypertension 1993; 21: 985–988.

Agrawal B, Kopecky J, Kranzlin B, Rohmeiss P, Pill J, Gretz N . Acute effects of bezafibrate on blood pressure and renal haemodynamics in SHR and WKY rats. Nephrol Dial Transplant 1998; 13: 333–339.

Si XC, Webb R, Richey JM . Bezafibrate, an anti-hypertriglyceridemic drug, attenuates vascular hyperresponsiveness and elevated blood pressure in fructose-induced hypertensive rats. Can J Physiol Pharmacol 1999; 77: 755–762.

Jonkers IJ, Man FH, Laarse A, Frölich M, Gevers Leuven JA, Kamper AM et al. Bezafibrate reduces heart rate and blood pressure in patients with hypertriglyceridemia. J Hypertens 2001; 19: 749–755.

Kim J, Tsujino T, Fujioka Y, Saito K, Yokohama M . Bezafibrate improves hypertension and insulin sensitivity in humans. Hypertens Res 2003; 26: 307–313.

Evans M, Anderson RA, Graham J, Ellis GR, Morris K, Davies S et al. Ciprofibrate therapy improves endothelial function and reduces postprandial lipemia and oxidant stress in type 2 diabetes mellitus. Circulation 2000; 101: 1773–1779.

Subrammanian S, DeRosa MA, Bernal-Mizrachi C, Laffely N, Cade WT, Yarasheski KE et al. PPAR alpha activation elevates blood pressure and does not correct glucocorticoid-induced insulin resistance in humans. Am J Physiol Endocrinol Metab 2006; 291: E1365–E1371.

Bobrie G, Chatellier G, Genes N, Clerson P, Vaur L, Vaisse B et al. Cardiovascular prognosis of 'masked hypertension' detected by blood pressure self-measurement in elderly treated hypertensive patients. JAMA 2004; 291: 1342–1349.

Verdecchia P, Porcellati C, Schillaci G, Borgioni C, Ciucci A, Ballisteri M et al. Ambulatory blood pressure: an independent predictor of prognosis in essential hypertension. Hypertension 1994; 24: 793–801.

Mengden T, Weisser B, Vetter W . Ambulatory 24-hour blood pressure versus self-measured blood pressure in pharmacological trials. J Cardiovasc Pharmacol 1994; 24 (Suppl 2): S20–S25.

Kawano Y, Matsuoka H, Takishita S, Omae T . Effects of magnesium supplementation in hypertensive patients: assessment by office, home, and ambulatory blood pressures. Hypertension 1998; 32: 260–265.

Kawano Y, Okuda N, Minami J, Takishita S, Omae T . Effects of a low energy diet and an insulin-sensitizing agent on ambulatory blood pressure in overweight hypertensive patients. J Hypertens 2000; 18: 1451–1455.

Imai Y, Sasaki S, Minami N, Munakata M, Hashimoto J, Sakuma H et al. The accuracy and performance of the A&D TM2421, a new ambulatory blood pressure monitoring device based on the cuff oscillometric and Korotokoff sound technique. Am J Hypertens 1992; 5: 719–726.

Matthews DR, Hosker JP, Rudenski AS, Naylor BA, Treacher DF, Turner RC . Homeostasis model assessment: insulin resistance and β-cell function from fasting plasma glucose and insulin concentrations in man. Diabetologia 1985; 28: 413–419.

Grundy SM . Hypertriglyceridemia, atherogenic dyslipidemia, and the metabolic syndrome. Am J Cardiol 1998; 81: 18B–25B.

Austin MA . Plasma triglyceride and coronary artery disease. Arterioscler Thromb 1991; 11: 2–14.

Hokanson JE, Austin MA . Plasma triglyceride level as a risk factor for cardiovascular disease independent of high-density lipoprotein level: a metaanalysis of population-based prospective studies. J Cardiovasc Risk 1996; 3: 213–219.

Gaziano JM . Triglycerides and coronary risk. Curr Cardiol Rep 1999; 1: 125–130.

Gordon DJ, Probstfield JL, Garrison RJ, Neaton JD, Castelli WP, Knoke JD et al. High-density lipoprotein cholesterol and cardiovascular disease. Four prospective American studies. Circulation 1989; 79: 8–15.

Reaven GM . Are triglycerides important as a risk factor for coronary disease? Heart Dis Stroke 1993; 2: 44–48.

Ward KD, Sparrow D, Vokonas PS, Willett WC, Landsberg L, Weiss ST . The relationships of abdominal obesity, hyperinsulinemia, and saturated fat intake to serum lipid levels: the Normative Aging Study. Int J Obes Relat Metab Disord 1994; 18: 137–144.

The BIP Study Group. Secondary prevention by raising HDL cholesterol and reducing triglycerides in patients with coronary artery disease. Circulation 2000; 102: 21–27.

Ericsson CG, Hamsten A, Nilsson J, Grip L, Svane B, Faire U . Angiographic assessment of effects of bezafibrate on progression of coronary artery disease in young male postinfarction patients. Lancet 1996; 347: 849–853.

Sand JH, West DW . The effects of clofibrate and bezafibrate on cholesterol metabolism in the liver of the male rats. Lipids 1994; 29: 747–752.

Furuhashi M, Ura N, Murakami H, Hyakukoku M, Yamaguchi K, Higashiura K et al. Fenofibrate improves insulin sensitivity in connection with intramuscular lipid content, muscle fatty acid-binding protein, and β-oxidation in skeletal muscle. J Endocrinol 2002; 174: 321–329.

Matsui H, Okumura K, Kawakami K, Hibino M, Toki Y, Ito T . Improved insulin sensitivity by bezafibrate in rats: relationship to fatty acid composition of skeletal-muscle triglycerides. Diabetes 1997; 46: 348–353.

Stojiljkovic MP, Zhang D, Loppes HF, Lee CG, Goodfriend TL, Egan BM . Hemodynamic effects of lipids in humans. Am J Physiol Regulatory Integrative Comp Physiol 2001; 280: R1674–R1679.

Halperlin RO, Sesso HD, Ma J, Buring JE, Stampfer MJ, Gaziano JM . Dyslipidemia and the risk of hypertension in men. Hypertension 2006; 47: 45–50.

Idzior-Walus B, Sieradski J, Rostworowski W, Zdzienicha A, Kawalec E, Wojcik J et al. Effects of comicronised fenofibrate on lipid and insulin sensitivity in patients with polymetabolic syndrome X. Eur J Clin Invest 2000; 30: 871–878.

Schiffrin EL, Amin F, Benkirene K, Iglarz M, Diep QN . Peroxisome proliferator-activated receptors: vascular and cardiac effects in hypertension. Hypertension 2003; 42: 664–668.

Hiukka A, Westerbacka J, Leinonen ES, Watanabe H, Wildund O, Hulten LM et al. Long-term effect of fenofibrate on carotid intima-media thickness and augmentation index in subjects with type 2 diabetes mellitus. J Am Coll Cardiol 2008; 52: 2190–2197.

Tsunoda S, Kawano Y, Horio T, Okuda N, Takishita S . Relationship between home blood pressure and longitudinal changes in target organ damage in treated hypertensive patients. Hypertens Res 2002; 25: 167–173.

Tomiyama M, Horio T, Yoshii M, Takiuchi S, Kamide K, Nakamura S et al. Masked hypertension and target organ damage in treated hypertensive patients. Am J Hypertens 2006; 19: 880–886.
Ethics declarations
Competing interests
The authors declare no conflict of interest.
About this article
Cite this article
Ohta, Y., Kawano, Y., Iwashima, Y. et al. Effect of bezafibrate on office, home and ambulatory blood pressure in hypertensive patients with dyslipidemia. J Hum Hypertens 27, 417–420 (2013). https://doi.org/10.1038/jhh.2012.64
Received:

Revised:

Accepted:

Published:

Issue Date:

DOI: https://doi.org/10.1038/jhh.2012.64
Keywords
Bezafibrate

dyslipidemia

home blood pressure

ambulatory blood pressure monitoring

insulin sensitivity