Abstract
Clinical studies have shown that aldosterone and salt are independently related to hypertension, cardiovascular morbidity and mortality. More recently, studies in humans have demonstrated that, similarly to animals, endogenous aldosterone and dietary salt intake have not only separate, but also combined effects to accelerate target-organ deterioration. The aldosterone–salt interaction has important clinical implications, because combined effects of both can be minimized, if not avoided, by reducing salt intake. This interaction could also be interrupted by blocking the effects of aldosterone, with use of mineralocorticoid receptor antagonists, or by reducing aldosterone effects by adrenalectomy, in patients with aldosterone producing adenoma. Furthermore, aldosterone reduction or blockade may reduce salt appetite.
Relevant articles
Open Access articles citing this article.
Cheng-Hsuan Tsai

,

Chien-Ting Pan

…

Yen-Hung Lin

Journal of Human Hypertension Open Access 16 October 2020

Hu Qiao

,

Bo Hu

…

Nan Wang

Scientific Reports Open Access 09 December 2016
Access options
Subscribe to this journal
Receive 12 digital issues and online access to articles
$119.00 per year
only $9.92 per issue
Rent or buy this article
Prices vary by article type
from$1.95
to$39.95
Prices may be subject to local taxes which are calculated during checkout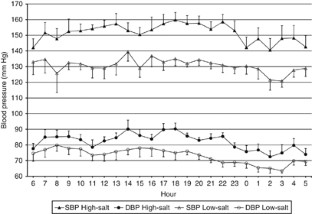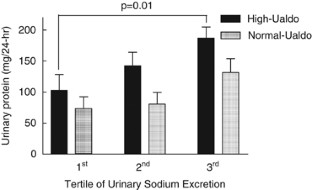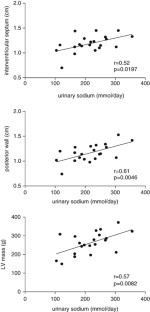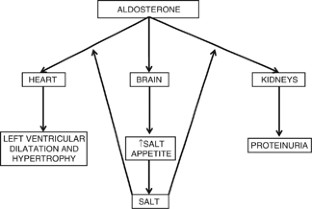 References
Appel LJ, Frohlich ED, Hall JE, Pearson TA, Sacco RL, Seals DR et al. The importance of population-wide sodium reduction as a means to prevent cardiovascular disease and stroke: a call to action from the American Heart Association. Circulation 2011; 123 (10): 1138–1143.

Stolarz-Skrzypek K, Kuznetsova T, Thijs L, Tikhonoff V, Seidlerova J, Richart T et al. Fatal and nonfatal outcomes, incidence of hypertension, and blood pressure changes in relation to urinary sodium excretion. JAMA 2011; 305 (17): 1777–1785.

Taylor RS, Ashton KE, Moxham T, Hooper L, Ebrahim S . Reduced dietary salt for the prevention of cardiovascular disease: a meta-analysis of randomized controlled trials (Cochrane Review). Am J Hypertens 2011; 24 (8): 843–853.

Mulatero P, Stowasser M, Loh KC, Fardella CE, Gordon RD, Mosso L et al. Increased diagnosis of primary aldosteronism, including surgically correctable forms, in centers from five continents. J Clin Endocrinol Metab 2004; 89 (3): 1045–1050.

Funder JW, Carey RM, Fardella C, Gomez-Sanchez CE, Mantero F, Stowasser M et al. Case detection, diagnosis, and treatment of patients with primary aldosteronism: an endocrine society clinical practice guideline. J Clin Endocrinol Metab 2008; 93 (9): 3266–3281.

Gordon RD, Klemm SA, Tunny TJ, Stowasser M . Primary aldosteronism: hypertension with a genetic basis. Lancet 1992; 340 (8812): 159–161.

Grim CE, Weinberger MH, Higgins JT, Kramer NJ . Diagnosis of secondary forms of hypertension. A comprehensive protocol. JAMA 1977; 237 (13): 1331–1335.

Weinberger MH, Grim CE, Hollifield JW, Kem DC, Ganguly A, Kramer NJ et al. Primary aldosteronism: diagnosis, localization, and treatment. Ann Intern Med. 1979; 90 (3): 386–395.

Weinberger MH, Fineberg NS . The diagnosis of primary aldosteronism and separation of two major subtypes. Arch Intern Med 1993; 153 (18): 2125–2129.

Stowasser M . Update in primary aldosteronism. J Clin Endocrinol Metab 2009; 94 (10): 3623–3630.

Mosso L, Carvajal C, Gonzalez A, Barraza A, Avila F, Montero J et al. Primary aldosteronism and hypertensive disease. Hypertension 2003; 42 (2): 161–165.

Calhoun DA, Jones D, Textor S, Goff DC, Murphy TP, Toto RD et al. Resistant hypertension: diagnosis, evaluation, and treatment. A scientific statement from the American Heart Association Professional Education Committee of the Council for High Blood Pressure Research. Hypertension 2008; 51 (6): 1403–1419.

Nishizaka MK, Zaman MA, Calhoun DA . Efficacy of low-dose spironolactone in subjects with resistant hypertension. Am J Hypertens 2003; 16 (11 Part 1): 925–930.

Gaddam KK, Nishizaka MK, Pratt-Ubunama MN, Pimenta E, Aban I, Oparil S et al. Characterization of resistant hypertension: association between resistant hypertension, aldosterone, and persistent intravascular volume expansion. Arch Intern Med 2008; 168 (11): 1159–1164.

Milliez P, Girerd X, Plouin PF, Blacher J, Safar ME, Mourad JJ . Evidence for an increased rate of cardiovascular events in patients with primary aldosteronism. J Am Coll Cardiol 2005; 45 (8): 1243–1248.

Catena C, Colussi G, Nadalini E, Chiuch A, Baroselli S, Lapenna R et al. Cardiovascular outcomes in patients with primary aldosteronism after treatment. Arch Intern Med 2008; 168 (1): 80–85.

Weber KT, Janicki JS, Pick R, Capasso J, Anversa P . Myocardial fibrosis and pathologic hypertrophy in the rat with renovascular hypertension. Am J Cardiol 1990; 65 (14): 1G–7G.

Brilla CG, Matsubara LS, Weber KT . Anti-aldosterone treatment and the prevention of myocardial fibrosis in primary and secondary hyperaldosteronism. J Mol Cell Cardiol 1993; 25 (5): 563–575.

Swedberg K, Eneroth P, Kjekshus J, Wilhelmsen L . Hormones regulating cardiovascular function in patients with severe congestive heart failure and their relation to mortality. CONSENSUS Trial Study Group. Circulation 1990; 82 (5): 1730–1736.

Pitt B, Zannad F, Remme WJ, Cody R, Castaigne A, Perez A et al. The effect of spironolactone on morbidity and mortality in patients with severe heart failure. Randomized Aldactone Evaluation Study Investigators. N Engl J Med 1999; 341 (10): 709–717.

Pitt B, Remme W, Zannad F, Neaton J, Martinez F, Roniker B et al. Eplerenone, a selective aldosterone blocker, in patients with left ventricular dysfunction after myocardial infarction. N Engl J Med 2003; 348 (14): 1309–1321.

Catena C, Colussi G, Lapenna R, Nadalini E, Chiuch A, Gianfagna P et al. Long-term cardiac effects of adrenalectomy or mineralocorticoid antagonists in patients with primary aldosteronism. Hypertension 2007; 50 (5): 911–918.

Rossi GP, Sacchetto A, Pavan E, Palatini P, Graniero GR, Canali C et al. Remodeling of the left ventricle in primary aldosteronism due to Conn's adenoma. Circulation 1997; 95 (6): 1471–1478.

Stowasser M, Sharman J, Leano R, Gordon RD, Ward G, Cowley D et al. Evidence for abnormal left ventricular structure and function in normotensive individuals with familial hyperaldosteronism type I. J Clin Endocrinol Metab 2005; 90 (9): 5070–5076.

Greene EL, Kren S, Hostetter TH . Role of aldosterone in the remnant kidney model in the rat. J Clin Invest 1996; 98 (4): 1063–1068.

Rocha R, Chander PN, Khanna K, Zuckerman A, Stier CT . Mineralocorticoid blockade reduces vascular injury in stroke-prone hypertensive rats. Hypertension 1998; 31 (1 Part 2): 451–458.

Rossi GP, Bernini G, Desideri G, Fabris B, Ferri C, Giacchetti G et al. Renal damage in primary aldosteronism: results of the PAPY Study. Hypertension 2006; 48 (2): 232–238.

Sechi LA, Novello M, Lapenna R, Baroselli S, Nadalini E, Colussi GL et al. Long-term renal outcomes in patients with primary aldosteronism. JAMA 2006; 295 (22): 2638–2645.

Intersalt Cooperative Research Group. Intersalt: an international study of electrolyte excretion and blood pressure. Results for 24 h urinary sodium and potassium excretion. BMJ 1988; 297 (6644): 319–328.

He FJ, MacGregor GA . Effect of modest salt reduction on blood pressure: a meta-analysis of randomized trials. Implications for public health. J Hum Hypertens 2002; 16 (11): 761–770.

Pimenta E, Gaddam KK, Oparil S, Aban I, Husain S, Dell'Italia LJ et al. Effects of dietary sodium reduction on blood pressure in subjects with resistant hypertension: results from a randomized trial. Hypertension 2009; 54 (3): 475–481.

Brilla CG, Weber KT . Mineralocorticoid excess, dietary sodium, and myocardial fibrosis. J Lab Clin Med 1992; 120 (6): 893–901.

Rocha R, Stier CT, Kifor I, Ochoa-Maya MR, Rennke HG, Williams GH et al. Aldosterone: a mediator of myocardial necrosis and renal arteriopathy. Endocrinology 2000; 141 (10): 3871–3878.

Young MJ, Rickard AJ . Mechanisms of mineralocorticoid salt-induced hypertension and cardiac fibrosis. Mol Cell Endocrinol 2012; 350 (2): 248–255.

Fox CS, Larson MG, Hwang SJ, Leip EP, Rifai N, Levy D et al. Cross-sectional relations of serum aldosterone and urine sodium excretion to urinary albumin excretion in a community-based sample. Kidney Int 2006; 69 (11): 2064–2069.

Pimenta E, Gaddam KK, Pratt-Ubunama MN, Nishizaka MK, Aban I, Oparil S et al. Relation of dietary salt and aldosterone to urinary protein excretion in subjects with resistant hypertension. Hypertension 2008; 51 (2): 339–344.

Pimenta E, Gordon RD, Ahmed AH, Cowley D, Leano R, Marwick TH et al. Cardiac dimensions are largely determined by dietary salt in patients with primary aldosteronism: results of a case-control study. J Clin Endocrinol Metab 2011; 96 (9): 2813–2820.

du Cailar G, Fesler P, Ribstein J, Mimran A . Dietary sodium, aldosterone, and left ventricular mass changes during long-term inhibition of the renin-angiotensin system. Hypertension 2010; 56 (5): 865–870.

Makhanova N, Sequeira-Lopez ML, Gomez RA, Kim HS, Smithies O . Disturbed homeostasis in sodium-restricted mice heterozygous and homozygous for aldosterone synthase gene disruption. Hypertension 2006; 48 (6): 1151–1159.

Tordoff MG, Hughes RL, Pilchak DM . Different effects of three aldosterone treatments on plasma aldosterone and salt intake. Physiol Behav 1993; 54 (1): 129–134.

Wolf G . Effect of deoxycorticosterone on sodium appetite of intact and adrenalectomized rats. Am J Physiol 1965; 208: 1281–1285.

Francis J, Weiss RM, Wei SG, Johnson AK, Beltz TG, Zimmerman K et al. Central mineralocorticoid receptor blockade improves volume regulation and reduces sympathetic drive in heart failure. Am J Physiol Heart Circ Physiol 2001; 281 (5): H2241–H2251.

Pimenta E, Gordon R, Ahmed A, Cowley D, Robson D, Kogovsek C et al. A-001 aldosterone excess stimulates salt appetite in patients with aldosterone producing adenoma. J Hypertens 29 (Suppl B): e1.
Ethics declarations
Competing interests
The authors declare no conflict of interest.
About this article
Cite this article
Pimenta, E., Gordon, R. & Stowasser, M. Salt, aldosterone and hypertension. J Hum Hypertens 27, 1–6 (2013). https://doi.org/10.1038/jhh.2012.27
Received:

Revised:

Accepted:

Published:

Issue Date:

DOI: https://doi.org/10.1038/jhh.2012.27
Keywords
hypertension

salt

aldosterone