Abstract
We aimed to investigate the effects of endurance training intensity (1) on systolic blood pressure (SBP) and heart rate (HR) at rest before exercise, and during and after a maximal exercise test; and (2) on measures of HR variability at rest before exercise and during recovery from the exercise test, in at least 55-year-old healthy sedentary men and women. A randomized crossover study comprising three 10-week periods was performed. In the first and third period, participants exercised at lower or higher intensity (33% or 66% of HR reserve) in random order, with a sedentary period in between. Training programmes were identical except for intensity, and were performed under supervision thrice for 1 h per week. The results show that in the three conditions, that is, at rest before exercise, during exercise and during recovery, we found endurance training at lower and higher intensity to reduce SBP significantly (P<0.05) and to a similar extent. Further, SBP during recovery was, on average, not lower than at rest before exercise, and chronic endurance training did not affect the response of SBP after an acute bout of exercise. The effect of training on HR at rest, during exercise and recovery was more pronounced (P<0.05) with higher intensity. Finally, endurance training had no significant effect on sympathovagal balance. In conclusion, in participants at higher age, both training programmes exert similar effects on SBP at rest, during exercise and during post-exercise recovery, whereas the effects on HR are more pronounced after higher intensity training.
Relevant articles
Open Access articles citing this article.
Chang Seon Yu

,

Yeon-Gyo Nam

&

Bum Sun Kwon

BMC Sports Science, Medicine and Rehabilitation Open Access 10 July 2022

Ginés Navarro-Lomas

,

Manuel Dote-Montero

…

Francisco J. Amaro-Gahete

European Journal of Applied Physiology Open Access 10 May 2022

Afua A. Amoabeng Nti

,

Thomas G. Robins

…

Julius N. Fobil

BMC Public Health Open Access 25 November 2021
Access options
Subscribe to this journal
Receive 12 digital issues and online access to articles
$119.00 per year
only $9.92 per issue
Rent or buy this article
Get just this article for as long as you need it
$39.95
Prices may be subject to local taxes which are calculated during checkout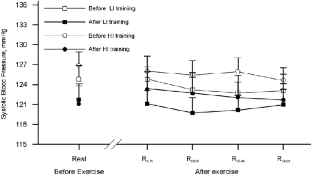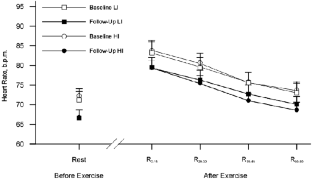 References
Lewington S, Clarke R, Qizilbash N, Petro R, Collins R . Age-specific relevance of usual blood pressure to vascular mortality: a meta-analysis of individual data for one million adults in 61 prospective studies. Prospective collaboration. Lancet 2002; 360: 1903–1913.

Vasan RS, Larson MG, Leip EP, Evans JC, O'Donnell CJ, Kannel WB et al. Impact of high-normal blood pressure on the risk of cardiovascular disease. N Eng J Med 2001; 345: 1291–1297.

Palatini P . Heart rate as an independent risk factor for cardiovascular disease. Current evidence and basic mechanisms. Drugs 2007; 67 (Suppl 2): 3–13.

Chaitman BR . Abnormal heart rate responses to exercise predict increased long-term mortality regardless of coronary disease extent: the question is why? J Am Coll Cardiol 2003; 42: 839–841.

Watanabe J, Thamilarasan M, Blackstone EH, Thomas JD, Lauer MS . Heart rate recovery immediately after treadmill exercise and left ventricular systolic dysfunction as predictors of mortality. Circulation 2001; 104: 1911–1916.

Dekker JM, Schouten EG, Klootwijk P, Pool J, Swenne CA, Kromhout D . Heart rate variability from short electrocardiographic recordings predicts mortality from all causes in middle-aged and elderly men: the Zutphen Study. Am J Epidemiol 1997; 145: 899–908.

Tsuji H, Venditti Jr FJ, Manders ES, Evans JC, Larson MG, Feldman CL et al. Reduced heart rate variability and mortality risk in an elderly cohort: the Framingham Heart Study. Circulation 1994; 90: 878–883.

Guidelines Committee. 2003 European Society of Hypertension-European Society of Cardiology guidelines for the management of arterial hypertension. J Hypertens 2003; 21: 1011–1053.

Pescatello LS, Franklin BA, Fagard R, Farqijar WB, Kelley GA, Ray CA . Exercise and hypertension: American College of Sports Medicine Position Stand. Med Sci Sports Exerc 2004; 36: 533–552.

Ransdell LB, Detling N, Hildebrand K, Lau P, Moyer-Mileur L, Shultz B . Can physical activity interventions change perceived exercise benefits and barriers. Am J Health Studies 2004; 19: 195–204.

Cornelissen VA, Fagard RH . Effects of endurance training on blood pressure, blood pressure regulating mechanism and cardiovascular risk factors. Hypertension 2005; 46: 667–675.

Carter JB, Banister EW, Blaber AP . Effect of endurance exercise on autonomic control of heart rate. Sports Med 2003; 33: 33–46.

Figuero A, Baynard T, Fernhall B, Carhart R, Kanaley JA . Endurance training improves post-exercise cardiac autonomic modulation in obese women with and without type 2 diabetes. Eur J Appl Physiol 2007; 100: 437–444.

Levy WC, Cerqueira MD, Harp GD, Johannessen KA, Abrass IB, Schwartz RS et al. Effect of endurance exercise training on heart rate variability at rest in healthy young and older men. Am J Cardiol 1998; 82: 1236–1241.

Jurca R, Church T, Morss G, Jordan AN, Earnest CP . Eight weeks of moderate-intensity exercise training increases heart rate variability in sedentary postmenopausal women. Am Heart J 2004; 147: e21.

Madden KM, Levy WC, Stratton JK . Exercise training and heart rate variability in older female subjects. Clin Invest Med 2006; 29: 20–28.

Martinmäki K, Häkkinen K, Mikkola J, Rusko H . Effect of low-dose endurance training on heart rate variability at rest and during an incremental maximal exercise test. Eur J Appl Physiol 2008; 104: 541–548.

Perini R, Fisher N, Veicsteinas A, Pendergast DR . Aerobic training and cardiovascular responses at rest and during exercise in older men and women. Med Sci Sports Exerc 2002; 34: 700–708.

Verheyden B, Eijnde BO, Beckers F, Vanhees L, Aubert AE . Low-dose exercise training does not influence cardiac autonomic control in healthy sedentary men aged 55–75 years. J Sports Sci 2006; 24: 1137–1147.

Okazaki K, Iwasaki K, Prasad A, Palmer M, Martini E, Arbab-Zadeh A . Dose-response relationship of endurance training for autonomic circulatory control in healthy seniors. J Appl Physiol 2005; 99: 1041–1049.

Cornelissen VA, Holvoet P, Arnout J, Fagard RH . Influence of exercise at lower and higher intensity on blood pressure and cardiovascular risk factors at older age. J Hypertens 2009; 27: 753–762.

Macor F, Fagard R, Vanhoof R, Staessens J, Thijs L, Amery A . Power spectral analysis of short-term RR interval and blood pressure variability: comparison of different methods and assessment of reproducibility. High Blood Press 1994; 3: 15–21.

Aubert AE, Ramaekers D, Beckers F, Breem R, Denef C, Van de Werf F et al. The analysis of heart rate variability in unrestrained rats: validation of method and results. Comput Methods Programs Biomed 1999; 3: 197–213.

Task Force of the European Society of Cardiology and the North American society of pacing and electrophysiology. Heart rate variability: standards of measurements, physiological interpretation and clinical use. Eur Heart J 1996; 17: 354–381.

Fagard RH . Exercise characteristics and the blood pressure response to dynamic physical training. Med Sci Sports Exerc 2001; 33: S484–S492.

Thompson PD, Crouse SF, Goodpaster B, Kelley D, Moyna N, Pescatello L . The acute versus the chronic response to exercise. Med Sci Sports Exerc 2001; 33: S438–S445.

Kraul J, Chrastek J, Adamirova J . The hypotensive effect of physical activity. In: Rabb W (ed). Prevention of Ischemic Heart Disease: Principles and Practice. Charles C Thomas: Springfield, IL, 1966, pp 359–371.

Hamer M . The anti-hypertensive effects of exercise: integrating acute and chronic mechanisms. Sports Med 2006; 36: 109–116.

Cornelissen VA, Fagard RH . Exercise intensity and postexercise hypotension. J Hypertens 2004; 22: 1859–1861.

Mc Donald JR . Potential causes, mechanisms, and implications of post exercise hypotension. J Hum Hypertens 2002; 16: 225–236.

Chobanian AV, Bakris GL, Black HR, Cushman WC, Green LA, Izzo JL et al., National High Blood Pressure Education Program Coordination Committee. Seventh report of the Joint National Committee on Prevention, Detection, Evaluation and Treatment of High Blood Pressure. Hypertension 2003; 42: 1206–1252.

Senitko AN, Charkoudian N, Halliwill JR . Influence of endurance exercise training status and gender on postexercise hypotension. J Appl Physiol 2002; 92: 2368–2374.

Dujic Z, Ivancev V, Valic Z, Bakovic D, Marinovic-Terzic I, Eterovic D et al. Postexercise hypotension in moderately trained athletes after maximal exercise. Med Sci Sports Exerc 2006; 38: 318–322.

Asikainen TM, Miilunpalo S, Oja P, Rinne M, Pasanen M, Uusi-Rase K et al. Randomized controlled walking trials in postmenopausal women: the minimum dose to improve aerobic fitness? Br J Sports Med 2002; 36: 189–194.

Church TS, Conrad PE, Skinner JS, Blair SN . Effects of different doses of physical activity on cardiorespiratory fitness among sedentary overweight or obese postmenopausal women with elevated blood pressure: a randomized controlled trial. JAMA 2007; 297: 2081–2091.

Yamamoto K, Miyachi M, Saitoh T, Yoshioka A, Onodera S . Effects of endurance training on resting and post-exercise cardiac autonomic control. Med Sci Sports Exerc 2000; 33: 1496–1502.

Brown SJ, Brown JA . Resting and postexercise cardiac autonomic control in trained master athletes. J Physiol Sci 2007; 57: 23–29.

Terziotti P, Schena F, Gulli G, Cevese A . Post exercise recovery of autonomic cardiovascular control: a study by spectrum and cross-spectrum analysis in humans. Eur J Appl Physiol 2001; 84: 187–194.

Javorka M, Zila I, Balharek T, Javorka K . Heart rate recovery after exercise: relations to heart rate variability and complexity. Braz J Med Biol Res 2002; 35: 991–1000.

Macor F, Fagard R, Amery A . Power spectral analysis of RR interval and blood pressure short-term variability at rest and during dynamic exercise: comparison between cyclists and controls. Int J Sports Med 1996; 17: 175–181.

Krock LP, Hartung GH . Influence of post-exercise activity on plasma catecholamines, blood pressure and heart rate in normal subjects. Clin Auton Res 1992; 2: 89–97.

Perini R, Orizio C, Comandè A, Castellano M, Beschi M, Veicstainas A . Plasma norepinephrine and heart rate dynamics during recovery from submaximal exercise in man. Eur J Appl Physiol Occup Physiol 1989; 58: 879–883.

Darr KC, Bassett DR, Morgan BJ, Thomas PD . Effects of age and training status on heart rate recovery after peak exercise. Am J Physiol 1988; 254: H340–H343.

Otsuki T, Maeda S, Iemitso M, Saito Y, Tanimura Y, Sugawara J et al. Postexercise heart rate recovery accelerates in strength-trained athletes. Med Sci Sports Exerc 2007; 39: 365–370.

Hagberg JM, Hickson RC, Ehsani AA, Holloszy O . Faster adjustment to and recovery from submaximal exercise in the trained state. J Appl Physiol: Respirat Environ Exercise Physio 1980; 48: 218–224.

Scott AS, Eberhard A, Ofir D, Benchetrit G, Dinh TP, Calabrese P et al. Enhanced cardiac vagal efferent activity does not explain training-induced bradycardia. Auton Neurosci 2004; 112: 60–68.

Taylor JA, Myers CW, Halliwill JR, Seidel H, Eckberg DL . Sympathetic restraint of respiratory sinus arrhythmia: implications for vagal-cardiac tone assessment in humans. Am J Physiol Heart Circ Physiol 2001; 280: H2804–H2814.

Iwasaki K, Zhang R, Zuckerman JH, Levine BD . Dose-response relationship of the cardiovascular adaptation to endurance training in healthy adults: how much training for what benefit. J Appl Physiol 2003; 4: 1575–1583.
Acknowledgements
The study was supported by grant G.0562.05 of the Fonds voor Wetenschappelijk Onderzoek—Vlaanderen, Brussels, Belgium.
About this article
Cite this article
Cornelissen, V., Verheyden, B., Aubert, A. et al. Effects of aerobic training intensity on resting, exercise and post-exercise blood pressure, heart rate and heart-rate variability. J Hum Hypertens 24, 175–182 (2010). https://doi.org/10.1038/jhh.2009.51
Received:

Revised:

Accepted:

Published:

Issue Date:

DOI: https://doi.org/10.1038/jhh.2009.51
Keywords
exercise

systolic blood pressure

cardiac autonomic control

intensity