Abstract
The onset of cardiovascular events presents a circadian variation that may be mediated by similar temporal patterns of vascular function. Blood pressure also follows circadian variation. We investigated the possible diurnal variation of endothelial function and arterial stiffness in patients with hypertension. Thirty-five individuals with recently diagnosed hypertension (mean age 48.3 years, range 30–60 years, 14 men) were examined. Flow-mediated vasodilatation (FMD), nitrate-mediated vasodilatation (NMD) and carotid–femoral (cf) pulse wave velocity (PWV) were measured at three different occasions: at 0700 hours immediately after awaking, at 1200 hours and at 2100 hours. FMD was markedly lower in the morning (0700 hours, 2.22±1.58%; 1200 hours, 4.37±2.25%; 2100 hours, 4.28±2.12%; P<0.001), whereas NMD was similar at the same time points. This difference remained significant after adjustment for baseline brachial artery diameter and reactive hyperaemia. PWVcf progressively increased from morning to evening (0700 hours, 9.8±1.9 m s−1; 1200 hours, 10.2±2.2 m s−1; 0900 hours, 10.5±1.9 m s−1; P=0.013 for linear trend). Similar temporal patterns were observed in systolic and diastolic blood pressures peaking in the evening. PWVcf changes lost significance after adjustment for changes in mean blood pressure. Endothelial function is decreased in the early morning in hypertensive patients, whereas arterial stiffness is increased in the evening. Changes in BP-dependent passive artery distension may be involved in this phenomenon.
This is a preview of subscription content
Access options
Subscribe to Journal
Get full journal access for 1 year
$119.00
only $9.92 per issue
All prices are NET prices.
VAT will be added later in the checkout.
Tax calculation will be finalised during checkout.
Buy article
Get time limited or full article access on ReadCube.
$32.00
All prices are NET prices.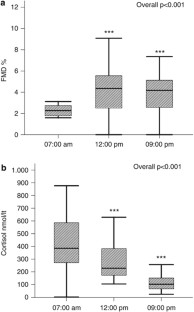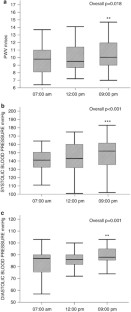 References
Muller JE, Stone PH, Turi ZG, Rutherford JD, Czeisler CA, Parker C et al. Circadian variation in the frequency of onset of acute myocardial infarction. N Engl J Med 1985; 313: 1315–1322.

Willich SN, Goldberg RJ, Maclure M, Perriello L, Muller JE . Increased onset of sudden cardiac death in the first three hours after awakening. Am J Cardiol 1992; 70: 65–68.

Spengos K, Vemmos KN, Tsivgoulis G, Synetos A, Zakopoulos NA, Zis VP et al. Two-peak temporal distribution of stroke onset in Greek patients. A hospital-based study. Cerebrovasc Dis 2003; 15: 70–77.

Stergiou GS, Vemmos KN, Pliarchopoulou KM, Synetos AG, Roussias LG, Mountokalakis TD . Parallel morning and evening surge in stroke onset, blood pressure, and physical activity. Stroke 2002; 33: 1480–1486.

Peters RW, Zoble RG, Liebson PR, Pawitan Y, Brooks MM, Proschan M . Identification of a secondary peak in myocardial infarction onset 11–12 h after awakening: the Cardiac Arrhythmia Suppression Trial (CAST) experience. J Am Coll Cardiol 1993; 22: 998–1003.

Muller JE, Tofler GH, Verrier RL . Sympathetic activity as the cause of the morning increase in cardiac events: a likely culprit, but the evidence remains circumstantial. Circulation 1995; 91: 2508–2509.

Hijmering ML, Stroes ES, Olijhoek J, Hutten BA, Blankestijn PJ, Rabelink TJ . Sympathetic activation markedly reduces endothelium-dependent, flow-mediated vasodilation. J Am Coll Cardiol 2002; 39: 683–688.

Panza JA, Epstein SE, Quyyumi AA . Circadian variation in vascular tone and its relation to alpha-sympathetic vasoconstrictor activity. N Engl J Med 1991; 325: 986–990.

Tofler GH, Brezinski D, Schafer AI, Czeisler CA, Rutherford JD, Willich SN et al. Concurrent morning increase in platelet aggregability and the risk of myocardial infarction and sudden cardiac death. N Engl J Med 1987; 316: 1514–1518.

Celermajer DS, Sorensen KE, Bull C, Robinson J, Deanfield JE . Endothelium-dependent dilation in the systemic arteries of asymptomatic subjects relates to coronary risk factors and their interaction. J Am Coll Cardiol 1994; 24: 1468–1474.

Gokce N, Keaney Jr JF, Hunter LM, Watkins MT, Nedeljkovic ZS, Menzoian JO et al. Predictive value of noninvasively determined endothelial dysfunction for long-term cardiovascular events in patients with peripheral vascular disease. J Am Coll Cardiol 2003; 41: 1769–1775.

Oliver JJ, Webb DJ . Noninvasive assessment of arterial stiffness and risk of atherosclerotic events. Arterioscler Thromb Vasc Biol 2003; 23: 554–566.

Otto ME, Svatikova A, Barretto RB, Santos S, Hoffmann M, Khandheria B et al. Early morning attenuation of endothelial function in healthy humans. Circulation 2004; 109: 2507–2510.

Ringqvist A, Caidahl K, Petersson AS, Wennmalm A . Diurnal variation of flow-mediated vasodilation in healthy premenopausal women. Am J Physiol 2000; 279: H2720–H2725.

Walters JF, Hampton SM, Deanfield JE, Donald AE, Skene DJ, Ferns GA . Circadian variation in endothelial function is attenuated in postmenopausal women. Maturitas 2006; 54: 294–303.

Maruo T, Nakatani S, Kanzaki H, Kakuchi H, Yamagishi M, Kitakaze M et al. Circadian variation of endothelial function in idiopathic dilated cardiomyopathy. Am J Cardiol 2006; 97: 699–702.

Oflaz H, Cuhadaroglu C, Pamukcu B, Meric M, Ece T, Kasikcioglu E et al. Endothelial function in patients with obstructive sleep apnea syndrome but without hypertension. Respiration 2006; 73: 751–756.

Shaw JA, Chin-Dusting JP, Kingwell BA, Dart AM . Diurnal variation in endothelium-dependent vasodilatation is not apparent in coronary artery disease. Circulation 2001; 103: 806–812.

ter Avest E, Holewijn S, Stalenhoef AF, de Graaf J . Variation in non-invasive measurements of vascular function in healthy volunteers during daytime. Clin Sci (Lond) 2005; 108: 425–431.

Kawano H, Motoyama T, Yasue H, Hirai N, Waly HM, Kugiyama K et al. Endothelial function fluctuates with diurnal variation in the frequency of ischemic episodes in patients with variant angina. J Am Coll Cardiol 2002; 40: 266–270.

Elherik K, Khan F, McLaren M, Kennedy G, Belch JJ . Circadian variation in vascular tone and endothelial cell function in normal males. Clin Sci (Lond) 2002; 102: 547–552.

Papaioannou TG, Karatzis EN, Papamichael CM, Karatzi KN, Zakopoulos NA, Lekakis JP et al. Circadian variation of arterial pressure wave reflections. Am J Hypertens 2006; 19: 259–263.

Bodlaj G, Berg J, Biesenbach G . Diurnal variation of pulse wave velocity assessed non-invasively by applanation tonometry in young healthy men. Yonsei Med J 2007; 48: 665–670.

Safar ME . Pulse pressure, arterial stiffness, and cardiovascular risk. Curr Opin Cardiol 2000; 15: 258–263.

Kawano H, Motoyama T, Hirashima O, Hirai N, Miyao Y, Sakamoto T et al. Hyperglycemia rapidly suppresses flow-mediated endothelium-dependent vasodilation of brachial artery. J Am Coll Cardiol 1999; 34: 146–154.

Mitchell BM, Dorrance AM, Mack EA, Webb RC . Glucocorticoids decrease GTP cyclohydrolase and tetrahydrobiopterin-dependent vasorelaxation through glucocorticoid receptors. J Cardiovasc Pharmacol 2004; 43: 8–13.

Williams IL, Chowienczyk PJ, Wheatcroft SB, Patel A, Sherwood R, Momin A et al. Effect of fat distribution on endothelial-dependent and endothelial-independent vasodilatation in healthy humans. Diabetes Obes Metab 2006; 8: 296–301.

Zwaka TP, Hombach V, Torzawski J . C-reactive protein-mediated low density lipoprotein uptake by macrophages: implications for atherosclerosis. Circulation 2001; 103: 1194–1197.

Staessen JA, Thijs L, Fagard R, O'Brien ET, Clement D, de Leeuw PW et al. Predicting cardiovascular risk using conventional vs ambulatory blood pressure in older patients with systolic hypertension: Systolic Hypertension in Europe Trial Investigators. JAMA 1999; 282: 539–546.

Aznaouridis KA, Stamatelopoulos KS, Karatzis EN, Protogerou AD, Papamichael CM, Lekakis JP . Acute effects of rennin-angiotensin system blockade on arterial function in hypertensive patients. J Hum Hypertens 2007; 21: 654–663.

Lekakis JP, Protogerou A, Papamichael C, Vamvakou G, Iconomidis I, Fici F et al. Effect of nebivolol and atenolol on brachial artery flow-mediated vasodilation in patients with coronary artery disease. Cardiovasc Drugs Ther 2005; 19: 277–281.

Mahmud A, Feely J . Effect of angiotensin ii receptor blockade on arterial stiffness: beyond blood pressure reduction. Am J Hypertens 2002; 15: 1092–1095.

Mancia G, De Backer G, Dominiczak A, Cifkova R, Fagard R, Germano G et al. 2007 Guidelines for the management of arterial hypertension: The Task Force for the Management of Arterial Hypertension of the European Society of Hypertension (ESH) and of the European Society of Cardiology (ESC). Eur Heart J 2007; 28: 1462–1536.

Corretti MC, Anderson TJ, Benjamin EJ, Celermajer D, Charbonneau F, Creager MA et al. Guidelines for the ultrasound assessment of endothelial-dependent flow-mediated vasodilation of the brachial artery: a report of the International Brachial Artery Reactivity Task Force. J Am Coll Cardiol 2002; 39: 257–265.

Nichols WW, O'Rourke MF . Properties of the arterial wall. In: Nichols WW, O'Rourke MF (eds). McDonalds' Blood Flow in Arteries. Theoretical, Experimental and Clinical Principles, 5th edn. Oxford University Press Inc.: NY, 2005, pp 80–82.

Van Bortel LM, Duprez D, Starmans-Kool MJ, Safar ME, Giannattasio C, Cockcroft J et al. Clinical applications of arterial stiffness, task force III: recommendations for user procedures. Am J Hypertens 2002; 15: 445–452.

Pietri P, Vyssoulis G, Vlachopoulos C, Zervoudaki A, Gialernios T, Aznaouridis K et al. Relationship between low-grade inflammation and arterial stiffness in patients with essential hypertension. J Hypertens 2006; 24: 2231–2238.

Conover WJ . Practical Nonparametric Statistics, 3rd edn. Wiley, NY, 1999.

Whitworth JA, Williamson PM, Mangos G, Kelly JJ . Cardiovascular consequences of cortisol excess. Vasc Health Risk Manag 2005; 1: 291–299.

Kimura Y, Matsumoto M, Den YB, Iwai K, Munehira J, Hattori H et al. Impaired endothelial function in hypertensive elderly patients evaluated by high resolution ultrasonography. Can J Cardiol 1999; 15: 563–568.

London GM . Role of arterial wall properties in the pathogenesis of systolic hypertension. Am J Hypertens 2005; 18: 19S–22S.

Schöfl C, Becker C, Prank K, von zur Mühlen A, Brabant G . Twenty-four-hour rhythms of plasma catecholamines and their relation to cardiovascular parameters in healthy young men. Eur J Endocrinol 1997; 137: 675–683.

Donald AE, Halcox JP, Charakida M, Storry C, Wallace SM, Cole TJ et al. Methodological approaches to optimize reproducibility and power in clinical studies of flow-mediated dilation. J Am Coll Cardiol 2008; 51: 1959–1964.

Hermida RC, Ayala DE, Portaluppi F . Circadian variation of blood pressure: the basis for the chronotherapy of hypertension. Adv Drug Deliv Rev 2007; 59: 904–922.

Minutolo R, Gabbai FB, Borrelli S, Scigliano R, Trucillo P, Baldanza D et al. Changing the timing of antihypertensive therapy to reduce nocturnal blood pressure in CKD: an 8-week uncontrolled trial. Am J Kidney Dis 2007; 50: 908–917.
About this article
Cite this article
Kollias, G., Stamatelopoulos, K., Papaioannou, T. et al. Diurnal variation of endothelial function and arterial stiffness in hypertension. J Hum Hypertens 23, 597–604 (2009). https://doi.org/10.1038/jhh.2009.2
Received:

Revised:

Accepted:

Published:

Issue Date:

DOI: https://doi.org/10.1038/jhh.2009.2
Keywords
circadian rhythm

endothelium

hypertension

pulse wave velocity

arterial stiffness