Abstract
The objective of this review was to evaluate the effectiveness of relaxation to lower high blood pressure. We searched electronic bibliographic databases and grey literature to identify randomized controlled trials comparing relaxation therapies with no active treatment or sham therapy, enrolling adult participants with raised systolic blood pressure (SBP) ⩾140 mm Hg or diastolic blood pressure (DBP) ⩾85 mm Hg and follow-up ⩾8 weeks. Twenty-five trials with up to 5 years follow-up, assessing 1198 participants, met our inclusion criteria and were meta-analysed. Overall, relaxation resulted in small, statistically significant reductions in SBP (mean difference: −5.5 mm Hg, 95% CI: −8.2 to −2.8) and DBP (mean difference: −3.5 mm Hg, 95% CI: −5.3 to −1.6) compared to the control. Substantial heterogeneity between trials (I2>70%) was not explained by duration of follow-up, type of control, type of relaxation therapy or baseline blood pressure. The 9 trials that reported blinding of outcome assessors found a non-significant net reduction in blood pressure (SBP mean difference: −3.2 mm Hg, 95% CI: −7.7 to 1.4) associated with relaxation, as did the 15 trials comparing relaxation with sham therapy (SBP mean difference: −3.5 mm Hg, 95% CI: −7.1 to 0.2). Adequate randomization was confirmed in only seven trials and concealment of allocation in only one. In view of the poor quality of the included trials and unexplained variation between trials, the evidence in favour of a causal association between relaxation and blood pressure reduction is weak. Some of the apparent benefit of relaxation was probably due to aspects of treatment unrelated to relaxation.
Relevant articles
Open Access articles citing this article.
Jill R Johnson

,

Daniel J Crespin

…

Jeffery A Dusek

BMC Complementary and Alternative Medicine Open Access 13 December 2014
Access options
Subscribe to Journal
Get full journal access for 1 year
$119.00
only $9.92 per issue
All prices are NET prices.
VAT will be added later in the checkout.
Tax calculation will be finalised during checkout.
Buy article
Get time limited or full article access on ReadCube.
$32.00
All prices are NET prices.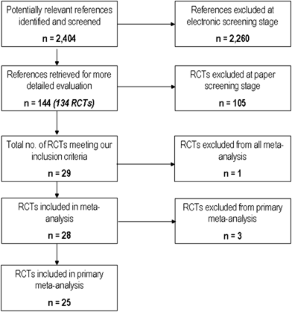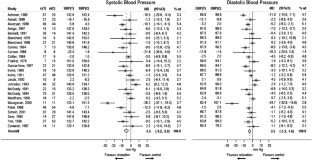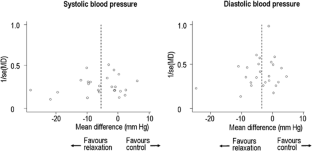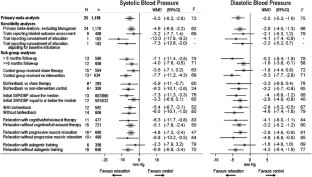 References
Gibbons GH . Pathobiology of hypertension. In: Topol EJ (ed). Comprehensive Cardiovascular Medicine. Lippincott-Raven Publishers: Philadelphia, 1998, pp 2907–2918.

Schwartz AR, Gerin W, Davidson KW, Pickering TG, Brosschot JF, Thayer JF et al. Toward a causal model of cardiovascular responses to stress and the development of cardiovascular disease. Psychosom Med 2003; 65: 22–35.

Pickering TG . Blood pressure monitoring for studying the role of behavioural factors in cardiovascular disease. In: Pickering TG. Ambulatory Monitoring and Blood Pressure Variability. Science Press: London, 1991, pp 11.11–11.13.

Benson H . Beyond the Relaxation Response. NY Time Books: New York, 1984.

Eisenberg DM, Delbanco TL, Berkey CS, Kaptchuk TJ, Kupelnick B, Kuhl J et al. Cognitive behavioral techniques for hypertension: are they effective? Ann Intern Med 1993; 118: 964–972.

Stetter F, Kupper S . Autogenic training: a meta-analysis of clinical outcome studies. Appl Psychophysiol Biofeedback 2002; 27: 45–98.

Mandle CL, Jacobs SC, Arcari PM, Domar AD . The efficacy of relaxation response interventions with adult patients: a review of the literature. J Cardiovasc Nurs 1996; 10: 4–26.

Astin JA, Shapiro SL, Eisenberg DM, Forys KL . Mind-body medicine: state of the science, implications for practice. J Am Board Fam Pract 2003; 16: 131–147.

Huntley A, White AR, Ernst E . Relaxation therapies for asthma: a systematic review. Thorax 2002; 57: 127–131.

Grossman E, Grossman A, Schein MH, Zimlichman R, Gavish B . Breathing-control lowers blood pressure. J Hum Hypertens 2001; 15: 263–269.

Engebretson J . Culture and complementary therapies. Complement Ther Nurs Midwifery 2002; 8: 177–184.

Ebrahim S, Smith GD . Lowering blood pressure: a systematic review of sustained effects of non-pharmacological interventions. J Public Health Med 1998; 20: 441–448.

Nakao M, Yano E, Nomura S, Kuboki T . Blood pressure-lowering effects of biofeedback treatment in hypertension: a meta-analysis of randomized controlled trials. Hypertens Res 2003; 26: 37–46.

Brown N, Young T, Gray D, Skene AM, Hampton JR . Inpatient deaths from acute myocardial infarction, 1982–92: analysis of data in the Nottingham heart attack register. BMJ 1997; 315: 159–164.

Dickinson HO, Campbell F, Beyer FR, Nicolson DJ, Cook JV, Ford GA et al. Relaxation therapies for the management of primary hypertension in adults. Cochrane Database Syst Rev 2008 Issue 1 Art. No.: CD004935. DOI: 10.1002/14651858.CD004935.pub2.

Ospina MB, Bond K, Karkhaneh M, Tjosvold L, Vandermeer B, Liang Y et al. Meditation Practices for Health: State of the Research. Evidence Report/Technology Assessment Number 155: Agency for Healthcare Research and Quality; 2007. Report No: AHRQ Publication No. 07-E010.

Khalsa SBS . Yoga as a therapeutic intervention: a bibliometric analysis of published research studies. Indian J Physiol Pharmacol 2004; 48: 269–285.

Campbell NRC, Burgess E, Choi BCK, Taylor G, Wilson E, Cleroux J et al. Methods and an overview of the Canadian recommendations. Can Med Assoc J 1999; 160: S1–S6.

Jacob RG, Chesney MA, Williams DM, Ding Y, Shapiro AP . Relaxation therapy for hypertension: design effects and treatment effects. Annal Behav Med 1991; 13: 5–17.

Linden W, Chambers L . Clinical effectiveness of non-drug treatment for hypertension: a meta-analysis. Annal Behav Med 1994; 16: 35–45.

Review Manager (RevMan). Version 4.2 for Windows. The Cochrane Collaboration: Oxford, England, 2003.

StataCorp. Stata Statistical Software: Release 9.2 College Station. Stata Corporation: TX, 2006.

DerSimonian R, Laird N . Meta-analysis in clinical trials. Control Clin Trials 1986; 7: 177–188.

Higgins JPT, Thompson SG, Deeks JJ, Altman DG . Measuring inconsistency in meta-analyses. BMJ 2003; 327: 557–560.

Egger M, Smith GD, Schneider M, Minder C . Bias in meta-analysis detected by a simple, graphical test. BMJ 1997; 315: 629–634.

Bosley F . Stress management training for hypertensives: cognitive and physiological effects. J Behav Med 1989; 12: 77–89.

Hafner RJ . Psychological treatment of essential hypertension: a controlled comparison of meditation and meditation plus biofeedback. Biofeedback Self Regul 1982; 7: 305–316.

Khramelashvili VV, Aivazian TA, Salenko BB . Psychological nondrug treatment of hypertension and the criteria of its effectiveness. Kardiologiia 1986; 26: 66–69.

LaGrone R, Jeffrey TB, Ferguson CL . Effects of education and relaxation training with essential hypertension patients. J Clin Psychol 1988; 44: 271–276.

Amigo I, Gonzalez A, Herrera J . Comparison of physical exercise and muscle relaxation training in the treatment of mild essential hypertension. Stress Medicine 1997; 13: 59–65.

Yen LL, Patrick WK, Chie WC . Comparison of relaxation techniques routine blood pressure measurements and self-learning packages in hypertension control. Prev Med 1996; 25: 339–345.

Achmon J, Granek M, Colomb M, Hart J . Behavioral treatment of essential hypertension: a comparison between cognitive therapy and biofeedback of heart rate. Psychosom Med 1989; 51: 152–164.

Aivazyan TA, Zaitsev VP, Yurenev AP . Autogenic training in the treatment and secondary prevention of essential hypertension: five-year follow-up. Health Psychol 1988; 7: S201–S208.

Blanchard EB, Miller ST, Abel GG, Haynes MR, Wicker R . Evaluation of biofeedback in the treatment of borderline essential hypertension. J Appl Behav Anal 1979; 12: 99–109.

Frankel BL, Patel DJ, Horwitz D, Friedewald WT, Gaarder KR . Treatment of hypertension with biofeedback and relaxation techniques. Psychosom Med 1978; 40: 276–293.

Garcia-Vera MP, Labrador F, Sanz J . Stress management training for essential hypertension: a controlled study. Appl Psychophysiol Biofeedback 1997; 22: 261–283.

Irvine MJ, Johnston DW, Jenner DA, Marie GV . Relaxation and stress management in the treatment of essential hypertension. J Psychosom Res 1986; 30: 437–450.

McGrady AV, Yonker R, Tan SY, Fine TH, Woerner M . The effect of biofeedback-assisted relaxation training on blood pressure and selected biochemical parameters in patients with essential hypertension. Biofeedback Self Regul 1981; 6: 343–353.

McGrady A . Effects of group relaxation training and thermal biofeedback on blood pressure and related physiological and psychological variables in essential hypertension. BMJ 1994; 19: 51–66.

Patel C, Marmot M . Can general practitioners use training in relaxation and management of stress to reduce mild hypertension? BMJ 1988; 296: 21–24.

Schein MH, Gavish B, Herz M, Rosner-Kahana D, Naveh P, Knishkowy B et al. Treating hypertension with a device that slows and regularises breathing: a randomised, double-blind controlled study. J Hum Hypertens 2001; 15: 271–278.

Zurawski RM, Smith TW, Houston BK . Stress management for essential hypertension: comparison with a minimally effective treatment, predictors of response to treatment and effects on reactivity. J Psychosom Res 1987; 31: 453–462.

Adsett CA, Bellissimo A, Mitchell A, Wilczynski N, Haynes RB . Behavioral and physiological effects of a beta blocker and relaxation therapy on mild hypertensives. Psychosom Med 1989; 51: 523–536.

Bennett P, Wallace L, Carroll D, Smith N . Treating Type A behaviours and mild hypertension in middle-aged men. J Psychosom Res 1991; 35: 209–223.

Blanchard EB, Eisele G, Vollmer A, Payne A, Gordon M, Cornish P et al. Controlled evaluation of thermal biofeedback in treatment of elevated blood pressure in unmedicated mild hypertension. Biofeedback Self Regul 1996; 21: 167–190.

Canino E, Cardona R, Monsalve P, Perez A, Lopez B, Fragachan F . A behavioral treatment program as a therapy in the control of primary hypertension. Acta Cientifica Venezolana 1994; 45: 23–30.

Cottier C, Shapiro K, Julius S . Treatment of mild hypertension with progressive muscle relaxation. Predictive value of indexes of sympathetic tone. Arch Intern Med 1984; 144: 1954–1958.

Irvine MJ, Logan AG . Relaxation behavior therapy as sole treatment for mild hypertension. Psychosom Med 1991; 53: 587–597.

Johnston DW, Gold A, Kentish J, Smith D, Vallance P, Shah D et al. Effect of stress management on blood pressure in mild primary hypertension. BMJ 1993; 306: 963–966.

Seer P, Raeburn JM . Meditation training and essential hypertension: a methodological study. J Behav Med 1980; 3: 59–71.

van Montfrans GA, Karemaker JM, Wieling W, Dunning AJ . Relaxation therapy and continuous ambulatory blood pressure in mild hypertension: a controlled study. BMJ 1990; 300: 1368–1372.

Jacob RG, Shapiro AP, O'Hara P, Portser S, Kruger A, Gatsonis C et al. Relaxation therapy for hypertension: setting-specific effects. Psychosom Med 1992; 54: 87–101.

Carson MA, Hathaway A, Tuohey JP, McKay BM . The effect of a relaxation technique on coronary risk factors. Behav Med 1988; 14: 71–77.

Murugesan R, Govindarajulu N, Bera TK . Effect of selected yogic practices on the management of hypertension. Indian J Physiol Pharmacol 2000; 44: 207–210.

Hróbjartsson A, Gøtzsche PC . Placebo interventions for all clinical conditions. Cochrane Database Syst Rev 2004. Issue 2. Art. No.: CD003974. DOI: 10.1002/14651858.CD003974.pub2.

Moher D, Pham D, Jones A, Cook DJ, Jadad AR, Moher M et al. Does quality of reports of randomised trials affect estimates of intervention efficacy reported in meta-analyses? Lancet 1998; 352: 609–613.

Schulz KF, Chalmers I, Hayes RJ, Altman D . Empirical evidence of bias. Dimensions of methodological quality associated with estimates of treatment effects in controlled trials. JAMA 1995; 273: 408–412.

Deeks JJ, Higgins JPT, Altman DG (eds). Analysing and presenting results. In: Higgins JPT, Green S (eds). Cochrane Handbook for Systematic Reviews of Interventions 4.2.6. [updated September 2006]; Section 8. In: The Cochrane Library, Issue 4, 2006. John Wiley & Sons, Ltd: Chichester, UK.

Law MR, Wald NJ, Morris JK, Jordan RE . Value of low dose combination treatment with blood pressure lowering drugs: analysis of 354 randomised trials. BMJ 2003; 326: 1427–1434.

Collett D . Modelling Survival Data in Medical Research, 2nd edn. Chapman and Hall/CRC: London, 2003.

Matthews JNS . An Introduction to Randomized Controlled Clinical Trials. Arnold: London, 2000.

Stone RA, DeLeo J . Psychotherapeutic control of hypertension. N Engl J Med 1976; 294: 80–84.

Patel C, Marmot MG, Terry DJ . Controlled trial of biofeedback-aided behavioural methods in reducing mild hypertension. BMJ 1981; 282: 2005–2008.

Canter PH, Ernst E . Insufficient evidence to conclude whether or not transcendental meditation decreases blood pressure: results of a systematic review of randomized clinical trials. J Hypertens 2004; 22: 2049–2054.

Psaty BM, Lumley T, Furberg CD, Schellenbaum G, Pahor M, Alderman MH et al. Health outcomes associated with various antihypertensive therapies used as first-line agents: a network meta-analysis. JAMA 2003; 289: 2534–2544.

Prospective Studies C . Age-specific relevance of usual blood pressure to vascular mortality: a meta-analysis of individual data for one million adults in 61 prospective studies. Lancet 2002; 360: 1903–1913.

Dickinson HO, Mason JM, Nicolson DJ, Campbell F, Beyer FR, Cook JV et al. Lifestyle interventions to reduce raised blood pressure: a systematic review of randomized controlled trials. J Hypertens 2006; 24: 215–233.

Hooper L, Bartlett C, Davey Smith G, Ebrahim S . Advice to reduce dietary salt for prevention of cardiovascular disease. Cochrane Database Syst Rev 2004 Issue 1. Art. No.: CD003656. DOI: 10.1002/14651858.CD003656.pub2.

Jürgens G, Graudal NA . Effects of low sodium diet versus high sodium diet on blood pressure, renin, aldosterone, catecholamines, cholesterols, and triglyceride. 02/14651858.CD004022.pub2. Cochrane Database of Systematic Reviews 2004, Issue 1 Art No: CD004022 DOI: 1010, 2007.

Mulrow CD, Chiquette E, Angel L, Cornell J, Summerbell C, Anagnostelis B et al. Dieting to reduce body weight for controlling hypertension in adults. Cochrane Database of Systematic Reviews 1998, Issue 4. Art. No.: CD000484; doi:10.1002/14651858.CD000484.
Acknowledgements
We thank Professor E Canino of Universidad Simon Bolivar, Professor TK Bera of Scientific Research Department, Kaivalyadhama SMYM Samiti and Dr. MH Shein of Hadassah University for supplying unpublished data; Dr Sat Bir S Khalsa of Harvard Medical School for supplying unpublished information about studies of yoga; Dr Benjamin Gavish of Intercure Inc. for helpful suggestions and Sheila Dickinson for helpful discussions on statistical aspects of the review.
This work was undertaken with funding from the National Institute for Clinical Excellence; preliminary work was reported in a national clinical guideline (http://www.nice.org.uk/page.aspx?o=217976).
This paper is based on a Cochrane review first published in The Cochrane Library 2008, Issue 1 (www.thecochranelibrary.com for information). Cochrane reviews are regularly updated as new evidence emerges and in response to comments and criticisms, and The Cochrane Library should be consulted for the most recent version of the review. The results of a Cochrane review can be interpreted differently, depending on people's perspectives and circumstances. Please consider the conclusions presented carefully. They are the opinions of review authors, and are not necessarily shared by The Cochrane Collaboration.
Additional information
Conflict of interest
GAF has received honoraria from a number of pharmaceutical companies for lectures and consultancy, and grant support for clinical trials from medical charities and the pharmaceutical industry. HOD, JMM, DJN, FC, JVC and FRB have no conflicts of interest. The funding body was not involved in any aspect of the design or conduct of the review or interpretation of findings and was not in a position to benefit financially from the results of the review. The views expressed are those of the authors and not necessarily those of the funding body.
About this article
Cite this article
Dickinson, H., Campbell, F., Beyer, F. et al. Relaxation therapies for the management of primary hypertension in adults: a Cochrane review. J Hum Hypertens 22, 809–820 (2008). https://doi.org/10.1038/jhh.2008.65
Received:

Revised:

Accepted:

Published:

Issue Date:

DOI: https://doi.org/10.1038/jhh.2008.65
Keywords
relaxation

hypertension

systematic review