Abstract
Studies have found associations between PM2.5 and cardiovascular events. The role of different components of PM2.5 is not well understood. We used linear mixed-effects models with the adaptive LASSO penalty to select PM2.5 species and source(s), separately, that may be associated with markers of inflammation and endothelial dysfunction, with adjustment for age, obesity, smoking, statin use, diabetes mellitus, temperature, and season as fixed effects in a large longitudinal cohort of elderly men. We also analyzed these associations with source apportionment models and examined genetic pathway–air pollution interactions within three relevant pathways (oxidative stress, metal processing, and endothelial function). We found that independent of PM2.5 mass vanadium (V) was associated with intercellular adhesion molecule-1 (ICAM-1) and vascular cell adhesion molecule-1 (VCAM-1). An IQR increase (3.2 ng/m3) in 2-day moving average V was associated with a 2.5% (95% CI: 1.2–3.8%) change in ICAM-1 and a 3.9% (95% CI: 2.2–5.7%) change in VCAM-1, respectively. In addition, an oil combustion source rich in V was linked to these adhesion molecules. People with higher allelic risk profiles related to oxidative stress may have greater associations (P-value of interaction=0.11). Our findings suggest that particles derived from oil combustion may be associated with inflammation and endothelial dysfunction, and it is likely that oxidative stress plays a role in the associations.
Relevant articles
Open Access articles citing this article.
Luigi Barrea

,

Silvia Savastano

…

Annamaria Colao

Reviews in Endocrine and Metabolic Disorders Open Access 19 September 2016
Access options
Subscribe to Journal
Get full journal access for 1 year
$119.00
only $19.83 per issue
All prices are NET prices.
VAT will be added later in the checkout.
Tax calculation will be finalised during checkout.
Buy article
Get time limited or full article access on ReadCube.
$32.00
All prices are NET prices.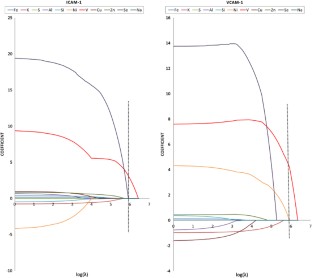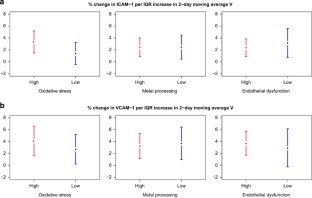 References
Brook RD, Franklin B, Cascio W, Hong Y, Howard G, Lipsett M et al. Air pollution and cardiovascular disease: a statement for healthcare professionals from the Expert Panel on Population and Prevention Science of the American Heart Association. Circulation 2004; 109: 2655–2671.

Brook RD, Rajagopalan S, Pope CA, 3rd, Brook JR, Bhatnagar A, Diez-Roux AV et al. Particulate matter air pollution and cardiovascular disease: an update to the scientific statement from the American Heart Association. Circulation 2010; 121: 2331–2378.

Rückerl R, Ibald-Mulli A, Koenig W, Schneider A, Woelke G, Cyrys J et al. Air pollution and markers of inflammation and coagulation in patients with coronary heart disease. Am J Respir Crit Care Med 2006; 173: 432–441.

Ghio AJ, Stoneheurner J, McGee JK, Kinsey JS . Sulfate content correlates with iron concentrations in ambient air pollution particles. Inhal Toxicol 1999; 11: 293–307.

Tarantini L, Bonzini M, Apostoli P, Pegoraro V, Bollati V, Marinelli B et al. Effects of particulate matter on genomic DNA methylation content and iNOS promoter methylation. Environ Health Perspect 2009; 117: 217–222.

Bell B, Rose C, Damon A . The Normative Aging Study: an interdisciplinary and longitudinal study of health and aging. Aging Hum Dev 1972; 3: 4–17.

Kang CM, Koutrakis P, Suh HH . Hourly measurements of fine particulate sulfate and carbon aerosols at the Harvard-U.S. Environmental Protection Agency Supersite in Boston. J Air Waste Manag Assoc 2010; 60: 1327–1334.

Koutrakis P, Spengler JD . Source apportionment of ambient particles in steubenville, OH using specific rotation factor analysis. Atmo Env (1967) 1987; 21: 1511–1519.

Dai L, Koutrakis P, Coull BA, Sparrow D, Vokonas PS, Schwartz JD . Use of the adaptive LASSO method to identify PM components associated with blood pressure in elderly men: the Veterans Affairs Normative Aging Study. Environ Health Perspect 2015 e-pub ahead of print 20 June 2015 doi:10.1289/ehp.1409021.

Tibshirani R . Regression shrinkage and selection via the Lasso. J R Stat Soc Series B Methodol 1996; 58: 267–288.

Zou H . The adaptive Lasso and its oracle properties. J Am Stat Assoc 2006; 101: 1418–1429.

Schwarz G . Estimating the dimension of a model. The Ann Stat 1978; 6: 461–464.

Madrigano J, Baccarelli A, Wright RO, Suh H, Sparrow D, Vokonas PS et al. Air pollution, obesity, genes and cellular adhesion molecules. Occup Environ Med 2010; 67: 312–317.

van Eeden SF, Tan WC, Suwa T, Mukae H, Terashima T, Fujii T et al. Cytokines involved in the systemic inflammatory response induced by exposure to particulate matter air pollutants (PM(10)). Am J Respir Crit Care Med 2001; 164: 826–830.

Diez Roux AV, Auchincloss AH, Astor B, Barr RG, Cushman M, Dvonch T et al. Recent exposure to particulate matter and C-reactive protein concentration in the multi-ethnic study of atherosclerosis. Am J Epidemiol 2006; 164: 437–448.

Zeka A, Sullivan JR, Vokonas PS, Sparrow D, Schwartz J . Inflammatory markers and particulate air pollution: characterizing the pathway to disease. Int J Epidemiol 2006; 35: 1347–1354.

Mostofsky E, Schwartz J, Coull BA, Koutrakis P, Wellenius GA, Suh HH et al. Modeling the association between particle constituents of air pollution and health outcomes. Am J Epidemiol 2012; 176: 317–326.

Bind MA, Coull B, Suh H, Wright R, Baccarelli A, Vokonas P et al. A novel genetic score approach using instruments to investigate interactions between pathways and environment: application to air pollution. PLoS One 2014; 9: e96000.

Safran M, Dalah I, Alexander J, Rosen N, Iny Stein T, Shmoish M et al. GeneCards Version 3: the human gene integrator. Database 2010; 2010: baq020.

Blankenberg S, Rupprecht HJ, Bickel C, Peetz D, Hafner G, Tiret L et al. Circulating cell adhesion molecules and death in patients with coronary artery disease. Circulation 2001; 104: 1336–1342.

Luc G, Arveiler D, Evans A, Amouyel P, Ferrieres J, Bard JM et al. Circulating soluble adhesion molecules ICAM-1 and VCAM-1 and incident coronary heart disease: the PRIME Study. Atherosclerosis 2003; 170: 169–176.

Pradhan AD, Rifai N, Ridker PM . Soluble intercellular adhesion molecule-1, soluble vascular adhesion molecule-1, and the development of symptomatic peripheral arterial disease in men. Circulation 2002; 106: 820–825.

O'Neill MS, Veves A, Sarnat JA, Zanobetti A, Gold DR, Economides PA et al. Air pollution and inflammation in type 2 diabetes: a mechanism for susceptibility. Occup Environ Med 2007; 64: 373–379.

Bind MA, Baccarelli A, Zanobetti A, Tarantini L, Suh H, Vokonas P et al. Air pollution and markers of coagulation, inflammation, and endothelial function: associations and epigene-environment interactions in an elderly cohort. Epidemiology 2012; 23: 332–340.

Salvi S, Blomberg A, Rudell B, Kelly F, Sandstrom T, Holgate ST et al. Acute inflammatory responses in the airways and peripheral blood after short-term exposure to diesel exhaust in healthy human volunteers. Am J Respir Crit Care Med 1999; 159: 702–709.

Stenfors N, Nordenhall C, Salvi SS, Mudway I, Soderberg M, Blomberg A et al. Different airway inflammatory responses in asthmatic and healthy humans exposed to diesel. Eur Respir J 2004; 23: 82–86.

Alexeeff SE, Coull BA, Gryparis A, Suh H, Sparrow D, Vokonas PS et al. Medium-term exposure to traffic-related air pollution and markers of inflammation and endothelial function. Environ Health Perspect 2011; 119: 481–486.

Campen MJ, Nolan JP, Schladweiler MC, Kodavanti UP, Evansky PA, Costa DL et al. Cardiovascular and thermoregulatory effects of inhaled PM-associated transition metals: a potential interaction between nickel and vanadium sulfate. Toxicol Sci 2001; 64: 243–252.

Kodavanti UP, Schladweiler MC, Gilmour PS, Wallenborn JG, Mandavilli BS, Ledbetter AD et al. The role of particulate matter-associated zinc in cardiac injury in rats. Environ Health Perspect 2008; 116: 13–20.

Lippmann M, Ito K, Hwang J, Maciejczyk P, Chen L . Cardiovascular effects of nickel in ambient air. Environ Health Perspect 2006; 114: 1662–1669.

Montiel-Davalos A, Gonzalez-Villava A, Rodriguez-Lara V, Montano LF, Fortoul TI, Lopez-Marure R . Vanadium pentoxide induces activation and death of endothelial cells. J Appl Toxicol 2012; 32: 26–33.

Chuang HC, Hsueh TW, Chang CC, Hwang JS, Chuang KJ, Yan YH et al. Nickel-regulated heart rate variability: the roles of oxidative stress and inflammation. Toxicol Appl Pharmacol 2013; 266: 298–306.

Nadadur SS, Haykal-Coates N, Mudipalli A, Costa DL . Endothelial effects of emission source particles: acute toxic response gene expression profiles. Toxicol In Vitro 2009; 23: 67–77.

Woods A, Brull DJ, Humphries SE, Montgomery HE . Genetics of inflammation and risk of coronary artery disease: the central role of interleukin-6. Eur Heart J 2000; 21: 1574–1583.

Rückerl R, Greven S, Ljungman P, Aalto P, Antoniades C, Bellander T et al. Air pollution and inflammation (interleukin-6, C-reactive protein, fibrinogen) in myocardial infarction survivors. Environ Health Perspect 2007; 115: 1072–1080.

Peters A, Frohlich M, Doring A, Immervoll T, Wichmann HE, Hutchinson WL et al. Particulate air pollution is associated with an acute phase response in men; results from the MONICA-Augsburg Study. Eur Heart J 2001; 22: 1198–1204.

Pope CA, Hansen ML, Long RW, Nielsen KR, Eatough NL, Wilson WE et al. Ambient particulate air pollution, heart rate variability, and blood markers of inflammation in a panel of elderly subjects. Environ Health Perspect 2004; 112: 339–345.

Delfino RJ, Staimer N, Tjoa T, Gillen DL, Polidori A, Arhami M et al. Air pollution exposures and circulating biomarkers of effect in a susceptible population: clues to potential causal component mixtures and mechanisms. Environ Health Perspect 2009; 117: 1232–1238.

Neophytou A, Hart J, Cavallari J, Smith T, Dockery D, Coull B et al. Traffic-related exposures and biomarkers of systemic inflammation, endothelial activation and oxidative stress: a panel study in the US trucking industry. Environ Health 2013; 12: 1–10.

Ghio AJ, Silbajoris R, Carson JL, Samet JM . Biologic effects of oil fly ash. Environ Health Perspect 2002; 110 (Suppl 1): 89–94.

National Research Council Research Priorities for Airborne Particulate Matter: IV. Continuing Research Progress. National Research Council: Washington, DC. 2004.
Acknowledgements
This study was supported by the National Institute of Environmental Health Sciences Grants ES00002 and ES015172-01, and the US Environmental Protection Agency Grant RD-834798-01. Its contents are solely the responsibility of the grantee and do not necessarily represent the official views of the funders. Furthermore, the funders do not endorse the purchase of any commercial products or services mentioned in the publication. Dr. David Sparrow was supported by a VA Research Career Scientist award. The VA Normative Aging Study is supported by the Cooperative Studies Program/Epidemiology Research and Information Centers of the US Department of Veterans Affairs and is a component of the Massachusetts Veterans Epidemiology Research and Information Center, Boston, Massachusetts.
Ethics declarations
Competing interests
The authors declare no conflict of interest.
Supplementary information
About this article
Cite this article
Dai, L., Bind, MA., Koutrakis, P. et al. Fine particles, genetic pathways, and markers of inflammation and endothelial dysfunction: Analysis on particulate species and sources. J Expo Sci Environ Epidemiol 26, 415–421 (2016). https://doi.org/10.1038/jes.2015.83
Received:

Revised:

Accepted:

Published:

Issue Date:

DOI: https://doi.org/10.1038/jes.2015.83
Keywords
endothelial dysfunction

fine particulate matter

genetic pathway

inflammation

metals