Abstract
The aim of this work was to identify the key mechanisms governing transport of organic chemical substances from consumer articles to cotton wipes. The results were used to establish a mechanistic model to improve assessment of dermal contact exposure. Four types of PVC flooring, 10 types of textiles and one type of inkjet printed paper were used to establish the mechanisms and model. Kinetic extraction studies in methanol demonstrated existence of matrix diffusion and indicated the presence of a substance surface layer on some articles. Consequently, the proposed substance transfer model considers mechanical transport from a surface film and matrix diffusion in an article with a known initial total substance concentration. The estimated chemical substance transfer values to cotton wipes were comparable to the literature data (relative transfer ∼2%), whereas relative transfer efficiencies from spiked substrates were high (∼50%). For consumer articles, high correlation (r2=0.92) was observed between predicted and measured transfer efficiencies, but concentrations were overpredicted by a factor of 10. Adjusting the relative transfer from about 50% used in the model to about 2.5% removed overprediction. Further studies are required to confirm the model for generic use.
Relevant articles
Open Access articles citing this article.
Rosemary T. Zaleski

,

Tatsiana Dudzina

…

Frank Schnöder

Journal of Exposure Science & Environmental Epidemiology Open Access 21 January 2023

Diego Frezzato

,

Gianluca Stocco

…

Andrea Tapparo

Scientific Reports Open Access 02 March 2022

Md. Reazuddin Repon

,

M. Tauhidul Islam

&

Md. Abdullah Al Mamun

Fashion and Textiles Open Access 28 November 2017
Access options
Subscribe to this journal
Receive 6 print issues and online access
$259.00 per year
only $43.17 per issue
Rent or buy this article
Get just this article for as long as you need it
$39.95
Prices may be subject to local taxes which are calculated during checkout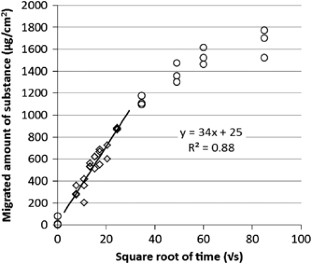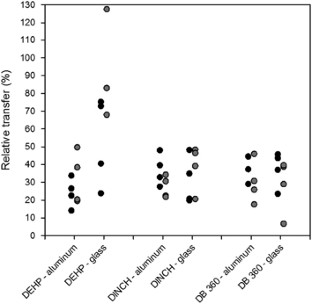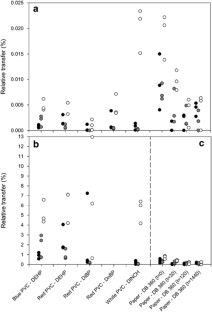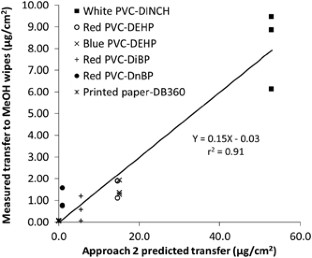 References
Biedermann S, Tschudin P, Grob K . Transfer of bisphenol A from thermal printer paper to the skin. Anal Bioanal Chem 2010; 398 (1): 571–576.

Klasmeier J, Mühlebach A, McLachlan MS . PCDD/Fs in textiles — Part II: Transfer from clothing to human skin. Chemosphere 1999; 38 (1): 97–108.

Api AM, Bredbenner A, McGowen M, Niemiera D, Parker L, Renskers K et al. Skin contact transfer of three fragrance residues from candles to human hands. Regul Toxicol Pharmacol 2007; 48 (3): 279–283.

Meinke M, Abdollahnia M, Gähr F, Platzek T, Sterry W, Lademann J . Migration and penetration of a fluorescent textile dye into the skin — in vivo versus in vitro methods. Exp Dermatol 2009; 18 (9): 789–792.

Krätke R, Platzek T . Migrationsverfahren und Modelle zur Abschützung einer möglichen Exposition mit Textilhilfsmitteln und -farbmitteln aus Bekleidungstextilien unter Anwendungsbedingungen. Bundesgesundheitsbl — Gesundheitsforsch — Gesundheitsschutz 2004; 47 (8): 810–813.

Tønning K, Malmgren-Hansen B, Jacobsen E, Pedersen E, Nilsson NH . Phthalates in Plastic Sandals. Danish Enviromental Protection Agency. 2010. Report No. 107.

European Union European Union Risk Assessment Report DEHP, 2nd Priority List Volume: 80. Joint Research Centre: Ispra, Italy. 2008. Report No.: EUR 23384 EN.

Kim HH, Yang JY, Kim SD, Yang SH, Lee CS, Shin DC et al. Health risks assessment in children for phthalate exposure associated with childcare facilities and indoor playgrounds. Environ Health Toxicol 2011; 26: e2011008.

Delmaar JE, Bokkers BGH, ter Burg W, van Engelen JGM . First tier modeling of consumer dermal exposure to substances in consumer articles under REACH: A quantitative evaluation of the ECETOC TRA for consumers tool. Regul Toxicol Pharmacol 2013; 65 (1): 79–86.

Gorman NgM, de Poot S, Schmid K, Cowie H, Semple S, Van Tongeren M . Properties of liquids and dusts: How do they influence dermal loading during immersion, deposition, and surface contact exposure pathways? Ann Occup Hyg 2013; 57 (5): 627–639.

Clausen PA, Liu Z, Kofoed-Sørensen V, Little JC, Wolkoff P . The influence of temperature on the emission of di (2-ethylhexyl)phthalate (DEHP) from PVC flooring in the emission cell FLEC. Environ Sci Technol 2012; 46 (2): 909–915.

Beelen MSC, Natulessy JH, Bierman EPB, Brouwer DH . Assessment of Surface Contamination as an Estimate for Dermal Exposure: Development of a Standard Wipe Method (in Dutch). TNO: Zeist, The Netherlands. 1996 Report No.: TNO rapport V96-084.

Kofoed-Sørensen V, Nørgaard AW, Wolkoff P, Clausen PA . Thermal solid phase extraction for GC-MS analysis of complex samples. In: 19th International Mass Spectrometry Conference (IMSC 2012). Kyoto International Conference Center: Japan. 2012 pPTh-157.

Piringer OG . Evaluation of plastics for food packaging. Food Addit Contam 1994; 11 (2): 221–230.

Ekelund M, Azhdar B, Gedde UW . Evaporative loss kinetics of di(2-ethylhexyl)phthalate (DEHP) from pristine DEHP and plasticized PVC. Polym Degrad Stab 2010; 95 (9): 1789–1793.

Daniels PH . A brief overview of theories of PVC plasticization and methods used to evaluate PVC-plasticizer interaction. J Vinyl Addit Technol 2009; 15 (4): 219–223.

Schneider T, Vermeulen R, Brouwer DH, Cherrie JW, Kromhout H, Fogh CL . Conceptual model for assessment of dermal exposure. Occup Environ Med 1999; 56 (11): 765–773.

Piringer OG . Prediction of diffusion coefficients in plastic materials. Rev Chim 2008; 59 (11): 1186–1189.

Lundsgaard R, Kontogeorgis GM, Kristiansen JrK, Jensen TF . Modeling of the migration of glycerol monoester plasticizers in highly plasticized poly(vinyl chloride). J Vinyl Addit Technol 2009; 15 (3): 147–158.

Xu Y, Little JC . Predicting emissions of SVOCs from polymeric materials and their interaction with airborne particles. Environ Sci Technol 2006; 40 (2): 456–461.

Helmroth IE, Dekker M, Hankemeier T . Influence of solvent absorption on the migration of Irganox 1076 from LDPE. Food Addit Contam 2002; 19 (2): 176–183.

Cohen Hubal EA, Nishioka MG, Ivancic WA, Morara M, Egeghy PP . Comparing surface residue transfer efficiencies to hands using polar and nonpolar fluorescent tracers. Environ Sci Technol 2008; 42 (3): 934–939.

Cohen Hubal EA, Suggs JC, Nishioka MG, Ivancic WA . Characterizing residue transfer efficiencies using a fluorescent imaging technique. J Expo Anal Environ Epidemiol 2005; 15 (3): 261–270.

Rodes CE, Newsome JR, Vanderpool RW, Antley JT, Lewis RG . Experimental methodologies and preliminary transfer factor data for estimation of dermal exposures to particles. J Expo Anal Environ Epidemiol 2001; 11 (2): 123–139.

Gorman NgM, Semple S, Cherrie W, Christopher Y, Northage C, Tielemans E et al. The relationship between inadvertent ingestion and dermal exposure pathways: A new integrated conceptual model and a database of dermal and oral transfer efficiencies. Ann Occup Hyg 2012; 56 (9): 1000–1012.

Wakelyn PJ, Bertoniere NR, French AD, Thibodeaux DP, Triplett BA, Rousselle MA et al Cotton Fiber Chemistry and Technology. CRC Press: New York, NY, USA. 2007.

Liu Z, Ye W, Little JC . Predicting emissions of volatile and semivolatile organic compounds from building materials: A review. Build Environ 2013; 64 (0): 7–25.

Clausen PA, Liu Z, Xu Y, Kofoed-Sørensen V, Little JC . Influence of air flow rate on emission of DEHP from vinyl flooring in the emission cell FLEC: Measurements and CFD simulation. Atmos Environ 2010; 44 (23): 2760–2766.

Meininghaus R, Gunnarsen L, Knudsen HN . Diffusion and sorption of volatile organic compounds in building materialsgêæimpact on indoor air quality. Environ Sci Technol 2000; 34 (15): 3101–3108.

Weschler CJ, Nazaroff WW . SVOC exposure indoors: Fresh look at dermal pathways. Indoor Air 2012; 22 (5): 356–377.
Acknowledgements
We thank CEFIC LRI for financial support of this study (grant: LRI B9-Characterizing the nature of dermal exposure from consumer products and articles), Harald Klimpke (Follmann & Co. GmbH & Co. KG, Germany) for producing DINCH plasticized PVC, Centexbel for manufacturing tailor made textiles and Rasmus Lundsgaard for fruitful discussion.
Ethics declarations
Competing interests
The authors declare no conflict of interest.
Supplementary information
About this article
Cite this article
Clausen, P., Spaan, S., Brouwer, D. et al. Experimental estimation of migration and transfer of organic substances from consumer articles to cotton wipes: Evaluation of underlying mechanisms. J Expo Sci Environ Epidemiol 26, 104–112 (2016). https://doi.org/10.1038/jes.2015.35
Received:

Accepted:

Published:

Issue Date:

DOI: https://doi.org/10.1038/jes.2015.35
Keywords
dermal exposure

exposure modeling

volatile organic compounds

phthalates