Abstract
The Consumer Product Safety Commission (CPSC) convened a Chronic Hazard Advisory Panel (CHAP) on Phthalates found in children's toys, and childcare products, and in products used by women of childbearing age. The CHAP conducted a risk assessment on phthalates and phthalate substitutes, and made recommendations to either ban, impose an interim ban, or allow the continued use of phthalates and phthalate substitutes in the above products. After a review of the literature, the evaluation included toxic end points of primary concern, biomonitoring results, extant exposure reconstruction, and epidemiological results. The health end points chosen were associated with the rat phthalate syndrome, which is characterized by malformations of the epididymis, vas deferens, seminal vesicles, prostate, external genitalia (hypospadias), and by cryptorchidism (undescended testes), retention of nipples/areolae, and demasculinization (~incomplete masculinization) of the perineum, resulting in reduced anogenital distance. Risk assessment demonstrated that some phthalates should be permanently banned, removed from the banned list, or remain interim banned. Biomonitoring and toxicology data provided the strongest basis for a mixture risk assessment. In contrast, external exposure data were the weakest and need to be upgraded for epidemiological studies and risk assessments. Such studies would focus on routes and sources. The review presents recommendations and uncertainties.
Relevant articles
Open Access articles citing this article.
Maricel V. Maffini

,

Swati D. G. Rayasam

…

Tracey J. Woodruff

Environmental Health Open Access 12 January 2023

Naina Kumar

&

Amit Kant Singh

Environmental Sciences Europe Open Access 10 January 2022

Maricel V. Maffini

,

Birgit Geueke

…

Jane Muncke

Environmental Health Open Access 15 November 2021
Access options
Subscribe to this journal
Receive 6 print issues and online access
$259.00 per year
only $43.17 per issue
Rent or buy this article
Prices vary by article type
from$1.95
to$39.95
Prices may be subject to local taxes which are calculated during checkout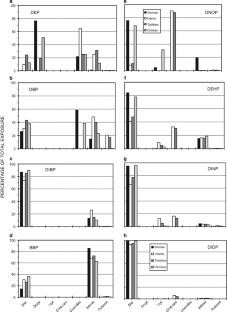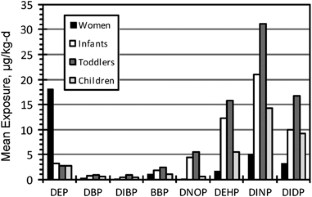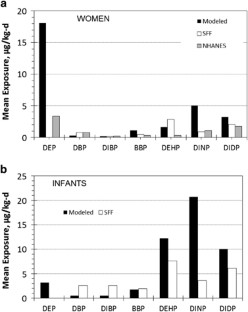 References
CPSC. Consumer Product Safety Improvement Act (CPSIA) of 2008. Public Law 110–314. Consumer Product Safety Commission: Bethesda, MD. 2008.

CPSC Chronic Hazard Advisory Panel on Phthalates and Phthalate Alternatives Final Report. US Consumer Product Safety Commission: Bethesda, MD. 2014.

Guyatt G, Oxman AD, Akl EA, Kunz R, Vist G, Brozek J et al. GRADE guidelines: 1. Introduction-GRADE evidence profiles and summary of findings tables. J Clin Epidemiol 2011; 64 (4): 383–394.

Higgins JP, Altman DG, Gotzsche PC, Juni P, Moher D, Oxman AD et al. The Cochrane Collaboration's tool for assessing risk of bias in randomised trials. BMJ (Clinical research ed) 2011; 343: d5928.

Woodruff TJ, Sutton P . An evidence-based medicine methodology to bridge the gap between clinical and environmental health sciences. Health Affairs (Project Hope) 2011; 30 (5): 931–937.

OECD Manual for Investigation for High Production Volume Chemicals. Organisation for Economic Co-operation and Development: Paris, France. 2007.

NRC Phthalates and Cumulative Risk Assessment. The Task Ahead. Committee on the Health Risks of Phthalates, National Research Council, National Academy Press: Washington, DC. 2008.

IARC Di(2-ethylhexyl) adipate. IARC Monographs on the Evaluation of Carcinogenic Risks to Humans, Vol 77I, 2000, pp 149–175.

Mylchreest E, Cattley RC, Foster PM . Male reproductive tract malformations in rats following gestational and lactational exposure to Di(n-butyl) phthalate: an antiandrogenic mechanism? Toxicol Sci 1998; 43 (1): 47–60.

Mylchreest E, Sar M, Cattley RC, Foster PM . Disruption of androgen-regulated male reproductive development by di(n-butyl) phthalate during late gestation in rats is different from flutamide. Toxicol Appl Pharmacol 1999; 156 (2): 81–95.

Foster PM, Thomas LV, Cook MW, Gangolli SD . Study of the testicular effects and changes in zinc excretion produced by some n-alkyl phthalates in the rat. Toxicol Appl Pharmacol 1980; 54 (3): 392–398.

Gray LE, Jr., Ostby J, Furr J, Price M, Veeramachaneni DN, Parks L . Perinatal exposure to the phthalates DEHP, BBP, and DINP, but not DEP, DMP, or DOTP, alters sexual differentiation of the male rat. Toxicol Sci 2000; 58 (2): 350–365.

Foster PM . Disruption of reproductive development in male rat offspring following in utero exposure to phthalate esters. Int J Androl 2006; 29 (1): 140–147; discussion 81–85.

Foster PMD . Mode of action: Impaired fetal Leydig cell function — effects on male reproductive development produced by certain phthalate esters. Crit Rev Toxicol 2005; 35: 713–719.

Skakkebaek NE, Rajpert-De Meyts E, Main KM . Testicular dysgenesis syndrome: an increasingly common developmental disorder with environmental aspects. Hum Reprod 2001; 16 (5): 972–978.

Gaido KW, Hensley JB, Liu D, Wallace DG, Borghoff S, Johnson KJ et al. Fetal mouse phthalate exposure shows that Gonocyte multinucleation is not associated with decreased testicular testosterone. Toxicol Sci 2007; 97 (2): 491–503.

Lehraiki A, Racine C, Krust A, Habert R, Levacher C . Phthalates impair germ cell number in the mouse fetal testis by an androgen- and estrogen-independent mechanism. Toxicol Sci 2009; 111: 372–383.

Hallmark N, Walker M, McKinnell C, Mahood IK, Scott H, Bayne R et al. Effects of monobutyl and di(n-butyl) phthalate in vitro on steroidogenesis and Leydig cell aggregation in fetal testis explants from the rat: comparison with effects in vivo in the fetal rat and neonatal marmoset and in vitro in the human. Environ Health Perspect 2007; 115 (3): 390–396.

Lambrot R, Muczynski V, Lécureuil C, Angenard G, Coffigny H, Pairault C et al. Phthalates impair germ cell development in the human fetal testis in vitro without change in testosterone production. Environ Health Perspect 2009; 117: 32–37.

Desdoits-Lethimonier C, Albert O, Le Bizec B, Perdu E, Zalko D, Courant F et al. Human testis steroidogenesis is inhibited by phthalates. Hum Reprod 2012; 27: 1451–1459.

McKinnell C, Mitchell RT, Walker M, Morris K, Kelnar CJ, Wallace WH et al. Effect of fetal or neonatal exposure to monobutyl phthalate (MBP) on testicular development and function in the marmoset. Hum Reprod 2009; 24 (9): 2244–2254.

Mitchell RT, Childs AJ, Anderson RA, van den Driesche S, Saunders PT, McKinnell C et al. Do phthalates affect steroidogenesis by the human fetal testis? Exposure of human fetal testis xenografts to di-n-butyl phthalate. J Clin Endocrinol Metab 2012; 97 (3): E341–E348.

Heger NE, Hall SJ, Sandrof MA, McDonnell EV, Hensley JB, McDowell EN et al. Human fetal testis xenografts are resistant to phthalate-induced endocrine disruption. Environ Health Perspect 2012; 120 (8): 1137–1143.

Swan SH . Environmental phthalate exposure in relation to reproductive outcomes and other health endpoints in humans. Environ Res 2008; 108 (2): 177–184.

Swan SH, Main KM, Liu F, Stewart SL, Kruse RL, Calafat AM et al. Decrease in anogenital distance among male infants with prenatal phthalate exposure. Environ Health Perspect 2005; 113 (8): 1056–1061.

Silva MJ, Barr DB, Reidy JA, Malek NA, Hodge CC, Caudill SP et al. Urinary levels of seven phthalate metabolites in the U.S. population from the National Health and Nutrition Examination Survey (NHANES) 1999–2000. Environ Health Perspect 2004; 112 (3): 331–338.

Wittassek M, Angerer J, Kolossa-Gehring M, Schafer SD, Klockenbusch W, Dobler L et al. Fetal exposure to phthalates — a pilot study. Int J Hyg Environ Health 2009; 212 (5): 492–498.

Calafat AM, Brock JW, Silva MJ, Gray LE, Jr., Reidy JA, Barr DB et al. Urinary and amniotic fluid levels of phthalate monoesters in rats after the oral administration of di(2-ethylhexyl) phthalate and di-n-butyl phthalate. Toxicology 2006; 217 (1): 22–30.

Suzuki Y, Yoshinaga J, Mizumoto Y, Serizawa S, Shiraishi H . Foetal exposure to phthalate esters and anogenital distance in male newborns. Int J Androl 2012; 35 (3): 236–244.

Huang PC, Kuo PL, Chou YY, Lin SJ, Lee CC . Association between prenatal exposure to phthalates and the health of newborns. Environ Int 2009; 35 (1): 14–20.

Hsieh MH, Breyer BN, Eisenberg ML, Baskin LS . Associations among hypospadias, cryptorchidism, anogenital distance, and endocrine disruption. Curr Urol Rep 2008; 9 (2): 137–142.

Mendiola J, Stahlhut RW, Jorgensen N, Liu F, Swan SH . Shorter anogenital distance predicts poorer semen quality in young men in Rochester, New York. Environ Health Perspect 2011; 119 (7): 958–963.

Eisenberg ML, Jensen TK, Walters RC, Skakkebaek NE, Lipshultz LI . The relationship between anogenital distance and reproductive hormone levels in adult men. J Urol 2011; 187 (2): 594–598.

CDC National Health and Nutrition Examination Survey Data (NHANES). National Center for Health Statistics. Department of Health and Human Services. Hyattsville, MD. 2012.

Sathyanarayana S, Calafat AM, Liu F, Swan SH . Maternal and infant urinary phthalate metabolite concentrations: are they related? Environ Res 2008; 108 (3): 413–418.

Sathyanarayana S, Karr CJ, Lozano P, Brown E, Calafat AM, Liu F et al. Baby care products: possible sources of infant phthalate exposure. Pediatrics 2008; 121 (2): e260–e268.

Lioy PJ . Exposure science: a view of the past and milestones for the future. Environ Health Perspect 2010; 118 (8): 1081–1090.

Wormuth M, Scheringer M, Vollenweider M, Hungerbuhler K . What are the sources of exposure to eight frequently used phthalic acid esters in Europeans? Risk Anal 2006; 26 (3): 803–824.

Clark KE, David RM, Guinn R, Kramarz KW, Lampi MA, Staples CA . Modeling human exposure to phthalate esters: a comparison of indirect and biomonitoring estimation methods. Hum Ecol Risk Assess 2011; 17: 923–965.

Howdeshell KL, Wilson VS, Furr J, Lambright CR, Rider CV, Blystone CR et al. A mixture of five phthalate esters inhibits fetal testicular testosterone production in the Sprague–Dawley rat in a cumulative, dose-additive manner. Toxicol Sci 2008; 105 (1): 153–165.

Teuschler LK, Hertzberg RC . Current and future risk assessment guidelines, policy, and methods development for chemical mixtures. Toxicology 1995; 105 (2-3): 137–144.

Kortenkamp A, Faust M . Combined exposures to anti-androgenic chemicals: steps towards cumulative risk assessment. Int J Androl 2010; 33 (2): 463–474.

NRC Science and Decisions: Advancing Risk Assessment. National Research Council: Washington, DC. 2009.

David RM . Exposure to phthalate esters. Environ Health Perspect 2000; 108 (10): A440.

Kohn MC, Parham F, Masten SA, Portier CJ, Shelby MD, Brock JW et al. Human exposure estimates for phthalates. Environ Health Perspect 2000; 108: A44–A442.

Calafat AM, McKee RH . Integrating biomonitoring exposure data into the risk assessment process: phthalates [diethyl phthalate and di(2-ethylhexyl) phthalate] as a case study. Environ Health Perspect 2006; 114 (11): 1783–1789.

Marsee K, Woodruff TJ, Axelrad DA, Calafat AM, Swan SH . Estimated daily phthalate exposures in a population of mothers of male infants exhibiting reduced anogenital distance. Environ Health Perspect 2006; 114 (6): 805–809.

Wittassek M, Wiesmuller A, Koch HM, Eckard R, Dobler L, Muller J et al. Internal phthalate exposure over the last two decades — a retrospective human biomonitoring study. Int J Hyg Environ Health 2007; 210: 319–333.

Koch HM, Rossbach B, Drexler H, Angerer J . Internal exposure of the general population to DEHP and other phthalates — determination of secondary and primary phthalate monoester metabolites in urine. Environ Res 2003; 93 (2): 177–185.

Koch HM, Becker K, Wittassek M, Seiwert M, Angerer J, Kolossa-Gehring M . Di-n-butylphthalate and butylbenzylphthalate — urinary metabolite levels and estimated daily intakes: pilot study for the German Environmental Survey on children. J Expo Sci Environ Epidemiol 2007; 17 (4): 378–387.

Wittassek M, Heger W, Koch HM, Becker K, Angerer J, Kolossa-Gehring M . Daily intake of di(2-ethylhexyl)phthalate (DEHP) by German children — a comparison of two estimation models based on urinary DEHP metabolite levels. Int J Hyg Environ Health 2007; 210 (1): 35–42.

Fromme H, Gruber L, Schlummer M, Wolz G, Bohmer S, Angerer J et al. Intake of phthalates and di(2-ethylhexyl)adipate: results of the Integrated Exposure Assessment Survey based on duplicate diet samples and biomonitoring data. Environ Int 2007; 33 (8): 1012–1020.

Guo Y, Wu Q, Kannan K . Phthalate metabolites in urine from China, and implications for human exposures. Environ Int 2011; 37 (5): 893–898.

Itoh H, Yoshida K, Masunaga S . Quantitative identificatin of unknown exposure pathways of phthalates based on measuring their metabolites in human urine. Environ Sci Technol 2007; 41: 4542–4547.

Suzuki Y, Niwa M, Yoshinaga J, Watanabe C, Mizumoto Y, Serizawa S et al. Exposure assessment of phthalate esters in Japanese pregnant women by using urinary metabolite analysis. Environ Health Prev Med 2009; 14 (3): 180–187.

Anderson WA, Castle L, Scotter MJ, Massey RC, Springall C . A biomarker approach to measuring human dietary exposure to certain phthalate diesters. Food Addit Contam 2001; 18: 1068–1074.

Koch HM, Bolt HM, Angerer J . Di(2-ethylhexyl)phthalate (DEHP) metabolites in human urine and serum after a single oral dose of deuterium-labelled DEHP. Arch Toxicol 2004; 78 (3): 123–130.

Koch HM, Bolt HM, Preuss R, Angerer J . New metabolites of di(2-ethylhexyl)phthalate (DEHP) in human urine and serum after single oral doses of deuterium-labelled DEHP. Arch Toxicol 2005; 79 (7): 367–376.

Schmid P, Schlatter C . Excretion and metabolism of di(2-ethylhexyl)phthalate in man. Xenobiotica 1985; 15: 251–256.
Acknowledgements
We owe a major debt of gratitude to the staff at the CPSC who sheparded us through the CHAP process, and kept us focused on our final goal, a thorough risk assessment for phthalates and phthalate substitutes. We are especially appreciative of Michael Babich of CPSC who was a taskmaster and at the same time was a wizard when it came to finding data and/or reports; and Kent Carlson of CPSC who assisted in the exposure characterization. Finally, we started with an excellent Chair, Phil Mirkes but, owing to family issues, he could not guide us across the finish line. We regret the loss of his leadership during the final report development and submission. We also acknowledge Dr. Shanna Swan, Mount Sinai School of Medicine, NY for sharing her raw data with the team.
Ethics declarations
Competing interests
The authors declare no conflict of interest.
About this article
Cite this article
Lioy, P., Hauser, R., Gennings, C. et al. Assessment of phthalates/phthalate alternatives in children's toys and childcare articles: Review of the report including conclusions and recommendation of the Chronic Hazard Advisory Panel of the Consumer Product Safety Commission. J Expo Sci Environ Epidemiol 25, 343–353 (2015). https://doi.org/10.1038/jes.2015.33
Received:

Revised:

Accepted:

Published:

Issue Date:

DOI: https://doi.org/10.1038/jes.2015.33
Keywords