Abstract
An expert panel was convened in October 2007 at the International Society for Exposure Analysis Annual Meeting in Durham, NC, entitled "The Path Forward in Disaster Preparedness Since WTC—Exposure Characterization and Mitigation: Substantial Unfinished Business!" The panel prospectively discussed the critical exposure issues being overlooked during disaster responses and highlighted the needs for an optimal blending of exposure characterizations and hazard controls within disaster settings. The cases were made that effective and timely exposure characterizations must be applied during responses to any disaster, whether terrorist, manmade, or natural in origin. The consistent application of exposure sciences across acute and chronic disaster timelines will assure that the most effective strategies are applied to collect the needed information to guide risk characterization and management approaches. Exposure sciences must be effectively applied across all phases of a disaster (defined as rescue, reentry, recovery, and rehabitation—the four Rs) to appropriately characterize risks and guide risk-mitigation approaches. Failure to adequately characterize and control hazardous exposures increases the likelihood of excess morbidity and mortality. Advancing the infrastructure and the technologies to collect the right exposure information before, during, and immediately after disasters would advance our ability to define risks and protect responders and the public better. The panel provided conclusions, recommendations, and next steps toward effective and timely integration of better exposure science into disaster preparedness, including the need for a subsequent workshop to facilitate this integration. All panel presentations and a summary were uploaded to the ISES1 website (http://www.iseaweb.org/Disaster_Preparedness/index.php).
Access options
Subscribe to Journal
Get full journal access for 1 year
$119.00
only $19.83 per issue
All prices are NET prices.
VAT will be added later in the checkout.
Tax calculation will be finalised during checkout.
Buy article
Get time limited or full article access on ReadCube.
$32.00
All prices are NET prices.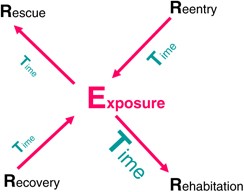 References
DHS. The National Response Plan, 2004a Available at http://www.dhs.gov/xlibrary/assets/NRP_FullText.pdf* NOTE: the NRP was last updated May 2006 and is currently under review as referenced by http://www.dhs.gov/xprepresp/committees/editorial_0566.shtm.

DHS. Worker Safety and Health Support Annex. The National Response Plan. U.S. Department of Homeland Security, Washington D.C., 2004b Available at http://www.dhs.gov/xlibrary/assets/NRP_FullText.pdf, pp 335–340 or WSH-1 to WSH-6.

DHS. Targeted Capabilities List. Version 2.0. U.S. Department of Homeland Security 2005. Available at www.nwcphp.org/docs/competencies/Target_Capabilities_List_2_0.pdf.

GAO (U.S. Government Accountability Office). World Trade Center: EPA's Most Recent Test and Clean Program Raises Concerns that Need to be Addressed to Better Prepare for Indoor Contamination Following Disasters. Report to Congressional Requesters, 2007a GAO 07-1091. September 5. Available at http://www.gao.gov/new.items/d071091.pdf.

GAO. Disaster preparedness: Better planning would improve OHSA's efforts to protect workers' safety and health in disasters. U.S. Government Accountability Office. Report to Congressional Committees. GAO-07-193, 2007b. Available at http://www.gao.gov/new.items/d07193.pdf.

Jackson B.A., Peterson D.J., Bartis J.T., LaTourrette T., Brahmakulam I.T., Houser A., and Sollinger J.M. Protecting Emergency Responders: Lessons Learned from Terrorist Attacks. RAND Corporation CF-176-OSTP, Santa Monica, CA, 2002. Available at http://www.rand.org/pubs/conf_proceedings/CF176/.

LaTourrette T., Peterson D.J., Bartis J.T., Jackson B.A., and Houser A. Protecting Emergency Responders, Volume 2: Community Views of Safety and Health Risks and Personal Protection Needs. RAND Corporation MR-1646-NIOSH, Santa Monica, CA, 2003. Available at http://www.rand.org/pubs/monograph_reports/MR1646/.

Lioy P.J., Pellizzari E., and Prezant D. The World Trade Center aftermath and its effects on health: understanding and learning through human exposure science. Environ Sci Technol 2006: 40 (22): 6876–6889.

Lioy P.J., Vallero D., Foley G., Georgopoulos P., Heiser J., Watson T., Reynolds M., Daloia J., Tong S., and Isukapalli S . A personal exposure study employing scripted activities and paths in conjunction with atmospheric releases of perfluorocarbon tracers in Manhattan, New York. J Expo Sci Environ Epidemiol 2007: 17: 409–425.

National Academy of Sciences. "Environmental Public Health Impacts of Disasters: Hurricane Katrina, Workshop Summary", L. Goldman and C. Coussens, rapporteurs, Roundtable on Environmental Health Sciences. ISBN: 978-0-309-10500-2, Washington, DC, 2007.

NIOSH/RAND. 2004 Jackson BA, Baker JC, Ridgely MS, Bartis J, Linn HI. 2004. Protecting emergency responders, volume 3: Safety Management in Disaster and Terrorism Response. National Institute for Occupational Safety and Health, Pub No. 2004-144 available at http://www.cdc.gov/niosh/docs/2004-144/and Santa Monica, CA: RAND/MG-170-NIOSH, available only online http://www.rand.org/pubs/monographs/MG170/.

Vallero D., Huber A., and Lioy P. Dispersion Modeling in Complex Urban Systems, Yearbook of Science and Technology, McGraw-Hill Professional, New York, NY, 2008.

Willis H.H., Castle N.G., Sloss E.M., and Bartis J.T. Protecting Emergency Responders, Volume 4: Personal Protective Equipment Guidelines for Structural Collapse Events, Rand Corporation: MG-425-NIOSH, Santa Monica, CA, 2006. Available at http://www.rand.org/pubs/monographs/MG425/.
Acknowledgements
The assistance of Clifford Weisel (current ISES president) and Dana Barr (current editor of JESEE) in highlighting the critical importance of this exposure topic for both ISEA members and the public is greatly appreciated, as are the efforts of Michael Dellarco and Carol Rougvie in getting the special ISES Web page set up in a timely manner. We are indebted to Representative David Price for his thoughtful keynote comments supporting the critical importance of these issues, as well as to Darek Newby for providing Rep. Price's material in a downloadable format for posting, especially during a very busy Congressional period. The assistance of Anne Lutes in preparing the initial draft paper from the panel summary material provided a very quick start to the process of getting the panel highlights into a JESEE format. And special thanks to Edo Pellizzari and Paul Lioy for their helpful insights during the panel planning process.
About this article
Cite this article
Rodes, C., Pellizzari, E., Dellarco, M. et al. ISEA2007 panel: Integration of better exposure characterizations into disaster preparedness for responders and the public. J Expo Sci Environ Epidemiol 18, 541–550 (2008). https://doi.org/10.1038/jes.2008.42
Received:

Accepted:

Published:

Issue Date:

DOI: https://doi.org/10.1038/jes.2008.42
Keywords
disaster

exposure assessment

personal exposure

risk
This article is cited by
Journal of Exposure Science & Environmental Epidemiology (2017)