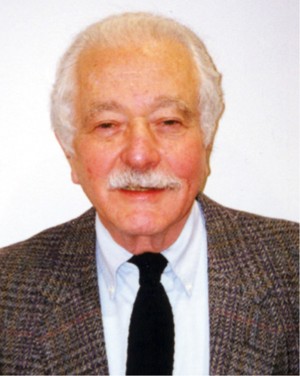 Arnold L Demain was born in the Williamsburgh section of the borough of Brooklyn in New York City on 26 April 1927. In his early years, he worked afternoons at various jobs, the best being as stockboy in a department store in Manhattan. Because of the economic times and shifting school districts, he attended five different elementary schools and three different high schools in Brooklyn and the Bronx. He graduated from Midwood High School at the age of 16. He enrolled in Microbiology as an undergraduate student at Michigan State College (later Michigan State University) under the guidance of Dr Frederick W Fabian. After a few months he decided to enlist in the US Navy, where he remained for 2 years. He resumed his studies in 1947 and worked on spoilage (softening) of pickles, receiving his Bachelor of Science degree in Bacteriology in 1949 and later his Master of Science degree in Microbiology in 1950. His Masters' thesis was on the spoilage of pickles during fermentation. He moved to Berkeley, CA, and enrolled in the University of California as a PhD student under Dr Herman Jan Phaff as his research Professor and Dr Roger Y Stainer as his Advisor (later replaced by Michael Doudoroff). He described Professor Phaff as an ideal mentor, teaching him a great deal about the taxonomy of yeast, allowing him to be his teaching assistant in the Yeast course and encouraging him with his research. In addition, Professor Phaff was a friendly person who offered a wonderful environment for his development as a researcher. They worked from early morning until evening, and after dinner they returned to the lab for research and discussions that lasted until the wee hours. When Professor Phaff moved to Davis, CA, they elucidated the mechanism of pectic acid degradation by the extracellular yeast polygalacturonase. Apparently, they were the first in the world to carry out affinity chromatography, using a pectic-acid gel to selectively adsorb yeast polygalacturonase from culture filtrates. They proved that the hydrolysis of polymer to dimer was accomplished by a single enzyme, in contrast to the then-prevailing thought that multiple enzymes were necessary. The work was published in four publications, one appearing in Nature.1 He graduated in 1954 with a PhD degree from the University of California, and after being hired by Merck he moved to Pennsylvania, Dutch country, which housed the penicillin factory.
Arny in industry
He started at the Merck 'Cherokee' plant in Danville doing basic research on penicillin biosynthesis under the supervision of Dr Thomas Nunheimer. He published several papers on the topic and wrote his first review on penicillin biosynthesis in 1959.2
After one and a half years in Pennsylvania, he was called up to the Merck Sharp & Dohme Research Laboratories in Rahway, NJ, to work under Assistant Director David Hendlin. His job was to elucidate the effects of microbial growth factors other than conventional vitamins, amino acids, purines and pyrimidines on several microorganisms. Later, in 1961, he began studies on the biosynthesis of cephalosporin C and devoted some time to the study of purine metabolism, owing to its commercial importance as a flavoring agent.
In 1965 he established the Fermentation Microbiology Department at Merck. The aim of this new department was to study the biosynthesis of Merck fermentation products and to improve their commercial strains. He and his team worked on glutamic acid and vitamin B12 overproduction, as well as on streptomycin biosynthesis, and developed a microbiological process to produce riboflavin (vitamin B2). Additional projects assigned to his department included fosfomycin and interferon production.
Arny as scientist
Arnold 'Arny' L Demain's career is characterized by a sustained level of important discoveries and contributions in several areas of industrial microbiology, including his most recent research on microbial production of cholesterol-lowering drugs3 and immunosuppressive,4 antitumor,5 antifungal drugs and toxins.6
He had also begun to explore the effects of microgravity on secondary metabolites in the metabolic process, an effort that may affect space travelers and commercial production strategies.7 He has been prominent in research relating to fermentation biology, especially with respect to his studies on the biosynthesis of penicillin and cephalosporin antibiotics, for more than 45 years. During this time he has authored more than 520 publications and 21 US Patents.
Scientific recognitions
Professor Demain has been a long-time Editor of Applied Microbiology and Biotechnology. In addition, he has participated either as Editor, in the Editorial Board or on the Advisory Board of 36 Journals and book series, 23 in the past and currently on 13. He has also received many honors and been recognized in many ways in the United States. For instance, he received the Charles Thom Award from the Society for Industrial Microbiology in 1978, was a Fellow of the Society for Industrial Microbiology in 1985 and then in 1990 was elected as President of this Society. Some years later, in 1994, the Society for Industrial Microbiology recognized him with the Waksman Outstanding Teaching Award and with the Charles Porter Award in 2006. He received the first David Perlman Memorial Lecture Award from the American Chemical Society in 1980, and later in 1997 the Marvin J Johnson Award in Microbial and Biochemical Technology. In 1981, Dr Demain was elected as Fellow of the American Academy of Microbiology, and later in 2000 was elected to the Board of Governors of this Academy. He was also honored by the American Society for Microbiology in several ways: with the Biotechnology Award in 1990, the Service Award in 1994, the Alice Evans Award in 1998 and with the Honorary Membership Award from the Northeast Branch of this Society in 1999. Other honors include Chair of the International Committee on Economic and Applied Microbiology in 1986; being elected to the National Academy of Science, USA, in 1994; the Dedication Award from the Fifth International Conference on the Biotechnology of Microbial Products in 1997: Novel Pharmacological and Agrobiological Activities in Williamsburg, VA; the Andrew Jackson Moyer Lectureship Award from the NCAUR, US Department of Agriculture in Peoria, IL, in 1998; an Honorary Doctorate from Michigan State University in 2000. being appointed to the Advisory Committee of the University of Iowa Center of Biocatalysis and Bioprocessing in 2002; the SynerZ Lifetime Achievement Award in 2005; being an Invited Member of the New York Academy of Sciences in 2008; and an Honorary Doctorate of Humane Letters from Drew University in 2009.
Other countries have also recognized his outstanding career. The Australian Society for Microbiology awarded him the Rubbo Oration Award in 1979. In 1987, he won the Senior US Scientist Humboldt Foundation Prize from the Federal Republic of Germany. in 1987, he was elected Fellow of the International Institute of Biotechnology, UK. In 1989, he received the award of the Italian Industrial Pharmaceutical Association, and in 1990, the First Hans Knoll Memorial Medal from the Academy of Science of GDR. In 1993, he was elected Honorary Member of the Societé Française de Microbiologie. In 1996, he was distinguished as Corresponding Member of the Mexican Academy of Sciences, and in 1997, as Doctor Honoris Causa from the University of Leon, Spain. In 1998, he received an Honorary Membership of the Czechoslovak Society for Microbiology and the GJ Mendel Honorary Medal of the Czech Academy of Sciences for Merit in the Biological Sciences. In 1999, he was distinguished as Doctor Honoris Causa from Ghent University, Belgium. In 2000, he was appointed to the Advisory Committee of the Korean Research Institute of Bioscience and Biotechnology, and in the same year received a Honorary Doctorate from Technion (Israel Institute of Technology). In 2002, he was elected to the Hungarian Academy of Science; in 2003, he received an Honorary Doctorate from the University of Muenster, Germany. In 2005, he received the Arima Award in Applied Microbiology from the International Union of Microbiological Sciences, and the Shanghai Institute of the Pharmaceutical Industry International also recognized him with their Achievement Award in the same year. In 2006, he received the Patocka Medal of the Czechoslovak Society for Microbiology. In 2009, the IBT Second Annual World Congress of Industrial Biotechnology in Seoul, South Korea was dedicated to ALD.
In Japan, he was initially recognized in 1985 as Honorary Member of the Kitasato Institute, Tokyo, and later, in 1988, received the Microbial Chemistry Medal from the same Institute. In 1995, he was awarded Honorary Membership to the Society for Actinomycetes Japan (SAJ); in 1997, he received a Special Award from the Society for Fermentation and Bioengineering, and in 1999, the Medal of the Order of the Rising Sun, an Imperial Decoration Award of Japan.
In 2004, Dr Demain was given the honor of presenting his autobiography as the introductory chapter of the Annual Reviews of Microbiology.8 Of course, he called it 'Pickles, pectin, and penicillin', and now, in 2010, this special issue of the Journal of Antibiotics is being dedicated to Arny Demain. Here, he contributed with his own paper entitled 'Antimicrobial spectrum of the antitumor agent, cisplatin'.
The present day
JoAnna ('Jody') Kaye, Arny's wonderful wife for almost 60 years, has been a major supportive force for him. The rest of his family is made up of his daughter Pamela Robin Demain (now McCloskey), his son Jeffrey Brian Demain and his wife Laurent Brenner. He has two grandchildren, Meaghann and Andrew McCloskey.
After retirement from MIT in 2001, Arny joined the Charles A Dana Research Institute for Scientists Emeriti, at Drew University in Madison, NJ. This Institute provides him with an office and a laboratory to train undergraduate science students on how to do modern-day research. In addition, he writes original articles from collaborations6 and reviews on the frontier of the industrial microbiology and biotechnology.9, 10, 11, 12, 13, 14, 15, 16, 17, 18, 19, 20 In addition, his occupation as a member of editorial boards and as a principal speaker in many meetings keeps him busy most of the time. In a recent mail he wrote to me: 'Thank you so much for the birthday greetings. Only 83 with many more to come --I hope! Things have been fine in NJ. Jody and I are in Wash DC for a meeting'. He loves his work, and has no reason or interest in stopping. We who were the beneficiaries of this man's scholarship, teaching, professionalism and, above all, his deep friendship owe the success of our careers to Arnold Lester Demain. He taught us how to work hard, be professional, ethical and, especially, to enjoy our chosen careers!
Arny as friend and professor
Professor Demain was an inspiring teacher and a role model for future academic researchers. He arrived early to work and left late. Because of his example and inspiration, many of his students, co-workers and colleagues, near and far, achieved international fame for their research. They include, among others, undergraduate students: Dave Ogrydziak, Neal Connors, Claudia Lee, Vinuta Mohan, Grace Wong, Sean Davis, Stephen Griffith, Daniel Souw, Joseph Davis and Elizabeth Walker; graduate students: Prakash Masurekan, Stephen W Drew, Song Hae Bok, Pierre Bost, Eirik Nestaas, Klifford Behmer, Jacqueline Piret, Jinyou Zhang, Wei-Shou Hu, Nancy Paiva, Chuck Matteo, Tom Friebel, Spiyridon Agathos, Agnès Poirier, David Wu, Elizabeth Daher, Brunhilde Kobbe, Jim Townsend, Eric Johnson, Saraswathy Venkatesawaren, Catherine Duong, Scott Lew, Tillman Gerngross, Emmanuel Denenu and Tzann F Lin, Lauren Campbell, Grace Polansky, Lea Romano and Serina Jacob; post-doctoral students: Randy Greasham, TW Chou, Yair Aharonowitz, Juan Francisco Martin, Joachim Lemke, Cornelius Friedrich, Erick Vandamme, Sergio Sanchez, David Winstaley, Atsuo Tanaka, Jutta Kupka, Irwin Hollander, Alfredo Braña, Marco Jermini, Bernd Mahro, Jose Adrio, Greta Bentzen, Dorothee Kuhnt, Mitsunobu Sakahoh, Matt Hilton, Vedpal Malik, Traudel Kachholz, Avi Stark, Atsuhiko Shinmyo, Ashwin Madia, Sunil Kadam, Wenglong Roy Lin and his wife Janet Hsu, Marek Romaniec, Ursula Fauth. Peter Kusel, Robert Login, Peter Souw, Greg Williams, Yuval Shoham, Eitan Israeli and MS Lee; and visiting scientists: Kozo Nagaoka, Yves Kennel, Masanobu Kohsaka, Masaru Yoshida, Toshio Konomi, Yosuke Sawada, Klaus Lübbe, Yong-Quiang Shen, Gerald Banco, Suseela Kasarenini, Kostia Bergmann, Xinfa Xiao, Bertha Resendiz, Nuria Rius, Kiyoshi Maeda, Hiroshi Cho, Maria Josefa Fernández, Marco Báes-Vásquez, Quiang Gao, Nelly Cochet, Masaru Uyeda, Osamu Nimi, Jacqueline Millet, Eugene Rosenberg, Tomiko Azuma, Gurdal Alaeddinoglu, Gulay Ozcengis, Diana García-Martínez, Mitsunobu Sakajoh, Fredériqué Bouchot, Yulin Peng, Tohru Kobayashi, YH Fa, Rolf Werner, Jens Adler-Nissen, Yasuro Kawabata, Hyun Park, Yuan Rong Cheng, Ikuo Kojima, Ludger Hauck, Wang-Seop Kim, Yi Wang, Lang Hu, Jacob Yashphe, Yulin Pen and Wen Yang.
His technician Nadine Hunt (now Solomon) and his researcher Aiqi Fang were very well appreciated by Arny and they learned much from this great researcher, teacher and friend.
Demain's imprint has been left on 'Arny's Army,' the more than 120 undergraduate and graduate students, postdoctoral associates and visiting scientists who have trained under his mentorship and who are now outstanding scientists, educators and administrators, and who still hold periodic research symposia in his honor.
One of the things that we learned from Professor Demain was his liking for the lab and, through extensive research discussions, to appreciate the richness of the scientific life. He always arrived early in the morning and dragged himself late into the night. Professor Demain also stimulated his students to read extensively and publish a useful review on every topic on which they worked, unless a recent and comprehensive review was already available in the literature.
In addition to our many research discussions in the lab, I also remember those wonderful parties at MIT during which everyone could leave their work behind and simply have fun; probably this character was inherited from Professor Phaff during Arny's doctoral training. I will never forget all those scientific meetings and all the fun we had at the dinners with our colleagues, and the new people that Arny used to introduce to each of his students. Professor Demain has greatly inspired me, and the liking for the lab that he generated within me as his student still lives on 35 years later! I learned that formula and I try to acknowledge that with my own students. I feel that any heights that I have reached in science are due to his teaching, his example and his friendship. Dear Arny, in the future, whenever I feel that I need a lift, some motivation, I shall look up at the heavens above and think of you. You are a great scientist, human being and friend, and you will continue to encourage me for as long as I live.
References
Demain, A. L. & Phaff, H. J. Composition and action of yeast polygalacturonase. Nature 174, 515–516 (1954).

Demain, A. L. The mechanism of penicillin biosynthesis. Adv. Appl. Microbiol. 1, 23–47 (1959).

Peng, Y. & Demain, A. L. Bioconversion of compactin to pravastatin by Actinomadura sp. ATCC 55678. J. Mol. Catal. B Enzym. 10, 151–156 (2000).

Paiva, N. L., Demain, A. L. & Roberts, M. F. Incorporation of acetate, propionate, and methionine into rapamycin by Streptomyces hygroscopicus. J. Nat. Prod. 54, 167–177 (1991).

Yang, W., Hartwieg, E. A., Fang, A. & Demain, A. L. Effects of carboxymethylcellulose and carboxypolymethylene on morphology of Aspergillus fumigatus NRRL 2346 and fumagillin production. Curr. Microbiol. 46, 24–27 (2003).

Fang, A., Gerson, D. F. & Demain, A. L. Production of Clostridium difficile toxin in a medium totally free of both animal and dairy proteins or digests. Proc. Natl Acad. Sci. USA 106, 13225–13229 (2009).

Demain, A. L. & Fang, A. Secondary metabolism in simulated gravity. Chem. Rec. 1, 333–346 (2001).

Demain, A. L. Pickles, pectin, and penicillin. Annu. Rev. Microbiol. 58, 1–42 (2004).

Demain, A. L. & Adrio, J. L. in Natural Compounds as Drugs Vol. 1 (eds Petersen, F., & Amstutz, R.) 252–289 (Birkhäuser, Basel, 2008).

Demain, A. L. & Adrio, J. L. Contributions of microorganisms to industrial biology. Mol. Biotechnol. 38, 41–55 (2008).

Baez-Vasquez, M. A. & Demain, A. L. in Bioenergy (eds Wall, J. D., Harwood, C. S., & Demain, A. L.) 49–54 (ASM Press, Washington, 2008).

Sanchez, S. & Demain, A. L. Metabolic regulation and overproduction of primary metabolites. Microb. Biotechnol. 1, 283–319 (2008).

Demain, A. L. Biosolutions to the energy problem. J. Indust. Microbiol. Biotechnol. 36, 319–332 (2009).

Demain, A. L. & Vaishnav, P. Production of recombinant proteins by microbes and higher organisms. Biotechnol. Adv. 27, 297–306 (2009).

Vaishnav, P. & Demain, A. L. in Encyclopedia of Microbiology 3rd edn (eds Schaechter, M. & Lederberg, J.) 335–347 (Elsevier, Oxford, 2009).

Demain, A. L. & Sanchez, S. Microbial drug discovery: 80 years of progress. J. Antibiot. 62, 5–16 (2009).

Demain, A. L., Elander, R. T. & Richard, P. Elander, industrial microbiologist par excellence. SIM News 59, 57–61 (2009).

Liras, P. & Demain, A. L. in Methods in Enzymology: Complex Enzymes in Microbial Natural Product Biosynthesis, Section 1. Poliketides Vol. 458 (ed. Hopwood, D. A.) 401–429 (Elsevier, Oxford, 2009).

Demain, A. L. Antibiotics: natural products essential to human health. Med. Res. Rev. 29, 821–842 (2009).

Sanchez, S. & Demain, A. L. in Encyclopedia of Industrial Biotechnology. Bioprocess, Bioseparation, and Cell Technology (EIB) (ed. Flickinger, M. C.) 1186–1202 (John Wiley & Sons, Hoboken, NJ, 2010).
Acknowledgements
I acknowledge AL Demain, from whom I 'borrowed' some of the above information. I am indebted to Elizabeth Langley for reviewing this introduction.
About this article
Cite this article
Sánchez, S. Arnold Lester Demain: a good friend, an outstanding scientist and a valuable professor. J Antibiot 63, 412–414 (2010). https://doi.org/10.1038/ja.2010.69
Published:

Issue Date:

DOI: https://doi.org/10.1038/ja.2010.69