Abstract
Objectives:
We describe the process of identifying and defining nocturnal sleep-related variables (for example, movement/non-movement indicators of sleep efficiency, waking episodes, midpoint and so on) using the unique 24-h waist-worn free-living accelerometer data collected in the International Study of Childhood Obesity, Lifestyle and the Environment (ISCOLE).
Methods:
Seven consecutive days of 24-h waist-worn accelerometer (GT3X+, ActiGraph LLC) data were collected from over 500 children at each site. An expert subgroup of the research team with accelerometry expertize, frontline data collectors and data managers met on several occasions to categorize and operationally define nocturnal accelerometer signal data patterns. The iterative process was informed by the raw data drawn from a sub set of the US data, and culminated in a refined and replicable delineated definition for each identified nocturnal sleep-related variable. Ultimately based on 6318 participants from all 12 ISCOLE sites with valid total sleep episode time (TSET), we report average clock times for nocturnal sleep onset, offset and midpoint in addition to sleep period time, TSET and restful sleep efficiency (among other derived variables).
Results:
Nocturnal sleep onset occurred at 2218 hours and nocturnal sleep offset at 0707 hours. The mean midpoint was 0243 hours. The sleep period time of 529.6 min (8.8 h) was typically accumulated in a single episode, making the average TSET very similar in duration (529.0 min). The mean restful sleep efficiency ranged from 86.8% (based on absolute non-movement of 0 counts per minute) to 96.0% (based on relative non-movement of <100 counts per minute).
Conclusions:
These variables extend the potential of field-based 24-h waist-worn accelerometry to distinguish and categorize the underlying robust patterns of movement/non-movement signals conveying magnitude, duration, frequency and periodicity during the nocturnal sleep period.
Access options
Subscribe to this journal
We are sorry, but there is no personal subscription option available for your country.
Rent or buy this article
Get just this article for as long as you need it
$39.95
Prices may be subject to local taxes which are calculated during checkout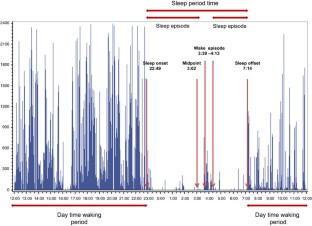 References
Meltzer LJ, Montgomery-Downs HE, Insana SP, Walsh CM . Use of actigraphy for assessment in pediatric sleep research. Sleep Med Rev 2012; 16: 463–475.

Kinder JR, Lee KA, Thompson H, Hicks K, Topp K, Madsen KA . Validation of a hip-worn accelerometer in measuring sleep time in children. J Pediatr Nurs 2012; 27: 127–133.

Cain KL, Sallis JF, Conway TL, Van Dyck D, Calhoon L . Using accelerometers in youth physical activity studies: a review of methods. J Phys Act Health 2013; 10: 437–450.

Swartz AM, Strath SJ, Bassett Jr DR, O'Brien WL, King GA, Ainsworth BE . Estimation of energy expenditure using CSA accelerometers at hip and wrist sites. Med Sci Sports Exerc 2000; 32: S450–S456.

Rosenberger ME, Haskell WL, Albinali F, Mota S, Nawyn J, Intille S . Estimating activity and sedentary behavior from an accelerometer on the hip or wrist. Med Sci Sports Exerc 2013; 45: 964–975.

Tudor-Locke C, Barreira TV, Schuna Jr JM . Comparison of step outputs for waist and wrist accelerometer attachment sites. Med Sci Sports Exerc 2015; 47: 839–842.

Tudor-Locke C, Camhi SM, Troiano RP . A catalog of rules, variables, and definitions applied to accelerometer data in the National Health and Nutrition Examination Survey, 2003-2006. Prev Chronic Dis 2012; 9: E113.

Troiano RP, Berrigan D, Dodd KW, Masse LC, Tilert T, McDowell M . Physical activity in the United States measured by accelerometer. Med Sci Sports Exerc 2008; 40: 181–188.

Tudor-Locke C, Barreira TV, Schuna JM Jr., Mire EF, Katzmarzyk PT . Fully automated waist-worn accelerometer algorithm for detecting children's sleep period time separate from 24-hour physical activity or sedentary behaviors. Appl Physiol Nutr Metab 2014; 39: 53–57.

Tudor-Locke C, Barreira TV, Schuna Jr JM, Mire EF, Chaput JP, Fogelholm M et al. Improving wear time compliance with a 24-hour waist-worn accelerometer protocol in the International Study of Childhood Obesity, Lifestyle and the Environment (ISCOLE). Int J Behav Nutr Phys Act 2015; 12: 172.

Sadeh A, Sharkey KM, Carskadon MA . Activity-based sleep-wake identification: an empirical test of methodological issues. Sleep 1994; 17: 201–207.

Barreira TV, Schuna Jr JM, Mire EF, Katzmarzyk PT, Chaput JP, Leduc G et al. Identifying Children's Nocturnal Sleep Using 24-h Waist Accelerometry. Med Sci Sports Exerc 2015; 47: 937–943.

Katzmarzyk PT, Barreira TV, Broyles ST, Champagne CM, Chaput J-P, Fogelholm M et al. The International Study of Childhood Obesity Lifestyle and the Environment (ISCOLE): design and methods. BMC Public Health 2013; 13: 900.

Meltzer LJ, Westin AM . A comparison of actigraphy scoring rules used in pediatric research. Sleep Med 2011; 12: 793–796.

Matthews CE, Chen KY, Freedson PS, Buchowski MS, Beech BM, Pate RR et al. Amount of time spent in sedentary behaviors in the United States, 2003-2004. Am J Epidemiol 2008; 167: 875–881.

Mark AE, Janssen I . Dose-response relation between physical activity and blood pressure in youth. Med Sci Sports Exerc 2008; 40: 1007–1012.

Scholle S, Beyer U, Bernhard M, Eichholz S, Erler T, Graness P et al. Normative values of polysomnographic parameters in childhood and adolescence: quantitative sleep parameters. Sleep Med 2011; 12: 542–549.

Hjorth MF, Chaput JP, Damsgaard CT, Dalskov S, Michaelsen KF, Tetens I et al. Measure of sleep and physical activity by a single accelerometer: can a waist-worn actigraph adequately measure sleep in children. Sleep Biol Rhythms 2012; 10: 328–335.

Galland B, Meredith-Jones K, Terrill P, Taylor R . Challenges and emerging technologies within the field of pediatric actigraphy. Front Psychiatry 2014; 5: 99.

Arbabi T, Vollmer C, Dorfler T, Randler C . The influence of chronotype and intelligence on academic achievement in primary school is mediated by conscientiousness, midpoint of sleep and motivation. Chronobiol Int 2015; 32: 349–357.

Hirshkowitz M, Whiton K, Albert SM, Alessi CA, Bruni O, DonCarlos L et al. National Sleep Foundation's sleep time duration recommendations: methodology and results summary. Sleep Health 2015; 1: 40–43.

Matricciani L, Blunden S, Rigney G, Williams MT, Olds TS . Children's sleep needs: is there sufficient evidence to recommend optimal sleep for children? Sleep 2013; 36: 527–534.

Chamorro R, Algarin C, Garrido M, Causa L, Held C, Lozoff B et al. Night time sleep macrostructure is altered in otherwise healthy 10-year-old overweight children. Int J Obes (Lond) 2014; 38: 1120–1125.

Chaput JP, Lambert M, Gray-Donald K, McGrath JJ, Tremblay MS, O'Loughlin J et al. Short sleep duration is independently associated with overweight and obesity in Quebec children. Can J Public Health 2011; 102: 369–374.

Lazaratou H, Soldatou A, Dikeos D . Medical comorbidity of sleep disorders in children and adolescents. Curr Opin Psychiatry 2012; 25: 391–397.
Acknowledgements
We thank the ISCOLE External Advisory Board and the ISCOLE participants and their families who made this study possible. A membership list of the ISCOLE Research Group and External Advisory Board is included in Katzmarzyk et al. (this issue). ISCOLE was funded by The Coca-Cola Company.
Ethics declarations
Competing interests
MF has received a research grant from Fazer Finland and has received an honorarium for speaking for Merck. AK has been a member of the Advisory Boards of Dupont and McCain Foods. RK has received a research grant from Abbott Nutrition Research and Development. VM is a member of the Scientific Advisory Board of Actigraph and has received an honorarium for speaking for The Coca-Cola Company. TO has received an honorarium for speaking for The Coca-Cola Company. The remaining authors declare no conflict of interest.
About this article
Cite this article
Tudor-Locke, C., Mire, E., Barreira, T. et al. Nocturnal sleep-related variables from 24-h free-living waist-worn accelerometry: International Study of Childhood Obesity, Lifestyle and the Environment. Int J Obes Supp 5 (Suppl 2), S47–S52 (2015). https://doi.org/10.1038/ijosup.2015.19
Published:

Issue Date:

DOI: https://doi.org/10.1038/ijosup.2015.19
This article is cited by
C Tudor-Locke
T V Barreira
P T Katzmarzyk

International Journal of Obesity Supplements (2015)