Abstract
Background/Objective:
Impairments in metabolic flexibility (MF) and substrate handling are associated with metabolic syndrome. However, it is unknown whether metabolic inflexibility causes insulin resistance. We therefore measured MF and substrate handling before and after 8 weeks of overfeeding in initially healthy adults as a model of the early stages of insulin resistance.
Subjects/Methods:
Twenty-nine healthy men (27±5 years old; body mass index 25.5±2.3 kg m−2) were overfed by 40% above baseline energy requirements for 8 weeks and gained 7.6±2.1 kg of weight. Before and after overfeeding, energy expenditure, substrate oxidation and MF were measured in two ways: (a) during 1 day of eucaloric feeding in a whole-room indirect calorimeter and (b) during a two-step hyperinsulinemic–euglycemic clamp.
Results:
Eight weeks of overfeeding decreased insulin sensitivity at low and high doses of insulin (P=0.001 and P=0.06, respectively). This was accompanied by decreases in the respiratory quotient (RQ) while sleeping (from 0.877±0.020 to 0.864±0.026; P=0.05) and at low insulin levels during the clamp (from 0.927±0.047 to 0.907±0.032; P=0.01). Overfeeding did not affect MF as measured during a clamp (P⩾0.17), but it tended to increase 24-h MF (awake RQ−sleep RQ) as measured by chamber by 0.010±0.028 (P=0.08). In terms of substrate oxidation, overfeeding increased protein oxidation by 13±23 g day−1 (P=0.003) and tended to increase fat oxidation by 6±16 g day−1 (P=0.07) but did not affect carbohydrate oxidation (P=0.64). Individuals with greater metabolic adaptation to overfeeding had higher carbohydrate oxidation rates (r=0.66, P=8 × 10−5) but not fat oxidation rates (P=0.09).
Conclusions:
The early stages of insulin resistance are accompanied by modest declines in the RQs during sleep and during a clamp, with no changes in fasting RQ or signs of metabolic inflexibility. Our data therefore suggest that metabolic inflexibility does not cause insulin resistance.
Access options
Subscribe to this journal
Receive 12 print issues and online access
$259.00 per year
only $21.58 per issue
Rent or buy this article
Get just this article for as long as you need it
$39.95
Prices may be subject to local taxes which are calculated during checkout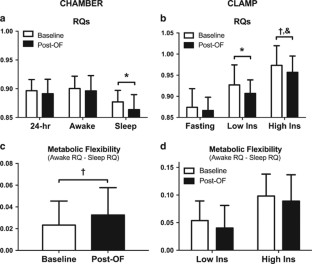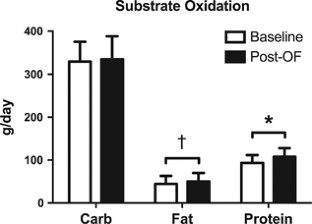 References
Kelley DE, Mandarino LJ . Fuel selection in human skeletal muscle in insulin resistance: a reexamination. Diabetes 2000; 49: 677–683.

Astrup A . The relevance of increased fat oxidation for body-weight management: metabolic inflexibility in the predisposition to weight gain. Obes Rev 2011; 12: 859–865.

Kelley DE, Goodpaster B, Wing RR, Simoneau JA . Skeletal muscle fatty acid metabolism in association with insulin resistance, obesity, and weight loss. Am J Physiol 1999; 277 (Pt 1): E1130–E1141.

Corpeleijn E, Mensink M, Kooi ME, Roekaerts PM, Saris WH, Blaak EE . Impaired skeletal muscle substrate oxidation in glucose-intolerant men improves after weight loss. Obesity (Silver Spring) 2008; 16: 1025–1032.

Faerch K, Vaag A . Metabolic inflexibility is a common feature of impaired fasting glycaemia and impaired glucose tolerance. Acta Diabetol 2011; 48: 349–353.

Kelley DE, Mokan M, Mandarino LJ . Intracellular defects in glucose metabolism in obese patients with NIDDM. Diabetes 1992; 41: 698–706.

Kelley DE, Simoneau JA . Impaired free fatty acid utilization by skeletal muscle in non-insulin-dependent diabetes mellitus. J Clin Invest 1994; 94: 2349–2356.

Kelley DE, Mandarino LJ . Hyperglycemia normalizes insulin-stimulated skeletal muscle glucose oxidation and storage in noninsulin-dependent diabetes mellitus. J Clin Invest 1990; 86: 1999–2007.

Galgani JE, Heilbronn LK, Azuma K, Kelley DE, Albu JB, Pi-Sunyer X et al. Metabolic flexibility in response to glucose is not impaired in people with type 2 diabetes after controlling for glucose disposal rate. Diabetes 2008; 57: 841–845.

Schutz Y . The adjustment of energy expenditure and oxidation to energy intake: the role of carbohydrate and fat balance. Int J Obes Relat Metab Disord 1993; 17 (Suppl 3): S23–S27 discussion S41–S42.

Galgani JE, Moro C, Ravussin E . Metabolic flexibility and insulin resistance. Am J Physiol Endocrinol Metab. 2008; 295: E1009–E1017.

Gaster M . Metabolic flexibility is conserved in diabetic myotubes. J Lipid Res 2007; 48: 207–217.

Sparks LM, Ukropcova B, Smith J, Pasarica M, Hymel D, Xie H et al. Relation of adipose tissue to metabolic flexibility. Diabetes Res Clin Pract 2009; 83: 32–43.

Thomas CD, Peters JC, Reed GW, Abumrad NN, Sun M, Hill JO . Nutrient balance and energy expenditure during ad libitum feeding of high-fat and high-carbohydrate diets in humans. Am J Clin Nutr 1992; 55: 934–942.

Thyfault JP, Kraus RM, Hickner RC, Howell AW, Wolfe RR, Dohm GL . Impaired plasma fatty acid oxidation in extremely obese women. Am J Physiol Endocrinol Metab 2004; 287: E1076–E1081.

Hulver MW, Berggren JR, Cortright RN, Dudek RW, Thompson RP, Pories WJ et al. Skeletal muscle lipid metabolism with obesity. Am J Physiol Endocrinol Metab 2003; 284: E741–E747.

Zurlo F, Lillioja S, Esposito-Del Puente A, Nyomba BL, Raz I, Saad MF et al. Low ratio of fat to carbohydrate oxidation as predictor of weight gain: study of 24-h RQ. Am J Physiol 1990; 259 (Pt 1): E650–E657.

Weyer C, Pratley RE, Salbe AD, Bogardus C, Ravussin E, Tataranni PA . Energy expenditure, fat oxidation, and body weight regulation: a study of metabolic adaptation to long-term weight change. J Clin Endocrinol Metab 2000; 85: 1087–1094.

Thyfault JP, Rector RS, Noland RC . Metabolic inflexibility in skeletal muscle: a prelude to the cardiometabolic syndrome? J Cardiometab Syndr 2006. Summer 1: 184–189.

Galgani J, Ravussin E . Energy metabolism, fuel selection and body weight regulation. Int J Obes (Lond) 2008; 32 (Suppl 7): S109–S119.

Storlien L, Oakes ND, Kelley DE . Metabolic flexibility. Proc Nutr Soc 2004; 63: 363–368.

Sparks LM, Pasarica M, Sereda O, deJonge L, Thomas S, Loggins H et al. Effect of adipose tissue on the sexual dimorphism in metabolic flexibility. Metabolism 2009; 58: 1564–1571.

Ukropcova B, Sereda O, de Jonge L, Bogacka I, Nguyen T, Xie H et al. Family history of diabetes links impaired substrate switching and reduced mitochondrial content in skeletal muscle. Diabetes 2007; 56: 720–727.

Boyle KE, Zheng D, Anderson EJ, Neufer PD, Houmard JA . Mitochondrial lipid oxidation is impaired in cultured myotubes from obese humans. Int J Obes (Lond) 2012; 36: 1025–1031.

Stull AJ, Galgani JE, Johnson WD, Cefalu WT . The contribution of race and diabetes status to metabolic flexibility in humans. Metabolism 2010; 59: 1358–1364.

Thorburn AW, Gumbiner B, Bulacan F, Wallace P, Henry RR . Intracellular glucose oxidation and glycogen synthase activity are reduced in non-insulin-dependent (type II) diabetes independent of impaired glucose uptake. J Clin Invest 1990; 85: 522–529.

Johannsen DL, Tchoukalova Y, Tam CS, Covington JD, Xie W, Schwarz JM et al. Effect of 8 weeks of overfeeding on ectopic fat deposition and insulin sensitivity: testing the 'adipose tissue expandability' hypothesis. Diabetes Care 2014; 37: 2789–2797.

Redman LM, Heilbronn LK, Martin CK, de Jonge L, Williamson DA, Delany JP et al. Metabolic and behavioral compensations in response to caloric restriction: implications for the maintenance of weight loss. PLoS One 2009; 4: e4377.

Heilbronn LK, de Jonge L, Frisard MI, DeLany JP, Larson-Meyer DE, Rood J et al. Effect of 6-month calorie restriction on biomarkers of longevity, metabolic adaptation, and oxidative stress in overweight individuals: a randomized controlled trial. JAMA 2006; 295: 1539–1548.

Ravussin E, Lillioja S, Anderson TE, Christin L, Bogardus C . Determinants of 24-hour energy expenditure in man. Methods and results using a respiratory chamber. J Clin Invest 1986; 78: 1568–1578.

Jequier E, Acheson K, Schutz Y . Assessment of energy expenditure and fuel utilization in man. Annu Rev Nutr 1987; 7: 187–208.

Tataranni PA, Larson DE, Snitker S, Ravussin E . Thermic effect of food in humans: methods and results from use of a respiratory chamber. Am J Clin Nutr 1995; 61: 1013–1019.

DeFronzo RA, Tobin JD, Andres R . Glucose clamp technique: a method for quantifying insulin secretion and resistance. Am J Physiol 1979; 237: E214–E223.

Lillioja S, Bogardus C . Obesity and insulin resistance: lessons learned from the Pima Indians. Diabetes Metab Rev 1988; 4: 517–540.

Lam YY, Redman LM, Smith SR, Bray GA, Greenway FL, Johannsen D et al. Determinants of sedentary 24-h energy expenditure: equations for energy prescription and adjustment in a respiratory chamber. Am J Clin Nutr 2014; 99: 834–842.

Kardinaal AF, van Erk MJ, Dutman AE, Stroeve JH, van de Steeg E, Bijlsma S et al. Quantifying phenotypic flexibility as the response to a high-fat challenge test in different states of metabolic health. FASEB J 2015; 29: 4600–4613.

van Herpen NA, Schrauwen-Hinderling VB, Schaart G, Mensink RP, Schrauwen P . Three weeks on a high-fat diet increases intrahepatic lipid accumulation and decreases metabolic flexibility in healthy overweight men. J Clin Endocrinol Metab 2011; 96: E691–E695.

Felber JP, Ferrannini E, Golay A, Meyer HU, Theibaud D, Curchod B et al. Role of lipid oxidation in pathogenesis of insulin resistance of obesity and type II diabetes. Diabetes 1987; 36: 1341–1350.

Lammert O, Grunnet N, Faber P, Bjornsbo KS, Dich J, Larsen LO et al. Effects of isoenergetic overfeeding of either carbohydrate or fat in young men. Br J Nutr 2000; 84: 233–245.

Siervo M, Fruhbeck G, Dixon A, Goldberg GR, Coward WA, Murgatroyd PR et al. Efficiency of autoregulatory homeostatic responses to imposed caloric excess in lean men. Am J Physiol Endocrinol Metab 2008; 294: E416–E424.

Jebb SA, Prentice AM, Goldberg GR, Murgatroyd PR, Black AE, Coward WA . Changes in macronutrient balance during over- and underfeeding assessed by 12-d continuous whole-body calorimetry. Am J Clin Nutr 1996; 64: 259–266.

Jequier E, Schutz Y . Long-term measurements of energy expenditure in humans using a respiration chamber. Am J Clin Nutr 1983; 38: 989–998.

Horton TJ, Drougas H, Brachey A, Reed GW, Peters JC, Hill JO . Fat and carbohydrate overfeeding in humans: different effects on energy storage. Am J Clin Nutr 1995; 62: 19–29.

Acheson KJ, Schutz Y, Bessard T, Anantharaman K, Flatt JP, Jequier E . Glycogen storage capacity and de novo lipogenesis during massive carbohydrate overfeeding in man. Am J Clin Nutr 1988; 48: 240–247.

Larson DE, Rising R, Ferraro RT, Ravussin E . Spontaneous overfeeding with a 'cafeteria diet' in men: effects on 24-hour energy expenditure and substrate oxidation. Int J Obes Relat Metab Disord 1995; 19: 331–337.

McDevitt RM, Poppitt SD, Murgatroyd PR, Prentice AM . Macronutrient disposal during controlled overfeeding with glucose, fructose, sucrose, or fat in lean and obese women. Am J Clin Nutr 2000; 72: 369–377.

Schutz Y, Flatt JP, Jequier E . Failure of dietary fat intake to promote fat oxidation: a factor favoring the development of obesity. Am J Clin Nutr 1989; 50: 307–314.

Flatt JP, Ravussin E, Acheson KJ, Jequier E . Effects of dietary fat on postprandial substrate oxidation and on carbohydrate and fat balances. J Clin Invest 1985; 76: 1019–1024.

Abbott WG, Howard BV, Christin L, Freymond D, Lillioja S, Boyce VL et al. Short-term energy balance: relationship with protein, carbohydrate, and fat balances. Am J Physiol 1988; 255 (Pt 1): E332–E337.

Katzeff HL, Danforth E Jr . Decreased thermic effect of a mixed meal during overnutrition in human obesity. Am J Clin Nutr 1989; 50: 915–921.
Acknowledgements
We thank our study participants and our staff at Pennington Biomedical Research Center. This work was supported by two NIDDK grants: R01DK060412 (to ER) and a NORC Center Grant P30 DK072476 (to ER) entitled 'Nutritional Programming: Environmental and Molecular Interactions'. CMP was supported by KL2TR001419 from the NIH's National Center for Advancing Translational Sciences. The content is solely the responsibility of the authors and does not necessarily represent the official views of the National Institutes of Health.
Ethics declarations
Competing interests
ER reports personal fees from Energesis as a consultant, outside the submitted work. The other authors declare no conflict of interest.
About this article
Cite this article
Peterson, C., Zhang, B., Johannsen, D. et al. Eight weeks of overfeeding alters substrate partitioning without affecting metabolic flexibility in men. Int J Obes 41, 887–893 (2017). https://doi.org/10.1038/ijo.2017.58
Received:

Revised:

Accepted:

Published:

Issue Date:

DOI: https://doi.org/10.1038/ijo.2017.58