Abstract
Objectives:
There is no consensus on whether cognitive control over food intake (that is, restrained eating) is helpful, merely ineffective or actually harmful in weight management. We examined the interplay between genetic risk of obesity, restrained eating and changes in body weight and size.
Methods:
Participants were Finnish aged 25–74 years who attended the DIetary, Lifestyle and Genetic determinants of Obesity and Metabolic syndrome study at baseline in 2007 and follow-up in 2014. At baseline (n=5024), height, weight and waist circumference (WC) were measured in a health examination and participants self-reported their weight at age 20 years. At follow-up (n=3735), height, weight and WC were based on measured or self-reported information. We calculated 7-year change in body mass index (BMI) and WC and annual weight change from age 20 years to baseline. Three-Factor Eating Questionnaire-R18 was used to assess restrained eating. Genetic risk of obesity was assessed by calculating a polygenic risk score of 97 known BMI-related loci.
Results:
Cross-lagged autoregressive models indicated that baseline restrained eating was unrelated to 7-year change in BMI (β=0.00; 95% confidence interval (CI)=−0.01, 0.02). Instead, higher baseline BMI predicted greater 7-year increases in restrained eating (β=0.08; 95% CI=0.05, 0.11). Similar results were obtained with WC. Polygenic risk score correlated positively with restrained eating and obesity indicators in both study phases, but it did not predict 7-year change in BMI or WC. However, individuals with higher genetic risk of obesity tended to gain more weight from age 20 years to baseline, and this association was more pronounced in unrestrained eaters than in restrained eaters (P=0.038 for interaction).
Conclusions:
Our results suggest that restrained eating is a marker for previous weight gain rather than a factor that leads to future weight gain in middle-aged adults. Genetic influences on weight gain from early to middle adulthood may vary according to restrained eating, but this finding needs to be replicated in future studies.
Relevant articles
Open Access articles citing this article.
Annukka Hentilä

,

Satu Männistö

…

Hanna Konttinen

European Journal of Nutrition Open Access 11 August 2023

Guiomar Masip

,

Ronja Foraita

…

Jaakko Kaprio

International Journal of Behavioral Nutrition and Physical Activity Open Access 04 November 2021

Moritz Herle

,

Andrea D. Smith

…

Clare Llewellyn

Current Obesity Reports Open Access 03 September 2020
Access options
Subscribe to this journal
Receive 12 print issues and online access
$259.00 per year
only $21.58 per issue
Rent or buy this article
Prices vary by article type
from$1.95
to$39.95
Prices may be subject to local taxes which are calculated during checkout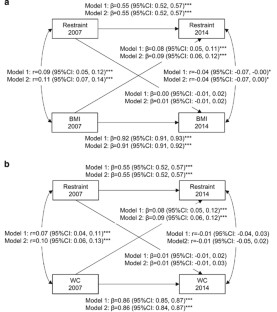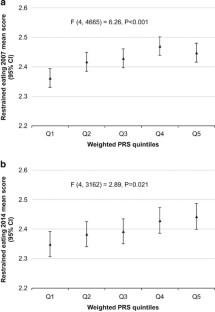 References
Johnson F, Pratt M, Wardle J . Dietary restraint and self-regulation in eating behavior. Int J Obes 2012; 36: 665–674.

Lowe MR . Dieting: proxy or cause of future weight gain? Obes Rev 2015; 16 (Suppl 1): 19–24.

Lluch A, Herbeth B, Mejean L, Siest G . Dietary intakes, eating style and overweight in the Stanislas Family Study. Int J Obes 2000; 24: 1493–1499.

de Lauzon-Guillain B, Basdevant A, Romon M, Karlsson J, Borys JM, Charles MA et al. Is restrained eating a risk factor for weight gain in a general population? Am J Clin Nutr 2006; 83: 132–138.

Cappelleri JC, Bushmakin AG, Gerber RA, Leidy NK, Sexton CC, Lowe MR et al. Psychometric analysis of the Three-Factor Eating Questionnaire-R21: results from a large diverse sample of obese and non-obese participants. Int J Obes 2009; 33: 611–620.

Lowe MR, Doshi SD, Katterman SN, Feig EH . Dieting and restrained eating as prospective predictors of weight gain. Front Psychol 2013; 4: 577.

Snoek HM, van Strien T, Janssens JM, Engels RC . Restrained eating and BMI: a longitudinal study among adolescents. Health Psychol 2008; 27: 753–759.

Tholin S, Rasmussen F, Tynelius P, Karlsson J . Genetic and environmental influences on eating behavior: the Swedish Young Male Twins Study. Am J Clin Nutr 2005; 81: 564–569.

Keskitalo K, Tuorila H, Spector TD, Cherkas LF, Knaapila A, Kaprio J et al. The Three-Factor Eating Questionnaire, body mass index, and responses to sweet and salty fatty foods: a twin study of genetic and environmental associations. Am J Clin Nutr 2008; 88: 263–271.

Silventoinen K, Jelenkovic A, Sund R, Yokoyama Y, Hur YM, Cozen W et al. Differences in genetic and environmental variation in adult BMI by sex, age, time period, and region: an individual-based pooled analysis of 40 twin cohorts. Am J Clin Nutr 2017; 106: 457–466.

Locke AE, Kahali B, Berndt SI, Justice AE, Pers TH, Day FR et al. Genetic studies of body mass index yield new insights for obesity biology. Nature 2015; 518: 197–206.

Wardle J, Carnell S, Haworth CM, Farooqi IS, O'Rahilly S, Plomin R . Obesity associated genetic variation in FTO is associated with diminished satiety. J Clin Endocrinol Metab 2008; 93: 3640–3643.

Llewellyn CH, Trzaskowski M, van Jaarsveld CH, Plomin R, Wardle J . Satiety mechanisms in genetic risk of obesity. JAMA Pediatr 2014; 168: 338–344.

Cornelis MC, Rimm EB, Curhan GC, Kraft P, Hunter DJ, Hu FB et al. Obesity susceptibility loci and uncontrolled eating, emotional eating and cognitive restraint behaviors in men and women. Obesity 2014; 22: E135–E141.

Konttinen H, Llewellyn C, Wardle J, Silventoinen K, Joensuu A, Mannisto S et al. Appetitive traits as behavioural pathways in genetic susceptibility to obesity: a population-based cross-sectional study. Sci Rep 2015; 5: 14726.

Andreasen CH, Stender-Petersen KL, Mogensen MS, Torekov SS, Wegner L, Andersen G et al. Low physical activity accentuates the effect of the FTO rs9939609 polymorphism on body fat accumulation. Diabetes 2008; 57: 95–101.

Silventoinen K, Hasselbalch AL, Lallukka T, Bogl L, Pietilainen KH, Heitmann BL et al. Modification effects of physical activity and protein intake on heritability of body size and composition. Am J Clin Nutr 2009; 90: 1096–1103.

Mustelin L, Silventoinen K, Pietilainen K, Rissanen A, Kaprio J . Physical activity reduces the influence of genetic effects on BMI and waist circumference: a study in young adult twins. Int J Obes 2009; 33: 29–36.

Kilpelainen TO, Qi L, Brage S, Sharp SJ, Sonestedt E, Demerath E et al. Physical activity attenuates the influence of FTO variants on obesity risk: a meta-analysis of 218,166 adults and 19,268 children. PLoS Med 2011; 8: e1001116.

Ahmad S, Rukh G, Varga TV, Ali A, Kurbasic A, Shungin D et al. Gene x physical activity interactions in obesity: combined analysis of 111,421 individuals of European ancestry. PLoS Genet 2013; 9: e1003607.

Qi Q, Chu AY, Kang JH, Huang J, Rose LM, Jensen MK et al. Fried food consumption, genetic risk, and body mass index: gene-diet interaction analysis in three US cohort studies. BMJ 2014; 348: g1610.

Qi Q, Kilpelainen TO, Downer MK, Tanaka T, Smith CE, Sluijs I et al. FTO genetic variants, dietary intake and body mass index: insights from 177,330 individuals. Hum Mol Genet 2014; 23: 6961–6972.

Ankarfeldt MZ, Larsen SC, Angquist L, Husemoen LL, Roswall N, Overvad K et al. Interaction between genetic predisposition to adiposity and dietary protein in relation to subsequent change in body weight and waist circumference. PLoS One 2014; 9: e110890.

Nettleton JA, Follis JL, Ngwa JS, Smith CE, Ahmad S, Tanaka T et al. Gene x dietary pattern interactions in obesity: analysis of up to 68 317 adults of European ancestry. Hum Mol Genet 2015; 24: 4728–4738.

Borodulin K, Vartiainen E, Peltonen M, Jousilahti P, Juolevi A, Laatikainen T et al. Forty-year trends in cardiovascular risk factors in Finland. Eur J Public Health 2015; 25: 539–546.

Konttinen H, Silventoinen K, Sarlio-Lahteenkorva S, Mannisto S, Haukkala A . Emotional eating and physical activity self-efficacy as pathways in the association between depressive symptoms and adiposity indicators. Am J Clin Nutr 2010; 92: 1031–1039.

Howie BN, Donnelly P, Marchini J . A flexible and accurate genotype imputation method for the next generation of genome-wide association studies. PLoS Genet 2009; 5: e1000529.

Howie B, Marchini J, Stephens M . Genotype imputation with thousands of genomes. G3 2011; 1: 457–470.

Delaneau O, Marchini J, Zagury JF . A linear complexity phasing method for thousands of genomes. Nat Methods 2011; 9: 179–181.

Karlsson J, Persson LO, Sjostrom L, Sullivan M . Psychometric properties and factor structure of the Three-Factor Eating Questionnaire (TFEQ) in obese men and women. Results from the Swedish Obese Subjects (SOS) study. Int J Obes Relat Metab Disord 2000; 24: 1715–1725.

de Lauzon B, Romon M, Deschamps V, Lafay L, Borys JM, Karlsson J et al. The Three-Factor Eating Questionnaire-R18 is able to distinguish among different eating patterns in a general population. J Nutr 2004; 134: 2372–2380.

Tolonen H, Koponen P, Aromaa A, Conti S, Graff-Iversen S, Grøtvedt L et al(eds) Recommendations for the Health Examination Surveys in Europe B21/2008 National Public Health Institute: Helsinki, Finland, 2008.

Kanerva N, Harald K, Kaartinen N, Männistö S, Jousilahti P Adherence to a healthy Nordic diet associates with lower weight during 7-years of follow-up. (manuscript submitted for publication).

Rukh G, Ahmad S, Ericson U, Hindy G, Stocks T, Renstrom F et al. Inverse relationship between a genetic risk score of 31 BMI loci and weight change before and after reaching middle age. Int J Obes 2016; 40: 252–259.

Stevens J, Truesdale KP, McClain JE, Cai J . The definition of weight maintenance. Int J Obes 2006; 30: 391–399.

Ålgars M, Santtila P, Varjonen M, Witting K, Johansson A, Jern P et al. The adult body: how age, gender, and body mass index are related to body image. J Aging Health 2009; 21: 1112–1132.

van Strien T, Engels RC, van Staveren W, Herman CP . The validity of dietary restraint scales: comment on Stice et al. (2004). Psychol Assess 2006; 18: 89–94.

Sandholt CH, Allin KH, Toft U, Borglykke A, Ribel-Madsen R, Sparso T et al. The effect of GWAS identified BMI loci on changes in body weight among middle-aged Danes during a five-year period. Obesity 2014; 22: 901–908.

Hjelmborg J, Fagnani C, Silventoinen K, McGue M, Korkeila M, Christensen K et al. Genetic influences on growth traits of BMI: a longitudinal study of adult twins. Obesity 2008; 16: 847–852.

Ortega-Alonso A, Sipila S, Kujala UM, Kaprio J, Rantanen T . Genetic influences on change in BMI from middle to old age: a 29-year follow-up study of twin sisters. Behav Genet 2009; 39: 154–164.

Ortega-Alonso A, Pietilainen KH, Silventoinen K, Saarni SE, Kaprio J . Genetic and environmental factors influencing BMI development from adolescence to young adulthood. Behav Genet 2012; 42: 73–85.

Min J, Chiu DT, Wang Y . Variation in the heritability of body mass index based on diverse twin studies: a systematic review. Obes Rev 2013; 14: 871–882.

Llewellyn CH, Trzaskowski M, Plomin R, Wardle J . From modeling to measurement: developmental trends in genetic influence on adiposity in childhood. Obesity 2014; 22: 1756–1761.

Silventoinen K, Jelenkovic A, Sund R, Hur YM, Yokoyama Y, Honda C et al. Genetic and environmental effects on body mass index from infancy to the onset of adulthood: an individual-based pooled analysis of 45 twin cohorts participating in the COllaborative project of Development of Anthropometrical measures in Twins (CODATwins) study. Am J Clin Nutr 2016; 104: 371–379.

Jousilahti P, Salomaa V, Kuulasmaa K, Niemela M, Vartiainen E . Total and cause specific mortality among participants and non-participants of population based health surveys: a comprehensive follow up of 54 372 Finnish men and women. J Epidemiol Community Health 2005; 59: 310–315.

Harald K, Salomaa V, Jousilahti P, Koskinen S, Vartiainen E . Non-participation and mortality in different socioeconomic groups: the FINRISK population surveys in 1972-92. J Epidemiol Community Health 2007; 61: 449–454.

Seaman SR, White IR . Review of inverse probability weighting for dealing with missing data. Stat Methods Med Res 2011; 22: 278–295.

Thoemmes F, Ong AD . A primer on inverse probability of treatment weighting and marginal structural models. Emerg Adulthood 2016; 4: 40–59.

Westenhoefer J, Stunkard AJ, Pudel V . Validation of the flexible and rigid control dimensions of dietary restraint. Int J Eat Disord 1999; 26: 53–64.

Herman CP, Polivy J . Obesity. Saunders: Philadelphia, USA, 1980.
Acknowledgements
We thank Professor Jane Wardle for her substantial intellectual contribution to this study. The DILGOM data are included in the THL Biobank (https://www.thl.fi/sv/web/thl-biobank). The data used in the present study can be made available on request to the DILGOM Management Group according to the given ethical guidelines and Finnish legislation. This work was supported by the Academy of Finland (grants 265796, 309157 to HK, grant 266592 to KS, grants 136895, 263836 to SM, grant 139635 to VS, grant 118065 to PJ, grant 263278 to JK, grant 269517 to MP and grants 118139, 275033 to AH), Emil Aaltonen Foundation (to HK and AJ), Finnish Foundation for Cardiovascular Research (to AJ and VS), Päivikki and Sakari Sohlberg Foundation (to AJ), Yrjö Jahnsson Foundation (to HK and MP), Juho Vainio Foundation (to PJ and MP) and the European Union's Seventh Framework Programme for Research (grants 313010 (BBMRI-LPC), 305280 (MIMOmics), 261433 (BioSHaRE-EU) to MP).
Ethics declarations
Competing interests
The authors declare no conflict of interest.
About this article
Cite this article
Konttinen, H., Llewellyn, C., Silventoinen, K. et al. Genetic predisposition to obesity, restrained eating and changes in body weight: a population-based prospective study. Int J Obes 42, 858–865 (2018). https://doi.org/10.1038/ijo.2017.278
Received:

Revised:

Accepted:

Published:

Issue Date:

DOI: https://doi.org/10.1038/ijo.2017.278