Abstract
Objectives:
Higher leptin and lower adiponectin correlate with adult and childhood adiposity, but it is unclear how exposure to these adipokines during gestation relates to offspring growth. We aimed to investigate the relationships of maternal and cord adipokines with offspring adiposity across childhood to early adolescence, as well as interactions with child age.
Methods:
In mother–child pairs in the Project Viva cohort, we measured adipokines in mothers at second trimester (n=1106) and in cord blood at birth (n=657). We measured offspring adiposity indices at early childhood (mean 3.3±s.d. 0.3 years), mid-childhood (7.9±0.8 years) and early adolescence (13.2±0.9 years). We analyzed associations of maternal and cord adipokines with offspring longitudinal adiposity using a linear mixed model adjusting for pre-pregnancy body mass index (BMI), gestational weight gain (GWG), and other confounders.
Results:
Mothers with higher BMI and GWG had higher leptin. Offspring born to mothers with the highest vs lowest quartile of leptin had lower BMI z-score (−0.49 units, 95% confidence interval (CI):−0.72,−0.26), waist circumference (−2.6 cm, 95% CI: −3.7,−1.5) and sum of subscapular and triceps skinfolds (−2.8 mm, 95% CI: −4.1,−1.4) in early life. An interaction term between maternal leptin and child age was positive, suggesting that the associations between maternal leptin and child adiposity were not constant over time. Offspring born to mothers with lowest vs highest quartile of maternal adiponectin had lower early life adiposity (BMI z-score −0.27 units, 95% CI: −0.48,−0.05). Results were similar for cord leptin but not cord adiponectin.
Conclusions:
Our findings showed higher maternal and cord leptin, and lower maternal adiponectin are associated with lower offspring adiposity from childhood to early adolescence, independent of maternal BMI and GWG. However, the strength of these associations was not constant over time.
Access options
Subscribe to Journal
Get full journal access for 1 year
$399.00
only $33.25 per issue
All prices are NET prices.
VAT will be added later in the checkout.
Tax calculation will be finalised during checkout.
Rent or Buy article
Get time limited or full article access on ReadCube.
from$8.99
All prices are NET prices.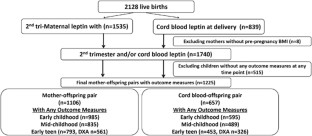 References
1

Miehle K, Stepan H, Leptin Fasshauer M . adiponectin and other adipokines in gestational diabetes mellitus and pre-eclampsia. Clin Endocrinol 2012; 76: 2–11.

2

Kiess W, Petzold S, Topfer M, Garten A, Bluher S, Kapellen T et al. Adipocytes and adipose tissue. Best Pract Res Clin Endocrinol Metab 2008; 22: 135–153.

3

Koerner A, Kratzsch J, Kiess W . Adipocytokines: leptin—the classical, resistin—the controversical, adiponectin—the promising, and more to come. Best Pract Res Clin Endocrinol Metab 2005; 19: 525–546.

4

Konturek PC, Konturek JW, Czesnikiewicz-Guzik M, Brzozowski T, Sito E, Konturek SJ . Neuro-hormonal control of food intake: basic mechanisms and clinical implications. J Physiol Pharmacol 2005; 56 (Suppl 6): 5–25.

5

Karakosta P, Georgiou V, Fthenou E, Papadopoulou E, Roumeliotaki T, Margioris A et al. Maternal weight status, cord blood leptin and fetal growth: a prospective mother-child cohort study (Rhea study). Paediatr Perinat Epidemiol 2013; 27: 461–471.

6

Ong KK, Ahmed ML, Sherriff A, Woods KA, Watts A, Golding J et al. Cord blood leptin is associated with size at birth and predicts infancy weight gain in humans. ALSPAC Study Team. Avon Longitudinal Study of Pregnancy and Childhood. J Clin Endocrinol Metab 1999; 84: 1145–1148.

7

Sivan E, Mazaki-Tovi S, Pariente C, Efraty Y, Schiff E, Hemi R et al. Adiponectin in human cord blood: relation to fetal birth weight and gender. J Clin Endocrinol Metab 2003; 88: 5656–5660.

8

Teague AM, Fields DA, Aston CE, Short KR, Lyons TJ, Chernausek SD . Cord blood adipokines, neonatal anthropometrics and postnatal growth in offspring of Hispanic and Native American women with diabetes mellitus. Reprod Biol Endocrinol 2015; 13: 68.

9

Boeke CE, Mantzoros CS, Hughes MD, LR-S S, Villamor E, Zera CA et al. Differential associations of leptin with adiposity across early childhood. Obesity (Silver Spring, Md.) 2013; 21: 1430–1437.

10

Mantzoros CS, Rifas-Shiman SL, Williams CJ, Fargnoli JL, Kelesidis T, Gillman MW . Cord blood leptin and adiponectin as predictors of adiposity in children at 3 years of age: a prospective cohort study. Pediatrics 2009; 123: 682–689.

11

Simpson J, Smith AD, Fraser A, Sattar N, Lindsay RS, Ring SM et al. Programming of adiposity in childhood and adolescence: associations with birth weight and cord blood adipokines. J Clin Endocrinol Metab 2016; jc20162342.

12

Dunger D, Ong K . Abundance of adiponectin in the newborn. Clin Endocrinol 2004; 61: 416–417.

13

Wang ZV, Scherer PE . Adiponectin, the past two decades. J Mol Cell Biol 2016; 8: 93–100.

14

Oken E, Baccarelli AA, Gold DR, Kleinman KP, Litonjua AA, De Meo D et al. Cohort profile: project viva. Int J Epidemiol 2015; 44: 37–48.

15

Kuczmarski RJ, Ogden CL, Guo SS, Grummer-Strawn LM, Flegal KM, Mei Z et al. 2000 CDC Growth Charts for the United States: methods and development. Vital Health Stat 11 2002; : 1–190.

16

Hivert MF, Rifas-Shiman SL, Gillman MW, Oken E . Greater early and mid-pregnancy gestational weight gains are associated with excess adiposity in mid-childhood. Obesity (Silver Spring, Md.) 2016; 24: 1546–1553.

17

Oken E, Morton-Eggleston E, Rifas-Shiman SL, Switkowski KM, Hivert MF, Fleisch AF et al. Sex-specific associations of maternal gestational glycemia with hormones in umbilical cord blood at delivery. Am J Perinatol 2016; 33: 1273–1281.

18

Oken E, Kleinman KP, Rich-Edwards J, Gillman MW . A nearly continuous measure of birth weight for gestational age using a United States national reference. BMC Pediatr 2003; 3: 6.

19

Fonseca VM, Sichieri R, Moreira ME, Moura AS . Early postnatal growth in preterm infants and cord blood leptin. J Perinatol 2004; 24: 751–756.

20

Zeltser LM . Developmental influences on circuits programming susceptibility to obesity. Front Neuroendocrinol 2015; 39: 17–27.

21

Herrera E, Lasuncion MA, Huerta L, Martin-Hidalgo A . Plasma leptin levels in rat mother and offspring during pregnancy and lactation. Biol Neonat 2000; 78: 315–320.

22

Kastin AJ, Pan W . Dynamic regulation of leptin entry into brain by the blood-brain barrier. Regul Pept 2000; 92: 37–43.

23

Yamashita H, Shao J, Ishizuka T, Klepcyk PJ, Muhlenkamp P, Qiao L et al. Leptin administration prevents spontaneous gestational diabetes in heterozygous Lepr(db/+) mice: effects on placental leptin and fetal growth. Endocrinology 2001; 142: 2888–2897.

24

Forbes GB . Lean body mass-body fat interrelationships in humans. Nutr Rev 1987; 45: 225–231.

25

Song YM, Lee K, Sung J . Adiponectin levels and longitudinal changes in metabolic syndrome: The Healthy Twin Study. Metab Syndrom Relat Disord 2015; 13: 312–318.

26

Kim DH, Kim C, Ding EL, Townsend MK, Lipsitz LA . Adiponectin levels and the risk of hypertension: a systematic review and meta-analysis. Hypertension 2013; 62: 27–32.

27

Bacha F, Saad R, Gungor N, Arslanian SA . Adiponectin in youth: relationship to visceral adiposity, insulin sensitivity, and beta-cell function. Diabetes Care 2004; 27: 547–552.
Acknowledgements
We thank Dr Andres Cardenas (Harvard Pilgrim Health Care Institute, Boston, MA, USA) for his help and advice with some of the statistical analyses. We also thank Professor Wong Tien Yin (Professor, Singapore Eye Research Institute, Singapore National Eye Centre) and Professor Ecosse Lamoureux (Professor, Singapore Eye Research Institute, Singapore National Eye Centre) for their great support and mentorship in this study. Project Viva is supported by the National Institutes of Health (R01 HD034568, UG3 OD023286). EO is additionally supported by K24 HD069408 and P30 DK092924. CM is supported by K24 DK081913. L-JL is funded by Singapore National Medical Council Transition Award (NMRC TA/0027/2014) and Singapore National Medical Council Research Training Fellowship (NMRC/Fellowship/0029/2016).
Ethics declarations
Competing interests
The authors declare no conflict of interest.
Supplementary information
About this article
Cite this article
Li, LJ., Rifas-Shiman, S., Aris, I. et al. Associations of maternal and cord blood adipokines with offspring adiposity in Project Viva: is there an interaction with child age?. Int J Obes 42, 608–617 (2018). https://doi.org/10.1038/ijo.2017.256
Received:

Revised:

Accepted:

Published:

Issue Date: