Abstract
There is widespread acceptance that a significant and sustained impact on the growing global obesity burden requires implementation of a range of health policies to influence the obesity landscape. This acceptance is underpinned by the understanding that the obesity landscape is a complex interaction between the many factors that influence an individual's dietary intake and physical activity levels. Over the past decade we have seen increasing convergence in national and international recommendations on how to best improve this obesity landscape. In the past few years this has led to a noticeable increase in the implementation of these recommended national, state and local government policies. Here, we argue that to maximise the impact of population-level policies intended to improve diet and activity environments we need to see progress in a number of key areas, namely: broadening the range of environments that can be empowered to implement policy; improving our understanding of how best to combine multiple policies and interventions; and improving our understanding of the equity impact of these policies. We also argue that a key goal moving forward should be better capture and communication of the existing activities in order to more rapidly spread the uptake of these policies globally and at scale.
Access options
Subscribe to Journal
Get full journal access for 1 year
$399.00
only $33.25 per issue
All prices are NET prices.
VAT will be added later in the checkout.
Tax calculation will be finalised during checkout.
Rent or Buy article
Get time limited or full article access on ReadCube.
from$8.99
All prices are NET prices.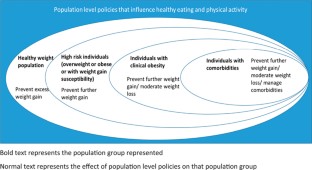 References
1

Vandenbroeck I, Goossens J, Clemens M Foresight. Tackling obesities: future choices-project report. The Stationery Office: London, UK, 2007. Available at: http://www.foresight.gov.uk/Obesity/obesity_final/Index.html (accessed on 18 April 2016).

2

Hawkes C, Smith TG, Jewell J, Wardle J, Hammond RA, Friel S et al. Smart food policies for obesity prevention. Lancet 2015; 385: 2410–2421.

3

Bull F, Milton K, Kahlmeier S, Arlotti A, Jurican AB, Belander O et al. Turning the tide: national policy approaches to increasing physical activity in seven European countries. Br J Sports Med 2015; 49: 749–756.

4

Lambert EV, Bull F . Public health recommendations for physical activity in the prevention of type 2 diabetes mellitus. Med Sport Sci 2014; 60: 130–140.

5

World Health Organisation. WHO Director-General addresses Health Promotion Conference, 2013. Available at: http://www.who.int/dg/speeches/2013/health_promotion_20130610/en/.

6

US Government. Let's Move, 2016. Available at: http://www.letsmove.gov/about.

7

Dobbs R, Sawers C, Thompson F, Manyika J, Woetzel J, Child P et alMcKinsey Global Institute. Overcoming obesity: an initial economic analysis. McKinsey & Company: London, UK, 2014. Available at: http://foodresearch.org.uk/does-sugar-pass-the-environmental-and-social-test-2/ (accessed on 18 April 2016).

8

World Health Organisation. Report of The Commission on Ending Childhood Obesity, 2016.

9

National Preventive Health TaskforceAustralia: The Healthiest Country by 2020 –National Preventative Health Strategy – the roadmap for action, 2009..

10

World Health OrganisationJoint WHO/FAO Expert Consultation on Diet, Nutrition and the Prevention of Chronic Diseases, 2002.

11

Hawkes C, Jewell J, Allen K . A food policy package for healthy diets and the prevention of obesity and diet-related non-communicable diseases: the NOURISHING framework. Obes Rev 2013; 14 (Suppl 2): 159–168.

12

International Society for Physical Activity and Public Health's Global Physical Activity Network. Available from http://www.globalpanet.com/ (accessed on 18 April 2016).

13

Global Observatory for Physical Activity, 2016. Available from http://www.globalphysicalactivityobservatory.com/ (accessed 18 April 2016)..

14

Huang TT, Cawley JH, Ashe M, Costa SA, Frerichs LM, Zwicker L et al. Mobilisation of public support for policy actions to prevent obesity. Lancet 2015; 385: 2422–2431.

15

World Health OrganisationOttawa Charter for Health Promotion: Ottawa, ON, Canada, 1986. Available at:http://www.who.int/healthpromotion/conferences/previous/ottawa/en/ (accessed 18 April 2016).

16

World Health OrganisationWHO Framework Convention on Tobacco Control, 2003. Available at: http://www.who.int/fctc/en/ (accessed 18 April 2016).

17

Cohen DA, Lesser LI . Obesity prevention at the point of purchase. Obes Rev 2016; 17: 389–396.

18

Guardian TNHS chief to introduce sugar tax in hospitals to tackle UK obesity crisis, 2016.

19

Moodie AR, Tolhurst P, Martin J . Australia's health: being accountable for prevention. Med J Aust 2016; 204: 223–225.

20

Swinburn B, Dietz W, Kleinert S . A Lancet Commission on obesity. Lancet 2015; 386: 1716–1717.

21

Allender S, Owen B, Kuhlberg J, Lowe J, Nagorcka-Smith P, Whelan J et al. A community based systems diagram of obesity causes. PLoS One 2015; 10: e0129683.

22

Gortmaker SL, Swinburn BA, Levy D, Carter R, Mabry PL, Finegood DT et al. Changing the future of obesity: science, policy, and action. Lancet 2011; 378: 838–847.

23

Vos T, Carter R, Barendregt J, Mihalopoulos C, Veerman J, Magnus A et al Assessing Cost-Effectiveness in Prevention (ACE–Prevention): Final Report, 2010.

24

Backholer K, Mannan HR, Magliano DJ, Walls HL, Stevenson C, Beauchamp A et al. Projected socioeconomic disparities in the prevalence of obesity among Australian adults. Aust NZ J Public Health 2012; 36: 557–563.

25

McLaren L . Socioeconomic status and obesity. Epidemiol Rev 2007; 29: 29–48.

26

Peeters A, Backholer K . Reducing socioeconomic inequalities in obesity: the role of population prevention. Lancet Diabetes Endocrinol 2015; 3: 838–840.

27

Beauchamp A, Backholer K, Magliano D, Peeters A . The effect of obesity prevention interventions according to socioeconomic position: a systematic review. Obes Rev 2014; 15: 541–554.

28

Campos S, Doxey J, Hammond D . Nutrition labels on pre-packaged foods: a systematic review. Public Health Nutr 2011; 14: 1496–1506.

29

Backholer K, Sarink D, Beauchamp A, Keating C, Loh V, Ball K et al. The impact of a tax on sugar sweetened beverages according to socioeconomic position: A systematic review of the evidence. Public Health Nutr 2016; 19: 3070–3084.

30

Boelsen-Robinson T, Peeters A, Beauchamp A, Chung A, Gearon E, Backholer K . A systematic review of the effectiveness of whole-of-community interventions by socioeconomic position. Obes Rev 2015; 16: 806–816.

31

Mackenbach JP, Kunst AE . Measuring the magnitude of socio-economic inequalities in health: an overview of available measures illustrated with two examples from Europe. Soc Sci Med 1997; 44: 757–771.

32

Galobardes B . Socioeconomic inequalities in health: individual or area level; does it matter? BMC Public Health 2012; 12: 171.

33

Levy DT, Mabry PL, Wang YC, Gortmaker S, Huang TT, Marsh T et al. Simulation models of obesity: a review of the literature and implications for research and policy. Obes Rev 2011; 12: 378–394.

34

Frohlich KL, Potvin L . Commentary: structure or agency? The importance of both for addressing social inequalities in health. Int J Epidemiol 2010; 39: 378–379.

35

McLaren L, McIntyre L, Kirkpatrick S . Rose's population strategy of prevention need not increase social inequalities in health. Int J Epidemiol 2010; 39: 372–377.

36

WHO-ROf, EuropeObesity and inequities. Guidance for addressing inequities in overweight and obesity, 2014..

37

Centres for Disease Control and Prevention. The Twin approach, 2015. Available at: app.dhpe.org/Resources/files/54/Twin%20Approach.pdf (accessed 18 April 2016).

38

Benach J, Malmusi D, Yasui Y, Martinez JM . A new typology of policies to tackle health inequalities and scenarios of impact based on Rose's population approach. J Epidemiol Community Health 2013; 67: 286–291.

39

Marmot M, Allen J, Goldblatt P, Boyce T, McNeish D, Grady M et al. Fair society. Healthy Lives: London, UK, 2010. Available at: http://www.ucl.ac.uk/gheg/marmotreview (accessed 18 April 2016).

40

El-Sayed AM, Scarborough P, Galea S . Ethnic inequalities in obesity among children and adults in the UK: a systematic review of the literature. Obes Rev 2011; 12: e516–e534.

41

Bjornelv S, Lydersen S, Holmen J, Lund Nilsen TI, Holmen TL . Sex differences in time trends for overweight and obesity in adolescents: the Young-HUNT study. Scand J Public Health 2009; 37: 881–889.

42

Ng C, Corey PN, Young TK . Socio-economic patterns of obesity among aboriginal and non-Aboriginal Canadians. Can J Public Health 2011; 102: 264–268.

43

Hardy LL, O'Hara BJ, Hector D, Engelen L, Eades SJ . Temporal trends in weight and current weight-related behaviour of Australian Aboriginal school-aged children. Med J Aust 2014; 200: 667–671.
Acknowledgements
AP is supported by a NHMRC Career Development Fellowship and Deakin University. KB is supported by a Post-doctoral Research Fellowship from the National Heart Foundation of Australia (PH 12M 6824). We would like to thank Professors Steve Allender and Marj Moodie for useful contributions.
Ethics declarations
Competing interests
The authors declare no conflict of interest.
About this article
Cite this article
Peeters, A., Backholer, K. How to influence the obesity landscape using health policies. Int J Obes 41, 835–839 (2017). https://doi.org/10.1038/ijo.2017.24
Received:

Revised:

Accepted:

Published:

Issue Date: