Abstract
Background:
Various fat depots including visceral (VAT), subcutaneous adipose tissue (SAT) or liver fat content (LFC) were supposed to have different influences on various entities including adipokine levels as well as insulin resistance/sensitivity. Therefore, the aim of the study was to investigate the associations of SAT, VAT and LFC with the levels of leptin and vaspin as well as insulin resistance in a general non-diabetic population.
Methods:
In total, 1825 participants of the Study of Health in Pomerania were characterized according to body fat compartments and LFC determined by magnetic resonance imaging. Of those subjects, insulin resistance (HOMA-IR) and insulin sensitivity ([ISI(comp)) were determined in 981 participants and adipokines were assessed in 698 using enzyme-linked immunosorbent assay. Analyses of variance and linear regression models adjusted for age, sex, smoking, height, physical inactivity and alcohol consumption were used for analysis.
Results:
Using the residual method to assess independently the effect of the various fat depots, a strong positive association of SAT (beta per standard deviation (s.d.) increase 0.54 (95% confidence interval (CI) 0.47–0.60)) but not VAT (beta 0.01 (95% CI −0.08 to 0.09)) and LFC (beta 0.01 (95% CI −0.06 to 0.08)) with log2-leptin levels was found independent of the HOMA-IR status. Moreover, a positive association of LFC (beta 0.17 (95% CI 0.07–0.26)) with log2-vaspin levels becomes apparent, which were mostly driven by subjects with a low HOMA-IR. With respect to HOMA-IR and ISI(comp) index, pronounced positive and inverse associations to all fat markers were revealed, respectively, with the strongest relation found for SAT and LFC.
Conclusions:
SAT and LFC were identified as predominant sites associated with leptin and vaspin levels, respectively. Residual analysis pointed towards a general adverse effect of disproportional triglyceride storage across physiological despots, in particular in ectopic sides such as the liver, with markers of insulin resistance.
Relevant articles
Open Access articles citing this article.
Ehsaneh Taheri

,

Saeed Hosseini

…

Parvin Mirmiran

BMC Endocrine Disorders Open Access 16 November 2020

Aurelian Bidulescu

,

Paul C. Dinh

…

Adolfo Correa

BMC Endocrine Disorders Open Access 04 March 2020

Magdalena Losko

,

Dobrochna Dolicka

…

Jolanta Jura

Cellular and Molecular Life Sciences Open Access 31 December 2019
Access options
Subscribe to this journal
Receive 12 print issues and online access
$259.00 per year
only $21.58 per issue
Rent or buy this article
Get just this article for as long as you need it
$39.95
Prices may be subject to local taxes which are calculated during checkout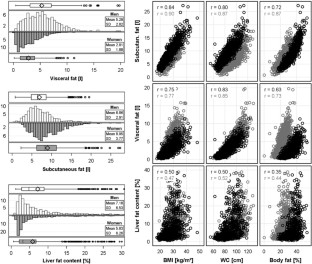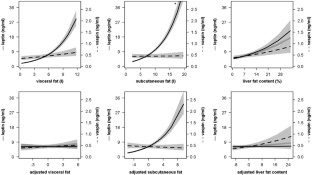 References
Frayn KN . Visceral fat and insulin resistance—causative or correlative? Br J Nutr 2000; 83 (Suppl 1): S71–S77.

Garg A . Regional adiposity and insulin resistance. J Clin Endocrinol Metab 2004; 89: 4206–4210.

Rabe K, Lehrke M, Parhofer KG, Broedl UC . Adipokines and insulin resistance. Mol Med 2008; 14: 741–751.

Sinaiko AR, Caprio S . Insulin resistance. J Pediatr 2012; 161: 11–15.

Jensen MD . Is visceral fat involved in the pathogenesis of the metabolic syndrome? Human model. Obesity (Silver Spring) 2006; 14 (Suppl 1): 20S–24S.

Matsuzawa Y, Shimomura I, Nakamura T, Keno Y, Kotani K, Tokunaga K . Pathophysiology and pathogenesis of visceral fat obesity. Obes Res 1995; 3 (Suppl 2): 187S–194S.

Ibrahim MM . Subcutaneous and visceral adipose tissue: structural and functional differences. Obes Rev 2010; 11: 11–18.

Wueest S, Item F, Lucchini FC, Challa TD, Muller W, Bluher M et al. Mesenteric fat lipolysis mediates obesity-associated hepatic steatosis and insulin resistance. Diabetes 2016; 65: 140–148.

Kabir M, Catalano KJ, Ananthnarayan S, Kim SP, Van Citters GW, Dea MK et al. Molecular evidence supporting the portal theory: a causative link between visceral adiposity and hepatic insulin resistance. Am J Physiol Endocrinol Metab 2005; 288: E454–E461.

Cnop M, Landchild MJ, Vidal J, Havel PJ, Knowles NG, Carr DR et al. The concurrent accumulation of intra-abdominal and subcutaneous fat explains the association between insulin resistance and plasma leptin concentrations: distinct metabolic effects of two fat compartments. Diabetes 2002; 51: 1005–1015.

Ross R, Aru J, Freeman J, Hudson R, Janssen I . Abdominal adiposity and insulin resistance in obese men. Am J Physiol Endocrinol Metab 2002; 282: E657–E663.

Ross R, Freeman J, Hudson R, Janssen I . Abdominal obesity, muscle composition, and insulin resistance in premenopausal women. J Clin Endocrinol Metab 2002; 87: 5044–5051.

Cruz ML, Bergman RN, Goran MI . Unique effect of visceral fat on insulin sensitivity in obese Hispanic children with a family history of type 2 diabetes. Diabetes Care 2002; 25: 1631–1636.

Gan SK, Kriketos AD, Poynten AM, Furler SM, Thompson CH, Kraegen EW et al. Insulin action, regional fat, and myocyte lipid: altered relationships with increased adiposity. Obes Res 2003; 11: 1295–1305.

Tulloch-Reid MK, Hanson RL, Sebring NG, Reynolds JC, Premkumar A, Genovese DJ et al. Both subcutaneous and visceral adipose tissue correlate highly with insulin resistance in African Americans. Obes Res 2004; 12: 1352–1359.

McLaughlin T, Lamendola C, Liu A, Abbasi F . Preferential fat deposition in subcutaneous versus visceral depots is associated with insulin sensitivity. J Clin Endocrinol Metab 2011; 96: E1756–E1760.

D'Adamo E, Cali AM, Weiss R, Santoro N, Pierpont B, Northrup V et al. Central role of fatty liver in the pathogenesis of insulin resistance in obese adolescents. Diabetes Care 2010; 33: 1817–1822.

Muller MJ, Lagerpusch M, Enderle J, Schautz B, Heller M, Bosy-Westphal A . Beyond the body mass index: tracking body composition in the pathogenesis of obesity and the metabolic syndrome. Obes Rev 2012; 13 (Suppl 2): 6–13.

Bastien M, Poirier P, Lemieux I, Despres JP . Overview of epidemiology and contribution of obesity to cardiovascular disease. Prog Cardiovasc Dis 2014; 56: 369–381.

Carter S, Caron A, Richard D, Picard F . Role of leptin resistance in the development of obesity in older patients. Clin Interv Aging 2013; 8: 829–844.

Esteghamati A, Noshad S, Mousavizadeh M, Zandieh A, Nakhjavani M . Association of vaspin with metabolic syndrome: the pivotal role of insulin resistance. Diabetes Metab J 2014; 38: 143–149.

Völzke H, Alte D, Schmidt CO, Radke D, Lorbeer R, Friedrich N et al. Cohort profile: the study of health in Pomerania. Int J Epidemiol 2011; 40: 294–307.

Kuhn JP, Hernando D, Munoz del Rio A, Evert M, Kannengiesser S, Volzke H et al. Effect of multipeak spectral modeling of fat for liver iron and fat quantification: correlation of biopsy with MR imaging results. Radiology 2012; 265: 133–142.

Kuhn JP, Hernando D, Mensel B, Kruger PC, Ittermann T, Mayerle J et al. Quantitative chemical shift-encoded MRI is an accurate method to quantify hepatic steatosis. J Magn Reson Imaging 2014; 39: 1494–1501.

Kuhn JP, Jahn C, Hernando D, Siegmund W, Hadlich S, Mayerle J et al. T1 bias in chemical shift-encoded liver fat-fraction: role of the flip angle. J Magn Reson Imaging 2014; 40: 875–883.

Matthews DR, Hosker JP, Rudenski AS, Naylor BA, Treacher DF, Turner RC . Homeostasis model assessment: insulin resistance and beta-cell function from fasting plasma glucose and insulin concentrations in man. Diabetologia 1985; 28: 412–419.

DeFronzo RA, Matsuda M . Reduced time points to calculate the composite index. Diabetes Care 2010; 33: e93.

Kahn BB, Flier JS . Obesity and insulin resistance. J Clin Invest 2000; 106: 473–481.

Jensen MD, Johnson CM . Contribution of leg and splanchnic free fatty acid (FFA) kinetics to postabsorptive FFA flux in men and women. Metabolism 1996; 45: 662–666.

Wajchenberg BL . Subcutaneous and visceral adipose tissue: their relation to the metabolic syndrome. Endocr Rev 2000; 21: 697–738.

Patel P, Abate N . Body fat distribution and insulin resistance. Nutrients 2013; 5: 2019–2027.

Lotta LA, Gulati P, Day FR, Payne F, Ongen H, van de Bunt M et al. Integrative genomic analysis implicates limited peripheral adipose storage capacity in the pathogenesis of human insulin resistance. Nat Genet 2017; 49: 17–26.

Fabbrini E, Magkos F, Mohammed BS, Pietka T, Abumrad NA, Patterson BW et al. Intrahepatic fat, not visceral fat, is linked with metabolic complications of obesity. Proc Natl Acad Sci USA 2009; 106: 15430–15435.

Considine RV, Sinha MK, Heiman ML, Kriauciunas A, Stephens TW, Nyce MR et al. Serum immunoreactive-leptin concentrations in normal-weight and obese humans. N Engl J Med 1996; 334: 292–295.

Zhang Y, Proenca R, Maffei M, Barone M, Leopold L, Friedman JM . Positional cloning of the mouse obese gene and its human homologue. Nature 1994; 372: 425–432.

Margetic S, Gazzola C, Pegg GG, Hill RA . Leptin: a review of its peripheral actions and interactions. Int J Obes Relat Metab Disord 2002; 26: 1407–1433.

Hube F, Lietz U, Igel M, Jensen PB, Tornqvist H, Joost HG et al. Difference in leptin mRNA levels between omental and subcutaneous abdominal adipose tissue from obese humans. Horm Metab Res 1996; 28: 690–693.

Montague CT, Prins JB, Sanders L, Digby JE, O'Rahilly S . Depot- and sex-specific differences in human leptin mRNA expression: implications for the control of regional fat distribution. Diabetes 1997; 46: 342–347.

Van Harmelen V, Reynisdottir S, Eriksson P, Thorne A, Hoffstedt J, Lonnqvist F et al. Leptin secretion from subcutaneous and visceral adipose tissue in women. Diabetes 1998; 47: 913–917.

Maffei M, Halaas J, Ravussin E, Pratley RE, Lee GH, Zhang Y et al. Leptin levels in human and rodent: measurement of plasma leptin and ob RNA in obese and weight-reduced subjects. Nat Med 1995; 1: 1155–1161.

Kershaw EE, Flier JS . Adipose tissue as an endocrine organ. J Clin Endocrinol Metab 2004; 89: 2548–2556.

Lee JA, Park HS, Song YS, Jang YJ, Kim JH, Lee YJ et al. Relationship between vaspin gene expression and abdominal fat distribution of Korean women. Endocr J 2011; 58: 639–646.

Hida K, Wada J, Eguchi J, Zhang H, Baba M, Seida A et al. Visceral adipose tissue-derived serine protease inhibitor: a unique insulin-sensitizing adipocytokine in obesity. Proc Natl Acad Sci USA 2005; 102: 10610–10615.

Aktas B, Yilmaz Y, Eren F, Yonal O, Kurt R, Alahdab YO et al. Serum levels of vaspin, obestatin, and apelin-36 in patients with nonalcoholic fatty liver disease. Metabolism 2011; 60: 544–549.

Genc H, Dogru T, Tapan S, Kara M, Ercin CN, Aslan F et al. Circulating vaspin and its relationship with insulin sensitivity, adiponectin, and liver histology in subjects with non-alcoholic steatohepatitis. Scand J Gastroenterol 2011; 46: 1355–1361.

Haffner SM, Miettinen H, Stern MP . The homeostasis model in the San Antonio Heart Study. Diabetes Care 1997; 20: 1087–1092.

Kloting N, Berndt J, Kralisch S, Kovacs P, Fasshauer M, Schon MR et al. Vaspin gene expression in human adipose tissue: association with obesity and type 2 diabetes. Biochem Biophys Res Commun 2006; 339: 430–436.

Chang HM, Park HS, Park CY, Song YS, Jang YJ . Association between serum vaspin concentrations and visceral adipose tissue in Korean subjects. Metabolism 2010; 59: 1276–1281.
Acknowledgements
This work was funded by grants from the German Federal Ministry of Education and Research (BMBF, Grants 01ZZ0403, 01ZZ0103, 01GI0883), the Ministry for Education, Research and Cultural Affairs as well as the Ministry of Social Affairs of the Federal State of Mecklenburg-West Pomerania. This work is also part of the research project Greifswald Approach to Individualized Medicine (GANI_MED). The GANI_MED consortium is funded by the Federal Ministry of Education and Research and the Ministry of Cultural Affairs of the Federal State of Mecklenburg-West Pomerania (03IS2061A).
Ethics declarations
Competing interests
The authors declare no conflict of interest.
Supplementary information
About this article
Cite this article
Genske, F., Kühn, JP., Pietzner, M. et al. Abdominal fat deposits determined by magnetic resonance imaging in relation to leptin and vaspin levels as well as insulin resistance in the general adult population. Int J Obes 42, 183–189 (2018). https://doi.org/10.1038/ijo.2017.187
Received:

Revised:

Accepted:

Published:

Issue Date:

DOI: https://doi.org/10.1038/ijo.2017.187