Abstract
Binge-eating behavior involves rapid consumption of highly palatable foods leading to increased weight gain. Feeding in binge disorders resembles other compulsive behaviors, many of which are responsive to N-acetylcysteine (NAC), which is a cysteine prodrug often used to promote non-vesicular glutamate release by a cystine–glutamate antiporter. To examine the potential for NAC to alter a form of compulsive eating, we examined the impact of NAC on binge eating in a rodent model. Specifically, we monitored consumption of standard chow and a high-fat, high carbohydrate western diet (WD) in a rodent limited-access binge paradigm. Before each session, rats received either a systemic or intraventricular injection of NAC. Both systemic and central administration of NAC resulted in significant reductions of binge eating the WD without decreasing standard chow consumption. The reduction in WD was not attributable to general malaise as NAC did not produce condition taste aversion. These results are consistent with the clinical evidence of NAC to reduce or reverse compulsive behaviors, such as, drug addiction, skin picking and hair pulling.
Access options
Subscribe to Journal
Get full journal access for 1 year
$119.00
only $9.92 per issue
All prices are NET prices.
VAT will be added later in the checkout.
Tax calculation will be finalised during checkout.
Buy article
Get time limited or full article access on ReadCube.
$32.00
All prices are NET prices.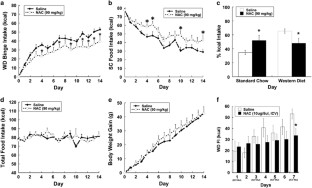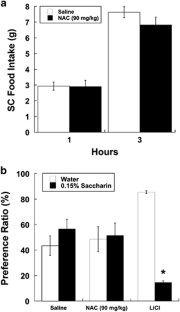 References
OECD . OECD Health Data: Non-Medical Determinants of Health. OECD Health Statistics OECD Publishing: Paris, 2013.

Hudson JI, Hiripi E, Pope HG, Kessler RC . The prevalence and correlates of eating disorders in the National Comorbidity Survey Replication. Biol Psychiatry 2007; 61: 348–358.

American Psychiatric Association. Diagnostic and Statistical Manual of Mental Disorders: DSM-5. American Psychiatric Association publishing: Arlington, VA, USA, 2013.

Gearhardt AN, White MA, Potenza MN . Binge eating disorder and food addiction. Current Drug Abuse Rev 2011; 4: 201–207.

Johnson PM, Kenny PJ . Dopamine D2 receptors in addiction-like reward dysfunction and compulsive eating in obese rats. Nat Neurosci 2010; 13: 635–641.

Fisher JO, Birch LL . Eating in the absence of hunger and overweight in girls from 5 to 7 y of age. Am J Clin Nutr 2002; 76: 226–231.

Marcus MD, Kalarchian MA . Binge eating in children and adolescents. Int J Eat Disord 2003; 34: S47–S57.

Kalivas PW, LaLumiere RT, Knackstedt L, Shen H . Glutamate transmission in addiction. Neuropharmacology 2009; 56: 169–173.

Amen SL, Piacentine LB, Ahmad ME, Li SJ, Mantsch JR, Risinger RC et al. Repeated N-acetyl cysteine reduces cocaine seeking in rodents and craving in cocaine-dependent humans. Neuropsychopharmacology 2011; 36: 871–878.

Grant JE, Odlaug BL, Kim SW . N-acetylcysteine a glutamate modulator, in the treatment of trichotillomania: a double-blind, placebo-controlled study. Arch Gen Psychiatry 2009; 66: 756–763.

McClure EA, Gipson CD, Malcolm RJ, Kalivas PW, Gray KM . Potential role of N-acetylcysteine in the management of substance use disorders. CNS Drugs 2014; 28: 95–106.

Bridges R, Lutgen V, Lobner D, Baker DA . Thinking outside the cleft to understand synaptic activity: contribution of the cystine-glutamate antiporter (System xc-) to normal and pathological glutamatergic signaling. Pharmacol Rev 2012; 64: 780–802.

Lin P, Pratt WE . Inactivation of the nucleus accumbens core or medial shell attenuates reinstatement of sugar-seeking behavior following sugar priming or exposure to food-associated cues. PLoS One 2014; 9: e99301.

Baker DA, McFarland K, Lake RW, Shen H, Tang XC, Toda S et al. Neuroadaptations in cystine-glutamate exchange underlie cocaine relapse. Nat Neurosci 2003; 6: 743–749.

Corwin RL, Wojnicki FHE, Fisher JO, Dimitriou SG, Rice HB, Young MA . Limited access to a dietary fat option affects ingestive behavior but not body composition in male rats. Physiol Behav 1998; 65: 545–553.

Paxinos G, Watson C . The Rat Brain in Stereotaxic Coordinates. Academic Press: New York, NY, USA, 2007.

Kupchik YM, Moussawi K, Tang X-C, Wang X, Kalivas BC, Kolokithas R et al. The effect of N-acetylcysteine in the nucleus accumbens on neurotransmission and relapse to cocaine. Biological Psychiatry 2012; 71: 978–986.

Baker DA, Xi ZX, Shen H, Swanson CJ, Kalivas PW . The origin and neuronal function of in vivo nonsynaptic glutamate. J Neurosci 2002; 22: 9134–9141.

Kalivas PW, Lalumiere RT, Knackstedt L, Shen H . Glutamate transmission in addiction. Neuropharmacology 2009; 1: 169–173.

Baker DA, McFarland K, Lake RW, Shen H, Tang X-C, Toda S et al. Neuroadaptations in cystine-glutamate exchange underlie cocaine relapse. Nat Neurosci 2003; 6: 743–749.

Knackstedt LA, LaRowe S, Mardikian P, Malcolm R, Upadhyaya H, Hedden S et al. The role of cystine-glutamate exchange in nicotine dependence in rats and humans. Biol Psychiatry 2009; 65: 841–845.

Odlaug BL, Grant JE . N-acetyl cysteine in the treatment of grooming disorders. J Clin Psychopharmacol 2007; 27: 227–229.
Acknowledgements
This work was supported by the US National Institute of Diabetes and Digestive and Kidney Diseases (NIDDK; DK074734) and the US National Institute on Drug Abuse (NIDA: DA035088).
Ethics declarations
Competing interests
The authors declare no conflict of interest.
About this article
Cite this article
Hurley, M., Resch, J., Maunze, B. et al. N-acetylcysteine decreases binge eating in a rodent model. Int J Obes 40, 1183–1186 (2016). https://doi.org/10.1038/ijo.2016.31
Received:

Revised:

Accepted:

Published:

Issue Date:

DOI: https://doi.org/10.1038/ijo.2016.31
Further reading
Titikorn Chunchai
Puntarik Keawtep
Siriporn C. Chattipakorn

Metabolic Brain Disease (2020)

Shae-Leigh C. Vella
Nagesh B. Pai

Eating and Weight Disorders - Studies on Anorexia, Bulimia and Obesity (2017)