Abstract
Objectives:
Food craving is a driving force for overeating and obesity. However, the relationship between brain mechanisms involved in its regulation and weight status is still an open issue. Gaps in the studied body mass index (BMI) distributions and focusing on linear analyses might have contributed to this lack of knowledge. Here, we investigated brain mechanisms of craving regulation using functional magnetic resonance imaging in a balanced sample including normal-weight, overweight and obese participants. We investigated associations between characteristics of obesity, eating behavior and regulatory brain function focusing on nonlinear relationships.
Subjects/Methods:
Forty-three hungry female volunteers (BMI: 19.4–38.8 kg m−2, mean: 27.5±5.3 s.d.) were presented with visual food stimuli individually pre-rated according to tastiness and healthiness. The participants were instructed to either admit to the upcoming craving or regulate it. We analyzed the relationships between regulatory brain activity as well as functional connectivity and BMI or eating behavior (Three-Factor Eating Questionnaire, scales: Cognitive Restraint, Disinhibition).
Results:
During regulation, BMI correlated with brain activity in the left putamen, amygdala and insula in an inverted U-shaped manner. Functional connectivity between the putamen and the dorsolateral prefrontal cortex (dlPFC) correlated positively with BMI, whereas that of amygdala with pallidum and lingual gyrus was nonlinearly (U-shaped) associated with BMI. Disinhibition correlated negatively with the strength of functional connectivity between amygdala and dorsomedial prefrontal (dmPFC) cortex as well as caudate.
Conclusions:
This study is the first to reveal quadratic relationships of food-related brain processes and BMI. Reported nonlinear associations indicate inverse relationships between regulation-related motivational processing in the range of normal weight/overweight compared with the obese range. Connectivity analyses suggest that the need for top-down (dlPFC) adjustment of striatal value representations increases with BMI, whereas the interplay of self-monitoring (dmPFC) or eating-related strategic action planning (caudate) and salience processing (amygdala) might be hampered with high Disinhibition.
Access options
Subscribe to this journal
Receive 12 print issues and online access
$259.00 per year
only $21.58 per issue
Rent or buy this article
Prices vary by article type
from$1.95
to$39.95
Prices may be subject to local taxes which are calculated during checkout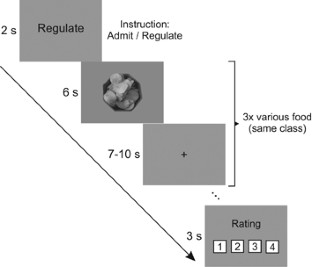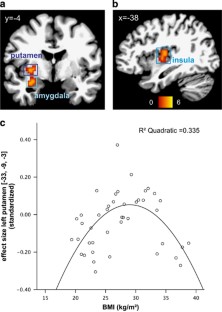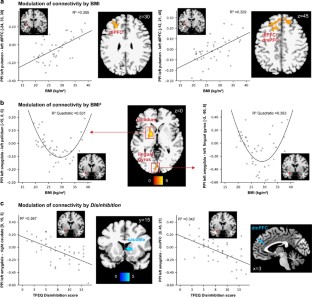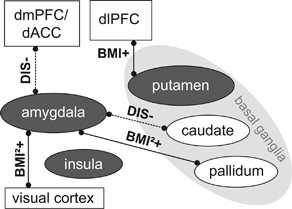 Similar content being viewed by others
References
Kopelman P . Health risks associated with overweight and obesity. Obes Rev 2007; 8 (Suppl 1): 13–17.

Thomas JG, Doshi S, Crosby RD, Lowe MR . Ecological momentary assessment of obesogenic eating behavior: combining person-specific and environmental predictors. Obesity (Silver Spring) 2011; 19: 1574–1579.

Potenza MN, Grilo CM . How relevant is food craving to obesity and its treatment? Front Psychiatry 2014; 5: 164.

Werrij MQ, Jansen A, Mulkens S, Elgersma HJ, Ament AJHA, Hospers HJ . Adding cognitive therapy to dietetic treatment is associated with less relapse in obesity. J Psychosom Res 2009; 67: 315–324.

Dagher A . Functional brain imaging of appetite. Trends Endocrinol Metab 2012; 23: 250–260.

Stoeckel LE, Weller RE, Cook EW, Twieg DB, Knowlton RC, Cox JE . Widespread reward-system activation in obese women in response to pictures of high-calorie foods. Neuroimage 2008; 41: 636–647.

Siep N, Roefs A, Roebroeck A, Havermans R, Bonte ML, Jansen A . Hunger is the best spice: an fMRI study of the effects of attention, hunger and calorie content on food reward processing in the amygdala and orbitofrontal cortex. Behav Brain Res 2009; 198: 149–158.

Van der Laan LN, de Ridder DTD, Viergever M A, Smeets PAM . The first taste is always with the eyes: a meta-analysis on the neural correlates of processing visual food cues. Neuroimage 2011; 55: 296–303.

Siep N, Roefs A, Roebroeck A, Havermans R, Bonte M, Jansen A . Fighting food temptations: the modulating effects of short-term cognitive reappraisal, suppression and up-regulation on mesocorticolimbic activity related to appetitive motivation. Neuroimage 2012; 60: 213–220.

Hare TA, Camerer CF, Rangel A . Self-control in decision-making involves modulation of the vmPFC valuation system. Science 2009; 324: 646–648.

Kober H, Mende-Siedlecki P, Kross EF, Weber J, Mischel W, Hart CL et al. Prefrontal-striatal pathway underlies cognitive regulation of craving. Proc Natl Acad Sci USA 2010; 107: 14811–14816.

Wang G-J, Volkow ND, Telang F, Jayne M, Ma Y, Pradhan K et al. Evidence of gender differences in the ability to inhibit brain activation elicited by food stimulation. Proc Natl Acad Sci USA 2009; 106: 1249–1254.

Giuliani NR, Mann T, Tomiyama AJ, Berkman ET . Neural systems underlying the reappraisal of personally craved foods. J Cogn Neurosci 2014; 26: 1390–1402.

Yokum S, Stice E . Cognitive regulation of food craving: effects of three cognitive reappraisal strategies on neural response to palatable foods. Int J Obes 2013; 37: 1565–1570.

Silvers JA, Insel C, Powers A, Franz P, Weber J, Mischel W et al. Curbing craving: behavioral and brain evidence that children regulate craving when instructed to do so but have higher baseline craving than adults. Psychol Sci 2014; 25: 1932–1942.

Hollmann M, Hellrung L, Pleger B, Schlögl H, Kabisch S, Stumvoll M et al. Neural correlates of the volitional regulation of the desire for food. Int J Obes (Lond) 2012; 36: 648–655.

Tuulari JJ, Karlsson HK, Hirvonen J, Salminen P, Nuutila P, Nummenmaa L . Neural circuits for cognitive appetite control in healthy and obese individuals: an FMRI study. PLoS One 2015; 10: e0116640.

Scharmüller W, Übel S, Ebner F, Schienle A . Appetite regulation during food cue exposure: A comparison of normal-weight and obese women. Neurosci Lett 2012; 518: 106–110.

Davis C, Fox J . Sensitivity to reward and body mass index (BMI): evidence for a non-linear relationship. Appetite 2008; 50: 43–49.

Dietrich A, Federbusch M, Grellmann C, Villringer A, Horstmann A . Body weight status, eating behavior, sensitivity to reward/punishment, and gender: relationships and interdependencies. Front Psychol 2014; 5: 1073.

Horstmann A, Fenske WK, Hankir MK . Argument for a non-linear relationship between severity of human obesity and dopaminergic tone. Obes Rev 2015; 16: 821–830.

Stunkard AJ, Messick S . The three-factor eating questionnaire to measure dietary restraint, disinhibition and hunger. J Psychosom Res 1985; 29: 71–83.

Bryant EJ, King N A, Blundell JE . Disinhibition: its effects on appetite and weight regulation. Obes Rev 2008; 9: 409–419.

Nummenmaa L, Hirvonen J, Hannukainen JC, Immonen H, Lindroos MM, Salminen P et al. Dorsal striatum and its limbic connectivity mediate abnormal anticipatory reward processing in obesity. PLoS One 2012; 7: e31089.

Beck AT, Ward CH, Mendelson M, Mock J, Erbaugh J . An inventory for measuring depression. Arch Gen Psychiatry 1961; 4: 561–571.

Cornier M, Salzberg AK, Endly DC, Bessesen DH, Tregellas JR . Sex-based differences in the behavioral and neuronal responses to food. Physiol Behav 2010; 99: 538–543.

Van Vugt DA . Brain imaging studies of appetite in the context of obesity and the menstrual cycle. Hum Reprod Update 16: 276–292.

Friston KJ, Buechel C, Fink GR, Morris J, Rolls E, Dolan RJ . Psychophysiological and modulatory interactions in neuroimaging. Neuroimage 1997; 6: 218–229.

Ho A, Kennedy J, Dimitropoulos A . Neural correlates to food-related behavior in normal-weight and overweight/obese participants. PLoS One 2012; 7: e45403.

Phelps EA, LeDoux JE . Contributions of the amygdala to emotion processing: from animal models to human behavior. Neuron 2005; 48: 175–187.

Pelchat ML, Johnson A, Chan R, Valdez J, Ragland JD . Images of desire: food-craving activation during fMRI. Neuroimage 2004; 23: 1486–1493.

Porubská K, Veit R, Preissl H, Fritsche A, Birbaumer N . Subjective feeling of appetite modulates brain activity: an fMRI study. Neuroimage 2006; 32: 1273–1280.

Haber SN, Knutson B . The reward circuit: linking primate anatomy and human imaging. Neuropsychopharmacology 2010; 35: 4–26.

Harrison NA, Voon V, Cercignani M, Cooper EA, Pessiglione M, Critchley HD . A neurocomputational account of how inflammation enhances sensitivity to punishments versus rewards. Biol Psychiatry 2015; e-pub ahead of print 1 August 2015 doi:10.1016/j.biopsych.2015.07.018.

DelParigi A, Chen K, Salbe AD, Hill JO, Wing RR, Reiman EM et al. Successful dieters have increased neural activity in cortical areas involved in the control of behavior. Int J Obes (Lond) 2007; 31: 440–448.

Simmons WK, Avery JA, Barcalow JC, Bodurka J, Drevets WC, Bellgowan P . Keeping the body in mind: insula functional organization and functional connectivity integrate interoceptive, exteroceptive, and emotional awareness. Hum Brain Mapp 2013; 34: 2944–2958.

Johnson F, Pratt M, Wardle J . Dietary restraint and self-regulation in eating behavior. Int J Obes (Lond) 2012; 36: 665–674.

Bzdok D, Laird AR, Zilles K, Fox PT, Eickhoff SB . An investigation of the structural, connectional, and functional subspecialization in the human amygdala. Hum Brain Mapp 2012; 34: 3247–3266.

Simmons WK, Rapuano KM, Ingeholm JE, Avery J, Kallman S, Hall KD et al. The ventral pallidum and orbitofrontal cortex support food pleasantness inferences. Brain Struct Funct 2014; 219: 473–483.

Zeki S, Watson JD, Lueck CJ, Friston KJ, Kennard C, Frackowiak RS . A direct demonstration of functional specialization in human visual cortex. J Neurosci 1991; 11: 641–649.

Lang PJ, Bradley MM, Fitzsimmons JR, Cuthbert BN, Scott JD, Moulder B et al. Emotional arousal and activation of the visual cortex: an fMRI analysis. Psychophysiology 1998; 35: 199–210.

Ridderinkhof KR, van den Wildenberg WPM, Segalowitz SJ, Carter CS . Neurocognitive mechanisms of cognitive control: the role of prefrontal cortex in action selection, response inhibition, performance monitoring, and reward-based learning. Brain Cogn 2004; 56: 129–140.

Dixon ML, Christoff K . The lateral prefrontal cortex and complex value-based learning and decision making. Neurosci Biobehav Rev 2014; 45: 9–18.

Coppin G, Nolan-Poupart S, Jones-Gotman M, Small DM . Working memory and reward association learning impairments in obesity. Neuropsychologia 2014; 65: 146–155.

Nijs IMT, Muris P, Euser AS, Franken IHA . Differences in attention to food and food intake between overweight/obese and normal-weight females under conditions of hunger and satiety. Appetite 2010; 54: 243–254.

Passamonti L, Rowe JB, Schwarzbauer C, Ewbank MP, von dem Hagen E, Calder AJ . Personality predicts the brain's response to viewing appetizing foods: the neural basis of a risk factor for overeating. J Neurosci 2009; 29: 43–51.

Mitchell JP . Inferences about mental states. Philos Trans R Soc B Biol Sci 2009; 364: 1309–1316.

Ridderinkhof KR, Ullsperger M, Crone EA, Nieuwenhuis S . The role of the medial frontal cortex in cognitive control. Science 2004; 306: 443–447.

McRae K . Emotion regulation frequency and success: separating constructs from methods and time scale. Soc Personal Psychol Compass 2013; 7: 289–302.

Ovaskainen M-L, Tapanainen H, Laatikainen T, Männistö S, Heinonen H, Vartiainen E . Perceived health-related self-efficacy associated with BMI in adults in a population-based survey. Scand J Public Health 2015; 43: 197–203.

Weiskopf N . Real-time fMRI and its application to neurofeedback. Neuroimage 2012; 62: 682–692.
Acknowledgements
We thank Marie-Theres Meemken and Kathrin Müller for their valuable contribution to a previous version of this manuscript. We are also thankful to Lydia Hellrung who provided assistance with the fMRI setup. This work was supported by the Max Planck Society and the IFB Adiposity Diseases, Federal Ministry of Education and Research (BMBF), Germany, FKZ: 01E01001 (http://www.bmbf.de) (DM, AV and AH). The work of AV and AH is funded by the German Research Foundation (DFG; http://www.dfg.de) within the framework of the CRC 1052 'Obesity Mechanisms' (Subprojects A1 and A5). AD is funded by a research grant from the Konrad Adenauer Foundation (www.kas.de).
Ethics declarations
Competing interests
The authors declare no conflict of interest.
Supplementary information
About this article
Cite this article
Dietrich, A., Hollmann, M., Mathar, D. et al. Brain regulation of food craving: relationships with weight status and eating behavior. Int J Obes 40, 982–989 (2016). https://doi.org/10.1038/ijo.2016.28
Received:

Revised:

Accepted:

Published:

Issue Date:

DOI: https://doi.org/10.1038/ijo.2016.28