Abstract
Background/Objectives:
Sugar-sweetened-beverages (SSB) provide high amounts of rapidly absorbable sugar and have been shown to impair insulin sensitivity and promote weight gain. We hypothesized that when compared with high-glycemic index (GI) SSB low-GI SSB lead to lower insulin secretion and thus an improved preservation of insulin sensitivity and fat oxidation during an inactive phase.
Subjects/Methods:
In a controlled cross-over dietary intervention 13 healthy men (age: 23.7±2.2 years, body mass index: 23.6±1.9 kg m−2) consumed low-GI (isomaltulose) or high-GI (75% maltodextrin+25% sucrose, adapted for sweetness) SSBs providing 20% of energy requirement for 7 days. During this phase, participant's habitual high physical activity (11 375±3124 steps per day) was reduced (2363±900 steps per day). The provided ad libitum diet comprised 55% CHO, 30% fat and 15% protein. Glycemic and insulinemic responses were assessed: Day-long (7-day continuous interstitial glucose monitoring, 24-h-urinary c-peptide excretion), during meal test (37 g isomaltulose vs 28 g maltodextrin+9g sucrose) and measures of insulin sensitivity (basal: homeostasis model assessment of insulin resistance (HOMA-IR), postprandial: Matsuda-ISI). Macronutrient oxidation was assessed by non-protein respiratory quotient (npRQ) in the fasted state (npRQfasting) and postprandial as the area under the npRQ-curve during meal test (npRQtAUC-meal).
Results:
Day-long glycemia was lower with low-GI compared with high-GI SSB (−5%, P<0.05). Low-GI SSB led to lower insulin secretion during meal test (−28%, P<0.01) and throughout the day (−31%, P<0.01), whereas postprandial glucose levels did not differ between low-GI and high-GI SSBs. Insulin sensitivity deteriorated on inactivity with both SSBs, but was better preserved with low-GI isomaltulose compared with high-GI maltodextrin–sucrose (ΔHOMA-IR: +0.37±0.52 vs +0.85±0.86; ΔMatsuda-ISI: −5.1±5.5 vs −9.6±5.1, both P<0.05). Both, fasting and postprandial fat oxidation declined on inactivity, with no difference between high-GI and low-GI SSBs.
Conclusions:
Compared with high-GI SSB, 7-day consumption of beverages sweetened with low-GI isomaltulose had beneficial effects on inactivity-induced impairment of glucose metabolism without effecting fuel selection.
Relevant articles
Open Access articles citing this article.
Alexander Lang

,

Oliver Kuss

…

Sabrina Schlesinger

European Journal of Nutrition Open Access 09 October 2020

Franziska Büsing

,

Franziska Anna Hägele

…

Anja Bosy-Westphal

Nutrition & Diabetes Open Access 08 August 2019

Franziska A Hägele

,

Franziska Büsing

…

Anja Bosy-Westphal

Nutrition & Diabetes Open Access 25 April 2018
Access options
Subscribe to this journal
Receive 12 print issues and online access
$259.00 per year
only $21.58 per issue
Rent or buy this article
Get just this article for as long as you need it
$39.95
Prices may be subject to local taxes which are calculated during checkout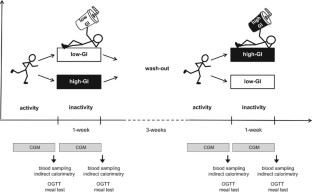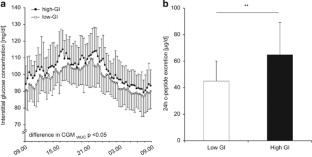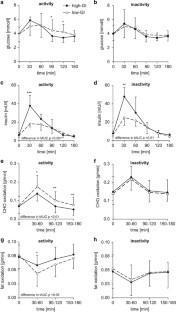 References
Robert Koch Institut. Fizzy drinks, juices etc.-The consumption of beverages containing sugars in Germany, 2013. Vol 4 No 1, 1/2013-GBE kompakt..

Ng SW, Ni Mhurchu C, Jebb SA, Popkin BM . Patterns and trends of beverage consumption among children and adults in Great Britain, 1986-2009. Br J Nutr 2012; 108: 536–551.

Vartanian LR, Schwartz MB, Brownell KD . Effects of soft drink consumption on nutrition and health: a systematic review and meta-analysis. Am J Public Health 2007; 97: 667–675.

Te Morenga L, Mallard S, Mann J . Dietary sugars and body weight: systematic review and meta-analyses of randomised controlled trials and cohort studies. BMJ 2013; 346: e7492.

Malik VS, Hu FB . Sweeteners and risk of obesity and type 2 diabetes: the role of sugar-sweetened beverages. Curr Diab Rep 2012; 12: 195–203.

Kanety H, Moshe S, Shafrir E, Lunenfeld B, Karasik A . Hyperinsulinemia induces a reversible impairment in insulin receptor function leading to diabetes in the sand rat model of non-insulin-dependent diabetes mellitus. Proc Natl Acad Sci USA 1994; 91: 1853–1857.

Velasquez-Mieyer PA, Cowan PA, Arheart KL, Buffington CK, Spencer KA, Connelly BE et al. Suppression of insulin secretion is associated with weight loss and altered macronutrient intake and preference in a subset of obese adults. Int J Obes Relat Metab Disord 2003; 27: 219–226.

Sigal RJ, El-Hashimy M, Martin BC, Soeldner JS, Krolewski AS, Warram JH . Acute postchallenge hyperinsulinemia predicts weight gain: a prospective study. Diabetes 1997; 46: 1025–1029.

Henry RR, Gumbiner B, Ditzler T, Wallace P, Lyon R, Glauber HS . Intensive conventional insulin therapy for type II diabetes. Metabolic effects during a 6-mo outpatient trial. Diabetes Care 1993; 16: 21–31.

Ludwig DS . Dietary glycemic index and obesity. J Nutr 2000; 130: 280S–283S.

Zurlo F, Lillioja S, Esposito-Del Puente A, Nyomba BL, Raz I, Saad MF et al. Low ratio of fat to carbohydrate oxidation as predictor of weight gain: study of 24-h RQ. Am J Physiol 1990; 259: E650–E657.

Pannacciulli N, Salbe AD, Ortega E, Venti CA, Bogardus C, Krakoff J . The 24-h carbohydrate oxidation rate in a human respiratory chamber predicts ad libitum food intake. Am J Clin Nutr 2007; 86: 625–632.

Ellis AC, Hyatt TC, Hunter GR, Gower BA . Respiratory quotient predicts fat mass gain in premenopausal women. Obesity (Silver Spring) 2010; 18: 2255–2259.

Arai H, Mizuno A, Sakuma M, Fukaya M, Matsuo K, Muto K et al. Effects of a palatinose-based liquid diet (Inslow) on glycemic control and the second-meal effect in healthy men. Metabolism 2007; 56: 115–121.

König D, Theis S, Kozianowski G, Berg A . Postprandial substrate use in overweight subjects with the metabolic syndrome after isomaltulose (PalatinoseTM ingestion. Nutrition 2012; 28: 651–656.

König D, Muser K, Berg A, Deibert P . Fuel selection and appetite-regulating hormones after intake of a soy protein-based meal replacement. Nutrition 2012; 28: 35–39.

Oosthuyse T, Carstens M, Millen AM . Ingesting isomaltulose versus fructose-maltodextrin during prolonged moderate-heavy exercise increases fat oxidation but impairs gastrointestinal comfort and cycling performance. Int J Sport Nutr Exerc Metab 2015; 25: 427–438.

Díaz EO, Galgani JE, Aguirre CA, Atwater IJ, Burrows R . Effect of glycemic index on whole-body substrate oxidation in obese women. Int J Obes (Lond) 2005; 29: 108–114.

Van Can JGP, Ijzerman TH, van Loon LJC, Brouns F, Blaak EE . Reduced glycaemic and insulinaemic responses following isomaltulose ingestion: implications for postprandial substrate use. Br J Nutr 2009; 102: 1408–1413.

Howe JC, Rumpler WV, Behall KM . Dietary starch composition and level of energy intake alter nutrient oxidation in "carbohydrate-sensitive" men. J Nutr 1996; 126: 2120–2129.

DiMeglio DP, Mattes RD . Liquid versus solid carbohydrate: effects on food intake and body weight. Int J Obes Relat Metab Disord 2000; 24: 794–800.

Wang J, Light K, Henderson M, O'Loughlin J, Mathieu M-E, Paradis G et al. Consumption of added sugars from liquid but not solid sources predicts impaired glucose homeostasis and insulin resistance among youth at risk of obesity. J Nutr 2014; 144: 81–86.

Kahlhöfer J, Lagerpusch M, Enderle J, Eggeling B, Braun W, Pape D et al. Carbohydrate intake and glycemic index affect substrate oxidation during a controlled weight cycle in healthy men. Eur J Clin Nutr 2014; 68: 1060–1066.

Clapp JF, Lopez B . Low-versus high-glycemic index diets in women: effects on caloric requirement, substrate utilization and insulin sensitivity. Metab Syndr Relat Disord 2007; 5: 231–242.

Krogh-Madsen R, Thyfault JP, Broholm C, Mortensen OH, Olsen RH, Mounier R et al. A 2-wk reduction of ambulatory activity attenuates peripheral insulin sensitivity. J Appl Physiol 2010; 108: 1034–1040.

Bergouignan A, Momken I, Lefai E, Antoun E, Schoeller DA, Platat C et al. Activity energy expenditure is a major determinant of dietary fat oxidation and trafficking, but the deleterious effect of detraining is more marked than the beneficial effect of training at current recommendations. Am J Clin Nutr 2013; 98: 648–658.

Atkinson FS, Foster-Powell K, Brand-Miller JC . International tables of glycemic index and glycemic load values: 2008. Diabetes Care 2008; 31: 2281–2283.

Lina BAR, Jonker D, Kozianowski G . Isomaltulose (Palatinose): a review of biological and toxicological studies. Food Chem Toxicol 2002; 40: 1375–1381.

Hill JO, Peters JC, Reed GW, Schlundt DG, Sharp T, Greene HL . Nutrient balance in humans: effects of diet composition. Am J Clin Nutr 1991; 54: 10–17.

Carbohydrates in human nutrition. Report of a Joint FAO/WHO Expert Consultation. FAO Food Nutr Pap 1998; 66: 1–140.

Matthews DR, Hosker JP, Rudenski AS, Naylor BA, Treacher DF, Turner RC . Homeostasis model assessment: insulin resistance and beta-cell function from fasting plasma glucose and insulin concentrations in man. Diabetologia 1985; 28: 412–419.

Matsuda M, DeFronzo RA . Insulin sensitivity indices obtained from oral glucose tolerance testing: comparison with the euglycemic insulin clamp. Diabetes Care 1999; 22: 1462–1470.

Jéquier E, Acheson K, Schutz Y . Assessment of energy expenditure and fuel utilization in man. Annu Rev Nutr 1987; 7: 187–208.

Achten J, Jentjens RL, Brouns F, Jeukendrup AE . Exogenous oxidation of isomaltulose is lower than that of sucrose during exercise in men. J Nutr 2007; 137: 1143–1148.

Lan-Pidhainy X, Wolever TMS . Are the glycemic and insulinemic index values of carbohydrate foods similar in healthy control, hyperinsulinemic and type 2 diabetic patients? Eur J Clin Nutr 2011; 65: 727–734.

Shanik MH, Xu Y, Skrha J, Dankner R, Zick Y, Roth J . Insulin resistance and hyperinsulinemia: is hyperinsulinemia the cart or the horse? Diabetes Care 2008; 31: S262–S268.

Mikus CR, Oberlin DJ, Libla JL, Taylor AM, Booth FW, Thyfault JP . Lowering physical activity impairs glycemic control in healthy volunteers. Med Sci Sports Exerc 2012; 44: 225–231.

Augustin LSA, Kendall CWC, Jenkins DJA, Willett WC, Astrup A, Barclay AW et al. Glycemic index, glycemic load and glycemic response: an International Scientific Consensus Summit from the International Carbohydrate Quality Consortium (ICQC). Nutr Metab Cardiovasc Dis 2015; 25: 795–815.

Aston LM . Glycaemic index and metabolic disease risk. Proc Nutr Soc 2006; 65: 125–134.

Larsen TM, Dalskov S-M, van Baak M, Jebb SA, Papadaki A, Pfeiffer AFH et al. Diets with high or low protein content and glycemic index for weight-loss maintenance. N Engl J Med 2010; 363: 2102–2113.

Goss AM, Goree LL, Ellis AC, Chandler-Laney PC, Casazza K, Lockhart ME et al. Effects of diet macronutrient composition on body composition and fat distribution during weight maintenance and weight loss. Obesity (Silver Spring) 2013; 21: 1139–1142.

Gower BA, Hunter GR, Chandler-Laney PC, Alvarez JA, Bush NC . Glucose metabolism and diet predict changes in adiposity and fat distribution in weight-reduced women. Obesity (Silver Spring) 2010; 18: 1532–1537.

Ludwig DS, Majzoub JA, Al-Zahrani A, Dallal GE, Blanco I, Roberts SB . High glycemic index foods, overeating, and obesity. Pediatrics 1999; 103: E26.

Hall KD, Bemis T, Brychta R, Chen KY, Courville A, Crayner EJ et al. Calorie for calorie, dietary fat restriction results in more body fat loss than carbohydrate restriction in people with obesity. Cell Metab 2015; 22: 427–436.

Sparti A, Milon H, Di Vetta V, Schneiter P, Tappy L, Jéquier E et al. Effect of diets high or low in unavailable and slowly digestible carbohydrates on the pattern of 24-h substrate oxidation and feelings of hunger in humans. Am J Clin Nutr 2000; 72: 1461–1468.

Van Can JGP, van Loon LJC, Brouns F, Blaak EE . Reduced glycaemic and insulinaemic responses following trehalose and isomaltulose ingestion: implications for postprandial substrate use in impaired glucose-tolerant subjects. Br J Nutr 2012; 108: 1210–1217.

Díaz EO, Galgani JE, Aguirre CA . Glycaemic index effects on fuel partitioning in humans. Obes Rev 2006; 7: 219–226.

Galgani JE, Mizgier ML, Mari A, Ravussin E . Relationship between whole-body macronutrient oxidative partitioning and pancreatic insulin secretion/β-cell function in non-diabetic humans. Metabolism 2014; 63: 1426–1431.

Malin SK, Haus JM, Solomon TPJ, Blaszczak A, Kashyap SR, Kirwan JP . Insulin sensitivity and metabolic flexibility following exercise training among different obese insulin-resistant phenotypes. Am J Physiol Endocrinol Metab 2013; 305: E1292–E1298.

Sial S, Coggan AR, Hickner RC, Klein S . Training-induced alterations in fat and carbohydrate metabolism during exercise in elderly subjects. Am J Physiol 1998; 274: E785–E790.

Smith SR, de Jonge L, Zachwieja JJ, Roy H, Nguyen T, Rood J et al. Concurrent physical activity increases fat oxidation during the shift to a high-fat diet. Am J Clin Nutr 2000; 72: 131–138.

Bergouignan A, Antoun E, Momken I, Schoeller DA, Gauquelin-Koch G, Simon C et al. Effect of contrasted levels of habitual physical activity on metabolic flexibility. J Appl Physiol 2013; 114: 371–379.
Acknowledgements
This study was funded by budgetary resources of the University Hohenheim. Isomaltulose (Palatinose) was kindly provided by Beneo GmbH (Mannheim, Germany) free of charge.
Author contributions
AB-W, JKh and JKr designed the research; JKh, JKr, HS-B and NB performed the research; JKh, JKr and A-BW analyzed the data; AB-W and JKh discussion of data; JKh and A-BW wrote the paper; JKh and AB-W had primary responsibility for final content. All authors read and approved the final manuscript.
Ethics declarations
Competing interests
The authors declare no conflict of interest.
About this article
Cite this article
Kahlhöfer, J., Karschin, J., Silberhorn-Bühler, H. et al. Effect of low-glycemic-sugar-sweetened beverages on glucose metabolism and macronutrient oxidation in healthy men. Int J Obes 40, 990–997 (2016). https://doi.org/10.1038/ijo.2016.25
Received:

Revised:

Accepted:

Published:

Issue Date:

DOI: https://doi.org/10.1038/ijo.2016.25