Abstract
Aim:
This review aims to determine if acute exercise affects subsequent energy and macronutrients intake in obese and non-obese children and adolescents.
Methods:
Databases were searched between January 2015 and December 2015 for studies reporting energy and/or macronutrients intake immediately after an acute exercise and control condition, in children and adolescents. From the initial 118 references found, 14 were included for subsequent analysis after screening representing 31 acute exercise conditions that varied in intensity, duration and modality.
Results:
One study found increased energy intake after exercise, seven decreased and 23 revealed no change. The meta-analysis revealed a significant effect of acute exercise on intake in obese but not in lean youth by a mean difference of −0.430 (95% confidence interval=−0.703 to −0.157, P=0.002) displaying low heterogeneity (I2=0.000; Q=5.875; df=9, P=0.752). The analysis showed that intense exercise only reduces intake in obese children (no intensity effect in lean). Unchanged macronutrients intake was reported in nine studies as opposed to three which found modified lipids, protein and/or carbohydrate intake.
Conclusion:
Although acute exercise does not affect energy intake in lean, it appears to reduced food intake in obese youth when intense, without altering the macronutrients composition of the meal.
Relevant articles
Open Access articles citing this article.
Valérie Julian

,

Ferdinand Haschke

…

David Thivel

Current Obesity Reports Open Access 12 January 2022

S. Nicole Fearnbach

,

Travis D. Masterson

…

Kathleen L. Keller

Nutrition Journal Open Access 21 October 2016
Access options
Subscribe to Journal
Get full journal access for 1 year
$119.00
only $9.92 per issue
All prices are NET prices.
VAT will be added later in the checkout.
Tax calculation will be finalised during checkout.
Buy article
Get time limited or full article access on ReadCube.
$32.00
All prices are NET prices.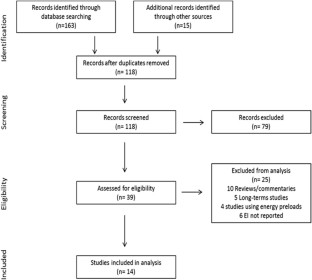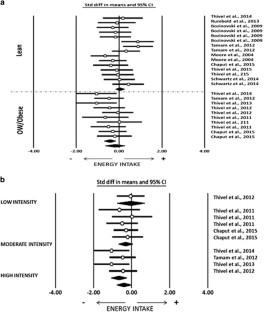 References
Mayer J, Roy P, Mitra KP . Relation between caloric intake, body weight, and physical work: studies in an industrial male population in West Bengal. Am J Clin Nutr 1956; 4: 169–175.

Blundell JE, King NA . Physical activity and regulation of food intake: current evidence. Med Sci Sports Exerc 1999; 31: S573–S583.

Blundell JE, Gibbons C, Caudwell P, Finlayson G, Hopkins M . Appetite control and energy balance: impact of exercise. Obes Rev 2015; 16: 67–76.

Bilski J, Teleglow A, Zahradnik-Bilska J, Dembinski A, Warzecha Z . Effects of exercise on appetite and food intake regulation. Med Sport 2009; 13: 82–94.

Schubert MM, Desbrow B, Sabapathy S, Leveritt M . Acute exercise and subsequent energy intake. A meta-analysis. Appetite 2013; 63: 92–104.

Donnelly JE, Herrmann SD, Lambourne K, Szabo AN, Honas JJ, Washburn RA . Does increased exercise or physical activity alter ad-libitum daily energy intake or macronutrient composition in healthy adults? A systematic review. PLoS One 2014; 9: e83498.

Moore MS, Dodd CJ, Welsman JR, Armstrong N . Short-term appetite and energy intake following imposed exercise in 9- to 10-year-old girls. Appetite 2004; 43: 127–134.

Nemet D, Arieli R, Meckel Y, Eliakim A . Immediate post-exercise energy intake and macronutrient preferences in normal weight and overweight pre-pubertal children. Int J Pediatr Obes 2010; 5: 221–229.

Thivel D, Metz L, Julien A, Morio B, Duche P . Obese but not lean adolescents spontaneously decrease energy intake after intensive exercise. Physiol Behav 2014; 123: 41–46.

Thivel D, Blundell JE, Duche P, Morio B . Acute exercise and subsequent nutritional adaptations: what about obese youths? Sports Med 2012; 42: 607–613.

Thivel D, Aucouturier J, Doucet E, Saunders TJ, Chaput JP . Daily energy balance in children and adolescents. Does energy expenditure predict subsequent energy intake? Appetite 2013; 60: 58–64.

Liberati A, Altman DG, Tetzlaff J, Mulrow C, Gotzsche PC, Ioannidis JP et al. The PRISMA statement for reporting systematic reviews and meta-analyses of studies that evaluate health care interventions: explanation and elaboration. J Clin Epidemiol 2009; 62: e1–e34.

Higgins JP, Green SM, Coollaboration C . Cochrane handbook for systematic reviews of interventions. Cochrane Training. Wiley Online Library 2008.

Conger SA, Warren GL, Hardy MA, Millard-Stafford ML . Does caffeine added to carbohydrate provide additional ergogenic benefit for endurance? Int J Sport Nutr Exerc Metab 2011; 21: 71–84.

Cohen J . A power primer. Psychol Bull 1992; 112: 155–159.

Higgins JP, Thompson SG, Deeks JJ, Altman DG . Measuring inconsistency in meta-analyses. BMJ 2003; 327: 557–560.

Huedo-Medina TB, Sanchez-Meca J, Marin-Martinez F, Botella J . Assessing heterogeneity in meta-analysis: Q statistic or I2 index? Psychol Methods 2006; 11: 193–206.

Warren GL, Park ND, Maresca RD, McKibans KI, Millard-Stafford ML . Effect of caffeine ingestion on muscular strength and endurance: a meta-analysis. Med Sci Sports Exerc 2010; 42: 1375–1387.

Duval S, Tweedie R . Trim and fill: a simple funnel-plot-based method of testing and adjusting for publication bias in meta-analysis. Biometrics 2000; 56: 455–463.

Bozinovski NC, Bellissimo N, Thomas SG, Pencharz PB, Goode RC, Anderson GH . The effect of duration of exercise at the ventilation threshold on subjective appetite and short-term food intake in 9 to 14 year old boys and girls. Int J Behav Nutr Phys Act 2009; 6: 66.

Rumbold PL, St Clair Gibson A, Stevenson EJ, King JA, Stensel DJ, Dodd-Reynolds CJ . Influence of netball-based exercise on energy intake, subjective appetite and plasma acylated ghrelin in adolescent girls. Appl Physiol Nutr Metab 2013; 38: 854–861.

Schwartz C . Effect of acute exercise on energy intaek in lean adolescent boys. Master thesis, Clermont Auvergne University: Clermont-Ferrand, France, 2014.

Thivel D, Maso F, Aouiche S, Coignet B, Dore E, Duche P . Nutritional responses to acute training sessions in young elite rugby players. Appetite 2015; 84: 316–321.

Thivel D, Isacco L, Rousset S, Boirie Y, Morio B, Duché P . Intensive exercise: a remedy for childhood obesity? Physiol Behav 2011; 102: 132–136.

Thivel D, Isacco L, Taillardat M, Rousset S, Boirie Y, Morio B et al. Gender effect on exercise-induced energy intake modification among obese adolescents. Appetite 2011; 56: 658–661.

Thivel D, Isacco L, Montaurier C, Boirie Y, Duche P, Morio B . The 24-h energy intake of obese adolescents is spontaneously reduced after intensive exercise: a randomized controlled trial in calorimetric chambers. PLoS One 2012; 7: e29840.

Thivel D, Metz L, Aucouturier J, Brakoniecki K, Morio B, Duché P . Intensive exercise and physical inactivity have opposite effects on daily energy intake and energy balance in obese adolescents. Obesity Facts 2012; 5: 273.

Chaput JP, Schwartz C, Boirie Y, Duclos M, Tremblay A, Thivel D . Energy intake adaptations to acute isoenergetic active video games and exercise are similar in obese adolescents. Eur J Clin Nutr 2015; 69: 1267–1271.

Tamam S, Bellissimo N, Patel BP, Thomas SG, Anderson GH . Overweight and obese boys reduce food intake in response to a glucose drink but fail to increase intake in response to exercise of short duration. Appl Physiol Nutr Metab 2012; 37: 520–529.

Chaput JP, Tremblay A, Pereira B, Boirie Y, Duclos M, Thivel D . Food intake response to exercise and active video gaming in adolescents: effect of weight status. Br J Nutr 2015; 115: 547–553.

Thivel D, Metz L, Aucouturier J, Brakoniecki K, Duche P, Morio B . The effects of imposed sedentary behavior and exercise on energy intake in adolescents with obesity. J Dev Behav Pediatr 2013; 34: 616–622.

Albert MH, Drapeau V, Mathieu ME . Timing of moderate-to-vigorous exercise and its impact on subsequent energy intake in young males. Physiol Behav 2015; 151: 557–562.

Ueda SY, Yoshikawa T, Katsura Y, Usui T, Fujimoto S . Comparable effects of moderate intensity exercise on changes in anorectic gut hormone levels and energy intake to high intensity exercise. J Endocrinol 2009; 203: 357–364.

Ueda SY, Yoshikawa T, Katsura Y, Usui T, Nakao H, Fujimoto S . Changes in gut hormone levels and negative energy balance during aerobic exercise in obese young males. J Endocrinol 2009; 201: 151–159.

Prado WL, Balagopal PB, Lofrano-Prado MC, Oyama LM, Tenorio TR, Botero JP et al. Effect of aerobic exercise on hunger feelings and satiety regulating hormones in obese teenage girls. Pediatr Exerc Sci 2015; 26: 463–469.

Schwartz C, Thivel D . PYY3-36 and hunger responses to exercise in obese adolescent girls: which effects on effective energy intake? Pediatr Exerc Sci 2015; 27: 175–176.

Fearnbach SN, English LK, Lasschuijt M, Wilson SJ, Savage JS, Fisher JO et al. Brain response to images of food varying in energy density is associated with body composition in 7- to 10-year-old children: results of an exploratory study. Physiol Behav 2016; 162: 3–9.

Hofmann J, Ardelt-Gattinger E, Paulmichl K, Weghuber D, Blechert J . Dietary restraint and impulsivity modulate neural responses to food in adolescents with obesity and healthy adolescents. Obesity (Silver Spring) 2015; 23: 2183–2189.

Fearnbach SN, Silvert L, Keller KL, Genin PM, Morio B, Pereira B et al. Reduced neural response to food cues following exercise is accompanied by decreased energy intake in obese adolescents. Int J Obes (Lond) 2016; 40: 77–83.

Thivel D, Duché P, Morio B . Energy intake and appetite response to acute short duration exercise in obese youths. Appl Physiol Nutr Metab 2012; 37: 1014–1015.

Hopkins M, Blundell JE, King NA . Individual variability in compensatory eating following acute exercise in overweight and obese women. Br J Sports Med 2014; 48: 1472–1476.

Thivel D, Chaput JP, Adamo KB, Goldfield GS . Is energy intake altered by a 10-week aerobic exercise intervention in obese adolescents? Physiol Behav 2014; 135: 130–134.

Cole TJ, Bellizzi MC, Flegal KM, Dietz WH . Establishing a standard definition for child overweight and obesity worldwide: international survey. BMJ 2000; 320: 1240–1243.

Kuczmarski RJ, Ogden CL, Guo SS, Grummer-Strawn LM, Flegal KM, Mei Z et al. CDC Growth Charts for the United States: methods and development. Vital Health Stat 11 2000; 246: 1–190.

Barlow SE, Dietz WH . Obesity evaluation and treatment: Expert Committee recommendations. The Maternal and Child Health Bureau, Health Resources and Services Administration and the Department of Health and Human Services. Pediatrics 1998; 102: 1–11.

Ogden CL, Kuczmarski RJ, Flegal KM, Mei Z, Guo S, Wei R et al. Centers for Disease Control and Prevention 2000 growth charts for the United States: improvements to the 1977 National Center for Health Statistics version. Pediatrics 2002; 109: 45–60.
Acknowledgements
TD as the first author initiated the paper and wrote the first version of the manuscript. PB and TD were in charge of the statistical analysis. TD, RPL, MME, KNA and BJE led the writing process and helped in the redaction of the paper.
Ethics declarations
Competing interests
The authors declare no conflict of interest.
About this article
Cite this article
Thivel, D., Rumbold, P., King, N. et al. Acute post-exercise energy and macronutrient intake in lean and obese youth: a systematic review and meta-analysis. Int J Obes 40, 1469–1479 (2016). https://doi.org/10.1038/ijo.2016.122
Received:

Revised:

Accepted:

Published:

Issue Date:

DOI: https://doi.org/10.1038/ijo.2016.122
Further reading
Valérie Julian
Ferdinand Haschke
David Thivel

Current Obesity Reports (2022)

D. Thivel
L. Metz
J. A. King

European Journal of Clinical Nutrition (2021)

S. Nicole Fearnbach
Travis D. Masterson
Kathleen L. Keller

Nutrition Journal (2016)