Abstract
Background/objectives:
Telomere shortening has an important role in cellular aging. However, the impact of high sodium intake, an important risk factor of age-related diseases, on telomere shortening remains unknown. Therefore, we examined the relationship between high dietary sodium intake and leukocyte telomere length (LTL), particularly in the context of obesity, as obesity increases salt sensitivity.
Subjects/methods:
LTL was determined by a quantitative polymerase chain reaction method in 766 adolescents aged 14–18 years (50% females, 49% African Americans). Dietary sodium intake was assessed by seven independent 24-h dietary recalls. We divided the sample into low sodium (mean 2388±522 mg per day) or high sodium groups (mean 4142±882 mg per day) based on the median value (3280.9 mg per day).
Results:
In the entire cohort, there was no significant association between sodium intake and LTL (r=−0.05, P=0.24). However, there was a significant interaction between sodium intake and obesity status (P=0.049). Further multiple linear regression analyses revealed that higher dietary sodium intake was associated with shorter LTL in the overweight/obese group (body mass index ⩾85th percentile, β=−0.37, P=0.04), but not in the normal-weight group (β=0.01, P=0.93) after adjusting for multiple confounding factors. In the overweight/obese group, LTL was significantly shorter in the high sodium intake subjects vs low sodium intake subjects (1.24±0.22 vs. 1.32±0.20, P=0.02), but not the normal-weight group (1.29±0.24 vs 1.30±0.24, P=0.69).
Conclusions:
Higher dietary sodium intake is associated with shorter telomere length in overweight and obese adolescents.
Access options
Subscribe to this journal
Receive 12 print issues and online access
$259.00 per year
only $21.58 per issue
Rent or buy this article
Prices vary by article type
from$1.95
to$39.95
Prices may be subject to local taxes which are calculated during checkout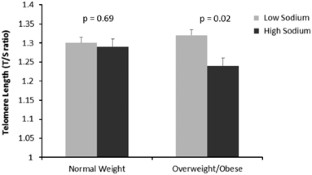 Similar content being viewed by others
References
Zhu H, Belcher M, van der Harst P . Healthy aging and disease: role for telomere biology? Clin Sci 2011; 120: 427–440.

Shalev I . Early life stress and telomere length: investigating the connection and possible mechanisms: a critical survey of the evidence base, research methodology and basic biology. Bioessays 2012; 34: 943–952.

Rufer N, Brummendorf TH, Kolvraa S, Bischoff C, Christensen K, Wadsworth L et al. Telomere fluorescence measurements in granulocytes and T lymphocyte subsets point to a high turnover of hematopoietic stem cells and memory T cells in early childhood. J Exp Med 1999; 190: 157–167.

Zeichner SL, Palumbo P, Feng Y, Xiao X, Gee D, Sleasman J et al. Rapid telomere shortening in children. Blood 1999; 93: 2824–2830.

Eisenberg DT . An evolutionary review of human telomere biology: the thrifty telomere hypothesis and notes on potential adaptive paternal effects. Am J Hum Biol 2011; 23: 149–167.

Shalev I, Moffitt TE, Sugden K, Williams B, Houts R, Danese A et al. Exposure to violence during childhood is associated with telomere erosion from 5 to 10 years of age: a longitudinal study. Mol Psychiatry 2013; 18: 576–581.

Puterman E, Lin J, Blackburn E, O'Donovan A, Adler N, Epel E . The power of exercise: buffering the effect of chronic stress on telomere length. PLoS One 2010; 5: e10837.

Diaz VA, Mainous AG 3rd, Everett CJ, Schoepf UJ, Codd V, Samani NJ . Effect of healthy lifestyle behaviors on the association between leukocyte telomere length and coronary artery calcium. Am J Cardiol 2010; 106: 659–663.

Boccardi V, Esposito A, Rizzo MR, Marfella R, Barbieri M, Paolisso G . Mediterranean diet, telomere maintenance and health status among elderly. PLoS One 2013; 8: e62781.

Garcia-Calzon S, Gea A, Razquin C, Corella D, Lamuela-Raventos RM, Martinez JA et al. Longitudinal association of telomere length and obesity indices in an intervention study with a Mediterranean diet: the PREDIMED-NAVARRA trial. Int J Obes (Lond) 2014; 38: 177–182.

Daubenmier J, Lin J, Blackburn E, Hecht FM, Kristeller J, Maninger N et al. Changes in stress, eating, and metabolic factors are related to changes in telomerase activity in a randomized mindfulness intervention pilot study. Psychoneuroendocrinology 2012; 37: 917–928.

Iskander K, Farhour R, Ficek M, Ray A . Obesity-related complications: few biochemical phenomena with reference to tumorigenesis. Malays J Pathol 2013; 35: 1–15.

Gukovsky I, Li N, Todoric J, Gukovskaya A, Karin M . Inflammation, autophagy, and obesity: common features in the pathogenesis of pancreatitis and pancreatic cancer. Gastroenterology 2013; 144: 1199–1209 e4.

Ginter E, Simko V . Type 2 diabetes mellitus, pandemic in 21st century. Adv Exp Med Biol 2012; 771: 42–50.

Pi-Sunyer X . The medical risks of obesity. Postgrad Med 2009; 121: 21–33.

Yang Q, Zhang Z, Kuklina EV, Fang J, Ayala C, Hong Y et al. Sodium intake and blood pressure among US children and adolescents. Pediatrics 2012; 130: 611–619.

Hanevold CD . Sodium intake and blood pressure in children. Curr Hypertens Rep 2013; 15: 417–425.

D'Elia L, Rossi G, Ippolito R, Cappuccio FP, Strazzullo P . Habitual salt intake and risk of gastric cancer: a meta-analysis of prospective studies. Clin Nutr 2012; 31: 489–498.

Strazzullo P, D'Elia L, Kandala NB, Cappuccio FP . Salt intake, stroke, and cardiovascular disease: meta-analysis of prospective studies. BMJ 2009; 339: b4567.

He FJ, Burnier M, Macgregor GA . Nutrition in cardiovascular disease: salt in hypertension and heart failure. Eur Heart J 2011; 32: 3073–3080.

Muezzinler A, Zaineddin AK, Brenner H . Body mass index and leukocyte telomere length in adults: a systematic review and meta-analysis. Obesity Rev 2014; 15: 192–201.

Dmitrieva NI, Burg MB . High NaCl promotes cellular senescence. Cell Cycle 2007; 6: 3108–3113.

Kleinewietfeld M, Manzel A, Titze J, Kvakan H, Yosef N, Linker RA et al. Sodium chloride drives autoimmune disease by the induction of pathogenic TH17 cells. Nature 2013; 496: 518–522.

Wu C, Yosef N, Thalhamer T, Zhu C, Xiao S, Kishi Y et al. Induction of pathogenic TH17 cells by inducible salt-sensing kinase SGK1. Nature 2013; 496: 513–517.

Zhang Z, Dmitrieva NI, Park JH, Levine RL, Burg MB . High urea and NaCl carbonylate proteins in renal cells in culture and in vivo, and high urea causes 8-oxoguanine lesions in their DNA. Proc Natl Acad Sci USA 2004; 101: 9491–9496.

Zhu H, Pollock NK, Kotak I, Gutin B, Wang X, Bhagatwala J et al. Dietary sodium, adiposity, and inflammation in healthy adolescents. Pediatrics 2014; 133: e635–e642.

Gutin B, Yin Z, Humphries MC, Barbeau P . Relations of moderate and vigorous physical activity to fitness and fatness in adolescents. Am J Clin Nutr 2005; 81: 746–750.

Kuczmarski RJ, Ogden CL, Guo SS, Grummer-Strawn LM, Flegal KM, Mei Z et al. 2000 CDC Growth Charts for the United States: methods and development. Vital Health Stat 11 2002; 1–190.

Tanner J . Growth and adolescence, 2nd edn, Blackwell Scientific Publications: Oxford, UK, 1962.

Cirino PT, Chin CE, Sevcik RA, Wolf M, Lovett M, Morris RD . Measuring socioeconomic status: reliability and preliminary validity for different approaches. Assessment 2002; 9: 145–155.

Cawthon RM . Telomere measurement by quantitative PCR. Nucleic Acids Res 2002; 30: e47.

Zhu H, Wang X, Gutin B, Davis CL, Keeton D, Thomas J et al. Leukocyte telomere length in healthy Caucasian and African-American adolescents: relationships with race, sex, adiposity, adipokines, and physical activity. J Pediatr 2011; 158: 215–220.

Nettleton JA, Diez-Roux A, Jenny NS, Fitzpatrick AL, Jacobs DR Jr . Dietary patterns, food groups, and telomere length in the Multi-Ethnic Study of Atherosclerosis (MESA). Am J Clin Nutr 2008; 88: 1405–1412.

Rodrigues Telini LS, de Carvalho Beduschi G, Caramori JC, Castro JH, Martin LC, Barretti P . Effect of dietary sodium restriction on body water, blood pressure, and inflammation in hemodialysis patients: a prospective randomized controlled study. Int Urol Nephrol 2014; 46: 91–97.

Liu F, Mu J, Yuan Z, Wu G, Liu E, Zheng S et al. High salt intake fails to enhance plasma adiponectin in normotensive salt-sensitive subjects. Nutrition 2012; 28: 422–425.

Makpol S, Abidin AZ, Sairin K, Mazlan M, Top GM, Ngah WZ . gamma-Tocotrienol prevents oxidative stress-induced telomere shortening in human fibroblasts derived from different aged individuals. Oxid Med Cell Longev 2010; 3: 35–43.

Scalera F, Closs EI, Flick E, Martens-Lobenhoffer J, Boissel JP, Lendeckel U et al. Paradoxical effect of L-arginine: acceleration of endothelial cell senescence. Biochem Biophys Res Commun 2009; 386: 650–655.

Dixit D, Sharma V, Ghosh S, Koul N, Mishra PK, Sen E . Manumycin inhibits STAT3, telomerase activity, and growth of glioma cells by elevating intracellular reactive oxygen species generation. Free Radic Biol Med 2009; 47: 364–374.

Zannolli R, Mohn A, Buoni S, Pietrobelli A, Messina M, Chiarelli F et al. Telomere length and obesity. Acta Paediatr 2008; 97: 952–954.

Al-Attas OS, Al-Daghri N, Bamakhramah A, Shaun Sabico S, McTernan P, Huang TT . Telomere length in relation to insulin resistance, inflammation and obesity among Arab youth. Acta Paediatr 2010; 99: 896–899.

Buxton JL, Walters RG, Visvikis-Siest S, Meyre D, Froguel P, Blakemore AI . Childhood obesity is associated with shorter leukocyte telomere length. J Clin Endocrinol Metab 2011; 96: 1500–1505.

Strazzullo P, Barba G, Cappuccio FP, Siani A, Trevisan M, Farinaro E et al. Altered renal sodium handling in men with abdominal adiposity: a link to hypertension. J Hypertens 2001; 19: 2157–2164.

Rocchini AP, Key J, Bondie D, Chico R, Moorehead C, Katch V et al. The effect of weight loss on the sensitivity of blood pressure to sodium in obese adolescents. N Engl J Med 1989; 321: 580–585.

Weinberger MH, Miller JZ, Luft FC, Grim CE, Fineberg NS . Definitions and characteristics of sodium sensitivity and blood pressure resistance. Hypertension 1986; 8: II127–II134.

Luft FC, Weinberger MH . Heterogeneous responses to changes in dietary salt intake: the salt-sensitivity paradigm. Am J Clin Nutr 1997; 65: 612S–617S.

Cogswell ME, Zhang Z, Carriquiry AL, Gunn JP, Kuklina EV, Saydah SH et al. Sodium and potassium intakes among US adults: NHANES 2003-2008. Am J Clin Nutr 2012; 96: 647–657.

Song HJ, Cho YG, Lee HJ . Dietary sodium intake and prevalence of overweight in adults. Metabolism 2013; 62: 703–708.

Yoon YS, Oh SW . Sodium density and obesity; the Korea National Health and Nutrition Examination Survey 2007-2010. Eur J Clin Nutr 2013; 67: 141–146.

Butler MG, Tilburt J, DeVries A, Muralidhar B, Aue G, Hedges L et al. Comparison of chromosome telomere integrity in multiple tissues from subjects at different ages. Cancer Genet Cytogenet 1998; 105: 138–144.

Lukens JN, Van Deerlin V, Clark CM, Xie SX, Johnson FB . Comparisons of telomere lengths in peripheral blood and cerebellum in Alzheimer's disease. Alzheimers Dement 2009; 5: 463–469.

Espeland MA, Kumanyika S, Wilson AC, Reboussin DM, Easter L, Self M et al. Statistical issues in analyzing 24-hour dietary recall and 24-hour urine collection data for sodium and potassium intakes. Am J Epidemiol 2001; 153: 996–1006.

Reinivuo H, Valsta LM, Laatikainen T, Tuomilehto J, Pietinen P . Sodium in the Finnish diet: II trends in dietary sodium intake and comparison between intake and 24-h excretion of sodium. Eur J Clin Nutr 2006; 60: 1160–1167.
Acknowledgements
We thank all of the schools, adolescents and parents who participated in the study funded by National Institute of Health (HL064157).
Ethics declarations
Competing interests
The authors declare no conflict of interest.
About this article
Cite this article
Zhu, H., Bhagatwala, J., Pollock, N. et al. High sodium intake is associated with short leukocyte telomere length in overweight and obese adolescents. Int J Obes 39, 1249–1253 (2015). https://doi.org/10.1038/ijo.2015.51
Received:

Revised:

Accepted:

Published:

Issue Date:

DOI: https://doi.org/10.1038/ijo.2015.51
This article is cited by
Li Chen
Haidong Zhu
Yanbin Dong

Pediatric Research (2020)

Yutong Dong
Ying Huang
Haidong Zhu

Scientific Reports (2017)

Hilary J. Bethancourt
Mario Kratz
Daniel T. A. Eisenberg

European Journal of Nutrition (2017)