Abstract
Within the past 15 years, the endocannabinoid system (ECS) has emerged as a lipid signaling system critically involved in the regulation of energy balance, as it exerts a regulatory control on every aspect related to the search, the intake, the metabolism and the storage of calories. An overactive endocannabinoid cannabinoid type 1 (CB1) receptor signaling promotes the development of obesity, insulin resistance and dyslipidemia, representing a valuable pharmacotherapeutic target for obesity and metabolic disorders. However, because of the psychiatric side effects, the first generation of brain-penetrant CB1 receptor blockers developed as antiobesity treatment were removed from the European market in late 2008. Since then, recent studies have identified new mechanisms of action of the ECS in energy balance and metabolism, as well as novel ways of targeting the system that may be efficacious for the treatment of obesity and metabolic disorders. These aspects will be especially highlighted in this review.
Relevant articles
Open Access articles citing this article.
Jonathan Gorelick

,

Tal Assa-Glazer

…

Zecharia Madar

Journal of Cannabis Research Open Access 30 May 2022

Cristina Miralpeix

,

Ana Cristina Reguera

…

Rosalía Rodríguez-Rodríguez

Cellular and Molecular Life Sciences Open Access 31 October 2021

Ismael Rodríguez-Rodríguez

,

Joanna Kalafut

…

Adolfo Rivero-Müller

Scientific Reports Open Access 23 October 2020
Access options
Subscribe to Journal
Get full journal access for 1 year
$119.00
only $9.92 per issue
All prices are NET prices.
VAT will be added later in the checkout.
Tax calculation will be finalised during checkout.
Buy article
Get time limited or full article access on ReadCube.
$32.00
All prices are NET prices.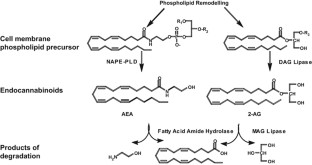 References
Quarta C, Mazza R, Obici S, Pasquali R, Pagotto U . Energy balance regulation by endocannabinoids at central and peripheral levels. Trends Mol Med 2011; 17: 518–526.

Bermudez-Silva FJ, Cardinal P, Cota D . The role of the endocannabinoid system in the neuroendocrine regulation of energy balance. J Psychopharmacol 2012; 26: 114–124.

DiPatrizio NV, Piomelli D . The thrifty lipids: endocannabinoids and the neural control of energy conservation. Trends Neurosci 2012; 35: 403–411.

Silvestri C, Di Marzo V . The endocannabinoid system in energy homeostasis and the etiopathology of metabolic disorders. Cell Metab 2013; 17: 475–490.

Di Marzo V . The endocannabinoid system: its general strategy of action, tools for its pharmacological manipulation and potential therapeutic exploitation. Pharmacol Res 2009; 60: 77–84.

Katona I, Freund TF . Endocannabinoid signaling as a synaptic circuit breaker in neurological disease. Nat Med 2008; 14: 923–930.

Pertwee RG, Howlett AC, Abood ME, Alexander SP, Di Marzo V, Elphick MR et al. International Union of Basic and Clinical Pharmacology. LXXIX. Cannabinoid receptors and their ligands: beyond CB1 and CB2. Pharmacol Rev 2010; 62: 588–631.

Pagotto U, Marsicano G, Cota D, Lutz B, Pasquali R . The emerging role of the endocannabinoid system in endocrine regulation and energy balance. Endocr Rev 2006; 27: 73–100.

Silvestri C, Di Marzo V . Second generation CB1 receptor blockers and other inhibitors of peripheral endocannabinoid overactivity and the rationale of their use against metabolic disorders. Expert Opin Investig Drugs 2012; 21: 1309–1322.

Wilson RI, Nicoll RA . Endogenous cannabinoids mediate retrograde signalling at hippocampal synapses. Nature 2001; 410: 588–592.

Colombo G, Agabio R, Diaz G, Lobina C, Reali R, Gessa GL . Appetite suppression and weight loss after the cannabinoid antagonist SR 141716. Life Sci 1998; 63: PL113–PL117.

Simiand J, Keane M, Keane PE, Soubrie P . SR 141716, a CB1 cannabinoid receptor antagonist, selectively reduces sweet food intake in marmoset. Behav Pharmacol 1998; 9: 179–181.

Williams CM, Kirkham TC . Anandamide induces overeating: mediation by central cannabinoid (CB1) receptors. Psychopharmacology (Berl) 1999; 143: 315–317.

Cota D, Genghini S, Pasquali R, Pagotto U . Antagonizing the cannabinoid receptor type 1: a dual way to fight obesity. J Endocrinol Invest 2003; 26: 1041–1044.

Despres JP, Golay A, Sjostrom L . Effects of rimonabant on metabolic risk factors in overweight patients with dyslipidemia. N Engl J Med 2005; 353: 2121–2134.

Di Marzo V, Despres JP . CB1 antagonists for obesity—what lessons have we learned from rimonabant? Nat Rev Endocrinol 2009; 5: 633–638.

Pi-Sunyer FX, Aronne LJ, Heshmati HM, Devin J, Rosenstock J . Effect of rimonabant, a cannabinoid-1 receptor blocker, on weight and cardiometabolic risk factors in overweight or obese patients: RIO-North America: a randomized controlled trial. JAMA 2006; 295: 761–775.

Van Gaal LF, Rissanen AM, Scheen AJ, Ziegler O, Rossner S . Effects of the cannabinoid-1 receptor blocker rimonabant on weight reduction and cardiovascular risk factors in overweight patients: 1-year experience from the RIO-Europe study. Lancet 2005; 365: 1389–1397.

Cota D, Marsicano G, Tschop M, Grubler Y, Flachskamm C, Schubert M et al. The endogenous cannabinoid system affects energy balance via central orexigenic drive and peripheral lipogenesis. J Clin Invest 2003; 112: 423–431.

Ravinet Trillou C, Delgorge C, Menet C, Arnone M, Soubrie P . CB1 cannabinoid receptor knockout in mice leads to leanness, resistance to diet-induced obesity and enhanced leptin sensitivity. Int J Obes Relat Metab Disord 2004; 28: 640–648.

Morton GJ, Cummings DE, Baskin DG, Barsh GS, Schwartz MW . Central nervous system control of food intake and body weight. Nature 2006; 443: 289–295.

Berridge KC, Ho CY, Richard JM, DiFeliceantonio AG . The tempted brain eats: pleasure and desire circuits in obesity and eating disorders. Brain Res 2010; 1350: 43–64.

Grill HJ, Hayes MR . Hindbrain neurons as an essential hub in the neuroanatomically distributed control of energy balance. Cell Metab 2012; 16: 296–309.

Jamshidi N, Taylor DA . Anandamide administration into the ventromedial hypothalamus stimulates appetite in rats. Br J Pharmacol 2001; 134: 1151–1154.

Kirkham TC, Williams CM, Fezza F, Di Marzo V . Endocannabinoid levels in rat limbic forebrain and hypothalamus in relation to fasting, feeding and satiation: stimulation of eating by 2-arachidonoyl glycerol. Br J Pharmacol 2002; 136: 550–557.

Mahler SV, Smith KS, Berridge KC . Endocannabinoid hedonic hotspot for sensory pleasure: anandamide in nucleus accumbens shell enhances 'liking' of a sweet reward. Neuropsychopharmacology 2007; 32: 2267–2278.

De Luca MA, Solinas M, Bimpisidis Z, Goldberg SR, Di Chiara G . Cannabinoid facilitation of behavioral and biochemical hedonic taste responses. Neuropharmacology 2012; 63: 161–168.

Melis T, Succu S, Sanna F, Boi A, Argiolas A, Melis MR . The cannabinoid antagonist SR 141716A (Rimonabant) reduces the increase of extra-cellular dopamine release in the rat nucleus accumbens induced by a novel high palatable food. Neurosci Lett 2007; 419: 231–235.

Maldonado R, Valverde O, Berrendero F . Involvement of the endocannabinoid system in drug addiction. Trends Neurosci 2006; 29: 225–232.

DiPatrizio NV, Simansky KJ . Activating parabrachial cannabinoid CB1 receptors selectively stimulates feeding of palatable foods in rats. J Neurosci 2008; 28: 9702–9709.

Soria-Gomez E, Bellocchio L, Reguero L, Lepousez G, Martin C, Bendahmane M et al. The endocannabinoid system controls food intake via olfactory processes. Nat Neurosci 2014; 17: 407–415.

Di Marzo V, Goparaju SK, Wang L, Liu J, Batkai S, Jarai Z et al. Leptin-regulated endocannabinoids are involved in maintaining food intake. Nature 2001; 410: 822–825.

Jo YH, Chen YJ, Chua SC Jr, Talmage DA, Role LW . Integration of endocannabinoid and leptin signaling in an appetite-related neural circuit. Neuron 2005; 48: 1055–1066.

Cardinal P, Bellocchio L, Clark S, Cannich A, Klugmann M, Lutz B et al. Hypothalamic CB1 cannabinoid receptors regulate energy balance in mice. Endocrinology 2012; 153: 4136–4143.

Cardinal P, Andre C, Quarta C, Bellocchio L, Clark S, Elie M et al. CB1 cannabinoid receptor in SF1-expressing neurons of the ventromedial hypothalamus determines metabolic responses to diet and leptin. Mol Metab 2014; 3: 705–716.

Cristino L, Busetto G, Imperatore R, Ferrandino I, Palomba L, Silvestri C et al. Obesity-driven synaptic remodeling affects endocannabinoid control of orexinergic neurons. Proc Natl Acad Sci USA 2013; 110: E2229–E2238.

Di S, Malcher-Lopes R, Halmos KC, Tasker JG . Nongenomic glucocorticoid inhibition via endocannabinoid release in the hypothalamus: a fast feedback mechanism. J Neurosci 2003; 23: 4850–4857.

Malcher-Lopes R, Di S, Marcheselli VS, Weng FJ, Stuart CT, Bazan NG et al. Opposing crosstalk between leptin and glucocorticoids rapidly modulates synaptic excitation via endocannabinoid release. J Neurosci 2006; 26: 6643–6650.

O'Hare JD, Zielinski E, Cheng B, Scherer T, Buettner C . Central endocannabinoid signaling regulates hepatic glucose production and systemic lipolysis. Diabetes 2011; 60: 1055–1062.

Tucci SA, Rogers EK, Korbonits M, Kirkham TC . The cannabinoid CB1 receptor antagonist SR141716 blocks the orexigenic effects of intrahypothalamic ghrelin. Br J Pharmacol 2004; 143: 520–523.

Hardie DG, Ross FA, Hawley SA . AMPK: a nutrient and energy sensor that maintains energy homeostasis. Nat Rev Mol Cell Biol 2012; 13: 251–262.

Kola B, Farkas I, Christ-Crain M, Wittmann G, Lolli F, Amin F et al. The orexigenic effect of ghrelin is mediated through central activation of the endogenous cannabinoid system. PLoS One 2008; 3: e1797.

Zbucki RL, Sawicki B, Hryniewicz A, Winnicka MM . Cannabinoids enhance gastric X/A-like cells activity. Folia Histochem Cytobiol 2008; 46: 219–224.

Monteleone P, Piscitelli F, Scognamiglio P, Monteleone AM, Canestrelli B, Di Marzo V et al. Hedonic eating is associated with increased peripheral levels of ghrelin and the endocannabinoid 2-arachidonoyl-glycerol in healthy humans: a pilot study. J Clin Endocrinol Metab 2012; 97: E917–E924.

Bellocchio L, Lafenetre P, Cannich A, Cota D, Puente N, Grandes P et al. Bimodal control of stimulated food intake by the endocannabinoid system. Nat Neurosci 2010; 13: 281–283.

Cardinal P, Bellocchio L, Guzman-Quevedo O, Andre C, Clark S, Elie M et al. Cannabinoid type 1 (CB1) receptors on Sim1-expressing neurons regulate energy expenditure in male mice. Endocrinology 2015; 156: 411–418.

Bellocchio L, Soria-Gomez E, Quarta C, Metna-Laurent M, Cardinal P, Binder E et al. Activation of the sympathetic nervous system mediates hypophagic and anxiety-like effects of CB(1) receptor blockade. Proc Natl Acad Sci USA 2013; 110: 4786–4791.

Di Marzo V . Endocannabinoids: synthesis and degradation. Rev Physiol Biochem Pharmacol 2008; 160: 1–24.

Lafourcade M, Larrieu T, Mato S, Duffaud A, Sepers M, Matias I et al. Nutritional omega-3 deficiency abolishes endocannabinoid-mediated neuronal functions. Nat Neurosci 2011; 14: 345–350.

Benard G, Massa F, Puente N, Lourenco J, Bellocchio L, Soria-Gomez E et al. Mitochondrial CB(1) receptors regulate neuronal energy metabolism. Nat Neurosci 2012; 15: 558–564.

Hebert-Chatelain E, Reguero L, Puente N, Lutz B, Chaouloff F, Rossignol R et al. Cannabinoid control of brain bioenergetics: exploring the subcellular localization of the CB1 receptor. Mol Metab 2014; 3: 495–504.

Han J, Kesner P, Metna-Laurent M, Duan T, Xu L, Georges F et al. Acute cannabinoids impair working memory through astroglial CB1 receptor modulation of hippocampal LTD. Cell 2012; 148: 1039–1050.

Bosier B, Bellocchio L, Metna-Laurent M, Soria-Gomez E, Matias I, Hebert-Chatelain E et al. Astroglial CB1 cannabinoid receptors regulate leptin signaling in mouse brain astrocytes. Mol Metab 2013; 2: 393–404.

Garcia-Caceres C, Fuente-Martin E, Argente J, Chowen JA . Emerging role of glial cells in the control of body weight. Mol Metab 2012; 1: 37–46.

Bajzer M, Olivieri M, Haas MK, Pfluger PT, Magrisso IJ, Foster MT et al. Cannabinoid receptor 1 (CB1) antagonism enhances glucose utilisation and activates brown adipose tissue in diet-induced obese mice. Diabetologia 2011; 54: 3121–3131.

Quarta C, Bellocchio L, Mancini G, Mazza R, Cervino C, Braulke LJ et al. CB(1) signaling in forebrain and sympathetic neurons is a key determinant of endocannabinoid actions on energy balance. Cell Metab 2010; 11: 273–285.

Verty AN, Allen AM, Oldfield BJ . The effects of rimonabant on brown adipose tissue in rat: implications for energy expenditure. Obesity (Silver Spring) 2009; 17: 254–261.

Monge-Roffarello B, Labbe SM, Roy MC, Lemay ML, Coneggo E, Samson P et al. The PVH as a site of CB1-mediated stimulation of thermogenesis by MC4R agonism in male rats. Endocrinology 2014; 155: 3448–3458.

Jung KM, Clapper JR, Fu J, D'Agostino G, Guijarro A, Thongkham D et al. 2-arachidonoylglycerol signaling in forebrain regulates systemic energy metabolism. Cell Metab 2012; 15: 299–310.

Gomez R, Navarro M, Ferrer B, Trigo JM, Bilbao A, Del Arco I et al. A peripheral mechanism for CB1 cannabinoid receptor-dependent modulation of feeding. J Neurosci 2002; 22: 9612–9617.

Yoshida R, Ohkuri T, Jyotaki M, Yasuo T, Horio N, Yasumatsu K et al. Endocannabinoids selectively enhance sweet taste. Proc Natl Acad Sci USA 2010; 107: 935–939.

Matias I, Gatta-Cherifi B, Tabarin A, Clark S, Leste-Lasserre T, Marsicano G et al. Endocannabinoids measurement in human saliva as potential biomarker of obesity. PLoS One 2012; 7: e42399.

DiPatrizio NV, Astarita G, Schwartz G, Li X, Piomelli D . Endocannabinoid signal in the gut controls dietary fat intake. Proc Natl Acad Sci USA 2011; 108: 12904–12908.

DiPatrizio NV, Joslin A, Jung KM, Piomelli D . Endocannabinoid signaling in the gut mediates preference for dietary unsaturated fats. FASEB J 2013; 27: 2513–2520.

DiPatrizio NV . Is fat taste ready for primetime? Physiol Behav 2014; 136: 145–154.

Cani PD . Metabolism in 2013: the gut microbiota manages host metabolism. Nat Rev Endocrinol 2014; 10: 74–76.

Muccioli GG, Naslain D, Backhed F, Reigstad CS, Lambert DM, Delzenne NM et al. The endocannabinoid system links gut microbiota to adipogenesis. Mol Syst Biol 2010; 6: 392.

Everard A, Belzer C, Geurts L, Ouwerkerk JP, Druart C, Bindels LB et al. Cross-talk between Akkermansia muciniphila and intestinal epithelium controls diet-induced obesity. Proc Natl Acad Sci USA 2013; 110: 9066–9071.

Bensaid M, Gary-Bobo M, Esclangon A, Maffrand JP, Le Fur G, Oury-Donat F et al. The cannabinoid CB1 receptor antagonist SR141716 increases Acrp30 mRNA expression in adipose tissue of obese fa/fa rats and in cultured adipocyte cells. Mol Pharmacol 2003; 63: 908–914.

Bouaboula M, Hilairet S, Marchand J, Fajas L, Le Fur G, Casellas P . Anandamide induced PPARgamma transcriptional activation and 3T3-L1 preadipocyte differentiation. Eur J Pharmacol 2005; 517: 174–181.

Tedesco L, Valerio A, Dossena M, Cardile A, Ragni M, Pagano C et al. Cannabinoid receptor stimulation impairs mitochondrial biogenesis in mouse white adipose tissue, muscle, and liver: the role of eNOS, p38 MAPK, and AMPK pathways. Diabetes 2010; 59: 2826–2836.

Tedesco L, Valerio A, Cervino C, Cardile A, Pagano C, Vettor R et al. Cannabinoid type 1 receptor blockade promotes mitochondrial biogenesis through endothelial nitric oxide synthase expression in white adipocytes. Diabetes 2008; 57: 2028–2036.

Perwitz N, Wenzel J, Wagner I, Buning J, Drenckhan M, Zarse K et al. Cannabinoid type 1 receptor blockade induces transdifferentiation towards a brown fat phenotype in white adipocytes. Diabetes Obes Metab 2010; 12: 158–166.

Boon MR, Kooijman S, van Dam AD, Pelgrom LR, Berbee JF, Visseren CA et al. Peripheral cannabinoid 1 receptor blockade activates brown adipose tissue and diminishes dyslipidemia and obesity. FASEB J 2014; 28: 5361–5375.

Matias I, Gonthier MP, Orlando P, Martiadis V, De Petrocellis L, Cervino C et al. Regulation, function, and dysregulation of endocannabinoids in models of adipose and beta-pancreatic cells and in obesity and hyperglycemia. J Clin Endocrinol Metab 2006; 91: 3171–3180.

D'Eon TM, Pierce KA, Roix JJ, Tyler A, Chen H, Teixeira SR . The role of adipocyte insulin resistance in the pathogenesis of obesity-related elevations in endocannabinoids. Diabetes 2008; 57: 1262–1268.

Molhoj S, Hansen HS, Schweiger M, Zimmermann R, Johansen T, Malmlof K . Effect of the cannabinoid receptor-1 antagonist rimonabant on lipolysis in rats. Eur J Pharmacol 2010; 646: 38–45.

Mancini G, Quarta C, Srivastava RK, Klaus S, Pagotto U, Lutz B . Adipocye-specific CB1 conditional knock-out mice: new insights in the study of obesity and metabolic syndrome. Paper presented at the 20th Annual Symposium of the International Cannabinoid Society 23–27 July 2010 Lund, Sweden International Cannabinoid Research Society: Research Triangle Park, NC, USA, 2010.

Osei-Hyiaman D, DePetrillo M, Pacher P, Liu J, Radaeva S, Batkai S et al. Endocannabinoid activation at hepatic CB1 receptors stimulates fatty acid synthesis and contributes to diet-induced obesity. J Clin Invest 2005; 115: 1298–1305.

Osei-Hyiaman D, Liu J, Zhou L, Godlewski G, Harvey-White J, Jeong WI et al. Hepatic CB1 receptor is required for development of diet-induced steatosis, dyslipidemia, and insulin and leptin resistance in mice. J Clin Invest 2008; 118: 3160–3169.

Tam J, Vemuri VK, Liu J, Batkai S, Mukhopadhyay B, Godlewski G et al. Peripheral CB1 cannabinoid receptor blockade improves cardiometabolic risk in mouse models of obesity. J Clin Invest 2010; 120: 2953–2966.

Tam J, Cinar R, Liu J, Godlewski G, Wesley D, Jourdan T et al. Peripheral cannabinoid-1 receptor inverse agonism reduces obesity by reversing leptin resistance. Cell Metab 2012; 16: 167–179.

Liu J, Zhou L, Xiong K, Godlewski G, Mukhopadhyay B, Tam J et al. Hepatic cannabinoid receptor-1 mediates diet-induced insulin resistance via inhibition of insulin signaling and clearance in mice. Gastroenterology 2012; 142: 1218–1228 e1211.

Mallat A, Teixeira-Clerc F, Lotersztajn S . Cannabinoid signaling and liver therapeutics. J Hepatol 2013; 59: 891–896.

Li C, Jones PM, Persaud SJ . Role of the endocannabinoid system in food intake, energy homeostasis and regulation of the endocrine pancreas. Pharmacol Ther 2011; 129: 307–320.

Malenczyk K, Jazurek M, Keimpema E, Silvestri C, Janikiewicz J, Mackie K et al. CB1 cannabinoid receptors couple to focal adhesion kinase to control insulin release. J Biol Chem 2013; 288: 32685–32699.

Kim W, Doyle ME, Liu Z, Lao Q, Shin YK, Carlson OD et al. Cannabinoids inhibit insulin receptor signaling in pancreatic beta-cells. Diabetes 2011; 60: 1198–1209.

Kim W, Lao Q, Shin YK, Carlson OD, Lee EK, Gorospe M et al. Cannabinoids induce pancreatic beta-cell death by directly inhibiting insulin receptor activation. Sci Signal 2012; 5: ra23.

Jourdan T, Godlewski G, Cinar R, Bertola A, Szanda G, Liu J et al. Activation of the Nlrp3 inflammasome in infiltrating macrophages by endocannabinoids mediates beta cell loss in type 2 diabetes. Nat Med 2013; 19: 1132–1140.

Engeli S, Bohnke J, Feldpausch M, Gorzelniak K, Janke J, Batkai S et al. Activation of the peripheral endocannabinoid system in human obesity. Diabetes 2005; 54: 2838–2843.

Bluher M, Engeli S, Kloting N, Berndt J, Fasshauer M, Batkai S et al. Dysregulation of the peripheral and adipose tissue endocannabinoid system in human abdominal obesity. Diabetes 2006; 55: 3053–3060.

Cote M, Matias I, Lemieux I, Petrosino S, Almeras N, Despres JP et al. Circulating endocannabinoid levels, abdominal adiposity and related cardiometabolic risk factors in obese men. Int J Obes (Lond) 2007; 31: 692–699.

Gatta-Cherifi B, Matias I, Vallee M, Tabarin A, Marsicano G, Piazza PV et al. Simultaneous postprandial deregulation of the orexigenic endocannabinoid anandamide and the anorexigenic peptide YY in obesity. Int J Obes (Lond) 2012; 36: 880–885.

Fanelli F, Di Lallo VD, Belluomo I, De Iasio R, Baccini M, Casadio E et al. Estimation of reference intervals of five endocannabinoids and endocannabinoid related compounds in human plasma by two dimensional-LC/MS/MS. J Lipid Res 2011; 53: 481–493.

Matias I, Gonthier MP, Petrosino S, Docimo L, Capasso R, Hoareau L et al. Role and regulation of acylethanolamides in energy balance: focus on adipocytes and beta-cells. Br J Pharmacol 2007; 152: 676–690.

Rinaldi-Carmona M, Barth F, Heaulme M, Shire D, Calandra B, Congy C et al. SR141716A, a potent and selective antagonist of the brain cannabinoid receptor. FEBS Lett 1994; 350: 240–244.

Cota D . CB1 receptors: emerging evidence for central and peripheral mechanisms that regulate energy balance, metabolism, and cardiovascular health. Diabetes Metab Res Rev 2007; 23: 507–517.

Dodd GT, Mancini G, Lutz B, Luckman SM . The peptide hemopressin acts through CB1 cannabinoid receptors to reduce food intake in rats and mice. J Neurosci 2010; 30: 7369–7376.

Piazza PV, Vallée M, Marsicano G, Felpin FX, Bellocchio L, Cota D et al Antagonists of CB1 receptor. Patent Publication No. WO/2012/160006. International Application No.: PCT/EP2012/059310 2012.

Dodd GT, Worth AA, Hodkinson DJ, Srivastava RK, Lutz B, Williams SR et al. Central functional response to the novel peptide cannabinoid, hemopressin. Neuropharmacology 2013; 71: 27–36.

Bauer M, Chicca A, Tamborrini M, Eisen D, Lerner R, Lutz B et al. Identification and quantification of a new family of peptide endocannabinoids (Pepcans) showing negative allosteric modulation at CB1 receptors. J Biol Chem 2012; 287: 36944–36967.

Vallee M, Vitiello S, Bellocchio L, Hebert-Chatelain E, Monlezun S, Martin-Garcia E et al. Pregnenolone can protect the brain from cannabis intoxication. Science 2014; 343: 94–98.

Bisogno T, Mahadevan A, Coccurello R, Chang JW, Allara M, Chen Y et al. A novel fluorophosphonate inhibitor of the biosynthesis of the endocannabinoid 2-arachidonoylglycerol with potential anti-obesity effects. Br J Pharmacol 2013; 169: 784–793.

Batetta B, Griinari M, Carta G, Murru E, Ligresti A, Cordeddu L et al. Endocannabinoids may mediate the ability of (n-3) fatty acids to reduce ectopic fat and inflammatory mediators in obese Zucker rats. J Nutr 2009; 139: 1495–1501.

Pintus S, Murru E, Carta G, Cordeddu L, Batetta B, Accossu S et al. Sheep cheese naturally enriched in alpha-linolenic, conjugated linoleic and vaccenic acids improves the lipid profile and reduces anandamide in the plasma of hypercholesterolaemic subjects. Br J Nutr 2013; 109: 1453–1462.

Verty AN, Lockie SH, Stefanidis A, Oldfield BJ . Anti-obesity effects of the combined administration of CB1 receptor antagonist rimonabant and melanin-concentrating hormone antagonist SNAP-94847 in diet-induced obese mice. Int J Obes (Lond) 2013; 37: 279–287.

White NE, Dhillo WS, Liu YL, Small CJ, Kennett GA, Gardiner JV et al. Co-administration of SR141716 with peptide YY3-36 or oxyntomodulin has additive effects on food intake in mice. Diabetes Obes Metab 2008; 10: 167–170.

Piomelli D . A fatty gut feeling. Trends Endocrinol Metab 2013; 24: 332–341.

Di Marzo V, Verrijken A, Hakkarainen A, Petrosino S, Mertens I, Lundbom N et al. Role of insulin as a negative regulator of plasma endocannabinoid levels in obese and nonobese subjects. Eur J Endocrinol 2009; 161: 715–722.

Sipe JC, Scott TM, Murray S, Harismendy O, Simon GM, Cravatt BF et al. Biomarkers of endocannabinoid system activation in severe obesity. PLoS One 2010; 5: e8792.

Jumpertz R, Guijarro A, Pratley RE, Piomelli D, Krakoff J . Central and peripheral endocannabinoids and cognate acylethanolamides in humans: association with race, adiposity, and energy expenditure. J Clin Endocrinol Metab 2011; 96: 115–121.

Monteleone P, Matias I, Martiadis V, De Petrocellis L, Maj M, Di Marzo V . Blood levels of the endocannabinoid anandamide are increased in anorexia nervosa and in binge-eating disorder, but not in bulimia nervosa. Neuropsychopharmacology 2005; 30: 1216–1221.

Jumpertz R, Wiesner T, Bluher M, Engeli S, Batkai S, Wirtz H et al. Circulating endocannabinoids and N-acyl-ethanolamides in patients with sleep apnea—specific role of oleoylethanolamide. Exp Clin Endocrinol Diabetes 2010; 118: 591–595.

Engeli S, Bluher M, Jumpertz R, Wiesner T, Wirtz H, Bosse-Henck A et al. Circulating anandamide and blood pressure in patients with obstructive sleep apnea. J Hypertens 2012; 30: 2345–2351.

Quercioli A, Pataky Z, Vincenti G, Makoundou V, Di Marzo V, Montecucco F et al. Elevated endocannabinoid plasma levels are associated with coronary circulatory dysfunction in obesity. Eur Heart J 2011; 32: 1369–1378.

Piscitelli F, Carta G, Bisogno T, Murru E, Cordeddu L, Berge K et al. Effect of dietary krill oil supplementation on the endocannabinoidome of metabolically relevant tissues from high-fat-fed mice. Nutr Metab (Lond) 2011; 8: 51.

Banni S, Carta G, Murru E, Cordeddu L, Giordano E, Sirigu AR et al. Krill oil significantly decreases 2-arachidonoylglycerol plasma levels in obese subjects. Nutr Metab (Lond) 2011; 8: 7.

Meye FJ, Trezza V, Vanderschuren LJ, Ramakers GM, Adan RA . Neutral antagonism at the cannabinoid 1 receptor: a safer treatment for obesity. Mol Psychiatry 2013; 18: 1294–1301.

Cluny NL, Vemuri VK, Chambers AP, Limebeer CL, Bedard H, Wood JT et al. A novel peripherally restricted cannabinoid receptor antagonist, AM6545, reduces food intake and body weight, but does not cause malaise, in rodents. Br J Pharmacol 2010; 161: 629–642.

Horswill JG, Bali U, Shaaban S, Keily JF, Jeevaratnam P, Babbs AJ et al. PSNCBAM-1, a novel allosteric antagonist at cannabinoid CB1 receptors with hypophagic effects in rats. Br J Pharmacol 2007; 152: 805–814.
Acknowledgements
This work was supported by INSERM, Aquitaine Region, University of Bordeaux and University Hospital of Bordeaux.
Ethics declarations
Competing interests
The authors declare no conflict of interest.
About this article
Cite this article
Gatta-Cherifi, B., Cota, D. New insights on the role of the endocannabinoid system in the regulation of energy balance. Int J Obes 40, 210–219 (2016). https://doi.org/10.1038/ijo.2015.179
Received:

Revised:

Accepted:

Published:

Issue Date:

DOI: https://doi.org/10.1038/ijo.2015.179