Abstract
Background/Objectives:
Food-induced thermogenesis is generally reported to be higher in the morning, although contrasting results exist because of differences in experimental settings related to the preceding fasting, exercise, sleeping and dieting. To definitively answer to this issue, we compared the calorimetric and metabolic responses to identical meals consumed at 0800 hours and at 2000 hours by healthy volunteers, after standardized diet, physical activity, duration of fast and resting.
Subjects/Methods:
Twenty subjects (age range 20–35 years, body mass index=19–26 kg m−2) were enrolled to a randomized cross-over trial. They randomly received the same standard meal in the morning and, 7 days after, in the evening, or vice versa. A 30-min basal calorimetry was performed; a further 60-min calorimetry was done 120-min after the beginning of the meal. Blood samples were drawn every 30-min for 180-min. General linear models, adjusted for period and carry-over, were used to evaluate the 'morning effect', that is, the difference of morning delta (after-meal minus fasting values) minus evening delta (after-meal minus fasting values) of the variables.
Results:
Fasting resting metabolic rate (RMR) did not change from morning to evening; after-meal RMR values were significantly higher after the morning meal (1916; 95% confidence interval (CI)=1792, 2041 vs 1756; 1648, 1863 kcal; P<0.001). RMR was significantly increased after the morning meal (90.5; 95% CI=40.4, 140.6 kcal; P<0.001), whereas differences in areas-under-the-curve for glucose (−1800; −2564,−1036 mg dl−1 × h, P<0.001), log-insulin (−0.19; −0.30,−0.07 μU ml−1 × h; P=0.001) and fatty free acid concentrations (−16.1;−30.0,−2.09 mmol l−1 × h; P=0.024) were significantly lower. Delayed and larger increases in glucose and insulin concentrations were found after the evening meals.
Conclusions:
The same meal consumed in the evening determined a lower RMR, and increased glycemic/insulinemic responses, suggesting circadian variations in the energy expenditure and metabolic pattern of healthy individuals. The timing of meals should probably be considered when nutritional recommendations are given.
Relevant articles
Open Access articles citing this article.
Haeun Park

,

Dayeon Shin

&

Kyung Won Lee

Nutrition Journal Open Access 11 May 2023

Masaki Takahashi

,

Yui Mineshita

…

Shigenobu Shibata

European Journal of Clinical Nutrition Open Access 17 January 2023

Rochelle Davis

,

Michelle Rogers

…

Maxine P. Bonham

Current Diabetes Reports Open Access 11 April 2022
Access options
Subscribe to this journal
Receive 12 print issues and online access
$259.00 per year
only $21.58 per issue
Rent or buy this article
Prices vary by article type
from$1.95
to$39.95
Prices may be subject to local taxes which are calculated during checkout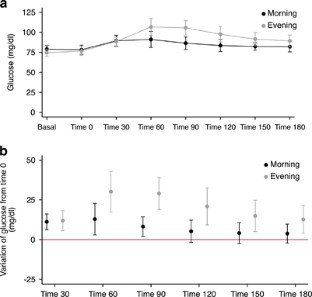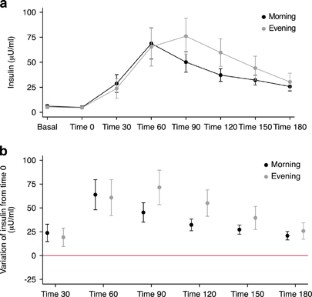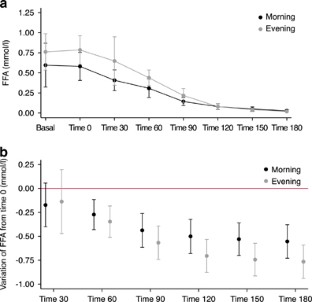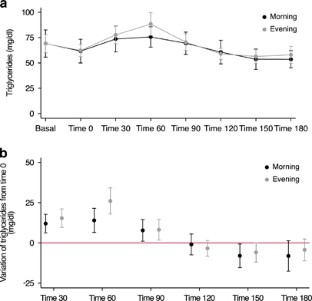 References
Garaulet M, Gómez-Abellán P . Timing of food intake and obesity: a novel association. Physiol Behav 2014; 134: 44–50.

Lindgren O, Mari A, Deacon CF, Carr RD, Winzell MS, Vikman J et al. Differential islet and incretin hormone responses in morning versus afternoon after standardized meal in healthy men. J Clin Endocrinol Metab 2009; 94: 2887–2892.

Van Cauter E, Desir D, Decoster C, Fery F, Balasse EG . Nocturnal decrease of glucose tolerance during constant glucose infusion. J Clin Endocrinol Metab 1989; 69: 604–611.

Scheer FAJL, Hilton MF, Mantzoros CS, Shea SA . Adverse metabolic and cardiovascular consequences of circadian misalignment. Proc Natl Acad Sci USA 2009; 106: 4453–4458.

Goo RH, Moore JG, Greenberg E, Alazraki HP . Circadian variation in gastric emptying of meals in humans. Gastroenterology 1987; 93: 515–518.

Tsuchida Y, Hata S, Sone Y . Effects of a late supper on digestion and the absorption of dietary carbohydrates in the following morning. J Physiol Anthropol 2013; 32: 9.

Romon M, Edme JL, Boulenguez C, Lescroart JL, Fritmat P . Circadian variation of diet-induced thermogenesis. Am J Clin Nutr 1993; 57: 476–480.

Ravussin E, Acheson KJ, Vernet O, Danforth E, Jéquier E . Evidence that insulin resistance is responsible for the decreased thermic effect of glucose in human obesity. J Clin Invest 1985; 76: 1268–1273.

Weststrate JA, Weys PJM, Poortvliet EJ, Deureunberg P, Hautvast GAJ . Diurnal variation in postabsorptive resting metabolic rate and diet-induced thermogenesis. Am J Clin Nutr 1989; 50: 908–914.

Sato M, Nakamura K, Ogata H, Miyashita A, Nagasaka S, Omi N et al. Acute effect of late evening meal on diurnal variation of blood glucose and energy metabolism. Obes Res Clin Pract 2011; 5: e220–e228.

Leuck M, Levandovski R, Harb A, Quiles C, Hidalgo MP . Circadian rhythm of energy expenditure and oxygen consumption. J Parenter Enteral Nutr 2014; 38: 263–268.

Bandin C, Scheer FAJL, Luque AJ, Ávila-Gandía V, Zamora S, Madrid JA et al. Meal timing affects glucose tolerance, substrate oxidation and circadian-related variables: a randomized, crossover trial. Int J Obesity 2014; 39: 828–833.

Reed GW, Hill JO . Measuring the thermic effect of food. Am J Clin Nutr 1996; 63: 164–169.

Hibi M, Masumoto A, Naito Y, Kiuchi K, Yoshimoto Y, Matsumoto M et al. Nighttime snacking reduces whole body fat oxidation and increases LDL cholesterol in healthy young women. Am J Physiol Regul Integr Comp Physiol 2013; 304: R94–R101.

Weststrate JA . Resting metabolic rate and diet-induced thermogenesis: a methodological reappraisal. Am J Clin Nutr 1993; 58: 592–601.

Taylor HL, Jacobs DR Jr, Schucker B, Knudsen J, Leon AS, Debacker G . Questionnaire for the assessment of leisure time physical activities. J Chronic Dis 1978; 31: 741–755.

Elosua R, Marrugat J, Molina L, Pons S, Pujol E . Validation of the Minnesota Leisure Time Physical Activity Questionnaire in Spanish men. The MARATHOM Investigators. Am J Epidemiol 1994; 139: 1197–1209.

Bo S, Ciccone G, Durazzo M, Gambino R, Massarenti P, Baldi I et al. Efficacy of antioxidant treatment in reducing resistin serum levels: A randomized study. PLoS Clin Trials 2007; 2: e17.

Moreira da Rocha EE, Alves VGF . da Fonseca RBV. Indirect calorimetry: methodology, instruments and clinical applications. Curr Opin Clin Nutr Metab Care 2006; 9: 247–256.

Weir JB . New methods for calculating metabolic rate with special reference to protein. J Physiol 1949; 109: 1–49.

Ferranini E . The theoretical basis of indirect calorimetry: a review. Metabolism 1988; 37: 287–301.

Allison DB, Paultre F, Maggio C, Mezzitis N, Pi-Sunyer FX . The use of areas under curves in diabetic research. Diabetes Care 1995; 18: 245–250.

Acheson KJ, Ravussin E, Wahren J, Jéquier E . Thermic effect of glucose in man. Obligatory and facultative thermogenesis. J Clin Invest 1984; 74: 1572–1580.

Astrup A, Simonsen L, Bülow J, Madsen J, Christensen NJ . Epinephrine mediates facultative carbohydrate-induced thermogenesis in human skeletal muscle. Am J Physiol 1989; 275: E340–E345.

Linsell CR, Lightman SL, Mullen PE, Brown MJ, Causon RC . Circadian rhythms of epinephrine and norepinephrine in man. J Clin Endocrinol Metab 1985; 60: 1210–1215.

Müller MJ, Acheson KJ, Piolino V, Jeanpretre N, Burger AG, Jequier E . Thermic effect of epinephrine: a role for endogenous insulin. Metabolism 1992; 41: 582–587.

Al-Naimi S, Hampton SM, Richard P, Tzung C, Morgan LM . Postprandial metabolic profiles following meals and snacks eaten during simulated night and day shift work. Chronobiol Intern 2004; 21: 937–947.

Van Cauter E, Shapiro ET, Tillil H, Polonsky KS . Circadian modulation of glucose and insulin responses to meals: relationship to cortisol rhythm. Am J Physiol 1992; 262: E467–E475.

Goetz F, Bishop J, Halberg F, Sothern RB, Brunning R, Senske B et al. Timing of single daily meal influences relations among human circadian rhythms in rinary cycle AMP and hemic glucagon, insulin and iron. Experientia 1976; 32: 1081–1084.

Astrup A, Andersen T, Henriksen O, Christensen NJ, Bülow J, Madsen J et al. Impaired glucose-induced thermogenesis in skeletal muscle in obesity. The role of the sympathoadrenal system. Int J Obes 1987; 11: 51–66.

Dallmann R, Viola AU, Tarokh L, Cajochen C, Brown SA . The human circadian metabolome. Proc Nat Acd Sci USA 2012; 7: 2625–2629.

Shostak A, Husse J, Oster H . Circadian regulation of adipose tissue. Adypocite 2013; 2: 201–206.

Huang W, Ramsey KM, Marcheva B, Bass J . Circadian rhythms, sleep, and metabolism. J Clin Invest 2011; 121: 2133–2141.

Randle PJ . Regulatory interactions between lipids and carbohydrates: the glucose fatty acid cycle after 35 years. Diabetes Metab Rev 1998; 14: 263–283.

Roden M, Prince TB, Perseghin G, Petersen KF, Rothman DL, Cline GW . Mechanism of free fatty acid-induced insulin resistance in humans. J Clin Invest 1996; 97: 2859–2865.

Westerterp KR, Wilson SA, Rolland V . Diet induced thermogenesis measured over 24 h in a respiration chamber: effect of diet composition. Int J Obes Relat Metab Disord 1999; 23: 287–292.

Johnston CS, Day CS, Swan PD . Postprandial thermogenesis is increased 100% on a high-protein, low-fat diet versus a high-carbohydrate, low-fat diet in healthy, young women. J Am Coll Nutr 2002; 21: 55–61.

Farshchi HR, Taylor MA, Macdonald IA . Decreased thermic effect of food after an irregular compared with a regular meal pattern in healthy lean women. Int J Obesity 2004; 28: 653–660.

Chwalibog A, Thorbek G . Energy expenditure and oxidation of carbohydrate and fat in humans during day and night. Thermochimica Acta 2002; 394: 247–252.

Sensi S, Capani F . Chronobiological aspects of weight loss in obesity: effects of different meal timing regimens. Chronobiol Int 1987; 4: 251–261.

Sollberger A . The control of circadian glycogen rhythms. Ann New York Acad Sci 1964; 117: 519–554.

Bo S, De Carli L, Venco E, Fanzola I, Maiandi M, De Michieli F et al. Impact of snacking pattern on overweight and obesity risk in a cohort of 11-13-y adolescents. J Pediat Gastroent Nutr 2014; 59: 465–471.

Wang JB, Patterson RE, Ang A, Edmond JA, Shetty N, Arab L . Timing of energy intake during the day is associated with the risk of obesity in adults. J Hum Nutr Diet 2014; 27: 255–262.

Bo S, Musso G, Beccuti G, Fadda M, Fedele D, Gambino R et al. Consuming more of daily caloric intake at dinner predisposes to obesity. A 6-year population-based prospective cohort study. PLoS ONE 2014; 9: e108467.

Cahill LE, Chiuve SE, Mekary RA, Jensen MK, Flint AJ, Hu FB et al. Prospective study of breakfast eating and incident coronary heart disease in a cohort of male US health professionals. Circulation 2013; 128: 337–343.

Gonnissen HKJ, Rutters F, Mazuy C, Martens EAP, Adam TC, Westerterp-Plantenga MS . Effect of a phase advance and phase delay of the 24- h cycle on energy metabolism, appetite, and related hormones. Am J Clin Nutr 2012; 96: 689–697.

Garaulet M, Gómez-Abellán P, Alburquerque-Bèjar JJ, Lee YC, Ordovás JM, Scheer FA . Timing of food intake predicts weight loss effectiveness. Int J Obes 2013; 37: 604–611.

Jakubowicz D, Barnea M, Wainstein J, Froy O . High caloric intake at breakfast vs dinner differentially influences weight loss of overweight and obese women. Obesity 2013; 21: 2504–2512.

Segal KR, Edaño A, Thomas MB . Thermic effect of a meal over 3 and 6 hours in lean and obese men. Metabolism 1990; 39: 985–992.
Acknowledgements
We thank Professor Gianfranco Pagano for his precious contribution in the critical reading of the manuscript. This study was supported by a grant from the Ministry of Education, University and Research of Italy (ex-60% 2014). ClinicalTrials.gov identifier: NCT02343380.
Ethics declarations
Competing interests
The authors declare no conflict of interest.
Supplementary information
About this article
Cite this article
Bo, S., Fadda, M., Castiglione, A. et al. Is the timing of caloric intake associated with variation in diet-induced thermogenesis and in the metabolic pattern? A randomized cross-over study. Int J Obes 39, 1689–1695 (2015). https://doi.org/10.1038/ijo.2015.138
Received:

Revised:

Accepted:

Published:

Issue Date:

DOI: https://doi.org/10.1038/ijo.2015.138