Abstract
Background/Objectives:
Cesarean section (CS) and antibiotic use during pregnancy may alter normal maternal-offspring microbiota exchange, thereby contributing to aberrant microbial colonization of the infant gut and increased susceptibility to obesity later in life. We hypothesized that (i) maternal use of antibiotics in the second or third trimester of pregnancy and (ii) CS are independently associated with higher risk of childhood obesity in the offspring.
Subjects/Methods:
Of the 727 mothers enrolled in the Northern Manhattan Mothers and Children Study, we analyzed the 436 mother–child dyads followed until 7 years of age with complete data. We ascertained prenatal antibiotic use by a questionnaire administered late in the third trimester, and delivery mode by medical record. We derived age- and sex-specific body mass index (BMI) z-scores using the CDC SAS Macro, and defined obesity as BMI z⩾95th percentile. We used binary regression with robust variance and linear regression models adjusted for maternal age, ethnicity, pre-gravid BMI, maternal receipt of public assistance, birth weight, sex, breastfeeding in the first year and gestational antibiotics or delivery mode.
Results:
Compared with children not exposed to antibiotics during the second or third trimester, those exposed had 84% (33–154%) higher risk of obesity, after multivariable adjustment. Second or third trimester antibiotic exposure was also positively associated with BMI z-scores, waist circumference and % body fat (all P<0.05). Independent of prenatal antibiotic usage, CS was associated with 46% (8–98%) higher offspring risk of childhood obesity. Associations were similar for elective and non-elective CS.
Conclusions:
In our cohort, CS and exposure to antibiotics in the second or third trimester were associated with higher offspring risk of childhood obesity. Future studies that address the limitations of our study are warranted to determine if prenatal antibiotic use is associated with offspring obesity. Research is also needed to determine if alterations in neonatal gut microbiota underlie the observed associations.
Relevant articles
Open Access articles citing this article.
Céline Cuinat

,

Sara E. Stinson

…

Elena M. Comelli

Current Nutrition Reports Open Access 20 August 2022

Vanphanom Sychareun

,

Paphatsone Phounsavath

…

Cecilia Stålsby Lundborg

BMC Pregnancy and Childbirth Open Access 16 July 2022

J. Robatsch

,

P. Voitl

&

Susanne C. Diesner-Treiber

BMC Pediatrics Open Access 06 November 2021
Access options
Subscribe to Journal
Get full journal access for 1 year
$119.00
only $9.92 per issue
All prices are NET prices.
VAT will be added later in the checkout.
Tax calculation will be finalised during checkout.
Buy article
Get time limited or full article access on ReadCube.
$32.00
All prices are NET prices.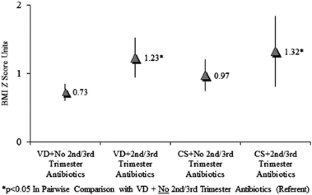 References
Ridaura VK, Faith JJ, Rey FE, Cheng J, Duncan AE, Kau AL et al. Gut microbiota from twins discordant for obesity modulate metabolism in mice. Science 2013; 341: 1241214.

Dominguez-Bello MG, Costello EK, Contreras M, Magris M, Hidalgo G, Fierer N et al. Delivery mode shapes the acquisition and structure of the initial microbiota across multiple body habitats in newborns. Proc Natl Acad Sci USA 2010; 107: 11971–11975.

Cho I, Yamanishi S, Cox L, Methe BA, Zavadil J, Li K et al. Antibiotics in early life alter the murine colonic microbiome and adiposity. Nature 2012; 488: 621–626.

Blustein J, Attina T, Liu M, Ryan AM, Cox LM, Blaser MJ et al. Association of caesarean delivery with child adiposity from age 6 weeks to 15 years. Int J Obes 2013; 37: 900–906.

Darmasseelane K, Hyde MJ, Santhakumaran S, Gale C, Modi N . Mode of delivery and offspring body mass index, overweight and obesity in adult life: a systematic review and meta-analysis. PLoS One 2014; 9: e87896.

Li HT, Zhou YB, Liu JM . The impact of cesarean section on offspring overweight and obesity: a systematic review and meta-analysis. Int J Obes 2013; 37: 893–899.

Ajslev TA, Andersen CS, Gamborg M, Sorensen TI, Jess T . Childhood overweight after establishment of the gut microbiota: the role of delivery mode, pre-pregnancy weight and early administration of antibiotics. Int J Obes 2011; 35: 522–529.

Trasande L, Blustein J, Liu M, Corwin E, Cox LM, Blaser MJ . Infant antibiotic exposures and early-life body mass. Int J Obes 2013; 37: 16–23.

Murphy R, Stewart AW, Braithwaite I, Beasley R, Hancox RJ, Mitchell EA et al. Antibiotic treatment during infancy and increased body mass index in boys: an international cross-sectional study. Int J Obesity 2013; 38: 1115–1119.

Azad MB, Bridgman SL, Becker AB, Kozyrskyj AL . Infant antibiotic exposure and the development of childhood overweight and central adiposity. Int J Obes 2014; 38: 1290–1298.

Malas MA, Aslankoc R, Ungor B, Sulak O, Candir O . The development of large intestine during the fetal period. Early Hum Dev 2004; 78: 1–13.

Neu J . Perinatal and neonatal manipulation of the intestinal microbiome: a note of caution. Nutr Rev 2007; 65 6 Pt 1: 282–285.

Stokholm J, Schjorring S, Eskildsen CE, Pedersen L, Bischoff AL, Folsgaard N et al. Antibiotic use during pregnancy alters the commensal vaginal microbiota. Clin Microbiol Infect 2013; 20: 629–635.

Thinkhamrop J, Hofmeyr GJ, Adetoro O, Lumbiganon P . Prophylactic antibiotic administration in pregnancy to prevent infectious morbidity and mortality. Cochrane Database Syst Rev 2002; 4: CD002250.

Pacifici GM . Placental transfer of antibiotics administered to the mother: a review. Int J Clin Pharmacol Ther 2006; 44: 57–63.

Aagaard K, Ma J, Antony KM, Ganu R, Petrosino J, Versalovic J . The placenta harbors a unique microbiome. Sci Trans Med 2014; 6: 237ra265.

Fallani M, Young D, Scott J, Norin E, Amarri S, Adam R et al. Intestinal microbiota of 6-week-old infants across Europe: geographic influence beyond delivery mode, breast-feeding, and antibiotics. J PediatrGastroenterol Nutr 2010; 51: 77–84.

Whyatt RM, Barr DB, Camann DE, Kinney PL, Barr JR, Andrews HF et al. Contemporary-use pesticides in personal air samples during pregnancy and blood samples at delivery among urban minority mothers and newborns. Environ Health Perspect 2003; 111: 749–756.

Prevention CDCa. A SAS Program for the CDC Growth Charts. Atlanta, GA: Center for Disease Control and Prevention C.D.C. (Centers for Disease Control and Prevention). 2011. Available http://www.cdc.gov/nccdphp/dnpao/growthcharts/resources/sas.htm. [Accessed 1 Oct 2012].

Spiegelman D, Hertzmark E . Easy SAS calculations for risk or prevalence ratios and differences. Am J Epidemiol 2005; 162: 199–200.

Szklo M, Nieto FJ . Epidemiology: Beyond the Basics. 2nd edn Sudbury, Massachusetts Jones and Bartlett Publishers, 2007.

Hernan MA, Hernandez-Diaz S, Robins JM . A structural approach to selection bias. Epidemiology 2004; 15: 615–625.

Robins JM, Hernan MA, Brumback B . Marginal structural models and causal inference in epidemiology. Epidemiology 2000; 11: 550–560.

Curtis LH, Hammill BG, Eisenstein EL, Kramer JM, Anstrom KJ . Using inverse probability-weighted estimators in comparative effectiveness analyses with observational databases. Med Care 2007; 45 (Suppl 2): S103–S107.

Lovasi GS, Quinn JW, Rauh VA, Perera FP, Andrews HF, Garfinkel R et al. Chlorpyrifos exposure and urban residential environment characteristics as determinants of early childhood neurodevelopment. Am J Public Health 2011; 101: 63–70.

Grayson DA . Confounding confounding. Am J Epidemiol 1987; 126: 546–553.

Palmer C, Bik EM, DiGiulio DB, Relman DA, Brown PO . Development of the human infant intestinal microbiota. PLoS Biol 2007; 5: e177.

Biasucci G, Rubini M, Riboni S, Morelli L, Bessi E, Retetangos C . Mode of delivery affects the bacterial community in the newborn gut. Early Hum Dev 2010; 86 (Suppl 1): 13–15.

Oh KJ, Lee SE, Jung H, Kim G, Romero R, Yoon BH . Detection of ureaplasmas by the polymerase chain reaction in the amniotic fluid of patients with cervical insufficiency. J Perinatal Med 2010; 38: 261–268.

Jimenez E, Fernandez L, Marin ML, Martin R, Odriozola JM, Nueno-Palop C et al. Isolation of commensal bacteria from umbilical cord blood of healthy neonates born by cesarean section. Curr Microbiol 2005; 51: 270–274.

Jimenez E, Marin ML, Martin R, Odriozola JM, Olivares M, Xaus J et al. Is meconium from healthy newborns actually sterile? Res Microbiol 2008; 159: 187–193.

Satokari R, Gronroos T, Laitinen K, Salminen S, Isolauri E . Bifidobacterium and Lactobacillus DNA in the human placenta. Lett Appl Microbiol 2009; 48: 8–12.

Fardini Y, Chung P, Dumm R, Joshi N, Han YW . Transmission of diverse oral bacteria to murine placenta: evidence for the oral microbiome as a potential source of intrauterine infection. Infect Immun 2010; 78: 1789–1796.

Steel JH, Malatos S, Kennea N, Edwards AD, Miles L, Duggan P et al. Bacteria and inflammatory cells in fetal membranes do not always cause preterm labor. Pediatr Res 2005; 57: 404–411.

Stensballe LG, Simonsen J, Jensen SM, Bonnelykke K, Bisgaard H . Use of antibiotics during pregnancy increases the risk of asthma in early childhood. J Pediatr 2013; 162: 832–838 e833.

Benn CS, Thorsen P, Jensen JS, Kjaer BB, Bisgaard H, Andersen M et al. Maternal vaginal microflora during pregnancy and the risk of asthma hospitalization and use of antiasthma medication in early childhood. J Allergy Clin Immunol 2002; 110: 72–77.

Rusconi F, Galassi C, Forastiere F, Bellasio M, De Sario M, Ciccone G et al. Maternal complications and procedures in pregnancy and at birth and wheezing phenotypes in children. Am J Resp Critic Care Med 2007; 175: 16–21.

McKeever TM, Lewis SA, Smith C, Hubbard R . The importance of prenatal exposures on the development of allergic disease: a birth cohort study using the West Midlands General Practice Database. Am J Resp Critic Care Med 2002; 166: 827–832.

Arnold IC, Dehzad N, Reuter S, Martin H, Becher B, Taube C et al. Helicobacter pylori infection prevents allergic asthma in mouse models through the induction of regulatory T cells. J Clin Invest 2011; 121: 3088–3093.

Tsakok T, McKeever TM, Yeo L, Flohr C . Does early life exposure to antibiotics increase the risk of eczema? A systematic review. Br J Dermatol 2013; 169: 983–991.

Vidal AC, Murphy SK, Murtha AP, Schildkraut JM, Soubry A, Huang Z et al. Associations between antibiotic exposure during pregnancy, birth weight and aberrant methylation at imprinted genes among offspring. Int J Obes 2013; 37: 907–913.

Flemming K, Woolcott CG, Allen AC, Veugelers PJ, Kuhle S . The association between caesarean section and childhood obesity revisited: a cohort study. Arch Dis Childhood 2013; 98: 526–532.

Cnattingius S, Villamor E, Lagerros YT, Wikstrom AK, Granath F . High birth weight and obesity—a vicious circle across generations. Int J Obes 2012; 36: 1320–1324.

Penders J, Thijs C, Vink C, Stelma FF, Snijders B, Kummeling I et al. Factors influencing the composition of the intestinal microbiota in early infancy. Pediatrics 2006; 118: 511–521.

Salminen S, Gibson GR, McCartney AL, Isolauri E . Influence of mode of delivery on gut microbiota composition in seven year old children. Gut 2004; 53: 1388–1389.

Huurre A, Kalliomaki M, Rautava S, Rinne M, Salminen S, Isolauri E . Mode of delivery - effects on gut microbiota and humoral immunity. Neonatology 2008; 93: 236–240.

Azad MB, Konya T, Maughan H, Guttman DS, Field CJ, Chari RS et al. Gut microbiota of healthy Canadian infants: profiles by mode of delivery and infant diet at 4 months. CMAJ 2013; 185: 385–394.

Jakobsson HE, Abrahamsson TR, Jenmalm MC, Harris K, Quince C, Jernberg C et al. Decreased gut microbiota diversity, delayed Bacteroidetes colonisation and reduced Th1 responses in infants delivered by caesarean section. Gut 2014; 63: 559–566.
Acknowledgements
This publication was made possible by US Environmental Protection Agency (US EPA) grants RD8260901 and R827027, and National Institute for Environmental Health Sciences (NIEHS) grants 5P01ES09600, 5R01ES08977, R01ES010165 and R01ES015282. This study was also supported by the Irving General Clinical Research Center (grant RR00645), the Educational Foundation of America, the John and Wendy Neu Family Foundation, the New York Community Trust, and the Trustees of the Blanchette Hooker Rockefeller Fund. Finally, NTM and EMW received fellowships from the National Institute of Diabetes and Digestive and Kidney Diseases (NIDDK 5T32DK091227-03).
Ethics declarations
Competing interests
The authors declare no conflict of intrest.
Additional information
Disclaimer
Its contents are solely the responsibility of the grantee and do not necessarily represent the official views of the US EPA. Further, the US EPA does not endorse the purchase of any commercial products or services mentioned in the publication.
About this article
Cite this article
Mueller, N., Whyatt, R., Hoepner, L. et al. Prenatal exposure to antibiotics, cesarean section and risk of childhood obesity. Int J Obes 39, 665–670 (2015). https://doi.org/10.1038/ijo.2014.180
Received:

Revised:

Accepted:

Published:

Issue Date:

DOI: https://doi.org/10.1038/ijo.2014.180