Abstract
Research suggests that overweight and obese youths are stigmatized in contemporary society, and are more likely than normal-weight youths to become the victims of bullying. In the current study, meta-analyses were performed to analyze to what extent overweight and obese youths are more likely than normal-weight youths to be the victims of bullying. The databases Psychinfo, ERIC and Medline were searched for relevant articles. Retrieved articles were scanned to find further articles. Language was not used as an exclusion criterion. A total of 14 articles (N=55 231) were included in a meta-analysis on bullying and overweight youths, and a total of 16 articles (N=58 520) were included in a meta-analysis on bullying and obese youths. The results suggested that both overweight and obese youths were more likely to be victims of bullying. The results were not moderated by gender, overweight and obese boys and girls were equally likely to be victimized. Results remained significant after adjustment for publication bias. Both overweight and obesity are risk factors for being a victim of bullying.
This is a preview of subscription content
Access options
Subscribe to Journal
Get full journal access for 1 year
$119.00
only $9.92 per issue
All prices are NET prices.
VAT will be added later in the checkout.
Tax calculation will be finalised during checkout.
Buy article
Get time limited or full article access on ReadCube.
$32.00
All prices are NET prices.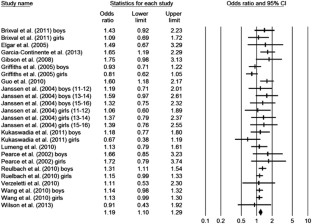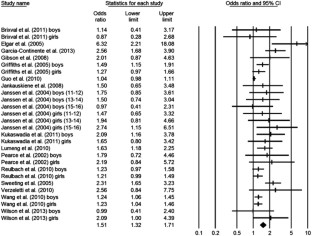 References
Nansel T, Craig W, Overpeck M, Saluja G, Ruan J . Cross-national consistency in the relationship between bullying behaviors and psychosocial adjustment. Arch Pediatr Adolesc Med 2004; 158: 730–736.

Olweus D . Bullying at school. What We Know and What We Can Do. Blackwell: Oxford, UK, 1993.

Olweus D . Annotation: Bullying at school: basic facts and effects of a school based intervention program. J Child Psychol. Psychiatry 1994; 35: 1171–1190.

Hawker DS, Boulton MJ . Twenty years' research on peer victimization and psychosocial adjustment: A meta-analytic review of cross-sectional studies. J Child Psychol Psychiatr 2000; 41: 441–455.

Gini G, Pozzoli T . Association between bullying and psychosomatic problems: A meta-analysis. Pediatrics 2009; 123: 1059–1065.

Klomek AB, Sourander A, Niemelä S, Kumpulainen K, Piha J, Tamminen T et al. Childhood bullying behaviors as a risk for suicide attempts and completed suicides: a population-based birth cohort study. J Am Acad Child Adolesc Psychiatry. 2009; 48: 254–261.

Durlak JA, Weissberg RP, Dymnicki AB, Taylor RD, Schellinger KB . The impact of enhancing students' social and emotional learning: a meta-analysis of school-based universal interventions. Child Dev 2011; 82: 405–432.

Ttofi M, Farrington D . Effectiveness of school-based programs to reduce bullying: a systematic and meta-analytic review. J Exp Criminol 2011; 7: 27–56.

Ferguson CJ, San Miguel C, Kilburn J, Sanchez P . The effectiveness of school-based anti-bullying programs: a meta-analytic review. Criminal Justice Rev 2007; 3: 401–404.

Merrell KW, Gueldner BA, Ross SW, Isava DM . How effective are school bullying intervention programs? a meta-analysis of intervention research. Sch Psychol Q 2008; 23: 26–42.

Cook CR, Williams KR, Guerra NG, Kim TE, Sadek S . Predictors of bullying and victimization in childhood and adolescence: A meta-analytic investigation. School Psychol Q 2010; 25: 65–82.

Puhl R, Brownell KD . Bias discrimination, and obesity. Obes Res 2001; 9: 788–805.

Puhl RM, Heuer CA . The stigma of obesity: a review and update. Obesity 2009; 17: 941–964.

Puhl RM, Luedicke J, Heuer C . Weight-based victimization toward overweight adolescents: observations and reactions of peers. J Sch Health 2011; 81: 696–703.

Cole TJ, Bellizzi MC, Flegal KM, Dietz WH . Body mass index in children worldwide: cut-off points for underweight, overweight and obesity. Br Med J 2001; 320: 1240–1243.

Brixval CS, Rayce SLB, Rasmussen M, Holstein BE, Due P . Overweight, body image and bullying – an epidemiological study of 11- to 15-years olds. Eur J Public Health 2011; 22: 126–130.

Elgar FJ, Roberts C, Moore L, Tudor-Smith C . Sedentary behaviour, physical activity and weight problems in adolescents in Wales. Public Health 2005; 119: 518–524.

García-Continente X, Pérez-Giménez A, Espelt A, Adell MN . Bullying among schoolchildren: differences between victims and aggressors. Gac Sanit 2013; 27: 350–354.

Janssen I, Craig WM, Boyce WF, Pickett W . Associations between overweight and obesity with bullying behaviours in school-aged children. Pediatrics 2004; 113: 1187–1194.

Kukaswadia A, Craig W, Janssen I, Pickett W . Obesity as a determinant of two forms of bullying in Ontario youth: a short report. Obes Facts 2011; 4: 469–472.

Reulbach U, Ladewig EL, Nixon E, O'Moore M, Williams J, O'Dowd T . Weight, body image and bullying in 9-year-old children. J Paediatr Child Health 2013; 49: E288–E293.

Verzeletti C, Santinello M, Vieno A . Frequenza e tipologia degli episodi di vittimzzazione in adolescenza: che rulo gioca l'indice di massa corporea. Psicoterapia Cognitiva e Comportamentale 2010; 16: 39–51.

Wilson ML, Viswanathan B, Rousson V, Bovet P . Weight status, body image and bullying among adolescents in the seychelles. Int J Environ Res Public Health 2013; 10: 1763–1774.

Gibson LY, Byrne SM, Blair E, Davis EA, Jacoby P, Zubrick SR . Clustering of psychosocial symptoms in overweight children. Aust N Z J Psychiatry 2008; 42: 118–125.

Griffiths LJ, Wolke D, Page AS, Horwood JP . Obesity and bullying: different effects for boys and girls. Arch Dis Childhood 2006; 91: 121–125.

Guo QZ, Ma WJ, Nie SP, Xu YJ, Xu HF, Zhang YR . Relationships between weight status and bullying victimization among school-aged adolescents in Guangdong Province of China. Biomed Environ Sci 2010; 23: 108–112.

Jankauskiene R, Kardelis K, Sukys S, Kardeliene L . Associations between school bullying and psychosocial factors. Soc Behav Pers 2008; 2: 145–162.

Lumeng JC, Forrest P, Appugliese DP, Kaciroti N, Corwyn RF, Bradley RH . Weight status as a predictor of being bullied in third through sixth grades. Pediatrics 2010; 125: 1301–1307.

Pearce MJ, Boergers J, Prinstein MJ . Adolescent obesity, overt and relational peer victimization, and romantic relationships. Obes Res 2002; 10: 386–393.

Sweeting H, Wright C, Minnis H . Psychosocial correlates of adolescent obesity, 'slimming down' and 'becoming obese'. J Adolesc Health 2005; 37 409: e9–409.e17.

Wang J, Iannotti RJ, Luk J . Bullying victimization among underweight and overweightU.S. youth: differential associations for boys and girls. J Adolesc Health. 2010; 47: 99–101.

Borenstein M, Hedges LV, Higgins JPT, Rothstein HR . Introduction to Meta-Analysis. John Wiley & Sons: Chichester, UK, 2009.

Borenstein M, Hedges LV, Higgins JPT, Rothstein H . Comprehensive meta-analysis version 2, 2006 http://www.meta-analysis.com.

Atlas RS, Pepler DJ . (1998). Observations of bullying in the classroom. J Educ Res 1998; 92: 86–99.

Hoare E, Skouteris H, Fuller-Tyszkiewicz M, Millar L, Allender S . Associations between obesogenic risk factors and depression among adolescents: a systematic review. Obes Rev 2014; 15: 40–51.

Lobstein T, Baur L, Uauy R . Obesity in children and young people: a crisis in public health. Obes Rev 2004; 5: 4–85.

Ogden CL, Kuczmarski RJ, Flegal KM, Mei Z, Guo S, Wei R et al. Center for Disease Control and Prevention 2000 growth charts for the United States: improvements to the 1977 National Center for Health Statistics version. Pediatrics 2002; 109: 45–60.

Cole J, Freeman J, Preece M . Body mass index reference curves for the UK, 1990. Arch Dis Child 1995; 73: 25–29.

Group of China Obesity Task Force. Body mass index reference norm for screening overweight and obesity in Chinese children and adolescents. Cin J Epidemiol 2004; 25: 97–102.

Tutkuviene J . Growth and maturity - Essential indicators of overall health. National Report of the Health Council of Lithuania: Vilnius, Lithuania, 2005.

Kuczmarski RJ, Ogden CL, Strawn LM, Flegal KM, Guo SS, Wei R . CDC growth charts. Adv Data 2000; 8: 1–27.

Centers for Disease Control and Prevention. Hyattsville, MD: U.S. Department of Health and Human Services; 2000.
Ethics declarations
Competing interests
The authors declare no conflict of interest.
About this article
Cite this article
van Geel, M., Vedder, P. & Tanilon, J. Are overweight and obese youths more often bullied by their peers? A meta-analysis on the relation between weight status and bullying. Int J Obes 38, 1263–1267 (2014). https://doi.org/10.1038/ijo.2014.117
Received:

Revised:

Accepted:

Published:

Issue Date:

DOI: https://doi.org/10.1038/ijo.2014.117