Abstract
Objectives:
To assess associations of caesarean section with body mass from birth through adolescence.
Design:
Longitudinal birth cohort study, following subjects up to 15 years of age.
Setting and participants:
Children born in 1991–1992 in Avon, UK who participated in the Avon Longitudinal Study of Parents and Children (ALSPAC) (n=10 219).
Outcome measures:
Primary outcome: standardized measures of body mass (weight-for length z-scores at 6 weeks, 10 and 20 months; and body mass index (BMI) z-scores at 38 months, 7, 9, 11 and 15 years). Secondary outcome: categorical overweight or obese (BMI ⩾85th percentile) for age and gender, at 38 months, 7, 9, 11 and 15 years.
Results:
Of the 10 219 children, 926 (9.06%) were delivered by caesarean section. Those born by caesarean had lower-birth weights than those born vaginally (−46.1 g, 95% confidence interval(CI): 14.6–77.6 g; P=0.004). In mixed multivariable models adjusting for birth weight, gender, parental body mass, family sociodemographics, gestational factors and infant feeding patterns, caesarean delivery was consistently associated with increased adiposity, starting at 6 weeks (+0.11 s.d. units, 95% CI: 0.03–0.18; P=0.005), through age 15 (BMI z-score increment+0.10 s.d. units, 95% CI: 0.001–0.198; P=0.042). By age 11 caesarean-delivered children had 1.83 times the odds of overweight or obesity (95% CI: 1.24–2.70; P=0.002). When the sample was stratified by maternal pre-pregnancy weight, the association among children born of overweight/obese mothers was strong and long-lasting. In contrast, evidence of an association among children born of normal-weight mothers was weak.
Conclusion:
Caesarean delivery is associated with increased body mass in childhood and adolescence. Research is needed to further characterize the association in children of normal weight women. Additional work is also needed to understand the mechanism underlying the association, which may involve relatively enduring changes in the intestinal microbiome.
Relevant articles
Open Access articles citing this article.
Eleanor Ralphs

,

Lucy Pembrey

…

Gillian Santorelli

BMC Public Health Open Access 26 May 2021

Giridhara R. Babu

,

Noel T. Mueller

…

Sara E. Benjamin-Neelon

Pediatric Research Open Access 02 March 2021

Laura Jabri

,

Diana Margot Rosenthal

…

Monica Lakhanpaul

Journal of Health, Population and Nutrition Open Access 28 February 2020
Access options
Subscribe to Journal
Get full journal access for 1 year
$119.00
only $9.92 per issue
All prices are NET prices.
VAT will be added later in the checkout.
Tax calculation will be finalised during checkout.
Buy article
Get time limited or full article access on ReadCube.
$32.00
All prices are NET prices.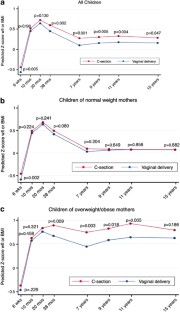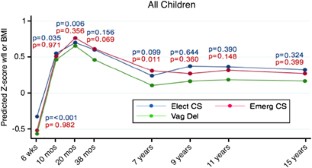 References
Keeler EB, Brodie M . Economic incentives in the choice between vaginal delivery and cesarean section. Milbank Q 1993; 71: 365–404.

Lauer JA, Betran AP, Merialdi M, Wojdyla D . Determinants of caesarean section rates in developed countries: supply, demand and opportunities for control. Available at http://www.who.int/healthsystems/topics/financing/healthreport/29DeterminantsC-section.pdf (accessed 2 July 2012) 2010.

Niino Y . The increasing cesarean rate globally and what we can do about it. Biosci Trends 2011; 5: 139–150.

Yang YT, Mello MM, Subramanian SV, Studdert DM . Relationship between malpractice litigation pressure and rates of cesarean section and vaginal birth after cesarean section. Med Care 2009; 47: 234–242.

National Institutes of Health. National Institutes of Health State-of-the-Science Conference Statement: Cesarean Delivery on Maternal Request March 27-29, 2006. Obstet Gynecol 2006; 107: 1386–1397.

Fuglenes D, Aas E, Botten G, Oian P, Kristiansen IS . Why do some pregnant women prefer cesarean? The influence of parity, delivery experiences, and fear. Am J Obstet Gynecol 2011; 205 (45): e41–e49.

National Institute for Health and Clinical Excellence (NICE). Caesarean section (update). (Clinical guideline 132) 2011, http://guidance.nice.org.uk/CG132.

Dominguez-Bello MG, Costello EK, Contreras M, Magris M, Hidalgo G, Fierer N et al. Delivery mode shapes the acquisition and structure of the initial microbiota across multiple body habitats in newborns. Proc Natl Acad Sci USA 2010; 107: 11971–11975.

Huurre A, Kalliomaki M, Rautava S, Rinne M, Salminen S, Isolauri E . Mode of delivery - effects on gut microbiota and humoral immunity. Neonatology 2008; 93: 236–240.

Koenig JE, Spor A, Scalfone N, Fricker AD, Stombaugh J, Knight R et al. Succession of microbial consortia in the developing infant gut microbiome. Proc Natl Acad Sci USA 2010; 108 (Suppl 1): 4578–4585.

Palmer C, Bik EM, DiGiulio DB, Relman DA, Brown PO . Development of the human infant intestinal microbiota. PLoS Biol 2007; 5: e177.

Penders J, Thijs C, Vink C, Stelma FF, Snijders B, Kummeling I et al. Factors influencing the composition of the intestinal microbiota in early infancy. Pediatrics 2006; 118: 511–521.

Salminen S, Gibson GR, McCartney AL, Isolauri E . Influence of mode of delivery on gut microbiota composition in seven year old children. Gut 2004; 53: 1388–1389.

Cho I, Yamanishi S, Cox L, Methe BA, Zavadil J, Li K et al. Antibiotics in early life alter the murine colonic microbiome and adiposity. Nature 2012; 488: 621–626.

Ajslev TA, Andersen CS, Gamborg M, Sorensen TI, Jess T . Childhood overweight after establishment of the gut microbiota: the role of delivery mode, pre-pregnancy weight and early administration of antibiotics. Int J Obes (Lond) 2011; 35: 522–529.

Barros FC, Matijasevich A, Hallal PC, Horta BL, Barros AJ, Menezes AB et al. Cesarean section and risk of obesity in childhood, adolescence, and early adulthood: evidence from 3 Brazilian birth cohorts. Am J Clin Nutr 2012; 95: 465–470.

Goldani HA, Bettiol H, Barbieri MA, Silva AA, Agranonik M, Morais MB et al. Cesarean delivery is associated with an increased risk of obesity in adulthood in a Brazilian birth cohort study. Am J Clin Nutr 2011; 93: 1344–1347.

Huh SY, Rifas-Shiman SL, Zera CA, Edwards JW, Oken E, Weiss ST et al. Delivery by caesarean section and risk of obesity in preschool age children: a prospective cohort study. Arch Dis Child 2012; 97: 610–616.

Li HT, Zhou YB, Liu JM . The impact of cesarean section on offspring overweight and obesity: a systematic review and meta-analysis. Int J Obes (Lond) 2012; 1–7 doi:10.1038/ijo.2012.195.

Golding J, Pembrey M, Jones R . ALSPAC-the Avon longitudinal study of parents and children. I. Study methodology. Paediatr Perinat Epidemiol 2001; 15: 74–87.

Bragg F, Cromwell DA, Edozien LC, Gurol-Urganci I, Mahmood TA, Templeton A et al. Variation in rates of caesarean section among English NHS trusts after accounting for maternal and clinical risk: cross sectional study. BMJ 2010; 341: c5065.

Castro LC, Avina RL . Maternal obesity and pregnancy outcomes. Curr Opin Obstet Gynecol 2002; 14: 601–606.

Hillier TA, Pedula KL, Schmidt MM, Mullen JA, Charles MA, Pettitt DJ. . Childhood obesity and metabolic imprinting: the ongoing effects of maternal hyperglycemia. Diabetes Care 2007; 30: 2287–2292.

Howe LD, Tilling K, Lawlor DA . Accuracy of height and weight data from child health records. Arch Dis Child 2009; 94: 950–954.

de Onis M, WHO Multicentre Growth Reference Study Group. WHO Child Growth Standards based on length/height, weight and age. Acta Paediatrica 2006; 95: 76–85.

Grummer-Strawn LM, Reinold C, Krebs NF . Use of World Health Organization and CDC growth charts for children aged 0–59 months in the United States. MMWR Recomm Rep 2010; 59: 1–15.

Ogden CL, Kuczmarski RJ, Flegal KM, Mei Z, Guo S, Wei R et al. Centers for Disease Control and Prevention 2000 growth charts for the United States: improvements to the 1977 National Center for Health Statistics version. Pediatrics 2002; 109: 45–60.

Fraser A, Tilling K, Macdonald-Wallis C, Hughes R, Sattar N, Nelson SM et al. Associations of gestational weight gain with maternal body mass index, waist circumference, and blood pressure measured 16 y after pregnancy: the Avon Longitudinal Study of Parents and Children (ALSPAC). Am J Clin Nutr 2011; 93: 1285–1292.

OPCS. Standard Occupational Classification 3. HMSO: London, 1991.

Office of Qualifications and Examinations Regulations. Explaining the National Qualifications Framework. Available at http://www.ofqual.gov.uk/ accessed 23 December 2011.

US Institute of Medicine. Weight Gain During Pregnancy: Re-examing the Guidelines 2009. Available at http://www.iom.edu/Reports/2009/Weight-Gain-During-Pregnancy-Reexamining-the-Guidelines.aspx.

Reilly JJ, Armstrong J, Dorosty AR, Emmett PM, Ness A, Rogers I et al. Early life risk factors for obesity in childhood: cohort study. BMJ 2005; 330: 1357.

Wolke D, Waylen A, Samara M, Steer C, Goodman R, Ford T et al. Selective drop-out in longitudinal studies and non-biased prediction of behaviour disorders. Br J Psychiatr 2009; 195: 249–256.

Cho I, Blaser MJ . The human microbiome: at the interface of health and disease. Nat Rev Genet 2012; 13: 260–270.

Mugford M, Kingston J, Chalmers I . Reducing the incidence of infection after caesarean section: implications of prophylaxis with antibiotics for hospital resources. BMJ 1989; 299: 1003–1006.

Trasande L, Blustein J, Liu M, Corwin E, Cox LM, Blaser MJ . Infant antibiotic exposures and early-life body mass. Int J Obes (Lond) 2012; 37: 16–23.

Friedemann C, Heneghan C, Mahtani K, Thompson M, Perera R, Ward AM . Cardiovascular disease risk in healthy children and its association with body mass index: systematic review and meta-analysis. BMJ 2012; 345: e4759.
Acknowledgements
We are extremely grateful to all the families who took part in this study, the midwives for their help in recruiting them, and the whole ALSPAC team, which includes interviewers, computer and laboratory technicians, clerical workers, research scientists, volunteers, managers, receptionists and nurses. The UK Medical Research Council, the Wellcome Trust (Grant ref: 092731) and the University of Bristol provide core support for ALSPAC. Additional financial support was provided through a pilot grant from the NYU Global Public Health Research Challenge Fund, by NIH grants RO1DK090989 and 1UL1RR029893, and by the Diane Belfer Program in Human Microbial Ecology.
Disclaimer
This publication is the work of the authors and Drs Blustein and Trasande will serve as guarantors for the contents of this paper and does not reflect the views of the ALSPAC executive.
Data sharing statement
The authors were granted access to the ALSPAC data through an agreement with the University of Bristol, and are not authorized to share data with other investigators.
Ethics declarations
Competing interests
All authors have completed the Unified Competing Interest form at www.icmje.org/coi_disclosure.pdf (available on request from the corresponding author) and declare: all authors had financial support from the NYU Global Public Health Research Fund for the submitted work, and MJB/LMK had financial support from the National Institutes of Health (NIH), as described in the acknolwedgements and the Diane Belfer Program in Human Microbial Ecology; no financial relationships with any organisations that might have an interest in the submitted work in the previous 3 years; no other relationships or activities that could appear to have influenced the submitted work.
About this article
Cite this article
Blustein, J., Attina, T., Liu, M. et al. Association of caesarean delivery with child adiposity from age 6 weeks to 15 years. Int J Obes 37, 900–906 (2013). https://doi.org/10.1038/ijo.2013.49
Received:

Revised:

Accepted:

Published:

Issue Date:

DOI: https://doi.org/10.1038/ijo.2013.49
Keywords
childhood obesity

adiposity

caesarean delivery

microbiome

ALSPAC