Abstract
Objective:
Neuroimaging studies have documented differences in neural responses to food cues in obese versus lean samples but little is known about weight status differences in responsiveness to other key features of obesogenic environments, particularly cues reflecting physical activity. To address this gap, patterns of activation related to visual depictions of sedentary activities and vigorous physical exercise were assessed in overweight (O-W) and average weight (A-W) samples via functional magnetic resonance imaging (fMRI).
Methods:
Thirteen O-W and 13 A-W Chinese women were instructed to imagine engaging in 90 physical exercise activities and 90 sedentary activities and to watch 90 landscape images presented during three runs of an fMRI scan within a cross-sectional design.
Results:
Behavioral results indicated O-W women endorsed more negative attitudes toward physical activity than A-W did. Imaging analyses indicated that body mass index had a significant negative association with activation of the right putamen and a positive correlation with activation in the right medial frontal gyrus, specifically Brodmann Area 10 in the exercise–sedentary image contrast condition. For the sedentary–control contrast, significantly less activation in an insula area related to negative affect was observed for the O-W group. Finally, for the exercise–control contrast, O-W women also displayed comparatively weaker activation in a cingulate gyrus area implicated in kinesthetic memory of body movements and the re-experiencing real events.
Conclusion:
Together, results supported contentions that exposure to depictions of physical exercise corresponds to reduced activation of reward centers and heightened activation in regions associated with negative affect regulation among O-W women compared with leaner peers.
Access options
Subscribe to Journal
Get full journal access for 1 year
$119.00
only $9.92 per issue
All prices are NET prices.
VAT will be added later in the checkout.
Tax calculation will be finalised during checkout.
Buy article
Get time limited or full article access on ReadCube.
$32.00
All prices are NET prices.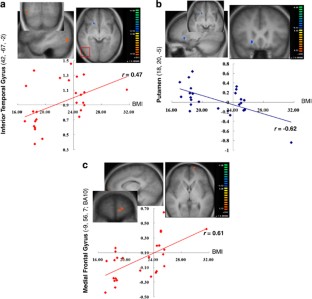 References
Brownson RC, Boehmer TK, Luke DA . Declining rates of physical activity in the United States: what are the contributors? Ann Rev Pub Health 2005; 2: 421–443.

Swinburn B, Sacks G, Ravussin E . Increased food energy supply is more than sufficient to explain the US epidemic of obesity. Amer J Clin Nutr 2009; 90: 1453–1456.

Popkin BM . The nutrition transition: worldwide obesity dynamics and their determinants. Int J Obes 2004; 28: S2–S9.

Swinburn BA, Sacks G, Hall KD, McPherson K, Finegood DT, Moodie ML et al. The global obesity pandemic: shaped by global drivers and local environments. Lancet 2011; 378: 804–814.

Carnell S, Gibson C, Benson L, Ochner CN, Geliebter A . Neuroimaging and obesity: current knowledge and future directions. Obes Rev 2012; 13: 43–56.

Stice E, Spoor S, Bohon C, Small DM . Relation between obesity and blunted striatal response to food is moderated by TaqIA A1 allele. Science 2008; 322: 449–452.

Stice E, Spoor S, Bohon C, Veldhuizen MG, Small DM . Relation of reward from food intake and anticipated food intake to obesity: a functional magnetic resonance imaging study. J Abn Psych 2008; 117: 924–935.

Joseph RJ, Alonso M, Bond DS, Pascual-Leone A, Blackburn GL . The neurocognitive connection between physical activity and eating behaviour. Obes Rev 2011; 12: 800–812.

Cornier M, Melanson EL, Salzberg AK, Bechtell J, Tregellas JR . The effects of exercise on the neuronal response to food cues. Physiol Behav 2012; 105: 1028–1034.

Martins C, Morgan L, Truby H . A review of the effects of exercise on appetite regulation: an obesity perspective. Int J Obes 2008; 32: 1337–1347.

Chaput JP, Klingenberg L, Astrup A, Sjödin AM . Modern sedentary activities promote overconsumption of food in our current obesogenic environment. Obes Rev 2011; 12: e12–e20.

Kamtsios S, Digelidis N . Physical activity levels, exercise attitudes, self-perceptions and BMI type of 11 to 12-year-old children. J Child Health Care 2008; 12: 232–240.

Olds TS, Ferrar KE, Schranz NK, Maher CA . Obese adolescents are less active than their normal-weight peers, but wherein lies the difference? J Adol Health 2011; 48: 189–195.

Spees CK, Scott JM, Taylor CA . Differences in amounts and types of physical activity by obesity status in US adults. Amer J Health Behav 2012; 36: 56–65.

Epstein LH, Smith JA, Vara LS, Rodefer JS . Behavioral economic analysis of activity choice in obese children. Health Psych 1991; 10: 311–316.

Wardle J, Guthrie C, Sanderson S, Birch L, Plomin R . Food and activity preferences in children of lean and obese parents. Int J Obes Metab Dis 2001; 25: 971–977.

Bauer KW, Yang YW, Austin SB . 'How can we stay healthy when you're throwing all this in front of us?' Findings from focus groups and interviews in middle schools on environmental influences on nutrition and physical activity. Health Educ Behav 2004; 31: 34–36.

Faith MS, Leone MA, Ayers TS, Moonseong H, Pietrobelli A . Weight criticism during physical activity, coping skills and reported physical activity in children. Pediat 2002; 110: e23.

Miller WC, Miller TA . Attitudes of overweight and normal weight adults regarding exercise at a health club. J Nutr Educ Behav 2010; 42: 2–9.

Puhl RM, Heuer CA . The stigma of obesity: a review and update. Obes 2009; 17: 941–964.

Vartanian LR, Novak SA . Internalized societal attitudes moderate the impact of weight stigma on avoidance of exercise. Obesity (Silver Spring) 2010; 19: 757–762.

Vartanian LR, Shaprow JG . Effects of weight stigma on exercise motivation and behavior: a preliminary investigation among college-aged females. J Health Psych 2008; 13: 131–138.

Ekkekakis P, Lind E, Vazou S . Affective responses to increasing levels of exercise intensity in normal- weight, overweight, and obese middle-aged women. Obesity (Silver Spring) 2010; 18: 79–85.

Ekkekakis P, Lind E . Exercise does not feel the same when you are overweight: the impact of self-selected and imposed intensity on affect and exertion. Int J Obes 2006; 30: 652–660.

Hulens M, Vansant G, Claessens AL, Lysens R, Muls E . Predictors of 6-minute walk test results in lean, obese and morbidly obese women. Scand J Med Sci Sports 2003; 13: 98–105.

Brock DW, Chandler-Laney PC, Alvarez JA, Gower BA, Gaesser GA, Hunter GR . Perception of exercise difficulty predicts weight regain in formerly overweight women. Obesity (Silver Spring) 2010; 18: 982–986.

Decety J . The neurodevelopment of empathy in humans. Dev Neurosci 2010; 32: 257–267.

Shackman AJ, Salomons TV, Slagter HA, Fox AS, Winter JJ, Davidson RJ . The integration of negative affect, pain and cognitive control in the cingulate cortex. Nat Rev Neurosci 2011; 12: 154–167.

Vogt BA . Pain and emotion interactions in subregions of the cingulate gyrus. Nat Rev Neurosci 2005; 6: 533–544.

Motl RW, Dishman RK, Trost SG, Saunders RP, Dowda M, Felton G et al. Factorial validity and invariance of questionnaires measuring social-cognitive determinants of physical activity among adolescent girls. Prevent Med 2000; 31: 584–594.

Motl RW, Dishman RK, Saunders RP, Dowda M, Felton G, Ward DS et al. Examining social-cognitive determinants of intention and physical activity among Black and White adolescent girls using structural equation modeling. Health Psych 2002; 21: 459–467.

Nelson TD, Benson ER, Jensen CD . Negative attitudes toward physical activity: measurement and role in predicting physical activity levels among preadolescents. J Pediat Psych 2010; 35: 89–98.

Davids S, Lauffer H, Thoms K, Jagdhuhn M, Hirschfeld H, Domin M et al. Increased dorsolateral prefrontal cortex activation in obese children during observation of food stimuli. Int J Obes 2010; 34: 94–104.

Karhunen L, Lappalainen RI, Vanninen EJ, Kuikka JT, Uusitupa MI . Regional cerebral blood flow during food exposure in obese and normal-weight women. Brain 1997; 120: 1675–1684.

Malik S, McGlone F, Bedrossian D, Dagher A . Ghrelin modulates brain activity in areas that control appetitive behavior. Cell Metab 2008; 7: 400–409.

World Health Organization. The Asia-Pacific Perspective: Redefining Obesity and Its Treatment. Health Communications Australia: Sydney, 2000.

Friston KJ, Holmes AP, Worsley KJ, Poline JP, Frith CD, Frackowiak RS . Statistical parametric maps in functional imaging: a general linear approach. Human Brain Mapping 1994; 2: 189–210.

Liu L, Feng TY, Wang JF, Li H . The neural dissociation of subjective valuation from choice processes in inter-temporal choice. Behav Brain Res 2012; 231: 40–47.

Yang J, Dedovicc K, Chen WH, Zhang QL . Self-esteem modulates dorsal anterior cingulate cortical response in self-referential processing. Neuropsychologia 2012; 50: 1267–1270.

Friston K, Holmes A, Worsley KJ . How many subjects constitute a study? NeuroImage 1999; 10: 1–5.

Burger KS, Stice E . Relation of dietary restraint scores to activation of reward-related brain regions in response to food intake, anticipated intake, and food pictures. NeuroImage 2011; 55: 233–239.

Gilbert SJ, Spengler S, Simons JS, Steele JD, Lawrie SM, Frith CD et al. Functional specialization within rostral prefrontal cortex (area 10): a meta-analysis. J Cog Neurosci 2006; 18: 932–948.

Carter RM, O'Doherty JP, Seymour B, Koch C, Dolan RJ . Contingency awareness in human aversive conditioning involves the middle frontal gyrus. NeuroImage 2006; 29: 1007–1012.

Grecucci A, Giorgetta C, Van't Wout M, Bonini N, Sanfey AG . Reappraising the ultimatum: an fMRI study of emotion regulation and decision making. Cer Cortex 2013; 23: 399–410.

Ochsner KN, Ray RD, Cooper JC, Robertson ER, Chopra S, Gabrieli JD et al. For better or for worse: neural systems supporting the cognitive down- and up-regulation of negative emotion. NeuroImage 2004; 23: 83–499.

Aupperle RL, Allard CB, Grimes EM, Simmons AN, Flagan T, Behrooznia M et al. Dorsolateral prefrontal cortex activation during emotional anticipation and neuropsychological performance in posttraumatic stress disorder. Arch Gen Psych 2012; 69: 360–371.

Richieri R, Boyer L, Farisse J, Colavolpe C, Mundler O, Lancon C et al. Predictive value of brain perfusion SPECT for rTMS response in pharmacoresistant depression. Eur J Nucl Med Mol Imag 2011; 3: 1715–1722.

Mazzola V, Latorre V, Petito A, Gentili N, Fazio L, Popolizio T et al. Affective response to a loved one's pain: insula activity as a function of individual differences. PLoS One 2010; 5: e15268.

Rainville P . Brain mechanisms of pain affect and pain modulation. Curr Opin Neurobiol 2002; 12: 195–204.

Ochsner KN, Gross JJ . Cognitive emotion regulation insights from social cognitive and affective neuroscience. Cur Dir Psychol Science 2008; 17: 153–158.

Deiber MP, Passingham RE, Colebatch J, Friston K, Nixon P, Frackowiak RS . Cortical areas and the selection of movement: a study with positron emission tomography. Exp Brain Res 1991; 84: 393–402.

Deiber MP, Wise SP, Honda M, Catalan MJ, Grafman J, Hallett M . Frontal and parietal networks for conditional motor learning: a positron emission tomography study. J Neurophys 1997; 78: 977–991.

Freund HJ . Premotor area and preparation of movement. Rev Neurol 1990; 146: 543–547.

Kataoka H, Sugie K, Kohara N, Ueno S . Novel representation of astasia associated with posterior cingulate infarction. Stroke 2006; 37: e3–e5.

Maddock RJ, Garrett AS, Buonocore MH . Remembering familiar people: the posterior cingulate cortex and autobiographical memory retrieval. Neuroscience 2001; 104: 667–676.

Maguire EA . The retrosplenial contribution to human navigation: a review of lesion and neuroimaging findings. Scand J Psychol 2001; 42: 225–238.

Ries ML, Schmitz TW, Kawahara TN, Torgerson BM, Trivedi MA, Johnson SC . Task-dependent posterior cingulate activation in mild cognitive impairment. NeuroImage 2006; 29: 485–492.

Spreng RN, Mar RA, Kim AS . The common neural basis of autobiographical memory, prospection, navigation, theory of mind, and the default mode: a quantitative meta-analysis. J Cog Neurosci 2009; 21: 489–510.

Vann SD, Aggleton JP, Maguire EA . What does the retrosplenial cortex do? Nat Rev Neurosci 2009; 10: 792–802.
Acknowledgements
This research was supported by grants (no. 31170981, no. 31371037 and no. 31100758) from the National Natural Science Foundation of China, Education Ministry of China, a Chongqing 100 Persons International Fellowship and the BaYu Scholar Program of the Chongqing Government.
Ethics declarations
Competing interests
The authors declare no conflict of interest.
About this article
Cite this article
Jackson, T., Gao, X. & Chen, H. Differences in neural activation to depictions of physical exercise and sedentary activity: an fMRI study of overweight and lean Chinese women. Int J Obes 38, 1180–1185 (2014). https://doi.org/10.1038/ijo.2013.245
Received:

Revised:

Accepted:

Published:

Issue Date:

DOI: https://doi.org/10.1038/ijo.2013.245
Keywords
functional magnetic resonance imaging

physical exercise

sedentary behavior

overweight

reward

negative affect
Further reading
Boris Cheval
Rémi Radel
Matthieu P. Boisgontier

Sports Medicine (2018)