Abstract
Emerging evidence supports the feasibility of raising daily energy expenditure (EE) by replacing office work-related sedentary behavior with low-intensity non-exercise physical activity (PA) via workstation alternatives to the traditional office chair and desktop computer-based combinations. The purpose of this review article is to introduce a simple taxonomy to facilitate classification and study of workstation alternatives, catalog the diversity of research undertaken to date related to energy balance, and present and summarize the gaps and opportunities for a research agenda for workstation alternatives moving forward. A PubMed search elicited 57 English language articles published since 2000; additional articles were identified by reviewing reference sections and contacting authors. Selection criteria ultimately focused on use of workstation alternatives during simulated or real work tasks. The EE of sitting on a stability ball or using sit–stand/standing desks is comparable to the traditional seated condition (≅1.2 kcal min−1). The treadmill and pedal desks (active workstation alternatives) offer the greatest promise in terms of EE (≅2–4 kcal min−1). Sitting on a stability ball or using sit–stand/standing desks does not impair task performance relative to the traditional seated condition. Some evidence of typing impairment is inconsistently reported with active workstation alternatives; the finer motor skills required for mouse-related tasks may be more affected. Little is known about learning or adaptation with practice. Users are generally accepting of workstation alternatives; however, there is evidence of less than optimal use. Active workstations (that is, treadmill desks and pedal desks) in particular represent a potential strategy for mitigating the diminished EE inherent to contemporary office-based workplaces, but only if they are scalable. The science supporting active workstations is young and heterogeneous; however, this means that there are many knowledge gaps and opportunities for research, including those focused on implementation issues related to optimizing both employers' and workers' uptake.
Access options
Subscribe to this journal
Receive 12 print issues and online access
$259.00 per year
only $21.58 per issue
Rent or buy this article
Prices vary by article type
from$1.95
to$39.95
Prices may be subject to local taxes which are calculated during checkout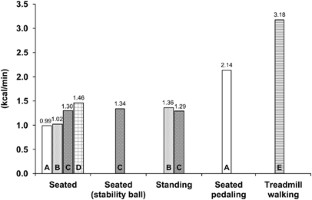 Similar content being viewed by others
References
Hamilton MT, Hamilton DG, Zderic TW . Role of low energy expenditure and sitting in obesity, metabolic syndrome, type 2 diabetes, and cardiovascular disease. Diabetes 2007; 56: 2655–2667.

Thorp AA, Healy GN, Winkler E, Clark BK, Gardiner PA, Owen N et al. Prolonged sedentary time and physical activity in workplace and non-work contexts: a cross-sectional study of office, customer service and call centre employees. Int J Behav Nutr Phys Act 2012; 9: 128.

Hu FB, Li TY, Colditz GA, Willett WC, Manson JE . Television watching and other sedentary behaviors in relation to risk of obesity and type 2 diabetes mellitus in women. JAMA 2003; 289: 1785–1791.

Church TS, Thomas DM, Tudor-Locke C, Katzmarzyk PT, Earnest CP, Rodarte RQ et al. Trends over 5 decades in U.S. occupation-related physical activity and their associations with obesity. PLoS One 2011; 6: e19657.

Tsai AG, Williamson DF, Glick HA . Direct medical cost of overweight and obesity in the USA: a quantitative systematic review. Obes Rev 2011; 12: 50–61.

Trogdon JG, Finkelstein EA, Hylands T, Dellea PS, Kamal-Bahl SJ . Indirect costs of obesity: a review of the current literature. Obes Rev 2008; 9: 489–500.

Cancelliere C, Cassidy JD, Ammendolia C, Cote P . Are workplace health promotion programs effective at improving presenteeism in workers? A systematic review and best evidence synthesis of the literature. BMC Public Health 2011; 11: 395.

Straker L, Mathiassen SE . Increased physical work loads in modern work—a necessity for better health and performance? Ergonomics 2009; 52: 1215–1225.

Thompson WG, Foster RC, Eide DS, Levine JA . Feasibility of a walking workstation to increase daily walking. Br J Sports Med 2008; 42: 225–228, (discussion 228).

McAlpine DA, Manohar CU, McCrady SK, Hensrud D, Levine JA . An office-place stepping device to promote workplace physical activity. Br J Sports Med 2007; 41: 903–907.

Carr LJ, Walaska KA, Marcus BH . Feasibility of a portable pedal exercise machine for reducing sedentary time in the workplace. Br J Sports Med 2012; 46: 430–435.

Osilla KC, Van Busum K, Schnyer C, Larkin JW, Eibner C, Mattke S . Systematic review of the impact of worksite wellness programs. Am J Manag. Care 2012; 18: e68–e81.

Proper KI, Koning M, van der Beek AJ, Hildebrandt VH, Bosscher RJ, van Mechelen W . The effectiveness of worksite physical activity programs on physical activity, physical fitness, and health. Clin J Sport Med 2003; 13: 106–117.

Levine JA, Schleusner SJ, Jensen MD . Energy expenditure of nonexercise activity. Am J Clin Nutr 2000; 72: 1451–1454.

Edelson N, Danoff J . Walking on an electric treadmill while perfroming VDT office work. SIGCHI Bulletin 1989; 21: 72–77.

Beers EA, Roemmich JN, Epstein LH, Horvath PJ . Increasing passive energy expenditure during clerical work. Eur J Appl Physiol 2008; 103: 353–360.

Reiff C, Marlatt K, Dengel DR . Difference in caloric expenditure in sitting versus standing desks. J Phys Act Health 2012; 9: 1009–1011.

Levine JA, Miller JM . The energy expenditure of using a 'walk-and-work' desk for office workers with obesity. Br J Sports Med 2007; 41: 558–561.

Swartz AM, Squires L, Strath SJ . Energy expenditure of interruptions to sedentary behavior. Int J Behav Nutr Phys Act 2011; 8: 69.

Speck RM, Schmitz KH . Energy expenditure comparison: a pilot study of standing instead of sitting at work for obesity prevention. Prev Med 2011; 52: 283–284.

Peterman JE, Kram R, Byrnes WC . Factors affecting the increased energy expenditure during passive cycling. Eur J Appl Physiol 2012; 112: 3341–3348.

Cox RH, Guth J, Siekemeyer L, Kellems B, Brehm SB, Ohlinger CM . Metabolic cost and speech quality while using an active workstation. J Phys Act Health 2011; 8: 332–339.

Hall KD . What is the required energy deficit per unit weight loss? Int J Obes (Lond) 2008; 32: 573–576.

Pline KM, Madigan ML, Nussbaum MA . Influence of fatigue time and level on increases in postural sway. Ergonomics 2006; 49: 1639–1648.

Orendurff MS, Schoen JA, Bernatz GC, Segal AV, Klute GK . How humans walk: bout duration, steps per bout, and rest duration. J Rehabil Res Dev 2008; 45: 1077–1090.

Straker LM, Abbott RA, Piek JP, Pollock CM, Davies PS, Smith AJ . Rationale, design and methods for a randomised and controlled trial to investigate whether home access to electronic games decreases children's physical activity. BMC Public Health 2009; 9: 212–212.

Straker L, Levine J, Campbell A . The effects of walking and cycling computer workstations on keyboard and mouse performance. Hum Factors 2009; 51: 831–844.

Hill JO, Wyatt HR, Reed GW, Peters JC . Obesity and the environment: where do we go from here? Science 2003; 299: 853–855.

Thompson WG, Koepp GA, Levine JA . Increasing physician activity with treadmill desks. Work 2013. e-pub ahead of print 4 September 2013.

Koepp GA, Manohar CU, McCrady-Spitzer SK, Ben-Ner A, Hamann DJ, Runge CF et al. Treadmill desks: a 1-year prospective trial. Obesity (Silver Spring) 2013; 21: 705–711.

Spruit MA, Singh SJ, Garvey C, Zuwallack R, Nici L, Rochester C et al. An official American Thoracic Society/European Respiratory Society Statement: key concepts and advances in pulmonary rehabiliation. Am J Respir Crit Care Med 2013; 188: e13–e64 in press.

Carr LJ, Maeda H, Luther B, Rider P, Tucker S, Leonhard C . Acceptability and effects of a seated active workstation during sedentary work: A proof of concept study. Inl J Workplace Health Manag (in press).

Beurskens R, Bock O . Age-related deficits of dual-task walking: a review. Neural Plast 2012; 2012: 131608.

Woollacott M, Shumway-Cook A . Attention and the control of posture and gait: a review of an emerging area of research. Gait Posture 2002; 16: 1–14.

Mark JA . Measuring productivity in service industries. Mon Labor Rev 1982; 1982: 3–8.

Ebara T, Kubo T, Inoue T, Murasaki GI, Takeyama H, Sato T et al. Effects of adjustable sit-stand VDT workstations on workers' musculoskeletal discomfort, alertness and performance. Ind Health 2008; 46: 497–505.

Ohlinger CM, Horn TS, Berg WP, Cox RH . The effect of active workstation use on measures of cognition, attention, and motor skill. J Phys Act Health 2011; 8: 119–125.

Funk RE, Taylor ML, Creekmur CC, Ohlinger CM, Cox RH, Berg WP . Effect of walking speed on typing performance using an active workstation. Percept Mot Skills 2012; 115: 309–318.

John D, Bassett D, Thompson D, Fairbrother J, Baldwin D . Effect of using a treadmill workstation on performance of simulated office work tasks. J Phys Act Health 2009; 6: 617–624.

Thompson WG, Levine JA . Productivity of transcriptionists using a treadmill desk. Work 2011; 40: 473–477.

Myers AM . Program Evaluation for Exercise Leaders. Human Kinetics: Champaign, IL, USA, 1999.

McGill SM, Kavcic NS, Harvey E . Sitting on a chair or an exercise ball: various perspectives to guide decision making. Clin Biomech (Bristol, Avon) 2006; 21: 353–360.

Kingma I, van Dieen JH . Static and dynamic postural loadings during computer work in females: sitting on an office chair versus sitting on an exercise ball. Appl Ergon 2009; 40: 199–205.

Gregory DE, Dunk NM, Callaghan JP . Stability ball versus office chair: comparison of muscle activation and lumbar spine posture during prolonged sitting. Hum Factors 2006; 48: 142–153.

Wilks S, Mortimer M, Nylen P . The introduction of sit-stand worktables; aspects of attitudes, compliance and satisfaction. Appl Ergon 2006; 37: 359–365.

Alkhajah TA, Reeves MM, Eakin EG, Winkler EA, Owen N, Healy GN . Sit-stand workstations: a pilot intervention to reduce office sitting time. Am J Prev Med 2012; 43: 298–303.

Pronk NP, Katz AS, Lowry M, Payfer JR . Reducing Occupational sitting time and improving worker health: the Take-a-Stand Project, 2011. Prev Chronic Dis 2012; 9: E154.

Roelofs A, Straker L . The experience of musculoskeletal discomfort amongst bank tellers who just sit, just stand or sit and stant at work. Ergonomics 2002; 14: 11–29.

Carr LJ, Karvinen K, Peavler M, Smith R, Cangelosi K . Multicomponent intervention to reduce daily sedentary time: a randomised controlled trial. BMJ Open 2013; 3: e003261.

Gilson ND, Suppini A, Ryde GC, Brown HE, Brown WJ . Does the use of standing 'hot' desks change sedentary work time in an open plan office? Prev. Med 2012; 54: 65–67.

Gilson N, Straker L, Parry S . Occupational sitting: practitioner perceptions of health risks, intervention strategies and influences. Health Promot J Austr 2012; 23: 208–212.

Parry SP, Straker L, Gilson ND, Smith AJ . Participatory workplace interventions can reduce sedentary time for office workers—a randomized controlled trial. Plos One 2013; 8: e78957.

John D, Thompson DL, Raynor H, Bielak K, Rider B, Bassett DR . Treadmill workstations: a worksite physical activity intervention in overweight and obese office workers. J Phys Act Health 2011; 8: 1034–1043.

Ainsworth BE, Haskell WL, Herrmann SD, Meckes N, Bassett DR Jr, Tudor-Locke C et al. 2011 Compendium of Physical Activities: a second update of codes and MET values. Med Sci Sports Exerc 2011; 43: 1575–1581.

Straker L, Abbott RA, Heiden M, Mathiassen SE, Toomingas A . Sit-stand desks in call centres: associations of use and ergonomics awareness with sedentary behavior. Appl Ergon 2013; 44: 517–522.

Robertson MM, Ciriello VM, Garabet AM . Office ergonomics training and a sit-stand workstation: effects on musculoskeletal and visual symptoms and performance of office workers. App. Ergon 2013; 44: 73–85.

Montain SJ, Latzka WA, Sawka MN . Control of thermoregulatory sweating is altered by hydration level and exercise intensity. J Appl Physiol (1985) 1995; 79: 1434–1439.

US Department of Health and Human Services. 2008 Physical Activity Guidelines for Americans: Be Active. Healthy, and Happy!: Washington, DC, USA, 2008. Report no.: ODPHP Publication No. U0036.

Katzmarzyk PT, Church TS, Craig CL, Bouchard C . Sitting time and mortality from all causes, cardiovascular disease, and cancer. Med Sci Sports Exerc 2009; 41: 998–1005.

Tudor-Locke C, Ainsworth BE, Washington TL, Troiano RP . Assigning metabolic equivalent (MET) values to the 2002 Census Occupational Classification System. J Phys Act Health 2011; 8: 581–586.

Drury CG, Hsiao YL, Joseph C, Joshi S, Lapp J, Pennathur PR . Posture and performance: sitting vs standing for security screening. Ergonomics 2008; 51: 290–307.

Fidler JL, MacCarty RL, Swensen SJ, Huprich JE, Thompson WG, Hoskin TL et al. Feasibility of using a walking workstation during CT image interpretation. J Am Coll Radiol 2008; 5: 1130–1136.

Husemann B, Von Mach CY, Borsotto D, Zepf KI, Scharnbacher J . Comparisons of musculoskeletal complaints and data entry between a sitting and a sit-stand workstation paradigm. Hum Factors 2009; 51: 310–320.

Alderman BL, Olson RL, Mattina DM . Cognitive function during low intensity walking: a test of the treadmill workstation. J Phys Act Health 2013. e-pub ahead of print 14 March 2013.
Ethics declarations
Competing interests
Dr Tudor-Locke and her husband, Mr Gerald R Locke, co-invented and thus own intellectual property for a workstation alternative device that is not presented in this review of published literature. We are currently conducting research with the device. The remaining authors declare no conflict of interest.
Additional information
Author contributions
All authors contributed to this manuscript and approved its final content. CT-L led the writing of this manuscript while alternating between a treadmill desk (3.2 km h−1 as indicated by device display, no incline; wearing business attire and athletic shoes) and a pedal desk (52–56 r.p.m. and 40–44 watts as indicated by Garmin Vector Power Meter Pedals, no resistance; wearing business attire and a range of footwear including high heels). She says she doesn't sweat.
About this article
Cite this article
Tudor-Locke, C., Schuna, J., Frensham, L. et al. Changing the way we work: elevating energy expenditure with workstation alternatives. Int J Obes 38, 755–765 (2014). https://doi.org/10.1038/ijo.2013.223
Received:

Revised:

Accepted:

Published:

Issue Date:

DOI: https://doi.org/10.1038/ijo.2013.223
Keywords