Abstract
There is mounting evidence that family functioning is linked to childhood overweight and obesity, and that both of these are associated with health-related behaviours and adverse health outcomes in children and adolescents. This paper systematically examines the peer-reviewed evidence regarding the relationship between child and adolescent overweight and obesity and family functioning. Peer-reviewed literature published between 1990 and 2011 hosted in Scopus, Pub Med or Psyc INFO were searched, in addition to the reference lists of included papers. Twenty-one studies met the selection criteria. Of the 17 identified cross-sectional and longitudinal studies, 12 reported significant associations between family functioning and childhood overweight and obesity. The instruments used to measure family functioning in the identified studies were heterogeneous. Poor family functioning was associated with increased risk of obesity and overweight in children and adolescents, and obese children and adolescents were more likely to come from families with poor family functioning. Aspects of family functioning which were associated with increased risk of child and adolescent obesity included poor communication, poor behaviour control, high levels of family conflict and low family hierarchy values. Half (2/4) of the identified intervention studies showed a significant relationship between family functioning and changes in child weight. The results demonstrate that family functioning is linked to obesity; however, higher level evidence and greater understanding of the mechanisms behind this relationship are required. The results indicate a need for a standardised family functioning measure applicable across populations. The results provide evidence of the value of considering family functioning in childhood obesity research and intervention.
Relevant articles
Open Access articles citing this article.
Cristy Brooks

,

Catherine Helson

…

Andre M N Renzaho

BMC Public Health Open Access 18 June 2022

Frederik Booysen

,

Ferdi Botha

&

Edwin Wouters

BMC Public Health Open Access 22 January 2021

Roger Figueroa

,

Carmen R. Isasi

…

Josiemer Mattei

BMC Public Health Open Access 14 October 2020
Access options
Subscribe to Journal
Get full journal access for 1 year
$119.00
only $9.92 per issue
All prices are NET prices.
VAT will be added later in the checkout.
Tax calculation will be finalised during checkout.
Buy article
Get time limited or full article access on ReadCube.
$32.00
All prices are NET prices.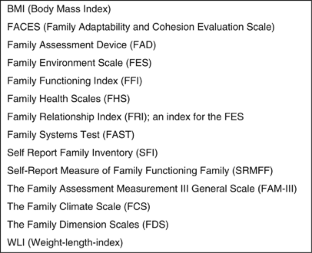 References
Zinn MB, Eitzen SD, Wells B In: Zinn MB, Eitzen DS, Wells B (eds) Diversity in Families 9th edn Allyn & Bacon: Boston, MA, 2011.

Wilkinson R, Marmot M . Social Determinants of Health: The Solid Facts. World Health Organisation: Copenhagen, Denmark, 2003.

Kitzman-Ulrich H, Wilson DK, St. George SM, Lawman H, Segal M, Fairchild A . The integration of a family systems approach for understanding youth obesity, physical activity, and dietary programs. Clin Child Fam Psychol Rev 2010; 13: 231–253.

Walsh F . Normal Family Processes: Growing Diversity and Complexity 3rd edn. The Guilford Press: New York, NY, USA, 2003.

Alderfer MA, Fiese BH, Gold JI, Cutuli JJ, Holmbeck GN, Goldbeck L et al. Evidence-based assessment in pediatric psychology: family measures. J Pediatr Psychol 2008; 33: 1046–1061.

Miller IW, Ryan CE, Keitner GI, Bishop DS, Epstein NB . The McMaster approach to families: theory, assessment, treatment and research. J Fam Ther 2000; 22: 168–189.

Epstein NB, Bishop DS, Levin S . The McMaster model of family functioning. J Marital Fam 1978; 4: 19–31.

Tutty LM . Theoretical and practical issues in selecting a measure of family functioning. Res Social Work Prac 1995; 5: 80–106.

Keitner GI, Epstein NB, Bishop DS . A cross-cultural study of family functioning. Contemp Fam Ther 1990; 12: 439–454.

Olson DH . Circumplex Model VII: validation studies and FACES III. Fam Process 1986; 25: 337–351.

Olson D . FACES IV and the circumplex model: validation study. J Marital Fam Ther 2011; 37: 64–80.

Franklin C, Streeter CL, Springer DW . Validity of the FACES IV family assessment measure. Res Social Work Prac 2001; 11: 576–596.

Knight GP, Tein JY, Shell R, Roosa M . The cross‐ethnic equivalence of parenting and family interaction measures among Hispanic and Anglo‐American families. Child Dev 1992; 63: 1392–1403.

Moos RH, Moos BS . Family Environment Scale Manual.. Consulting Psychologists Press: Palo Alto, CA, USA, 1994.

Saito S, Nomura N, Noguchi Y, Tezuka I . Translatability of family concepts into the Japanese culture: using the Family Environment Scale. Fam Process 1996; 35: 239–257.

Zubrick S, Williams A, Silburn S, Vimpani G . Indicators of Social and Family Functioning. Department of Family and Community Services: Canberra, Australia, 2000.

Renzaho A, Karantzas G . Effects of parental perception of neighbourhood deprivation and family environment characteristics on pro-social behaviours among 4–12 year old children. Aust N Z J Psychiatry 2010; 34: 405–411.

Renzaho A, Kumanyika S, Tucker K . Family functioning, parental psychological distress, child behavioral problems, socio-economic disadvantage and fruit and vegetable consumption among 4–12 year-old Victorians, Australia. Health Promot Int 2011; 26: 263–275.

Gundersen C, Mahatmya D, Garasky S, Lohman B . Linking psychosocial stressors and childhood obesity. Obes Rev 2011; 12: e54–e63.

Radziszewska B, Richardson JL, Dent CW, Flay BR . Parenting style and adolescent depressive symptoms, smoking, and academic achievement: ethnic, gender, and SES differences. J Behav Med 1996; 19: 289–305.

Lamborn SD, Mounts NS, Steinberg L, Dornbusch SM . Patterns of competence and adjustment among adolescents from authoritative, authoritarian, indulgent, and neglectful families. Child Dev 1991; 62: 1049–1065.

Baumrind D . The influence of parenting style on adolescent competence and substance use. J Early Adolescence 1991; 11: 56–95.

Baumrind D . Parental disciplinary patterns and social competence in children. Youth Soc 1978; 9: 239–276.

Maccoby EE, Martin JA . Socialization in the context of the family: parent-child interaction. Handbook Child Psychol 1983; 4: 1–101.

Wen LM, Simpson JM, Baur LA, Rissel C, Flood VM . Family functioning and obesity risk behaviors: implications for early obesity intervention. Obesity 2011; 19: 1252–1258.

Rhee K . Childhood overweight and the relationship between parent behaviors, parenting style, and family functioning. Ann Am Acad Polit Soc Sci 2008; 615: 12–37.

Cromley T, Neumark-Sztainer D, Story M, Boutelle KN . Parent and family associations with weight-related behaviors and cognitions among overweight adolescents. J Adolesc Health 2010; 47: 263–269.

Hasenboehler K, Munsch S, Meyer AH, Kappler C, Vogele C . Family structure, body mass index, and eating behavior. Int J Eat Disorder 2009; 42: 332–338.

Gerards SM, Sleddens EF, Dagnelie PC, de Vries NK, Kremers SP . Interventions addressing general parenting to prevent or treat childhood obesity. Int J Pediatr Obes 2011; 6: e28–e45.

Sleddens EFC, Gerards SMPL, Thijs C, de Vries NK, Kremers SPJ . General parenting, childhood overweight and obesity-iqnducing behaviors: a review. Int J Pediatr Obes 2011; 6: e12–e27.

Mendelson BK, White DR, Schliecker E . Adolescents' weight, sex, and family functioning. Int J Eat Disorder 1995; 17: 73–79.

Moens E, Braet C, Soetens B . Observation of family functioning at mealtime: a comparison between families of children with and without overweight. J Pediatr Psychol 2007; 32: 52–63.

Chen J-L, Kennedy C . Family functioning, parenting style, and Chinese children's weight status. J Fam Nurs 2004; 10: 262–279.

Mellor D, Renzaho A, Swinburn B, Green J, Richardson B . Aspects of parenting and family functioning associated with obesity in adolescent refugees and migrants from African backgrounds living in Australia. Aust N Z J Psychiatry 2012; 36: 317–324.

Kitzmann KM, Dalton Iii WT, Buscemi J . Beyond parenting practices: Family context and the treatment of pediatric obesity. Fam Relations 2008; 57: 13–23.

Skouteris H, McCabe M, Ricciardelli LA, Milgrom J, Baur LA, Aksan N et al. Parent–child interactions and obesity prevention: a systematic review of the literature. Early Child Dev Care 2012; 182: 153–174.

Kitzmann KM, Beech BM . Family-based interventions for pediatric obesity: Methodological and conceptual challenges from family psychology. Couple Fam Psychol: Res Pract 2011; 1: S45–S62.

Nowicka P, Flodmark CE . Family in pediatric obesity management: a literature review. Int J Pediatr Obes 2008; 3: 44–50.

Petticrew M, Roberts H . Systematic Reviews in the Social Sciences: A Practical Guide. Wiley-Blackwell: Hoboken, NJ, USA, 2008.

National Institute for Health Research. PROSPERO: International Prospective Register of Systematic Reviews 2012 [28 February 2012]. Available from http://www.crd.york.ac.uk/PROSPERO/.

The Cochrane Collaboration. The Cochrane Library 2012 [28 February 2012]. Available from http://www.thecochranelibrary.com/view/0/index.html.

Google. Google Scholar 2012 [28 February 2012]. Available from www.google.com/scholar.

Smilkstein G, Ashworth C, Montano D . Validity and reliability of the Family APGAR as a test of family function. J Fam Pract 1982; 15: 56–60.

Gehring TM FAST Family System Test ND [9.4.2013]. Available from http://www.fast-test.com/.

Pless IB, Satterwhite B . A measure of family functioning and its application. Soc Sci Med 1973; 7: 613–621.

Bloom BL . A factor analysis of self-report measures of family functioning. Fam Process 1985; 24: 225–239.

Buurmeijer FA, Hermans PC . Gezins Dimensie Schalen [Family Dimension Scales]. Swets & Zeitlinger: Lisse, The Netherlands, 1988.

Skinner HA, Steinhauer PD, Santa-Barbara J . FAM-III Manual. Multi-Health Systems: North Tonawanda, NY, USA, 1995.

Beavers WR, Hampson RB . Successful Families: Assessment and Intervention. W.W. Norton & Company: New York, NY, USA, 1990.

Familjeklimat HK . En adjektivlista for familje-diagnostik (Family climate. A list of adjective for family diagnosis.) Report 7. Department of Applied Psychology: University of Lund, Lund, Sweden, 1989.

Kinston W, Loader P, Miller L . Quantifying the clinical assessment of family health. J Marital Fam Ther 1987; 13: 49–67.

Chen JL, Kennedy C, Yeh CH, Kools S . Risk factors for childhood obesity in elementary school-age Taiwanese children. Prog Cardiovasc Nurs 2005; 20: 96–103.

de Sousa A . Maternal, child and family factors in childhood obesity. Int J Diabet Metabol 2009; 17: 111–112.

Hooper LM, Burnham JJ, Richey R . Select parent and family system correlates of adolescent current weight status: a pilot study. Fam J 2009; 17: 14–21.

Hanson CL, Klesges RC, Eck LH, Cigrang JA, Carle DL . Family relations, coping styles, stress, and cardiovascular disease risk factors among children and their parents. Fam Syst Med 1990; 8: 387–400.

Zeller MH, Reiter-Purtill J, Modi AC, Gutzwiller J, Vannatta K, Davies WH . Controlled study of critical parent and family factors in the obesigenic environment. Obesity 2007; 15: 126–136.

Wilkins SC, Kendrick OW, Stitt KR, Stinett N, Hammarlund VA . Family functioning is related to overweight in children. J Am Diet Assoc 1998; 98: 572–574.

McConley RL, Mrug S, Gilliland MJ, Lowry R, Elliott MN, Schuster MA et al. Mediators of maternal depression and family structure on child BMI: parenting quality and risk factors for child overweight. Obesity 2011; 19: 345–352.

Kinston W, Miller L, Loader P, Wolff OH . Revealing sex differences in childhood obesity by using a family systems approach. Fam Syst Med 1990; 8: 371–386.

Klesges RC, Haddock CK, Stein RJ, Klesges LM, Eck LH, Hanson CL . Relationship between psychosocial functioning and body fat in preschool children: a longitudinal investigation. J Consult Clin Psych 1992; 60: 793–796.

Davis M, Young L, Davis SP, Moll G . Parental depression, family functioning and obesity among African American children. J Cult Divers 2008; 15: 61–65.

Gibson LY, Byrne SM, Davis EA, Blair E, Jacoby P, Zubrick SR . The role of family and maternal factors in childhood obesity. Med J Australia 2007; 186: 591–595.

de Sousa PML . Body-image and obesity in adolescence: a comparative study of social-demographic, psychological, and behavioral aspects. Span J Psychol 2008; 11: 551–563.

Stradmeijer M, Bosch J, Koops W, Seidell J . Family functioning and psychosocial adjustment in overweight youngsters. Int J Eat Disorder 2000; 27: 110–114.

Herzer M, Godiwala N, Hommel KA, Driscoll K, Mitchell M, Crosby LE et al. Family functioning in the context of pediatric chronic conditions. J Dev Behav Pediatr 2010; 31: 26–34.

Nowicka P, Pietrobelli A, Flodmark CE . Low-intensity family therapy intervention is useful in a clinical setting to treat obese and extremely obese children. Int J Pediatr Obes 2007; 2: 211–217.

Dalton WT, Kitzmann KM, Burghen GA, Mallare JT, Stender SS . Family functioning and children's response to primary care treatment for overweight: a preliminary study. J Pediatr Nurs 2010; 25: 282–288.

de Niet J, Timman R, Rokx C, Jongejan M, Passchier J, van Den Akker E . Somatic complaints and social competence predict success in childhood overweight treatment. Int J Pediatr Obes 2011; 6: e472–e479.

Kitzman-Ulrich H, Hampson R, Wilson DK, Presnell K, Brown A, O'Boyle M . An adolescent weight-loss program integrating family variables reduces energy intake. J Am Diet Assoc 2009; 109: 491–496.

Chen X, Sekine M, Hamanishi S, Wang H, Gaina A, Yamagami T et al. Lifestyles and health-related quality of life in Japanese school children: a cross-sectional study. Prev Med 2005; 40: 668–678.

Davison KK, Birch LL . Childhood overweight: a contextual model and recommendations for future research. Obes Rev 2001; 2: 159–171.

Wang Y, Beydoun MA . The obesity epidemic in the United States—gender, age, socioeconomic, racial/ethnic, and geographic characteristics: a systematic review and meta-regression analysis. Epidemiol Rev 2007; 29: 6–28.

Brijnath B, Browne JL, Halliday JA, Renzaho AMN . The health consequences of migration: meeting the health needs of displaced populations. J intern displacement 2011; 1: 77–90.

Renzaho AMN, Swinburn B, Burns C . Maintenance of traditional cultural orientation is associated with lower rates of obesity and sedentary behaviours among African migrant children to Australia. Int J Obes 2008; 32: 594–600.

Renzaho AMN, McCabe M, Sainsbury WJ . Parenting, role reversals and the preservation of cultural values among Arabic speaking migrant families in Melbourne, Australia. Int J Intercult Rel 2011; 35: 416–424.

Beech BM, Klesges RC, Kumanyika SK, Murray DM, Klesges L, McClanahan B et al. Child- and parent-targeted interventions: the Memphis GEMS pilot study. Ethnic Dis 2003; 13: S1-40–S1-53.

Wilson DK . New perspectives on health disparities and obesity interventions in youth. J Pediatr Psychol 2009; 34: 231.

Lawlor DA, Mamun AA, O'Callaghan MJ, Bor W, Williams GM, Najman JM . Is being overweight associated with behavioural problems in childhood and adolescence? Findings from the Mater-University study of pregnancy and its outcomes. Arch Dis Childh 2005; 90: 692–697.
Acknowledgements
We thank Jessica Browne for her role in developing the initial search strategy and preliminary literature search. We also thank the Australian Research Council for funding this work.
Author contributions
JAH and AR developed the search strategy, JAH and CLP conducted the literature search, JAH and CLP analysed the data. All authors were involved in writing and reviewing the manuscript. All authors approved the final version for submission and publication.
Ethics declarations
Competing interests
The authors declare no conflict of interest.
About this article
Cite this article
Halliday, J., Palma, C., Mellor, D. et al. The relationship between family functioning and child and adolescent overweight and obesity: a systematic review. Int J Obes 38, 480–493 (2014). https://doi.org/10.1038/ijo.2013.213
Received:

Revised:

Accepted:

Published:

Issue Date:

DOI: https://doi.org/10.1038/ijo.2013.213
Keywords
family functioning

child

systematic review