Abstract
Childhood obesity rates have risen dramatically over the past few decades. Although obesity has been linked to poorer neurocognitive functioning in adults, much less is known about this relationship in children and adolescents. Therefore, we conducted a systematic review to examine the relationship between obesity and obesity-related behaviors with neurocognitive functioning in youth. We reviewed articles from 1976 to 2013 using PsycInfo, PubMed, Medline and Google Scholar. Search terms included cognitive function, neurocognitive function/performance, executive function, impulsivity, self-regulation, effortful control, cognitive control, inhibition, delayed gratification, memory, attention, language, motor, visuo-spatial, academic achievement, obesity, overweight, body mass index, waist-hip ratio, adiposity and body fat. Articles were excluded if participants had health problems known to affect cognitive functioning, the study used imaging as the only outcome measure, they were non-peer-reviewed dissertations, theses, review papers, commentaries, or they were non-English articles. Sixty-seven studies met inclusion criteria for this review. Overall, we found data that support a negative relationship between obesity and various aspects of neurocognitive functioning, such as executive functioning, attention, visuo-spatial performance, and motor skill. The existing literature is mixed on the effects among obesity, general cognitive functioning, language, learning, memory, and academic achievement. Executive dysfunction is associated with obesity-related behaviors, such as increased intake, disinhibited eating, and less physical activity. Physical activity is positively linked with motor skill. More longitudinal research is needed to determine the directionality of such relationships, to point towards crucial intervention time periods in the development of children, and to inform effective treatment programs.
Relevant articles
Open Access articles citing this article.
Delfien Van Dyck

,

Anthony Barnett

…

James F. Sallis

International Journal of Behavioral Nutrition and Physical Activity Open Access 14 July 2022

Jacob E. Aronoff

,

Ann Ragin

…

Christopher W. Kuzawa

International Journal of Obesity Open Access 08 February 2022

Evan Dennis

,

Peter Manza

&

Nora D. Volkow

Translational Psychiatry Open Access 24 January 2022
Access options
Subscribe to Journal
Get full journal access for 1 year
$119.00
only $9.92 per issue
All prices are NET prices.
VAT will be added later in the checkout.
Tax calculation will be finalised during checkout.
Buy article
Get time limited or full article access on ReadCube.
$32.00
All prices are NET prices.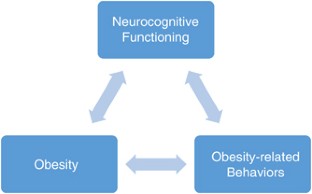 References
Vucenik I, Stains JP . Obesity and cancer risk: evidence, mechanisms, and recommendations. Ann N Y Acad Sci 2012; 1271: 37–43.

Must A, Spadano J, Coakley EH, Field AE, Colditz G, Dietz WH . The disease burden associated with overweight and obesity. JAMA 1999; 282: 1523–1529.

Flegal KM, Carroll MD, Kit BK, Ogden CL . Prevalence of obesity and trends in the distribution of body mass index among US adults. JAMA 2012; 307: 491–497.

Finkelstein EA, Linnan LA, Tate DF, Leese PJ . A longitudinal study on the relationship between weight loss, medical expenditures, and absenteeism among overweight employees in the WAY to Health study. J Occup Environ Med 2009; 51: 1367–1373.

Ogden CL, Carroll MD, Kit BK, Flegal KM . Prevalence of obesity and trends in body mass index among US children and adolescents, 1999-2010. JAMA 2012; 307: 483–490.

Troiano RP, Flegal KM . Overweight children and adolescents: description, epidemiology, and demographics. Pediatrics 1998; 101 (3 Pt 2): 497–504.

Whitaker RC, Wright JA, Pepe MS, Seidel KD, Dietz WH . Predicting obesity in young adulthood from childhood and parental obesity. N Engl J Med 1997; 337: 869–873.

Epstein LH . Family-based behavioural intervention for obese children. Int J Obes Relat Metab Disord 1996; 20 (Suppl 1): S14–S21.

Epstein LH, Valoski A, Wing RR, McCurley J . Ten-year outcomes of behavioral family-based treatment for childhood obesity. Health Psychol 1994; 13: 373–383.

Riggs N, Chou CP, Spruijt-Metz D, Pentz MA . Executive cognitive function as a correlate and predictor of child food intake and physical activity. Child Neuropsychol 2010; 16: 279–292.

Riggs NR, Huh J, Chou CP, Spruijt-Metz D, Pentz MA . Executive function and latent classes of childhood obesity risk. J Behav Med 2012; 35: 642–650.

Riggs NR, Spruijt-Metz D, Chou CP, Pentz MA . Relationships between executive cognitive function and lifetime substance use and obesity-related behaviors in fourth grade youth. Child Neuropsychol 2012; 18: 1–11.

Nederkoorn C, Braet C, Van Eijs Y, Tanghe A, Jansen A . Why obese children cannot resist food: the role of impulsivity. Eat Behav 2006; 7: 315–322.

Bruce AS, Martin LE, Savage CR . Neural correlates of pediatric obesity. Prev Med 2011; 52 (Suppl 1): S29–S35.

Carnell S, Gibson C, Benson L, Ochner CN, Geliebter A . Neuroimaging and obesity: current knowledge and future directions. Obes Rev 2012; 13: 43–56.

Li YF, Dai Q, Jackson JC, Zhang J . Overweight is associated with decreased cognitive functioning among school-age children and adolescents. Obesity 2008; 16: 1809–1815.

Maayan L, Hoogendoorn C, Sweat V, Convit A . Disinhibited eating in obese adolescents is associated with orbitofrontal volume reductions and executive dysfunction. Obesity (Silver Spring) 2011; 19: 1382–1387.

Davis CL, Cooper S . Fitness, fatness, cognition, behavior, and academic achievement among overweight children: Do cross-sectional associations correspond to exercise trial outcomes? Prev Med 2011; 52: S65–S69.

Gale CR, Batty GD, Cooper C, Deary IJ . Psychomotor coordination and intelligence in childhood and health in adulthood-testing the system integrity hypothesis. Psychosom Med 2009; 71: 675–681.

Mond JM, Stich H, Hay PJ, Kraemer A, Baune BT . Associations between obesity and developmental functioning in pre-school children: a population-based study. Int J Obes (Lond) 2007; 31: 1068–1073.

Gunstad J, Spitznagel MB, Paul RH, Cohen RA, Kohn M, Luyster FS et al. Body mass index and neuropsychological function in healthy children and adolescents. Appetite 2008; 50: 246–251.

Krombholz H . The motor and cognitive development of overweight preschool children. Early Years 2012; 32: 61–70.

Verbeken S, Braet C, Claus L, Nederkoorn C, Oosterlaan J . Childhood obesity and impulsivity: an investigation with performance-based measures. Behav Change 2009; 26: 153–167.

Holcke M, Marcus C, Gillberg C, Fernell E . Paediatric obesity: a neurodevelopmental perspective. Acta Paediatr 2008; 97: 819–821.

Staiano AE, Abraham AA, Calvert SL . Competitive versus cooperative exergame play for African American adolescents' executive function skills: short-term effects in a long-term training intervention. Dev Psychol 2012; 48: 337–342.

Guerrieri R, Nederkoorn C, Jansen A . The interaction between impulsivity and a varied food environment: its influence on food intake and overweight. Int J Obes (Lond) 2008; 32: 708–714.

Verdejo-Garcia A, Perez-Exposito M, Schmidt-Rio-Valle J, Fernandez-Serrano MJ, Cruz F, Perez-Garcia M et al. Selective alterations within executive functions in adolescents with excess weight. Obesity (Silver Spring) 2010; 18: 1572–1578.

Kamijo K, Khan NA, Pontifex MB, Scudder MR, Drollette ES, Raine LB et al. The relation of adiposity to cognitive control and scholastic achievement in preadolescent children. Obesity (Silver Spring) 2012; 20: 2406–2411.

Lokken KL, Boeka AG, Austin HM, Gunstad J, Harmon CM . Evidence of executive dysfunction in extremely obese adolescents: a pilot study. Surg Obes Relat Dis 2009; 5: 547–552.

Nederkoorn C, Coelho JS, Guerrieri R, Houben K, Jansen A . Specificity of the failure to inhibit responses in overweight children. Appetite 2012; 59: 409–413.

Bourget V, White DR . Performance of overweight and normal-weight girls on delay of gratification tasks. Int J Eating Disord 1984; 3: 63–71.

Graziano PA, Calkins SD, Keane SP . Toddler self-regulation skills predict risk for pediatric obesity. Int J Obes (Lond) 2010; 34: 633–641.

Bonato DP, Boland FJ . Response-inhibition deficits and obesity in children—a disconfirmation. Int J Eat Disorder 1983; 2: 61–74.

Nederkoorn C, Jansen E, Mulkens S, Jansen A . Impulsivity predicts treatment outcome in obese children. Behav Res Ther 2007; 45: 1071–1075.

Delgado-Rico E, Rio-Valle JS, Albein-Urios N, Caracuel A, Gonzalez-Jimenez E, Piqueras MJ et al. Effects of a multicomponent behavioral intervention on impulsivity and cognitive deficits in adolescents with excess weight. Behav Pharmacol 2012; 23: 609–615.

Delgado-Rico E, Rio-Valle JS, Gonzalez-Jimenez E, Campoy C, Verdejo-Garcia A . BMI predicts emotion-driven impulsivity and cognitive inflexibility in adolescents with excess weight. Obesity (Silver Spring) 2012; 20: 1604–1610.

Hartmann AS, Rief W, Hilbert A . Laboratory snack food intake, negative mood, and impulsivity in youth with ADHD symptoms and episodes of loss of control eating. Where is the missing link? Appetite 2012; 58: 672–678.

Pauli-Pott U, Albayrak O, Hebebrand J, Pott W . Does inhibitory control capacity in overweight and obese children and adolescents predict success in a weight-reduction program? Eur Child Adolesc Psychiatry 2010; 19: 135–141.

Cserjesi R, Molnar D, Luminet O, Lenard L . Is there any relationship between obesity and mental flexibility in children? Appetite 2007; 49: 675–678.

Bonato DP, Boland FJ . Delay of gratification in obese children. Addict Behav 1983; 8: 71–74.

Sigal JJ, Adler L . Motivational effects of hunger on time estimation and delay of gratification in obese and nonobese boys. J Genetic Psychol 1976; 128: 7–16.

Bruce AS, Black WR, Bruce JM, Daldalian M, Martin LE, Davis AM . Ability to delay gratification and BMI in preadolescence. Obesity (Silver Spring) 2011; 19: 1101–1102.

Francis LA, Susman EJ . Self-regulation and rapid weight gain in children from age 3 to 12 years. Arch Pediatr Adolesc Med 2009; 163: 297–302.

Seeyave DM, Coleman S, Appugliese D, Corwyn RF, Bradley RH, Davidson NS et al. Ability to delay gratification at age 4 years and risk of overweight at age 11 years. Arch Pediatr Adolesc Med 2009; 163: 303–308.

Best JR, Theim KR, Gredysa DM, Stein RI, Welch RR, Saelens BE et al. Behavioral economic predictors of overweight children's weight loss. J Consult Clin Psychol 2012; 80: 1086–1096.

Geller SE, Keane TM, Scheirer CJ . Delay of gratification, locus of control, and eating patterns in obese and nonobese children. Addict Behav 1981; 6: 9–14.

Braet C, Crombez G . Cognitive interference due to food cues in childhood obesity. J Clin Child Adolesc 2003; 32: 32–39.

Soetens B, Braet C . Information processing of food cues in overweight and normal weight adolescents. Br J Health Psychol 2007; 12 (Pt 2): 285–304.

van Egmond-Froehlich A, Bullinger M, Holl RW, Hoffmeister U, Mann R, Goldapp C et al. The hyperactivity/inattention subscale of the strengths and difficulties questionnaire predicts short- and long-term weight loss in overweight children and adolescents treated as outpatients. Obesity facts 2012; 5: 856–868.

van Egmond-Froehlich A, Claussnitzer G, Dammann D, Eckstein E, Brauer W, de Zwaan M . Parent reported inattention and hyperactivity/impulsivity as predictor of long-term weight loss after inpatient treatment in obese adolescents. Int J Eating Disord 2013; 46: 39–46.

Jansen P, Schmelter A, Kasten L, Heil M . Impaired mental rotation performance in overweight children. Appetite 2011; 56: 766–769.

Cliff DP, Okely AD, Magarey AM . Movement skill mastery in a clinical sample of overweight and obese children. Int J Pediatr Obes 2011; 6: 473–475.

Cliff DP, Okely AD, Morgan PJ, Jones RA, Steele JR, Baur LA . Proficiency deficiency: mastery of fundamental movement skills and skill components in overweight and obese children. Obesity (Silver Spring) 2012; 20: 1024–1033.

Morano M, Colella D, Caroli M . Gross motor skill performance in a sample of overweight and non-overweight preschool children. Int J Pediatr Obes 2011; 6 (Suppl 2): 42–46.

Okely AD, Booth ML, Chey T . Relationships between body composition and fundamental movement skills among children and adolescents. Res Q Exerc Sport 2004; 75: 238–247.

Zhu YC, Wu SK, Cairney J . Obesity and motor coordination ability in Taiwanese children with and without developmental coordination disorder. Res Dev Disabil 2011; 32: 801–807.

Poulsen AA, Desha L, Ziviani J, Griffiths L, Heaslop A, Khan A et al. Fundamental movement skills and self-concept of children who are overweight. Int J Pediatr Obes 2011; 6: e464–e471.

D'Hondt E, Deforche B, De Bourdeaudhuij I, Lenoir M . Relationship between motor skill and body mass index in 5- to 10-year-old children. Adapt Phys Activ Q 2009; 26: 21–37.

Kantomaa MT, Stamatakis E, Kankaanpaa A, Kaakinen M, Rodriguez A, Taanila A et al. Physical activity and obesity mediate the association between childhood motor function and adolescents' academic achievement. Proc Natl Acad Sci USA 2013; 110: 1917–1922.

D'Hondt E, Deforche B, De Bourdeaudhuij I, Lenoir M . Childhood obesity affects fine motor skill performance under different postural constraints. Neurosci Lett 2008; 440: 72–75.

Lopes VP, Stodden DF, Bianchi MM, Maia JA, Rodrigues LP . Correlation between BMI and motor coordination in children. J Sci Med Sport 2012; 15: 38–43.

Bonvin A, Barral J, Kakebeeke TH, Kriemler S, Longchamp A, Marques-Vidal P et al. Weight status and gender-related differences in motor skills and in child care—based physical activity in young children. BMC Pediatr 2012; 12: 23.

D'Hondt E, Deforche B, Gentier I, De Bourdeaudhuij I, Vaeyens R, Philippaerts R et al. A longitudinal analysis of gross motor coordination in overweight and obese children versus normal-weight peers. Int J Obes (Lond) 2012; 37: 61–67.

D'Hondt E, Gentier I, Deforche B, Tanghe A, De Bourdeaudhuij I, Lenoir M . Weight loss and improved gross motor coordination in children as a result of multidisciplinary residential obesity treatment. Obesity (Silver Spring) 2011; 19: 1999–2005.

Castelli DM, Hillman CH, Buck SM, Erwin HE . Physical fitness and academic achievement in third- and fifth-grade students. J Sport Exerc Psychol 2007; 29: 239–252.

Datar A, Sturm R . Childhood overweight and elementary school outcomes. Int J Obes (Lond) 2006; 30: 1449–1460.

Barrigas C, Fragoso I . Obesity, academic performance and reasoning ability in Portuguese students between 6 and 12 years old. J Biosoc Sci 2012; 44: 165–179.

Baxter SD, Guinn CH, Tebbs JM, Royer JA . There is no relationship between academic achievement and body mass index among fourth-grade, predominantly African-American children. J Acad Nutr Diet 2013; 113: 551–557.

London RA, Castrechini S . A longitudinal examination of the link between youth physical fitness and academic achievement. J Sch Health 2011; 81: 400–408.

Best JR . Exergaming immediately enhances children's executive function. Dev Psychol 2012; 48: 1501–1510.

Castelli DM, Hillman CH, Hirsch J, Hirsch A, Drollette E . FIT Kids: time in target heart zone and cognitive performance. Prev Med 2011; 52 (Suppl 1): S55–S59.

Davis CL, Tomporowski PD, McDowell JE, Austin BP, Miller PH, Yanasak NE et al. Exercise improves executive function and achievement and alters brain activation in overweight children: a randomized, controlled trial. Health Psychol 2011; 30: 91–98.

Tomporowski PD, Davis CL, Lambourne K, Gregoski M, Tkacz J . Task switching in overweight children: effects of acute exercise and age. J Sport Exerc Psychol 2008; 30: 497–511.

Adsiz E, Dorak F, Ozsaker M, Vurgun N . The influence of physical activity on attention in Turkish children. J Soc Dev New Net Environ B & H 2012; 6: 1384–1389.

Morrison KM, Bugge A, El-Naaman B, Eisenmann JC, Froberg K, Pfeiffer KA et al. Inter-relationships among physical activity, body fat, and motor performance in 6- to 8-year-old Danish children. Pediatr Exerc Sci 2012; 24: 199–209.

Reilly JJ, Kelly L, Montgomery C, Williamson A, Fisher A, McColl JH et al. Physical activity to prevent obesity in young children: cluster randomised controlled trial. BMJ 2006; 333: 1041.

Burgi F, Meyer U, Granacher U, Schindler C, Marques-Vidal P, Kriemler S et al. Relationship of physical activity with motor skills, aerobic fitness and body fat in preschool children: a cross-sectional and longitudinal study (Ballabeina). Int J Obes (Lond) 2011; 35: 937–944.

Hume C, Okely A, Bagley S, Telford A, Booth M, Crawford D et al. Does weight status influence associations between children's fundamental movement skills and physical activity? Res Q Exerc Sport 2008; 79: 158–165.

Edwards JU, Mauch L, Winkelman MR . Relationship of nutrition and physical activity behaviors and fitness measures to academic performance for sixth graders in a midwest city school district. J School Health 2011; 81: 65–73.

Smith E, Hay P, Campbell L, Trollor JN . A review of the association between obesity and cognitive function across the lifespan: implications for novel approaches to prevention and treatment. Obesity rev 2011; 12: 740–755.

Miller JL, Couch J, Schwenk K, Long M, Towler S, Theriaque DW et al. Early childhood obesity is associated with compromised cerebellar development. Dev Neuropsychol 2009; 34: 272–283.

Sowell ER, Thompson PM, Toga AW . Mapping changes in the human cortex throughout the span of life. Neuroscientist 2004; 10: 372–392.

Gogtay N, Giedd JN, Lusk L, Hayashi KM, Greenstein D, Vaituzis AC et al. Dynamic mapping of human cortical development during childhood through early adulthood. Proc Natl Acad Sci USA 2004; 101: 8174–8179.

Giedd JN . The teen brain: insights from neuroimaging. J Adolesc Health 2008; 42: 335–343.

Giedd JN, Rapoport JL . Structural MRI of pediatric brain development: what have we learned and where are we going? Neuron 2010; 67: 728–734.

Cserjesi R, Luminet O, Poncelet AS, Lenard L . Altered executive function in obesity. Exploration of the role of affective states on cognitive abilities. Appetite 2009; 52: 535–539.

Dempsey A, Dyehouse J, Schafer J . The relationship between executive function, AD/HD, overeating, and obesity. West J Nurs Res 2011; 33: 609–629.

de Zwaan M, Mitchell JE, Seim HC, Specker SM, Pyle RL, Raymond NC et al. Eating related and general psychopathology in obese females with binge eating disorder. Int J Eating Disord 1994; 15: 43–52.

Dore GA, Elias MF, Robbins MA, Budge MM, Elias PK . Relation between central adiposity and cognitive function in the Maine-Syracuse Study: attenuation by physical activity. Annals Behav Med 2008; 35: 341–350.

Haltia LT, Viljanen A, Parkkola R, Kemppainen N, Rinne JO, Nuutila P et al. Brain white matter expansion in human obesity and the recovering effect of dieting. J Clini Endocrinol Metab 2007; 92: 3278–3284.

Waldstein SR, Katzel LI . Stress-induced blood pressure reactivity and cognitive function. Neurology 2005; 64: 1746–1749.

Munzberg H, Bjornholm M, Bates SH, Myers Jr. MG . Leptin receptor action and mechanisms of leptin resistance. Cell Mol Life Sci 2005; 62: 642–652.

Grundy SM . Obesity, metabolic syndrome, and cardiovascular disease. J Clin Endocrinol Metab 2004; 89: 2595–2600.

Wolk R, Shamsuzzaman AS, Somers VK . Obesity, sleep apnea, and hypertension. Hypertension 2003; 42: 1067–1074.

Bastard JP . Insulin resistance and adipose tissue gene expression in humans. Ann Biol Clin-Paris 2004; 62: 25–31.

Hallschmid M, Schultes B . Central nervous insulin resistance: a promising target in the treatment of metabolic and cognitive disorders? Diabetologia 2009; 52: 2264–2269.

Yates KF, Sweat V, Yau PL, Turchiano MM, Convit A . Impact of metabolic syndrome on cognition and brain: a selected review of the literature. Arterioscler Thromb Vasc Biol 2012; 32: 2060–2067.

Michaelides M, Thanos PK, Volkow ND, Wang GJ . Dopamine-related frontostriatal abnormalities in obesity and binge-eating disorder: emerging evidence for developmental psychopathology. Int Rev Psychiatry 2012; 24: 211–218.

Volkow ND, Wang GJ, Baler RD . Reward, dopamine and the control of food intake: implications for obesity. Trends Cogn Sci 2011; 15: 37–46.

Stice E, Spoor S, Bohon C, Veldhuizen MG, Small DM . Relation of reward from food intake and anticipated food intake to obesity: a functional magnetic resonance imaging study. J Abnorm Psychol 2008; 117: 924–935.

Davids S, Lauffer H, Thoms K, Jagdhuhn M, Hirschfeld H, Domin M et al. Increased dorsolateral prefrontal cortex activation in obese children during observation of food stimuli. Int J Obes (Lond) 2010; 34: 94–104.

Bruce AS, Holsen LM, Chambers RJ, Martin LE, Brooks WM, Zarcone JR et al. Obese children show hyperactivation to food pictures in brain networks linked to motivation, reward and cognitive control. Int J Obes (Lond) 2010; 34: 1494–1500.

Tanji J, Hoshi E . Role of the lateral prefrontal cortex in executive behavioral control. Physiol Rev 2008; 88: 37–57.

Menon V, Adleman NE, White CD, Glover GH, Reiss AL . Error-related brain activation during a Go/NoGo response inhibition task. Hum Brain Mapp 2001; 12: 131–143.

Casey BJ, Duhoux S, Malter Cohen M . Adolescence: what do transmission, transition, and translation have to do with it? Neuron 2010; 67: 749–760.

Somerville LH, Jones RM, Casey BJ . A time of change: behavioral and neural correlates of adolescent sensitivity to appetitive and aversive environmental cues. Brain Cognition 2010; 72: 124–133.

Klingberg T, Fernell E, Olesen PJ, Johnson M, Gustafsson P, Dahlstrom K et al. Computerized training of working memory in children with ADHD—a randomized, controlled trial. J Am Acad Child Adolesc Psychiatry 2005; 44: 177–186.

Reynolds B, Dallery J, Shroff P, Patak M, Leraas K . A web-based contingency management program with adolescent smokers. J Appl Behav Anal 2008; 41: 597–601.

Verbeken S, Braet C, Goossens L, van der Oord S . Executive function training with game elements for obese children: a novel treatment to enhance self-regulatory abilities for weight-control. Behav Res Ther 2013; 51: 290–299.
Acknowledgements
This work was supported by grants from the National Institute of Health (NIH DK094475 and NIH DK075861) to Kerri Boutelle (PI). We would like to acknowledge Amanda Bischoff-Grethe, PhD, (Assistant Adjunct Professor, Department of Psychiatry, University of California, San Diego) for her contributions to the literature review on neurobiology and obesity in children. We also thank the UCSD CHEAR (Center for Healthy Eating and Activity Research) lab for their support and feedback in the writing of this manuscript.
Ethics declarations
Competing interests
The authors declare no conflict of interest.
About this article
Cite this article
Liang, J., Matheson, B., Kaye, W. et al. Neurocognitive correlates of obesity and obesity-related behaviors in children and adolescents. Int J Obes 38, 494–506 (2014). https://doi.org/10.1038/ijo.2013.142
Received:

Revised:

Accepted:

Published:

Issue Date:

DOI: https://doi.org/10.1038/ijo.2013.142
Keywords
neurocognition

cognitive functioning

pediatric obesity

treatment implications

obesity-related behaviors

children