Abstract
Background:
Both insufficiency and resistance to the actions of the adipocyte-derived hormone leptin promote hunger, increased food intake and greater body weight. Some studies suggest that adults reporting binge eating have increased serum leptin compared with those without binge eating, even after adjusting for the greater adiposity that characterizes binge eaters. Pediatric binge or loss of control (LOC) eating are prospective risk factors for excessive weight gain and may predict development of metabolic abnormalities, but whether LOC eating is associated with higher leptin among children is unknown. We therefore examined leptin and LOC eating in a pediatric cohort.
Methods:
A convenience sample of 506 lean and obese youth (7–18 years) was recruited from Washington, DC and its suburbs. Serum leptin was collected after an overnight fast. Adiposity was measured by dual-energy X-ray absorptiometry or air displacement plethysmography. LOC eating was assessed by interview methodology.
Results:
Leptin was strongly associated with fat mass (r=0.79, P<0.001). However, even after adjusting for adiposity and other relevant covariates, youth with LOC eating had higher serum leptin compared with those without LOC episodes (15.42±1.05 vs 12.36±1.04 ng ml−1, P<0.001). Neither reported amount of food consumed during a recent LOC episode nor number of LOC episodes in the previous month accounted for differences in leptin (P>0.05). The relationship between LOC eating and leptin appeared to be significant for females only (P=0.002).
Conclusions:
Reports of LOC eating were associated with higher fasting leptin in youth, beyond the contributions of body weight. Prospective studies are required to elucidate whether LOC eating promotes greater leptin or whether greater leptin resistance may promote LOC eating.
Access options
Subscribe to this journal
Receive 12 print issues and online access
$259.00 per year
only $21.58 per issue
Rent or buy this article
Prices vary by article type
from$1.95
to$39.95
Prices may be subject to local taxes which are calculated during checkout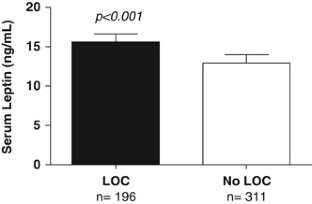 Similar content being viewed by others
References
Zhang Y, Proenca R, Maffei M, Barone M, Leopold L, Friedman JM . Positional cloning of the mouse obese gene and its human homologue. Nature 1994; 372: 425–432.

Wang Q, Bing C, Al-Barazanji K, Mossakowaska DE, Wang XM, McBay DL et al. Interactions between leptin and hypothalamic neuropeptide Y neurons in the control of food intake and energy homeostasis in the rat. Diabetes 1997; 46: 335–341.

McDuffie JR, Riggs PA, Calis KA, Freedman RJ, Oral EA, DePaoli AM et al. Effects of exogenous leptin on satiety and satiation in patients with lipodystrophy and leptin insufficiency. J Clin Endocrinol Metab 2004; 89: 4258–4263.

Yadav VK, Oury F, Suda N, Liu ZW, Gao XB, Confavreux C et al. A serotonin-dependent mechanism explains the leptin regulation of bone mass, appetite, and energy expenditure. Cell 2009; 138: 976–989.

Friedman JM . The function of leptin in nutrition, weight, and physiology. Nutr Rev 2002; 60: S1–14 discussion S68-84, 85-7.

Adami GF, Campostano A, Cella F, Scopinaro N . Serum leptin concentration in obese patients with binge eating disorder. Int J Obes Relat Metab Disord 2002; 26: 1125–1128.

Kolaczynski JW, Ohannesian JP, Considine RV, Marco CC, Caro JF . Response of leptin to short-term and prolonged overfeeding in humans. J Clin Endocrinol Metab 1996; 81: 4162–4165.

Knight ZA, Hannan KS, Greenberg ML, Friedman JM . Hyperleptinemia is required for the development of leptin resistance. PloS One 2010; 5: e11376.

Fleisch AF, Agarwal N, Roberts MD, Han JC, Theim KR, Vexler A et al. Influence of serum leptin on weight and body fat growth in children at high risk for adult obesity. J Clin Endocrinol Metab 2007; 92: 948–954.

Feuillan PP, Ng D, Han JC, Sapp JC, Wetsch K, Spaulding E et al. Patients with Bardet-Biedl syndrome have hyperleptinemia suggestive of leptin resistance. J Clin Endocrinol Metab 2011; 96: E528–E535.

Kopp W, Blum WF, Ziegler A, Mathiak K, Lubbert H, Herpertz S et al. Serum leptin and body weight in females with anorexia and bulimia nervosa. Horm Metab Res 1998; 30: 272–275.

Jimerson DC, Wolfe BE, Carroll DP, Keel PK . Psychobiology of purging disorder: reduction in circulating leptin levels in purging disorder in comparison with controls. Int J Eat Disord 2010; 43: 584–588.

Monteleone P, Di Lieto A, Tortorella A, Longobardi N, Maj M . Circulating leptin in patients with anorexia nervosa, bulimia nervosa or binge-eating disorder: relationship to body weight, eating patterns, psychopathology and endocrine changes. Psychiatry Res 2000; 94: 121–129.

Tomiyama AJ, Schamarek I, Lustig RH, Kirschbaum C, Puterman E, Havel PJ et al. Leptin concentrations in response to acute stress predict subsequent intake of comfort foods. Physiol Behav 2012; 107: 34–39.

d'Amore A, Massignan C, Montera P, Moles A, De Lorenzo A, Scucchi S . Relationship between dietary restraint, binge eating, and leptin in obese women. Int J Obes Relat Metab Disord 2001; 25: 373–377.

Taylor AE, Hubbard J, Anderson EJ . Impact of binge eating on metabolic and leptin dynamics in normal young women. J Clin Endocrinol Metab 1999; 84: 428–434.

Geliebter A, Yahav EK, Gluck ME, Hashim SA . Gastric capacity, test meal intake, and appetitive hormones in binge eating disorder. Physiol Behav 2004; 81: 735–740.

Karhunen L, Haffner S, Lappalainen R, Turpeinen A, Miettinen H, Uusitupa M . Serum leptin and short-term regulation of eating in obese women. Clin Sci (Lond) 1997; 92: 573–578.

Tanofsky-Kraff M, Marcus MD, Yanovski SZ, Yanovski JA . Loss of control eating disorder in children age 12 years and younger: proposed research criteria. Eat Behav 2008; 9: 360–365.

Tanofsky-Kraff M, Shomaker LB, Stern EA, Miller R, Sebring N, Dellavalle D et al. Children's binge eating and development of metabolic syndrome. Int J Obes 2012; 36: 956–962.

Glasofer DR, Tanofsky-Kraff M, Eddy KT, Yanovski SZ, Theim KR, Mirch MC et al. Binge eating in overweight treatment-seeking adolescents. J Pediatr Psychol 2007; 32: 95–105.

Tanofsky-Kraff M, Yanovski SZ, Wilfley DE, Marmarosh C, Morgan CM, Yanovski JA . Eating-disordered behaviors, body fat, and psychopathology in overweight and normal-weight children. J Consult Clin Psychol 2004; 72: 53–61.

Tanofsky-Kraff M, Faden D, Yanovski SZ, Wilfley DE, Yanovski JA . The perceived onset of dieting and loss of control eating behaviors in overweight children. Int J Eat Disord 2005; 38: 112–122.

Tanofsky-Kraff M, Yanovski SZ, Schvey NA, Olsen CH, Gustafson J, Yanovski JA . A prospective study of loss of control eating for body weight gain in children at high risk for adult obesity. Int J Eat Disord 2009; 42: 26–30.

Field AE, Austin SB, Taylor CB, Malspeis S, Rosner B, Rockett HR et al. Relation between dieting and weight change among preadolescents and adolescents. Pediatrics 2003; 112: 900–906.

Tanofsky-Kraff M, Cohen ML, Yanovski SZ, Cox C, Theim KR, Keil M et al. A prospective study of psychological predictors of body fat gain among children at high risk for adult obesity. Pediatrics 2006; 117: 1203–1209.

Munoz MT, Argente J . Anorexia nervosa in female adolescents: endocrine and bone mineral density disturbances. Eur J Endocrinol 2002; 147: 275–286.

Jimerson DC, Mantzoros C, Wolfe BE, Metzger ED . Decreased serum leptin in bulimia nervosa. J Clin Endocrinol Metab 2000; 85: 4511–4514.

Stunkard AJ, Messick S . The three-factor eating questionnaire to measure dietary restraint, disinhibition and hunger. J Psychosom Res 1985; 29: 71–83.

Laessle RG, Wurmser H, Pirke KM . Restrained eating and leptin levels in overweight preadolescent girls. Physiol Behav 2000; 70: 45–47.

Yanovski SZ, Leet M, Yanovski JA, Flood M, Gold PW, Kissileff HR et al. Food selection and intake of obese women with binge-eating disorder. Am J Clin Nutr 1992; 56: 975–980.

Fairburn CG, Cooper Z . The Eating Disorders Examination. In: Fairburn CG, Wilson GT, (eds) Binge Eating: Nature, Assessment, & Treatment 12th edn Guilford: New York, NY, USA, 1993. pp 317–360.

Bryant-Waugh RJ, Cooper PJ, Taylor CL, Lask BD . The use of the eating disorder examination with children: a pilot study. Int J Eat Disord 1996; 19: 391–397.

Christie D, Watkins B, Lask BD . Assessment. In: Lask B, Bryant-Waugh R, (eds) Anorexia Nervosa and Related Eating Disorders in Childhood and Adolescence 2nd edn Psychology Press: Hove, East Sussex, UK, 2000. pp 105–125.

Nicholson JC, McDuffie JR, Bonat SH, Russell DL, Boyce KA, McCann S et al. Estimation of body fatness by air displacement plethysmography in African American and white children. Pediatr Res 2001; 50: 467–473.

Kuczmarski RJ, Ogden CL, Grummer-Strawn LM, Flegal KM, Guo SS, Wei R et al. CDC growth charts: United States. Advance data 2000; 314: 1–27.

Robotham DR, Schoeller DA, Mercado AB, Mirch MC, Theim KR, Reynolds JC et al. Estimates of body fat in children by Hologic QDR-2000 and QDR-4500 A dual-energy X-ray absorptiometers compared with deuterium dilution. J Pediatr Gastroenterol Nutr 2006; 42: 331–335.

Tanner JM . Growth and maturation during adolescence. Nutr Rev 1981; 39: 43–55.

Marshall WA, Tanner JM . Variations in pattern of pubertal changes in girls. Arch Dis Child 1969; 44: 291–303.

Marshall WA, Tanner JM . Variations in the pattern of pubertal changes in boys. Arch Dis Child 1970; 45: 13–23.

Behrens JT . Principles and procedures of exploratory data analysis. Psychol Methods 1997; 2: 131–160.

Hollingshead AB . Hollingshead two factor index of social position (1957). In: Miller DC, (ed) Handbook of Research Design and Social Measurement 5th edn Sage Publications: Newbury Park, CA, USA, 1991. pp 351–359.

Quinton ND, Smith RF, Clayton PE, Gill MS, Shalet S, Justice SK et al. Leptin binding activity changes with age: the link between leptin and puberty. J Clin Endocrinol Metab 1999; 84: 2336–2341.

Arnow B, Kenardy J, Agras WS . Binge eating among the obese: a descriptive study. J Behav Med 1992; 15: 155–170.

Adam TC, Epel ES . Stress eating and the reward system. Physiol Behav 2007; 91: 449–458.

Figlewicz DP, Benoit SC . Insulin, leptin, and food reward: update 2008. Am J Physiol Regul Integr Comp Physiol 2009; 296: R9–R19.

Goldschmidt AB, Tanofsky-Kraff M, Goossens L, Eddy KT, Ringham R, Yanovski SZ et al. Subtyping children and adolescents with loss of control eating by negative affect and dietary restraint. Behav Res Ther 2008; 46: 777–787.

Shomaker LB, Tanofsky-Kraff M, Elliott C, Wolkoff LE, Columbo KM, Ranzenhofer LM et al. Salience of loss of control for pediatric binge episodes: does size really matter? Int J Eat Disord 2010; 43: 707–716.

Tanofsky-Kraff M, McDuffie JR, Yanovski SZ, Kozlosky M, Schvey NA, Shomaker LB et al. Laboratory assessment of the food intake of children and adolescents with loss of control eating. Am J Clin Nutr 2009; 89: 738–745.

Hickey MS, Israel RG, Gardiner SN, Considine RV, McCammon MR, Tyndall GL et al. Gender differences in serum leptin levels in humans. Biochem Mol Med 1996; 59: 1–6.

Vettor R, De Pergola G, Pagano C, Englaro P, Laudadio E, Giorgino F et al. Gender differences in serum leptin in obese people: relationships with testosterone, body fat distribution and insulin sensitivity. Eur J Clin Invest 1997; 27: 1016–1024.

Wabitsch M, Blum WF, Muche R, Braun M, Hube F, Rascher W et al. Contribution of androgens to the gender difference in leptin production in obese children and adolescents. J Clin Invest 1997; 100: 808–813.

Herman CP, Polivy J . Anxiety, restraint, and eating behavior. J Abnorm Psychol 1975; 84: 66–72.

Tanofsky-Kraff M, Shomaker LB, Olsen C, Roza CA, Wolkoff LE, Columbo KM et al. A prospective study of pediatric loss of control eating and psychological outcomes. J Abnorm Psychol 2011; 120: 108–118.

Decaluwé V, Braet C . Prevalence of binge-eating disorder in obese children and adolescents seeking weight-loss treatment. Int J Obes 2003; 27: 404–409.

Croll J, Neumark-Sztainer D, Story M, Ireland M . Prevalence and risk and protective factors related to disordered eating behaviors among adolescents: relationship to gender and ethnicity. J Adolesc Health 2002; 31: 166–175.

Stice E, Cameron RP, Killen JD, Hayward C, Taylor CB . Naturalistic weight-reduction efforts prospectively predict growth in relative weight and onset of obesity among female adolescents. J Consult Clin Psychol 1999; 67: 967–974.

Field AE, Javaras KM, Aneja P, Kitos N, Camargo CA Jr., Taylor CB et al. Family, peer, and media predictors of becoming eating disordered. Arch Pediatr Adolesc Med 2008; 162: 574–579.

Chapelot D, Aubert R, Marmonier C, Chabert M, Louis-Sylvestre J . An endocrine and metabolic definition of the intermeal interval in humans: evidence for a role of leptin on the prandial pattern through fatty acid disposal. Am J Clin Nutr 2000; 72: 421–431.

Huang L, Wang Z, Li C . Modulation of circulating leptin levels by its soluble receptor. J Biol Chem 2001; 276: 6343–6349.
Acknowledgements
This research was supported by National Research Service Award 1F32HD056762 from the Eunice Kennedy Shriver National Institute of Child Health and Human Development (NICHD) (to LBS), Uniformed Services University of the Health Sciences grant R072IC (to MTK), National Institute of Diabetes and Digestive and Kidney Disease (NIDDK) grant 5R01DK080906-04 (to MTK) and Intramural Research Program Grant 1ZIAHD000641 from the NICHD, with supplemental funding from the Division of Nutrition Research Coordination, the National Institute of Minority Health and Health Disparities and the Office of Behavioral and Social Sciences Research (to JAY). JAY is a Commissioned Officer in the US Public Health Service, Department of Health and Human Services. The funding organizations played no role in the design and conduct of the study; the collection, management, analysis and interpretation of data; or the preparation or review of the manuscript. Drs Yanovski and Tanofsky-Kraff take full responsibility for the work as a whole, including the study design, access to data and the decision to submit and publish the manuscript.
Ethics declarations
Competing interests
The authors declare no conflict of interest.
About this article
Cite this article
Miller, R., Tanofsky-Kraff, M., Shomaker, L. et al. Serum leptin and loss of control eating in children and adolescents. Int J Obes 38, 397–403 (2014). https://doi.org/10.1038/ijo.2013.126
Received:

Revised:

Accepted:

Published:

Issue Date:

DOI: https://doi.org/10.1038/ijo.2013.126
Keywords