Abstract
Background:
Obesity exacerbates the age-related decline in insulin sensitivity and is associated with risk for cardiometabolic syndrome in older adults; however, the appropriate treatment for obese older adults is controversial.
Objective:
To determine the independent and combined effects of weight loss and exercise on cardiometabolic risk factors in obese older adults.
Design:
One-hundred and seven obese (body mass index (BMI)⩾30 kg m−2) older (⩾65 years) adults with physical frailty were randomized to control group, diet group, exercise group and diet–exercise group for 1 year. Outcomes for this study included changes in insulin sensitivity index (ISI), glucose tolerance, central obesity, adipocytokines and cardiometabolic syndrome.
Results:
Although similar increases in ISI occurred in the diet–exercise and diet groups at 6 months, the ISI improved more in the diet–exercise than in the diet group at 12 months (2.4 vs 1.2; between-group difference, 1.2; 95% confidence interval, 0.2–2.1); no changes in ISI occurred in both exercise and control groups. The diet–exercise and diet groups had similar improvements in insulin area under the curve (AUC) (−2.9 and −2.9 × 103 mg min dl−1), glucose AUC (−1.4 and −2.2 × 103mg min dl−1), visceral fat (−787 and −561 cm3), tumor necrosis factor (−17.0 and −12.8 pg ml−1), adiponectin (5.0 and 4.0 ng ml−1), waist circumference (−8.2 and −8.4 cm), triglyceride (−30.7 and −24.3 g dl−1) and systolic/diastolic blood pressure (−15.9 and −13.1/−4.9 and −6.7 mm Hg), while no changes in these parameters occurred in both exercise and control groups. The cardiometabolic syndrome prevalence decreased by 40% in the diet–exercise and by 15% in the diet group. Body weight decreased similarly in the diet–exercise and diet groups (−8.6 and −9.7 kg) but not in the exercise and control groups.
Conclusions:
In frail, obese older adults, lifestyle interventions associated with weight loss improve insulin sensitivity and other cardiometabolic risk factors, but continued improvement in insulin sensitivity is only achieved when exercise training is added to weight loss.
This is a preview of subscription content
Access options
Subscribe to Journal
Get full journal access for 1 year
$119.00
only $9.92 per issue
All prices are NET prices.
VAT will be added later in the checkout.
Tax calculation will be finalised during checkout.
Buy article
Get time limited or full article access on ReadCube.
$32.00
All prices are NET prices.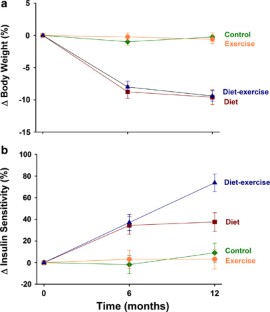 References
Villareal DT, Apovian CM, Kushner RF, Klein S . Obesity in older adults: technical review and position statement of the American Society for Nutrition and NAASO, The Obesity Society. Am J Clin Nutr 2005; 82: 923–934, also published in: Obes Res 2005; 13: 1849–1863.

Finkelstein EA, Khavjou OA, Thompson H, Trogdon JG, Pan L, Sherry B et al. Obesity and severe obesity forecasts through 2030. Am J Prev Med 2012; 42: 563–570.

Andrew R Sommers.Text in: CRS Report for Congress: Accessed: December 5 2. U.S. Congressional Research Service: Obesity Among Older Americans (RL34358, February 20, 2009), 2011.

Klein S, Burke LE, Bray GA, Blair S, Allison DB, Pi-Sunyer X et al. Clinical implications of obesity with specific focus on cardiovascular disease: a statement for professionals from the American Heart Association Council on Nutrition, Physical Activity, and Metabolism: endorsed by the American College of Cardiology Foundation. Circulation 2004; 110: 2952–22967.

Stevens J, Cai J, Pamuk ER, Williamson DF, Thun MJ, Wood JL . The effect of age on the association between body-mass index and mortality. N Engl J Med 1998; 338: 1–7.

Waters DL, Ward AL, Villareal DT . Weight loss in obese adults 65years and older: A review of the controversy. Exp Gerontol 2013. e-pub ahead of print 10 February 2013; doi:10.1016/J.exger.2013.02.005.

Bales CW, Buhr G . Is obesity bad for older persons? A systematic review of the pros and cons of weight reduction in later life. J Am Med Dir Assoc 2008; 9: 302–312.

Miller SL, Wolfe RR . The danger of weight loss in the elderly. J Nutr Health Aging 2008; 12: 487–491.

Rolland Y, Kim MJ, Gammack JK, Wilson MM, Thomas DR, Morley JE . Office management of weight loss in older persons. Am J Med 2006; 119: 1019–1026.

Gregg EW, Gerzoff RB, Thompson TJ, Williamson DF . Intentional weight loss and death in overweight and obese U.S. adults 35 years of age and older. Ann Intern Med 2003; 138: 383–389.

Villareal DT, Chode S, Parimi N, Sinacore DR, Hilton T, Armamento-Villareal R et al. Weight loss, exercise, or both and physical function in obese older adults. N Engl J Med 2011; 364: 1218–1229.

Matsuda M, DeFronzo RA . Insulin sensitivity indices obtained from oral glucose tolerance testing: comparison with the euglycemic insulin clamp. Diabetes Care 1999; 22: 1462–1470.

Allison DB, Paultre F, Maggio C, Mezzitis N, Pi-Sunyer FX . The use of areas under curves in diabetes research. Diabetes Care 1995; 18: 245–250.

Matthews DR, Hosker JP, Rudenski AS, Naylor BA, Treacher DF, Turner RC . Homeostasis model assessment: insulin resistance and beta-cell function from fasting plasma glucose and insulin concentrations in man. Diabetologia 1985; 28: 412–419.

Villareal DT, Miller BV III, Banks M, Fontana L, Sinacore DR, Klein S . Effect of lifestyle intervention on metabolic coronary heart disease risk factors in obese older adults. Am J Clin Nutr 2006; 84: 1317–1323.

WHO. STEPwise approach to sureillance (STEPS). World Health Organization: Geneva, 2008.

Villareal DT, Banks M, Sinacore DR, Siener C, Klein S . Effect of weight loss and exercise on frailty in obese older adults. Arch Intern Med 2006; 166: 860–866.

Arif H, Racette SB, Villareal DT, Holloszy JO, Weiss EP . Comparison of methods for assessing abdominal adipose tissue from magnetic resonance images. Obesity (Silver Spring) 2007; 15: 2240–2244.

Alberti KG, Eckel RH, Grundy SM, Zimmet PZ, Cleeman JI, Donato KA et al. Harmonizing the metabolic syndrome: a joint interim statement of the International Diabetes Federation Task Force on Epidemiology and Prevention; National Heart, Lung, and Blood Institute; American Heart Association; World Heart Federation; International Atherosclerosis Society; and International Association for the Study of Obesity. Circulation 2009; 120: 1640–1645.

Park YW, Zhu S, Palaniappan L, Heshka S, Carnethon MR, Heymsfield SB . The metabolic syndrome: prevalence and associated risk factor findings in the US population from the Third National Health and Nutrition Examination Survey, 1988-1994. Arch Intern Med 2003; 163: 427–436.

Beaufrere B, Morio B . Fat and protein redistribution with aging: metabolic considerations. Eur J Clin Nutr 2000; 54 (Suppl 3): S48–S53.

Goodpaster BH, Krishnaswami S, Harris TB, Katsiaras A, Kritchevsky SB, Simonsick EM et al. Obesity, regional body fat distribution, and the metabolic syndrome in older men and women. Arch Intern Med 2005; 165: 777–783.

Isomaa B, Almgren P, Tuomi T, Forsen B, Lahti K, Nissen M et al. Cardiovascular morbidity and mortality associated with the metabolic syndrome. Diabetes Care 2001; 24: 683–689.

Alexander CM, Landsman PB, Teutsch SM, Haffner SM . NCEP-defined metabolic syndrome, diabetes, and prevalence of coronary heart disease among NHANES III participants age 50 years and older. Diabetes 2003; 52: 1210–1214.

Kirk EP, Klein S . Pathogenesis and pathophysiology of the cardiometabolic syndrome. J Clin Hypertens (Greenwich) 2009; 11: 761–765.

De Boer IH, Katz R, Chonchol MB, Fried LF, Ix JH, Kestenbaum B et al. Insulin resistance, cystatin C, and mortality among older adults. Diabetes Care 2012; 35: 1355–1360.

Segal KR, Edano A, Abalos A, Albu J, Blando L, Tomas MB et al. Effect of exercise training on insulin sensitivity and glucose metabolism in lean, obese, and diabetic men. J Appl Physiol 1991; 71: 2402–2411.

Ross R, Dagnone D, Jones PJ, Smith H, Paddags A, Hudson R et al. Reduction in obesity and related comorbid conditions after diet-induced weight loss or exercise-induced weight loss in men. A randomized, controlled trial. Ann Intern Med 2000; 133: 92–103.

Brochu M, Malita MF, Messier V, Doucet E, Strychar I, Lavoie JM et al. Resistance training does not contribute to improving the metabolic profile after a 6-month weight loss program in overweight and obese postmenopausal women. J Clin Endocrinol Metab 2009; 94: 3226–3233.

Balducci S, Zanuso S, Nicolucci A, De FP, Cavallo S, Cardelli P et al. Effect of an intensive exercise intervention strategy on modifiable cardiovascular risk factors in subjects with type 2 diabetes mellitus: a randomized controlled trial: the Italian Diabetes and Exercise Study (IDES). Arch Intern Med 2010; 170: 1794–1803.

Solomon TP, Haus JM, Kelly KR, Rocco M, Kashyap SR, Kirwan JP . Improved pancreatic beta-cell function in type 2 diabetic patients after lifestyle-induced weight loss is related to glucose-dependent insulinotropic polypeptide. Diabetes Care 2010; 33: 1561–1566.

Yassine HN, Marchetti CM, Krishnan RK, Vrobel TR, Gonzalez F, Kirwan JP . Effects of exercise and caloric restriction on insulin resistance and cardiometabolic risk factors in older obese adults-a randomized clinical trial. J Gerontol A Biol Sci Med Sci 2009; 64: 90–95.

Villareal DT, Banks MR, Patterson BW, Polonsky KS, Klein S . Weight loss therapy improves pancreatic endocrine function in obese older adults. Obesity (Silver Spring) 2008; 16: 1349–1354.

Kahn SE, Larson VG, Beard JC, Cain KC, Fellingham GW, Schwartz RS et al. Effect of exercise on insulin action, glucose tolerance, and insulin secretion in aging. Am J Physiol 1990; 258 (Pt 1): E937–E943.

Houmard JA, Tanner CJ, Slentz CA, Duscha BD, McCartney JS, Kraus WE . Effect of the volume and intensity of exercise training on insulin sensitivity. J Appl Physiol 2004; 96: 101–106.

Ibanez J, Izquierdo M, Arguelles I, Forga L, Larrion JL, Garcia-Unciti M et al. Twice-weekly progressive resistance training decreases abdominal fat and improves insulin sensitivity in older men with type 2 diabetes. Diabetes Care 2005; 28: 662–667.

Duncan GE, Perri MG, Theriaque DW, Hutson AD, Eckel RH, Stacpoole PW . Exercise training, without weight loss, increases insulin sensitivity and postheparin plasma lipase activity in previously sedentary adults. Diabetes Care 2003; 26: 557–562.

Cox JH, Cortright RN, Dohm GL, Houmard JA. . Effect of aging on response to exercise training in humans: skeletal muscle GLUT-4 and insulin sensitivity. J Appl Physiol 1999; 86: 2019–2025.

Dengel DR, Pratley RE, Hagberg JM, Rogus EM, Goldberg AP . Distinct effects of aerobic exercise training and weight loss on glucose homeostasis in obese sedentary men. J Appl Physiol 1996; 81: 318–325.

Ross R . Does exercise without weight loss improve insulin sensitivity? Diabetes Care 2003; 26: 944–945.

Hojbjerre L, Sonne MP, Alibegovic AC, Nielsen NB, Dela F, Vaag A et al. Impact of physical inactivity on adipose tissue low-grade inflammation in first-degree relatives of type 2 diabetic patients. Diabetes Care 2011; 34: 2265–2272.

Beavers KM, Brinkley TE, Nicklas BJ . Effect of exercise training on chronic inflammation. Clin Chim Acta 2010; 411: 785–793.

Christiansen T, Paulsen SK, Bruun JM, Ploug T, Pedersen SB, Richelsen B . Diet-induced weight loss and exercise alone and in combination enhance the expression of adiponectin receptors in adipose tissue and skeletal muscle, but only diet-induced weight loss enhanced circulating adiponectin. J Clin Endocrinol Metab 2010; 95: 911–919.

Nicklas BJ, Ambrosius W, Messier SP, Miller GD, Penninx BW, Loeser RF et al. Diet-induced weight loss, exercise, and chronic inflammation in older, obese adults: a randomized controlled clinical trial. Am J Clin Nutr 2004; 79: 544–551.

O'Gorman DJ, Karlsson HK, McQuaid S, Yousif O, Rahman Y, Gasparro D et al. Exercise training increases insulin-stimulated glucose disposal and GLUT4 (SLC2A4) protein content in patients with type 2 diabetes. Diabetologia 2006; 49: 2983–2992.

Holten MK, Zacho M, Gaster M, Juel C, Wojtaszewski JF, Dela F . Strength training increases insulin-mediated glucose uptake, GLUT4 content, and insulin signaling in skeletal muscle in patients with type 2 diabetes. Diabetes 2004; 53: 294–305.

Goodpaster BH, Katsiaras A, Kelley DE . Enhanced fat oxidation through physical activity is associated with improvements in insulin sensitivity in obesity. Diabetes 2003; 52/9: 2191–2197.

Berggren JR, Boyle KE, Chapman WH, Houmard JA . Skeletal muscle lipid oxidation and obesity: influence of weight loss and exercise. Am J Physiol Endocrinol Metab 2008; 294: E726–E732.

Lorenzo C, Haffner SM, Stancakova A, Laakso M . Relation of direct and surrogate measures of insulin resistance to cardiovascular risk factors in nondiabetic finnish offspring of type 2 diabetic individuals. J Clin Endocrinol Metab 2010; 95: 5082–5090.
Acknowledgements
We thank the participants for their cooperation and the staff of the Clinical and Translational Sciences for their skilled assistance in the performance of this study. This study was supported by grants RO1-AG025501, RO1-AG031176, and P30-DK56341 (Clinical Nutrition Research Unit), UL1-RR024992 (Clinical and Translational Science Award), DK20579 (Diabetes Research and Training Center) from the National Institutes of Health and resources at the New Mexico VA Health Care System.
Author Contributions
Study design: DTV, DRS. Acquisition of data: KS, NN, RA-V, DRS, DTV. Study conduct: DTV, KS, RA-V, NN, DRS. Data analysis and interpretation: DTV, MB, KS, RA-V, NN, DRS, CQ. Drafting of the manuscript: DTV, MB, RA-V, CQ. Critical revision of the manuscript for important intellectual content: DTV, MB, RA-V, NN, DRS, KS, CQ. Statistical analysis: CQ. Primary responsibility for final content: DTV and CQ.
Ethics declarations
Competing interests
The authors declare no conflict of interest.
About this article
Cite this article
Bouchonville, M., Armamento-Villareal, R., Shah, K. et al. Weight loss, exercise or both and cardiometabolic risk factors in obese older adults: results of a randomized controlled trial. Int J Obes 38, 423–431 (2014). https://doi.org/10.1038/ijo.2013.122
Received:

Revised:

Accepted:

Published:

Issue Date:

DOI: https://doi.org/10.1038/ijo.2013.122
Keywords
aging

cardiometabolic risks

lifestyle