Abstract
OBJECTIVE:
Stress is associated with an increased intake of palatable foods and with weight gain, particularly in overweight women. Stress, food and body mass index (BMI) have been separately shown to affect amygdala activity. However, it is not known whether stress influences amygdala responses to palatable foods, and whether this response is associated with chronic stress or BMI.
DESIGN:
A total of 14 overweight and obese women participated in a functional magnetic resonance imaging (fMRI) scan as they consumed a palatable milkshake during script-driven, autobiographical, guided imagery of stressful and neutral-relaxing scenarios.
RESULTS:
We report that a network including insula, somatomotor mouth area, ventral striatum and thalamus responds to milkshake receipt, but none of these areas are affected by stress. In contrast, whereas the left amygdala responds to milkshake irrespective of condition, the right amygdala responds to milkshake only under stressful conditions. Moreover, this right amygdala response is positively associated with basal cortisol levels, an objective measure of chronic stress. We also found a positive relationship between BMI and stress-related increased response to milkshake in the orbitofrontal cortex (OFC).
CONCLUSION:
These results demonstrate that acute stress potentiates response to food in the right amygdala and OFC as a function of chronic stress and body weight, respectively. This suggests that the influence of acute stress in potentiating amygdala and OFC responses to food is dependent upon individual factors like BMI and chronic stress. We conclude that BMI and chronic stress play a significant role in brain response to food and in stress-related eating.
Access options
Subscribe to Journal
Get full journal access for 1 year
$119.00
only $9.92 per issue
All prices are NET prices.
VAT will be added later in the checkout.
Tax calculation will be finalised during checkout.
Buy article
Get time limited or full article access on ReadCube.
$32.00
All prices are NET prices.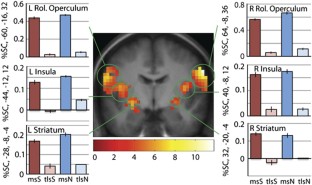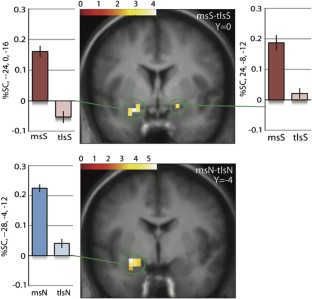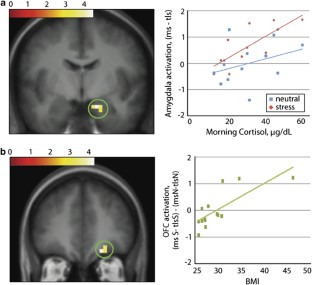 References
Flegal KM, Carroll MD, Ogden CL, Curtin LR . Prevalence and trends in obesity among US adults, 1999-2008. JAMA 2010; 303: 235–241.

Finkelstein EA, Trogdon JG, Cohen JW, Dietz W . Annual medical spending attributable to obesity: payer-and service-specific estimates. Health Aff 2009; 28: w822–w831.

Dallman MF, Pecoraro N, Akana SF, la Fleur SE, Gomez F, Houshyar H et al. Chronic stress and obesity: a new view of "comfort food". Proc Natl Acad Sci USA 2003; 100: 11696–11701.

Epel ES, Lapidus R, McEwen BS, Brownell K . Stress may add bite to appetite in women: a laboratory study of stress-induced cortisol and eating behavior. Psychoneuroendocrinology 2001; 26: 37–49.

Dallman MF, Pecoraro N, la Fleur SE . Chronic stress and comfort foods: self-medication and abdominal obesity. Brain Behav Immun 2005; 19: 275–280.

Block JP, He Y, Zaslavsky AM, Ding L, Ayanian JZ . Psychosocial stress and change in weight among US adults. Am J Epidemiol 2009; 170: 181–192.

Brunner EJ, Chandola T, Marmot MG . Prospective effect of job strain on general and central obesity in the Whitehall II Study. Am J Epidemiol 2007; 165: 828–837.

Rutters F, Nieuwenhuizen AG, Lemmens SGT, Born JM, Westerterp-Plantenga MS . Acute stress-related changes in eating in the absence of hunger. Obesity 2008; 17: 72–77.

Ely DR, Dapper V, Marasca J, Corrêa JB, Gamaro GD, Xavier MH et al. Effect of restraint stress on feeding behavior of rats. Physiol Behav 1997; 61: 395–398.

Ng DM, Jeffery RW . Relationships between perceived stress and health behaviors in a sample of working adults. Health Psychol 2003; 22: 638–642.

Adam TC, Epel ES . Stress, eating and the reward system. Physiol Behav 2007; 91: 449–458.

Greeno CG, Wing RR . Stress-induced eating. Psychol Bull 1994; 115: 444–464.

Laitinen J, Ek E, Sovio U . Stress-related eating and drinking behavior and body mass index and predictors of this behavior. Prev Med 2002; 34: 29–39.

Small DM, Veldhuizen MG, Felsted JA, Mak YE, McGlone F . Separable substrates for anticipatory and consummatory food chemosensation. Neuron 2008; 57: 786–797.

Felsted JA, Ren X, Chouinard-Decorte F, Small DM . Genetically determined differences in brain response to a primary food reward. J Neurosci 2010; 30: 2428–2432.

Gottfried JA, O'Doherty J, Dolan RJ . Encoding predictive reward value in human amygdala and orbitofrontal cortex. Science 2003; 301: 1104–1107.

Beaver JD, Lawrence AD, van Ditzhuijzen J, Davis MH, Woods A, Calder AJ . Individual differences in reward drive predict neural responses to images of food. J Neurosci 2006; 26: 5160–5166.

Small DM, Gerber JC, Mak YE, Hummel T . Differential neural responses evoked by orthonasal versus retronasal odorant perception in humans. Neuron 2005; 47: 593–605.

Stice E, Yokum S, Blum K, Bohon C . Weight gain is associated with reduced striatal response to palatable food. J Neurosci 2010; 30: 13105–13109.

Yokum S, Ng J, Stice E . Attentional bias to food images associated with elevated weight and future weight gain: an fMRI study, 2011; 19: 1775–1783.

Stice E, Spoor S, Bohon C, Small DM . Relation between obesity and blunted striatal response to food is moderated by TaqIA A1 allele. Science 2008; 322: 449–452.

Chouinard-Decorte F, Felsted JA, Small DM . Increased amygdala response and decreased influence of internal state on amygdala response to food in overweight compared to healthy weight individuals. Appetite 2010; 54: 639.

Duvarci S, Pare D . Glucocorticoids enhance the excitability of principal basolateral amygdala neurons. J Neurosci 2007; 27: 4482–4491.

Mitra R, Jadhav S, McEwen BS, Vyas A, Chattarji S . Stress duration modulates the spatiotemporal patterns of spine formation in the basolateral amygdala. Proc Natl Acad Sci USA 2005; 102: 9371–9376.

Pelletier JG, Likhtik E, Filali M, Par D . Lasting increases in basolateral amygdala activity after emotional arousal: implications for facilitated consolidation of emotional memories. Learn Mem 2005; 12: 96–102.

Cousijn H, Rijpkema M, Qin S, van Marle HJF, Franke B, Hermans EJ et al. Acute stress modulates genotype effects on amygdala processing in humans. Proc Natl Acad Sci USA 2010; 107: 9867–9872.

Tillfors M, Furmark T, Marteinsdottir I, Fischer H, Pissiota A, Langstrom B et al. Cerebral blood flow in subjects with social phobia during stressful speaking tasks: a PET study. Am J Psychiatry 2001; 158: 1220–1226.

Tillfors M, Furmark T, Marteinsdottir I, Fredrikson M . Cerebral blood flow during anticipation of public speaking in social phobia: a PET study. Biol Psychiatry 2002; 52: 1113–1119.

Gianaros PJ, Sheu LK, Matthews KA, Jennings JR, Manuck SB, Hariri AR . Individual differences in stressor-evoked blood pressure reactivity vary with activation, volume, and functional connectivity of the amygdala. J Neurosci 2008; 28: 990–999.

Taylor SE, Burklund LJ, Eisenberger NI, Lehman BJ, Hilmert CJ, Lieberman MD . Neural bases of moderation of cortisol stress responses by psychosocial resources. J Pers Soc Psychol 2008; 95: 197–211.

Holland PC, Petrovich GD, Gallagher M . The effects of amygdala lesions on conditioned stimulus-potentiated eating in rats. Physiol Behav 2002; 76: 117–129.

Weingarten H . Conditioned cues elicit feeding in sated rats: a role for learning in meal initiation. Science 1983; 220: 431–433.

LaBar KS, Gitelman DR, Parrish TB, Kim YH, Nobre AC, Mesulam MM . Hunger selectively modulates corticolimbic activation to food stimuli in humans. Behav Neurosci 2001; 115: 493–500.

O'Doherty JP, Deichmann R, Critchley HD, Dolan RJ . Neural responses during anticipation of a primary taste reward. Neuron 2002; 33: 815–826.

Mohanty A, Gitelman DR, Small DM, Mesulam MM . The spatial attention network interacts with limbic and monoaminergic systems to modulate motivation-induced attention shifts. Cerebral Cortex 2008; 18: 2604–2613.

O'Doherty J, Rolls ET, Francis S, Bowtell R, McGlone F, Kobal G et al. Sensory-specific satiety-related olfactory activation of the human orbitofrontal cortex. NeuroReport 2000; 11: 893–897.

Malik S, McGlone F, Bedrossian D, Dagher A . Ghrelin modulates brain activity in areas that control appetitive behavior. Cell Metabol 2008; 7: 400–409.

Stoeckel LE, Weller RE, Cook III EW, Twieg DB, Knowlton RC, Cox JE . Widespread reward-system activation in obese women in response to pictures of high-calorie foods. NeuroImage 2008; 41: 636–647.

Small DM . Toward an understanding of the brain substrates of reward in humans. Neuron 2002; 33: 668–671.

Nolan-Poupart S, Veldhuizen MG . Midbrain and Medial Orbital Cortex Response to Milkshake Predicts Ad Lib Milkshake Intake. Poster presented at: Organization for Human Brain Mapping Annual Meeting, 26–30 June 2011, Quebec City, Canada.

Sinha R . Modeling stress and drug craving in the laboratory: implications for addiction treatment development. Addict Biol 2009; 14: 84–98.

Sinha R, Catapano D, O'Malley S . Stress-induced craving and stress response in cocaine dependent individuals. Psychopharmacology 1999; 142: 343–351.

Britton JC, Phan KL, Taylor SF, Fig LM, Liberzon I . Corticolimbic blood flow in posttraumatic stress disorder during script-driven imagery. Biol Psychiatry 2005; 57: 832–840.

McEwen BS, Stellar E . Stress and the individual: mechanisms leading to disease. Arch Intern Med 1993; 153: 2093–2101.

Wüst S, Federenko I, Hellhammer DH, Kirschbaum C . Genetic factors, perceived chronic stress, and the free cortisol response to awakening. Psychoneuroendocrinology 2000; 25: 707–720.

Schulz P, Kirschbaum C, Pruessner JC, Hellhammer DH . Increased free cortisol secretion after awakening in chronically stressed individuals due to work overload. Stress Health 1998; 14: 91–97.

Sinha R, Lovallo W, Parsons O . Cardiovascular differentiation of emotions. Psychosom Med 1992; 54: 422–435.

Miller GA, Levin DN, Kozak MJ, Cook EW, McLean A, Lang PJ . Individual differences in imagery and the psychophysiology of emotion. Cogn Emotion 1987; 1: 367.

Veldhuizen MG, Bender G, Constable RT, Small DM . Trying to detect taste in a tasteless solution: modulation of early gustatory cortex by attention to taste. Chem Senses 2007; 1987; 32: 569.

Friston KJ, Holmes AP, Worsley KJ, Poline J-P, Frith CD, Frackowiak RSJ . Statistical parametric maps in functional imaging: a general linear approach. Hum Brain Mapp 1994; 2: 189–210.

Worsley KJ, Friston KJ . Analysis of fMRI time-series revisited--again. NeuroImage 1995; 2: 173–181.

Strange B, Portas C, Dolan RJ, Holmes AP, Friston KJ . Random effects analysis for event-related fMRI. NeuroImage 1999; 9): 1053–1089.

Nichols T, Brett M, Anderson J, Wager T, Poline J-P . Valid conjunction inference with the minimum statistic. NeuroImage 2005; 25: 653–660.

Maldjian JA, Laurienti PJ, Kraft RA, Burdette JH . An automated method for neuroanatomic and cytoarchitectonic atlas-based interrogation of fMRI data sets. NeuroImage 2003; 19: 1233–1239.

Holsen LM, Zarcone JR, Brooks WM, Butler MG, Thompson TI, Ahluwalia JS et al. Neural mechanisms underlying hyperphagia in Prader-Willi syndrome. Obesity 2006; 14: 1028–1037.

Petrovich GD, Setlow B, Holland PC, Gallagher M . Amygdalo-hypothalamic circuit allows learned cues to override satiety and promote eating. J Neurosci 2002; 22: 8748–8753.

Ng J, Stice E, Yokum S, Bohon C . An fMRI study of obesity, food reward, and perceived caloric density. Does a low-fat label make food less appealing? Appetite 2011; 57: 65–72.

Steptoe A, Cropley M, Griffith J, Kirschbaum C . Job strain and anger expression predict early morning elevations in salivary cortisol. Psychosom Med 2000; 62: 286–292.

Marciani L, Pfeiffer JC, Hort J, Head K, Bush D, Taylor AJ et al. Improved methods for fMRI studies of combined taste and aroma stimuli. J Neurosci Meth 2006; 158: 186–194.

Rothemund Y, Preuschhof C, Bohner G, Bauknecht H-C, Klingebiel R, Flor H et al. Differential activation of the dorsal striatum by high-calorie visual food stimuli in obese individuals. NeuroImage 2007; 37: 410–421.

Karhunen LJ, Lappalainen RI, Vanninen EJ, Kuikka JT, Uusitupa MI . Regional cerebral blood flow during food exposure in obese and normal-weight women. Brain 1997; 120: 1675–1684.

Martin LE, Holsen LM, Chambers RJ, Bruce AS, Brooks WM, Zarcone JR et al. Neural mechanisms associated with food motivation in obese and healthy weight adults. Obesity 2009; 18: 254–260.

Stice E, Yokum S, Bohon C, Marti N, Smolen A . Reward circuitry responsivity to food predicts future increases in body mass: moderating effects of DRD2 and DRD4. NeuroImage 2010; 50: 1618–1625.

Pruessner M, Hellhammer DH, Pruessner JC, Lupien SJ . Self-reported depressive symptoms and stress levels in healthy young men: associations with the cortisol response to awakening. Psychosom Med 2003; 65: 92–99.

Mcewen BS . Protection and damage from acute and chronic stress: allostasis and allostatic overload and relevance to the pathophysiology of psychiatric disorders. Ann NY Acad Sci 2004; 1032: 1–7.

Tataranni PA, Larson DE, Snitker S, Young JB, Flatt JP, Ravussin E . Effects of glucocorticoids on energy metabolism and food intake in humans. Am J Physiol-Endoc M 1996; 271: E317–E325.

Bjorntorp P, Rosmond R . Neuroendocrine abnormalities in visceral obesity. Int J Obes 2000; 24 (Suppl 2): S80–S85.

Mårin P, Darin N, Amemiya T, Andersson B, Jern S, Björntorp P . Cortisol secretion in relation to body fat distribution in obese premenopausal women. Metabolism 1992; 41: 882–886.

Koo-Loeb JH, Costello N, Light KC, Girdler SS . Women with eating disorder tendencies display altered cardiovascular, neuroendocrine, and psychosocial profiles. Psychosom Med 2000; 62: 539–548.

Abell TL, Malagelada JR, Lucas AR, Brown ML, Camilleri M, Go VL et al. Gastric electromechanical and neurohormonal function in anorexia nervosa. Gastroenterology 1987; 93: 958–965.

Gluck ME, Geliebter A, Lorence M . Cortisol stress response is positively correlated with central obesity in obese women with binge eating disorder (BED) before and after cognitive-behavioral treatment. Ann NY Acad Sci 2004; 1032: 202–207.

Torres S, Nowson C . Relationship between stress, eating behavior, and obesity. Nutrition 2007; 23: 887–894.

Davidson RJ . Anxiety and affective style: role of prefrontal cortex and amygdala. Biol Psychiatry 2002; 51: 68–80.

Davidson RJ, Irwin W . The functional neuroanatomy of emotion and affective style. Trends Cog Sci 1999; 3: 11–21.

Coleman-Mesches K, McGaugh JL . Differential involvement of the right and left amygdalae in expression of memory for aversively motivated training. Brain Res 1995; 670: 75–81.

Adamec RE, Morgan HD . The effect of kindling of different nuclei in the left and right amygdala on anxiety in the rat. Physiol Behav 1994; 55: 1–12.

Morris JS, Ohman A, Dolan RJ . A subcortical pathway to the right amygdala mediating "unseen" fear. Proc Natl Acad Sci USA 1999; 96: 1680–1685.

Bremner JD, Narayan M, Anderson ER, Staib LH, Miller HL, Charney DS . Hippocampal volume reduction in major depression. Am J Psychiatry 2000; 157: 115–118.

Angrilli A, Mauri A, Palomba D, Flor H, Birbaumer N, Sartori G et al. Startle reflex and emotion modulation impairment after a right amygdala lesion. Brain 1996; 119: 1991–2004.

Adolphs R, Tranel D, Damasio H . Emotion recognition from faces and prosody following temporal lobectomy. Neuropsychology 2001; 15: 396–404.

Rauch SL, Whalen PJ, Shin LM, McInerney SC, Macklin ML, Lasko NB et al. Exaggerated amygdala response to masked facial stimuli in posttraumatic stress disorder: a functional MRI study. Biol Psychiatry 2000; 47: 769–776.

Born JM, Lemmens SGT, Rutters F, Nieuwenhuizen AG, Formisano E, Goebel R et al. Acute stress and food-related reward activation in the brain during food choice during eating in the absence of hunger. Int J Obes 2009; 34: 172–181.

Bohon C, Stice E, Spoor S . Female emotional eaters show abnormalities in consummatory and anticipatory food reward: a functional magnetic resonance imaging study. Int J Eat Disord 2009; 42: 210–221.

Hinton EC, Parkinson JA, Holland AJ, Arana FS, C Roberts A, Owen AM . Neural contributions to the motivational control of appetite in humans. Eur J Neurosci 2004; 20: 1411–1418.
Acknowledgements
We thank Sandra Stankovic and Dr Keri Bergquist for assistance in study design and Dr Marga Veldhuizen for assistance in data processing. This work was funded by the National Institutes of Health (NIH) R01DK085579 and U54 DA022292 pilot project awarded to DMS, as well as the NIH Roadmap for Medical Research Common Fund grants UL1-RR024139 (Yale Clinical and Translational Science Award), UL1-DE019586 and the PL1-DA024859 awarded to RS and NIH NRSA F31-DC010557-01 awarded to KJR.
Ethics declarations
Competing interests
The authors declare no conflict of interest.
About this article
Cite this article
Rudenga, K., Sinha, R. & Small, D. Acute stress potentiates brain response to milkshake as a function of body weight and chronic stress. Int J Obes 37, 309–316 (2013). https://doi.org/10.1038/ijo.2012.39
Received:

Revised:

Accepted:

Published:

Issue Date:

DOI: https://doi.org/10.1038/ijo.2012.39
Keywords
stress potentiates brain response to food in obese with chronic stress

risk factors for obesity

obesity and the brain

neuroimaging
This article is cited by
W. Kyle Simmons
Kaiping Burrows
Wayne C. Drevets

Molecular Psychiatry (2020)