Abstract
Primary care providers (PCPs) can empower their patients to make health-promoting behavior changes. Many guidelines recommend that PCPs counsel overweight and obese patients about weight loss, yet few studies examine the impact of provider weight loss counseling on actual changes in patient behavior. We performed a systematic review and meta-analysis of published studies of survey data examining provider weight loss counseling and its association with changes in patient weight loss behavior. We reviewed the published literature using keywords related to weight loss advice. We used meta-analytic techniques to compute and aggregate effect sizes for the meta-analysis. We also tested variables that had the potential to moderate the responses. A total of 32 studies met criteria for the literature review. Of these, 12 were appropriate for the meta-analysis. Most studies demonstrated a positive effect of provider weight loss advice on patient weight loss behavior. In random effects meta-analysis, the overall mean weighted effect size for patient weight loss efforts was odds ratio (OR)=3.85 (95% confidence interval (CI) 2.71, 5.49; P<0.01), indicating a statistically significant impact of weight loss advice. There was no significant difference in the effectiveness of advice in studies using obese patients alone versus mixed samples (obese alone OR=3.44, 95% CI 2.37, 5.00; mixed sample OR=3.98, 95% CI 2.53, 6.26, P=0.63). PCP advice on weight loss appears to have a significant impact on patient attempts to change behaviors related to their weight. Providers should address weight loss with their overweight and obese patients.
Relevant articles
Open Access articles citing this article.
Aliki Peletidi

&

Reem Kayyali

Journal of Pharmaceutical Policy and Practice Open Access 18 November 2022

Carolyn J. Heckman

,

Sharon L. Manne

…

Elliot J. Coups

BMC Public Health Open Access 08 May 2021

Judith K. Ockene

,

Lori Pbert

…

Alan C. Geller

Journal of General Internal Medicine Open Access 09 April 2021
Access options
Subscribe to Journal
Get full journal access for 1 year
$119.00
only $9.92 per issue
All prices are NET prices.
VAT will be added later in the checkout.
Tax calculation will be finalised during checkout.
Buy article
Get time limited or full article access on ReadCube.
$32.00
All prices are NET prices.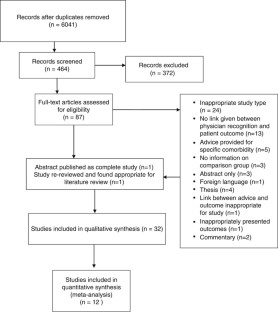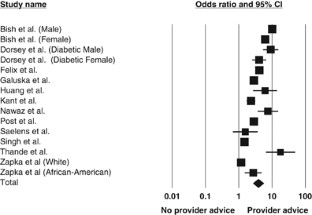 References
Bray G . Risks of obesity. Endocrinol Metab Clin North Am 2003; 32: 787–804.

Flegal KM, Graubard BI, Williamson DF, Gail MH . Cause-specific excess deaths associated with underweight, overweight, and obesity. JAMA 2007; 298: 2028–2037.

Will JC, Williamson DF, Ford ES, Calle EE, Thun MJ . Intentional weight loss and 13-year diabetes incidence in overweight adults. Am J Public Health 2002; 92: 1245–1248.

Williamson DF, Pamuk E, Thun M, Flanders D, Byers T, Clark H . Prospective study of intentional weight loss and mortality in never-smoking overweight US white women aged 40–64 years. Am J Epidemiol 1995; 141: 1128–1141.

Smith P, Sellick S, Brink P, Edwardson A . Brief smoking cessation interventions by family physicians in northwestern Ontario rural hospitals. Can J Rural Med 2009; 14: 47–53.

Fiore M, Jaén C, Baker T, Bailey WC, Benowitz NL, Curry SJ et al. Treating Tobacco Use and Dependence: 2008 Update.. Publisher: United States Department of Health and Human Services, Public Health Service: Rockville, MD, 2008. Available at: www.ncbi.nlm.nih.gov/books/bv.fcgi?rid=hstat2.chapter.28163.

HEDIS 2009 Public Comment, 2008. (Accessed 30 July 2008, at http://www.ncqa.org/tabid/661/Default.aspx ).

US Preventive Services Task Force. Screening for obesity in adults: recommendations and rationale. Ann Int Med 2003; 139: 930–932.

Executive summary of the clinical guidelines on the identification, evaluation, and treatment of overweight and obesity in adults, 1998. (Accessed 29 May 2007, at http://www.nhlbi.nih.gov/guidelines/obesity/ob_gdlns.pdf ).

Brotons C, Björkelund C, Bulc M, Ciurana R, Godycki-Cwirko M, Jurgova E et al. Prevention and health promotion in clinical practice: the views of general practitioners in Europe. Prev Med 2005; 40: 595–601.

Screening and interventions to prevent obesity in adults, 2003. (Accessed 14 May 2008, at http://www.ahrq.gov/clinic/USpstf/uspsobes.htm ).

Body mass index (BMI) assessment for adults (BAA), 2008. (Accessed 25 April 2008, at http://www.ncqa.org/Portals/0/PublicComment/HEDIS2009/BAA_Specs_and_Workup_PDF.pdf ).

Jackson J, Doescher M, Saver B, Hart L . Trends in professional advice to lose weight among obese adults. J Gen Intern Med 2005; 20: 814–818.

Epstein L, Ogden J . A qualitative study of GPs' views of treating obesity. Br J Gen Pract 2005; 55: 750–754.

Whittemore R, Melkus G, Wagner J, Dziura J, Northrup V, Grey M . Translating the diabetes prevention program to primary care: a pilot study. Nurs Res 2009; 58: 2–12.

Douglas F, Torrance N, van Teilingen E, Meloni S, Kerr A . Primary care staff's views and experiences related to routinely advising patients about physical activity. A questionnaire survey. BMC Public Health 2006; 6: 138.

Hudon E, Beaulieu M, Roberge D . Integration of the recommendations of the Canadian Task Force on preventive health care. Fam Pract 2004; 24: 11–17.

Galuska D, Will J, Serdula M, Ford E . Are health care professionals advising obese patients to lose weight? JAMA 1999; 282: 1576–1578.

Huang J, Yu H, Marin E, Brock S, Carden D, Davis T . Physicians' weight loss counseling in two public hospital primary care clinics. Acad Med 2004; 79: 156–161.

Kant A, Miner P . Physician advice about being overweight: association with self-reported weight loss, dietary and physical activity behaviors of US adolescents in the National Health and Nutrition Examination Survey, 1999–2002. Pediatrics 2007; 119: e142–e147.

Mehotra C, Naimi T, Serdula M, Bolen J, Pearson K . Arthritis, body mass index, and professional advice to lose weight: implications for clinical medicine and public health. Am J Prev Med 2004; 27: 16–21.

Thande N, Hurstak E, Sciacca R, Giardina E . Management of obesity: a challenge for medical training and practice. Obesity 2009; 17: 107–113.

Moher D, Liberati A, Tetzlaff J, Altman D . Preferred reporting items for systematic reviews and meta-analyses: the PRISMA statement. PLOS Med 2009; 6: e1000097.

Zaza S, Wright-De Agüero LK, Briss PA, Truman BI, Hopkins DP, Hennessy MH et al. Data collection instrument and procedure for systematic reviews in the guide to community preventive services. Task force on community preventive services. Am J Prev Med 2000; 18 (1 Suppl): 44–74.

Lipsey M, Wilson D . Practical Meta-Analysis (Chapter 6). Sage Publications Inc.: Thousand Oaks, CA, 2001.

Singh S, Lopez-Jimenez F . Medically diagnosed overweight and weight loss in a US national survey. Prev Med 2010; 51: 24 .

Nawaz H, Adams M, Katz D . Weight loss counseling by health care providers. Am J Public Health 1999; 89: 764–767.

Pollak K, Ostbye T, Alexander S, Gradison M, Bastian L, Brouwer R, Lyna P . Empathy goes a long way in weight loss discussions. J Fam Pract 2007; 56: 1031–1036.

Saelens B, Jelalian E, Kukene D . Physician weight loss counseling for adolescents. Clin Pediatr 2002; 41: 575–585.

Abid O, Galuska D, Kettel Khan L, Gillespie C, Ford E, Serdula M . Are healthcare professionals advising obese patients to lose weight? A trend analysis. Med Gen Med 2005; 7: 10.

Felix H, West D, Bursac Z . Impact of USPSTF practice guidelines on clinician weight loss counseling as reported by obese patients. Prev Med 2008; 47: 394–397.

Fontaine K, Haez S, Bartlett S . Are overweight and obese adults with arthritis being advised to lose weight? J Clin Rheumatol 2007; 13: 12–15.

Wang A, Kinsinger L, Kahwati L, Das S, Gizlice Z, Harvey R et al. Obesity and weight control practices in 2000 among veterans using VA facilities. Obes Res 2005; 13: 1405–1411.

Kabeer N, Simoes E, Murayi T, Brownson R . Correlates of overweight and weight loss practices in Missouri. Am J Health Behav 2001; 25: 125–139.

Evans E . Why should obesity be managed? The obese individual's perspective. Int J Obes 1999; 23 (Suppl 4): S3–S6.

Fallon E, Wilcox S, Laken M . Health care provider advice for African American adults not meeting health behavior recommendations. Prev Chronic Dis 2006; 3: 1–11.

Wee C, Davis R, Phillips R . Stage of readiness to control weight and adopt weight control behaviors in primary care. J Gen Int Med 2005; 20: 410–415.

Himmel W, Stolpe C, Kochen M . Information and communication about overweight in family practice. Fam Pract Res J 1994; 14: 339–351.

Rodondi N, Humair J, Ghali W, Ruffieux C, Stoianov R, Seematter-Bagnoud L et al. Counselling overweight and obese patients in primary care: a prospective cohort study. Eur J Cardiovasc Prev Rehabil 2006; 13: 222–228.

Sciammana C, Tate D, Lang W, Wing R . Who reports receiving advice to lose weight? Results from a multistate survey. Arch Intern Med 2000; 160: 2334–2339.

Bish C, Blanck H, Serdula M, Marcus M, Kohl H, Khan L . Diet and physical activity behaviors among Americans trying to lose weight: 2000 behavioral risk factor surveillance system. Obes Res 2005; 13: 596–607.

Ford E, Mannino D, Redd S, Mokdad A, Galuska D, Serdula M . Weight loss practices and asthma: findings from the behavioral risk factor surveillance system. Obes Res 2003; 11: 81–86.

Levy B, Williamson P . Patient perceptions and weight loss of obese adults. J Fam Pract 1988; 27: 285–290.

Zapka J, Lemon S, Estabrook B, Rosal M . Factors related to weight loss behavior in a multiracial/ethnic workforce. Ethn Dis 2009; 19: 154–160.

Post RE, Mainous AG, Gregorie SH, Knoll ME, Diaz VA, Saxena SK . The influence of physician acknowledgement of patients' weight status on patient perceptions of overweight and obesity in the United States. Arch Intern Med 2011; 171: 316–320.

Pollak KI, Alexander SC, Coffman CJ, Tulsky JA, Lyna P, Dolor RJ et al. Physician communication techniques and weight loss in adults: project CHAT. Am J Prev Med 2010; 39: 321–328.

Singh S, Somers VK, Clark MM, Vickers-Douglas K, Hensrud DD, Korenfeld Y et al. Physician diagnosis of overweight status predicts attempted and successful weight loss in patients with cardiovascular disease and central obesity. Am Heart J 2010; 160: 934–942.

Dorsey R, Songer T . Lifestyle behaviors and physician advice for change among overweight and obese adults with prediabetes and diabetes in the United States, 2006. Prev Chronic Dis 2011; 8: A132.

Jay M, Gillespie C, Schlaie S, Sherman S, Kalet A . Physicians' use of the 5As in counseling obese patients: is the quality of counseling associated with patients' motivation and intention to lose weight? BMC Health Serv Res 2010; 10: 159.

Cox ME, Yancy WS, Coffman CJ, Ostbye T, Tulsky JA, Alexander SC et al. Effects of counseling techniques on patients' weight-related attitudes and behaviors in a primary care clinic. Patient Educ Couns 2011; 85: 363–368.

Alexander SC, Cox ME, Boling Turer CL, Lyna P, Ostbye T, Tulsky JA et al. Do the 5As work when physicians counsel about weight loss? Fam Med 2011; 43: 179–184.

Jay M, Schlair S, Caldwell R, Kalet A, Sherman S, Gillespie C . From the patient's perspective: the impact of training on resident physician's obesity counseling. J Gen Intern Med 2010; 25: 415–422.

National health and nutrition examination survey, 2010. (Accessed 6 July 2010, at http://www.cdc.gov/nchs/nhanes.htm ).

Walsh JM, Swangard DM, Davis T, McPhee SJ . Exercise counseling by primary care physicians in the era of managed care. Am J Prev Med 1999; 16: 307–313.

Ward R . Talking with your patients about dietary cholesterol, diet and nutrition: best practices for family physicians. Int J Clin Pract 2009; 63 (Suppl 163): 22–26.
Acknowledgements
We thank James Meigs and Elisabeth Watkins for review and editing of this manuscript. We thank Heather Bush and Daisuke Sugimoto for assistance with biostatistical analysis and editing.
Ethics declarations
Competing interests
Dr Anderson currently has research support from Health Management Resources (HMR), and is a consultant to HMR.
About this article
Cite this article
Rose, S., Poynter, P., Anderson, J. et al. Physician weight loss advice and patient weight loss behavior change: a literature review and meta-analysis of survey data. Int J Obes 37, 118–128 (2013). https://doi.org/10.1038/ijo.2012.24
Received:

Revised:

Accepted:

Published:

Issue Date:

DOI: https://doi.org/10.1038/ijo.2012.24
Keywords
physician

counseling

documentation

patient behavior

meta-analysis