Abstract
Background:
Severe obesity has increased >300% in US children since 1976, and is associated with multiple cardiovascular risk factors and high adult obesity rates.
Objective:
The objective of this study was to identify predictors of severe obesity in kindergarteners.
Methods:
Multivariable logistic regression and recursive partitioning analysis (RPA) were used to identify prenatal/pregnancy, infant, and early childhood predictors of severe kindergarten obesity (body mass index (BMI) ⩾99th percentile) in the Early Childhood Longitudinal Study Birth Cohort, a nationally representative longitudinal study that followed children from birth through kindergarten.
Results:
For the 6800 children, the severe kindergarten obesity prevalence was 5.7%, with higher adjusted odds for crossing the 85th percentile of BMI at 2 years old (odds ratio (OR), 8.0; 95% confidence interval (CI), 4.1–15.7), preschool age (OR, 7.9; 95% CI, 4.9–12.8) and 9 months old (OR, 1.8; 95% CI, 1.2–2.6); maternal severe obesity (OR, 3.4; 95% CI, 1.9–5.8) and gestational diabetes (OR, 2.9; 95% CI, 1.5–5.5); drinking tea or coffee between meals/before bedtime at 2 years old (OR, 3.3; 95% CI, 1.3–8.5); Latino (OR, 2.3; 95% CI, 1.4–3.7) and multiracial (OR, 2.3; 95% CI, 1.1–4.8) race/ethnicity; and drinking sugary beverages at kindergarten age at least weekly (OR, 2.3; 95% CI, 1.4–3.7). Ever-attending center-based daycare (OR, 0.3; 95% CI, 0.1–0.9), eating fruit at least weekly at kindergarten age (OR, 0.3; 95% CI, 0.1–0.7), and maternal history of a prior newborn birth weight ⩾4000 g (OR, 0.1; 95% CI, 0.02–0.6) were associated with reduced odds of severe obesity. RPA identified low severe obesity prevalence (1.9%) for non-85th BMI-percentile preschool crossers and high severe obesity (56–80%) for predictor clusters which included crossing the 85th BMI percentile at earlier ages, low parental education, specific maternal age cutoffs, preschooler bedtime rules, and outside walking/play frequency for 9-month-olds.
Conclusions:
Certain parental, prenatal/pregnancy, infant, and early childhood factors, both alone and in combination, are potent predictors of severe obesity in kindergarteners.
Relevant articles
Open Access articles citing this article.
Cole D. Bendor

,

Aya Bardugo

…

Gilad Twig

Cardiovascular Diabetology Open Access 13 June 2020

Falucar Njuieyon

,

Emma Cuadro-Alvarez

…

Narcisse Elenga

BMC Pediatrics Open Access 09 June 2018

Erin R. Hager

,

Candice E. Gormley

…

Maureen M. Black

BMC Public Health Open Access 06 September 2016
Access options
Subscribe to Journal
Get full journal access for 1 year
$119.00
only $9.92 per issue
All prices are NET prices.
VAT will be added later in the checkout.
Tax calculation will be finalised during checkout.
Buy article
Get time limited or full article access on ReadCube.
$32.00
All prices are NET prices.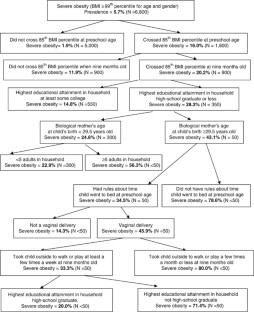 References
Barlow SE . Expert Committee recommendations regarding the prevention, assessment, and treatment of child and adolescent overweight and obesity: summary report. Pediatrics 2007; 120: S164–S192.

Skelton JA, Cook SR, Auinger P, Klein JD, Barlow SE . Prevalence and trends of severe obesity among US children and adolescents. Acad Pediatr 2009; 9: 322–329.

Skinner AC, Mayer ML, Flower K, Perrin EM, Weinberger M . Using BMI to determine cardiovascular risk in childhood: how do the BMI cutoffs fare? Pediatrics 2009; 124: e905–e912.

Freedman DS, Mei Z, Srinivasan SR, Berenson GS, Dietz WH . Cardiovascular risk factors and excess adiposity among overweight children and adolescents: the Bogalusa Heart Study. J Pediatr 2007; 150: 12–17.

Skinner AC, Steiner MJ, Henderson FW, Perrin EM . Multiple markers of inflammation and weight status: cross-sectional analyses throughout childhood. Pediatrics 2010; 125: e801–e809.

Rappaport EB, Daskalakis C, Andrel J . Obesity and other predictors of absenteeism in Philadelphia school children. J Sch Health 2011; 81: 341–344.

Knittle JL, Timmers K, Ginsberg-Fellner F, Brown RE, Katz DP . The growth of adipose tissue in children and adolescents. Cross-sectional and longitudinal studies of adipose cell number and size. J Clin Invest 1979; 63: 239–246.

Spalding KL, Arner E, Westermark PO, Britton T, Rydén M, Frisén J et al. Dynamics of fat cell turnover in humans. Nature 2008; 453: 783–787.

Andreassen C, Fletcher P . Early Childhood Longitudinal Study, Birth Cohort (ECLS-B) Psychometric Report for the 2-Year Data Collection. National Center for Education Statistics, Institute of Education Sciences, US Department of Education: Washington, DC, 2007. (NCES 2007–084).

Najarian M, Snow K, Lennon J, Kinsey S . Early Childhood Longitudinal Study, Birth Cohort (ECLS-B), Preschool–Kindergarten 2007 Psychometric Report. National Center for Education Statistics, Institute of Education Sciences; US Department of Education: Washington, DC, 2010. (NCES 2010-009).

National Center for Health Statistics 2000 CDC growth charts: United States. http://www.cdc.gov/nccdphp/dnpao/growthcharts/resources/sas.htm (accessed 29 June 2012).

UCLA: Academic Technology Services, Statistical Consulting Group: Using proc multtest to perform multiple comparisons. http://www.ats.ucla.edu/stat/sas/library/multtest.htm (accessed 29 June 2012).

Zhang J, Yu KF . What's the relative risk? A method of correcting the odds ratio in cohort studies of common outcomes. JAMA 1998; 280: 1690–1691.

Therneau TM, Atkinson EJ . An Introduction to Recursive Partitioning Using the RPART Routines. The Mayo Foundation for Medical Education and Research: Rochester, MN, 1997. pp 1–52.

Ekelund U, Ong K, Linné Y, Neovius M, Brage S, Dunger DB et al. Upward weight percentile crossing in infancy and early childhood independently predicts fat mass in young adults: the Stockholm Weight Development Study (SWEDES). Am J Clin Nutr 2006; 83: 324–330.

Dubois L, Girard M . Early determinants of overweight at 4.5 years in a population-based longitudinal study. Int J Obes (Lond) 2006; 30: 610–617.

Dennison BA, Edmunds LS, Stratton HH, Pruzek RM . Rapid infant weight gain predicts childhood overweight. Obesity (Silver Spring) 2006; 14: 491–499.

Hui LL, Schooling CM, Leung SS, Mak KH, Ho LM, Lam TH et al. Birth weight, infant growth, and childhood body mass index: Hong Kong's children of 1997 birth cohort. Arch Pediatr Adolesc Med 2008; 162: 212–218.

Taveras EM, Rifas-Shiman SL, Belfort MB, Kleinman KP, Oken E, Gillman MW . Weight status in the first 6 months of life and obesity at 3 years of age. Pediatrics 2009; 123: 1177–1183.

Silverwood RJ, De Stavola BL, Cole TJ, Leon DA . BMI peak in infancy as a predictor for later BMI in the Uppsala Family Study. Int J Obes (Lond) 2009; 33: 929–937.

Freedman DS, Sherry B . The validity of BMI as an indicator of body fatness and risk among children. Pediatrics 2009; 124 (Suppl 1): S23–S34.

Whitaker RC, Wright JA, Pepe MS, Seidel KD, Dietz WH . Predicting obesity in young adulthood from childhood and parental obesity. N Engl J Med 1997; 337: 869–873.

Maffeis C, Talamini G, Tatò L . Influence of diet, physical activity and parents' obesity on children's adiposity: a four-year longitudinal study. Int J Obes Relat Metab Disord 1998; 22: 758–764.

Burke V, Beilin LJ, Dunbar D . Family lifestyle and parental body mass index as predictors of body mass index in Australian children: a longitudinal study. Int J Obes Relat Metab Disord 2001; 25: 147–157.

Mårild S, Bondestam M, Bergström R, Ehnberg S, Hollsing A, Albertsson-Wikland K . Prevalence trends of obesity and overweight among 10-year-old children in western Sweden and relationship with parental body mass index. Acta Paediatr 2004; 93: 1588–1595.

Semmler C, Ashcroft J, van Jaarsveld CH, Carnell S, Wardle J . Development of overweight in children in relation to parental weight and socioeconomic status. Obesity (Silver Spring) 2009; 17: 814–820.

Moraeus L, Lissner L, Yngve A, Poortvliet E, Al-Ansari U, Sjöberg A . Multi-level influences on childhood obesity in Sweden: societal factors, parental determinants and child's lifestyle. Int J Obes (Lond) 2012; 36: 969–976.

Philipps LH, Santhakumaran S, Gale C, Prior E, Logan KM, Hyde MJ et al. The diabetic pregnancy and offspring BMI in childhood: a systematic review and meta-analysis. Diabetologia 2011; 54: 1957–1966.

Kim SY, England JL, Sharma JA, Njoroge T . Gestational diabetes mellitus and risk of childhood overweight and obesity in offspring: a systematic review. Exp Diabetes Res 2011; 2011: 541308.

Hillier TA, Pedula KL, Schmidt MM, Mullen JA, Charles MA, Pettitt DJ . Childhood obesity and metabolic imprinting: the ongoing effects of maternal hyperglycemia. Diabetes Care 2007; 30: 2287–2292.

Freedman DS, Khan LK, Serdula MK, Ogden CL, Dietz WH . Racial and ethnic differences in secular trends for childhood BMI, weight, and height. Obesity (Silver Spring) 2006; 14: 301–308.

Flores G, Maldonado J, Durán P . Making tortillas without lard: Latino parents' perspectives on healthy eating, physical activity, and weight-management strategies for overweight Latino children and adolescents. J Acad Nutr Diet 2012; 112: 81–89.

Flores G, Tomany-Korman SC . Racial and ethnic disparities in medical and dental health, access to care, and use of services in US children. Pediatrics 2008; 121: e286–e298.

Storey ML, Forshee RA, Anderson PA . Beverage consumption in the US population. J Am Diet Assoc 2006; 106: 1992–2000.

Malik VS, Schulze MB, Hu FB . Intake of sugar-sweetened beverages and weight gain: a systematic review. Am J Clin Nutr 2006; 84: 274–288.

Vartanian LR, Schwartz MB, Brownell KD . Effects of soft drink consumption on nutrition and health: a systematic review and meta-analysis. Am J Public Health 2007; 97: 667–675.

Ludwig DS . Effects of decreasing sugar-sweetened beverage consumption on body weight in adolescents: a randomized, controlled pilot study. Pediatrics 2006; 117: 673–680.

James J, Thomas P, Cavan D, Kerr D . Preventing childhood obesity by reducing consumption of carbonated drinks: cluster randomised controlled trial. BMJ 2004; 328: 1237.

Rolls BJ, Ello-Martin JA, Tohill BC . What can intervention studies tell us about the relationship between fruit and vegetable consumption and weight management? Nutr Rev 2004; 62: 1–17.

Zask A, Adams JK, Brooks LO, Hughes DF . Tooty Fruity Vegie: an obesity prevention intervention evaluation in Australian preschools. Health Promot J Austr 2012; 23: 10–15.

Koleilat M, Harrison GG, Whaley S, McGregor S, Jenks E, Afifi A . Preschool enrollment is associated with lower odds of childhood obesity among WIC participants in LA County. Matern Child Health J 2012; 16: 706–712.

Lumeng JC, Gannon K, Appugliese D, Cabral HJ, Zuckerman B . Preschool child care and risk of overweight in 6- to 12-year-old children. Int J Obes (Lond) 2005; 29: 60–66.

Maher EJ, Li G, Carter L, Johnson DB . Preschool child care participation and obesity at the start of kindergarten. Pediatrics 2008; 122: 322–330.

Benjamin SE, Rifas-Shiman SL, Taveras EM et al. Early child care and adiposity at ages 1 and 3 years. Pediatrics 2009; 124: 555–562.

Tandon PS, Garrison MM, Christakis DA . Physical activity and beverages in home- and center-based child care programs. J Nutr Educ Behav 2012; 44: 355–359.

Feinstein AR . Multivariable Analysis. An Introduction. Yale University Press: New Haven, CT, 1996.

Scott JG, Bauchet L, Fraum TJ, Nayak L, Cooper AR, Chao ST et al. Recursive partitioning analysis of prognostic factors for glioblastoma patients aged 70 years or older. Cancer 2012. e-pub ahead of print 19 April 2012; doi: 10.1002/cncr.27570.

Ortega H, Miller DP, Li H . Characterization of asthma exacerbations in primary care using cluster analysis. J Asthma 2012; 49: 158–169.

Ambalavanan N, Carlo WA, McDonald SA et al. Identification of extremely premature infants at high risk of rehospitalization. Pediatrics 2011; 128: e1216–e1225.

Neuman MI, Monuteaux MC, Scully KJ, Bachur RG . Prediction of pneumonia in a pediatric emergency department. Pediatrics 2011; 128: 246–253.
Ethics declarations
Competing interests
The authors declare no conflict of interest.
Additional information
Author contributions
Dr Flores had full access to all of the data in the study and takes responsibility for the integrity of the data and the accuracy of the data analysis. Flores and Lin were responsible for the study concept and design, acquisition of data, analysis and interpretation of data, drafting of the manuscript, critical revision of the manuscript for important intellectual content, and statistical analysis. Administrative, technical or material support, and study supervision were provided by Flores.
About this article
Cite this article
Flores, G., Lin, H. Factors predicting severe childhood obesity in kindergarteners. Int J Obes 37, 31–39 (2013). https://doi.org/10.1038/ijo.2012.168
Received:

Revised:

Accepted:

Published:

Issue Date:

DOI: https://doi.org/10.1038/ijo.2012.168
Keywords
overweight

children

early childhood

recursive partitioning analysis