Abstract
Objective:
Low vitamin D (VD) levels are common in obesity. We hypothesized that this may be due to metabolism of VD in adipose tissue (AT). Thus, we studied (1) whether the VD-metabolizing enzymes were expressed differently in AT of lean and obese individuals and in visceral adipose tissue (VAT) and subcutaneous adipose tissue (SAT), and (2) whether their expression was influenced by weight loss.
Methods:
Samples of SAT and VAT were analyzed for expression of the vitamin-D-25-hydroxylases CYP2R1, CYP2J2, CYP27A1 and CYP3A4, the 25-vitamin-D-1α-hydroxylase CYP27B1, the catabolic vitamin-D-24-hydroxylase CYP24A1, and the vitamin D receptor, using reverse transcriptase-PCR. Moreover, plasma 25-hydroxy-vitamin D (25OHD) level was measured and related to the expression of these enzymes. Samples of SAT and VAT from 20 lean women and 20 obese women, and samples of SAT from 17 obese subjects before and after a 10% weight loss were analyzed.
Results:
A plasma 25OHD level <50 nmol l−1 was highly prevalent in both lean (45%) and obese (90%) women (P<0.01). Plasma 25OHD increased by 27% after weight loss in the obese individuals (P<0.05). Expression levels of the 25-hydroxylase CYP2J2 and the 1α-hydroxylase CYP27B1 were decreased by 71% (P<0.0001) and 49% (P<0.05), respectively, in SAT of the obese. CYP24A1 did not differ between lean and obese women, but the expression was increased by 79% (P<0.05) after weight loss.
Conclusion:
Obesity is characterized by a decreased expression of the 25-hydroxylase CYP2J2 and the 1α-hydroxylase CYP27B1 in SAT, whereas the catabolic CYP24A1 does not differ between lean and obese women. However, the expression of CYP24A1 is increased after weight loss. Accordingly, AT has the capacity to metabolize VD locally, and this can be dynamically altered during obesity and weight loss.
Relevant articles
Open Access articles citing this article.
Joshua J. Joseph

,

Susan Langan

…

Sherita H. Golden

Nutrition & Diabetes Open Access 13 October 2022

Malgorzata Grzesiak

,

Gabriela Burzawa

…

Agnieszka Rak

Histochemistry and Cell Biology Open Access 23 October 2020

Rebecca J. Moon

,

Justin H. Davies

…

Nicholas C. Harvey

Calcified Tissue International Open Access 14 May 2019
Access options
Subscribe to Journal
Get full journal access for 1 year
$119.00
only $9.92 per issue
All prices are NET prices.
VAT will be added later in the checkout.
Tax calculation will be finalised during checkout.
Buy article
Get time limited or full article access on ReadCube.
$32.00
All prices are NET prices.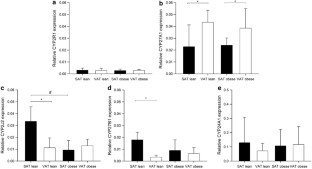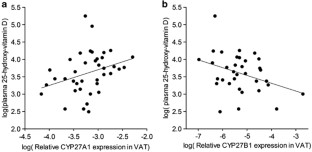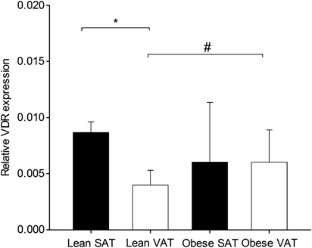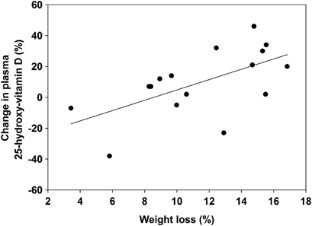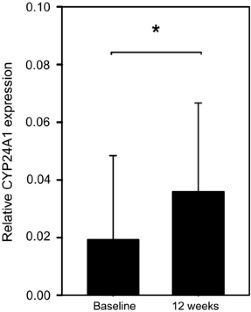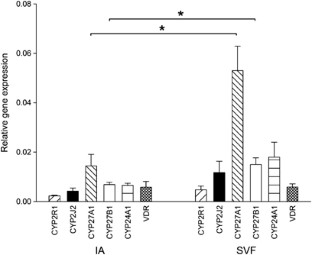 References
Parikh SJ, Edelman M, Uwaifo GI, Freedman RJ, Semega-Janneh M, Reynolds J et al. The relationship between obesity and serum 1,25-dihydroxy vitamin D concentrations in healthy adults. J Clin Endocrinol Metab 2004; 89: 1196–1199.

Snijder MB, van Dam RM, Visser M, Deeg DJ, Dekker JM, Bouter LM et al. Adiposity in relation to vitamin D status and parathyroid hormone levels: a population-based study in older men and women. J Clin Endocrinol Metab 2005; 90: 4119–4123.

Vilarrasa N, Maravall J, Estepa A, Sanchez R, Masdevall C, Navarro MA et al. Low 25-hydroxyvitamin D concentrations in obese women: their clinical significance and relationship with anthropometric and body composition variables. J Endocrinol Invest 2007; 30: 653–658.

Carlin AM, Rao DS, Meslemani AM, Genaw JA, Parikh NJ, Levy S et al. Prevalence of vitamin D depletion among morbidly obese patients seeking gastric bypass surgery. Surg Obes Relat Dis 2006; 2: 98–103.

Stein EM, Strain G, Sinha N, Ortiz D, Pomp A, Dakin G et al. Vitamin-D insufficiency prior to bariatric surgery: risk factors and a pilot treatment study. Clin Endocrinol 2009; 71: 176–183.

Earthman CP, Beckman LM, Masodkar K, Sibley SD . The link between obesity and low circulating 25-hydroxyvitamin D concentrations: considerations and implications. Int J Obes 2012; 36: 387–396.

Holick MF . The Vitamin D Epidemic and its Health Consequences. J Nutr 2005; 135: 2739S–2748S.

Holick MF, Binkley NC, Bischoff-Ferrari HA, Gordon CM, Hanley DA, Heaney RP et al. Evaluation, Treatment, and Prevention of Vitamin D Deficiency: an Endocrine Society Clinical Practice Guideline. J Clin Endocrinol Metab 2011; 96: 1911–1930.

Reinehr T, de SG, Alexy U, Kersting M, Andler W . Vitamin D status and parathyroid hormone in obese children before and after weight loss. Eur J Endocrinol 2007; 157: 225–232.

Tzotzas T, Papadopoulou FG, Tziomalos K, Karras S, Gastaris K, Perros P et al. Rising serum 25-hydroxy-vitamin D levels after weight loss in obese women correlate with improvement in insulin resistance. J Clin Endocrinol Metab 2010; 95: 4251–4257.

Villareal DT, Shah K, Banks MR, Sinacore DR, Klein S . Effect of weight loss and exercise therapy on bone metabolism and mass in obese older adults: a one-year randomized controlled trial. J Clin Endocrinol Metab 2008; 93: 2181–2187.

Mason C, Xiao L, Imayama I, Duggan CR, Bain C, Foster-Schubert KE et al. Effects of weight loss on serum vitamin D in postmenopausal women. Am J Clin Nutr 2011; 94: 95–103.

Aasheim ET, Johnson LK, Hofsø D, Bøhmer T, Hjelmesæth J . Vitamin status after gastric bypass and lifestyle intervention: a comparative prospective study. Surg Obes Relat Dis 2011; 8: 169–175.

Lin E, Armstrong-Moore D, Liang Z, Sweeney JF, Torres WE, Ziegler TR et al. Contribution of adipose tissue to plasma 25-hydroxyvitamin d concentrations during weight loss following gastric bypass surgery. Obesity (Silver Spring) 2011; 19: 588–594.

Tsiftsis D, Mylonas P, Mead N, Kalfarentzos F, Alexandrides T . Bone mass decreases in morbidly obese women after long limb-biliopancreatic diversion and marked weight loss without secondary hyperparathyroidism. A physiological adaptation to weight loss? Obes Surg 2009; 19: 1497–1503.

Sinha N, Shieh A, Stein EM, Strain G, Schulman A, Pomp A et al. Increased PTH and 1.25(OH)2D levels associated with increased markers of bone turnover following bariatric surgery. Obesity Res 2011; 19: 2388–2393.

Ruiz-Tovar J, Oller I, Tomas A, Llavero C, Arroyo A, Calero A et al. Mid-term effects of sleeve gastrectomy on calcium metabolism parameters, vitamin D and parathormone (PTH) in morbid obese women. Obes Surg 2011; 22: 797–801.

Aasheim ET, Björkman S, Søvik TT, Engström M, Hanvold SE, Mala T et al. Vitamin status after bariatric surgery: a randomized study of gastric bypass and duodenal switch. Am J Clin Nutr 2009; 90: 15–22.

Pramyothin P, Biancuzzo RM, Lu Z, Hess DT, Apovian CM, Holick MF . Vitamin D in adipose tissue and serum 25-hydroxyvitamin D after Roux-en-Y gastric bypass. Obesity Res 2011; 19: 2228–2234.

Kull M, Kallikorm R, Lember M . Body mass index determines sunbathing habits: implications on vitamin D levels. Intern Med J 2009; 39: 256–258.

Bell NH, Epstein S, Greene A, Shary J, Oexmann MJ, Shaw S . Evidence for alteration of the vitamin D-endocrine system in obese subjects. J Clin Invest 1985; 76: 370–373.

Wortsman J, Matsuoka LY, Chen TC, Lu Z, Holick MF . Decreased bioavailability of vitamin D in obesity. Am J Clin Nutr 2000; 72: 690–693.

Drincic AT, Armas LAG, Van Diest EE, Heaney RP . Volumetric dilution, rather than sequestration best explains the low vitamin D status of obesity. Obesity 2012; 20: 1444–1448.

Blum M, Dolnikowski G, Seyoum E, Harris SS, Booth SL, Peterson J et al. Vitamin D(3) in fat tissue. Endocr 2008; 33: 90–94.

Heaney RP, Horst RL, Cullen DM, Armas LAG . Vitamin D3 distribution and status in the body. J Am Coll Nutr 2009; 28: 252–256.

Mawer EB, Backhouse J, Holman CA, Lumb GA, Stanbury SW . The distribution and storage of vitamin D and its metabolites in human tissues. Clin Sci 1972; 43: 413–431.

Rosenstreich SJ, Rich C, Volwiler W . Deposition in and release of vitamin D3 from body fat: evidence for a storage site in the rat. J Clin Invest 1971; 50: 679–687.

Cheng JB, Levine MA, Bell NH, Mangelsdorf DJ, Russell DW . Genetic evidence that the human CYP2R1 enzyme is a key vitamin D 25-hydroxylase. Proc Natl Acad Sci USA 2004; 101: 7711–7715.

Shinkyo R, Sakaki T, Kamakura M, Ohta M, Inouye K . Metabolism of vitamin D by human microsomal CYP2R1. Biochem Biophys Res Commun 2004; 324: 451–457.

Gupta RP, Hollis BW, Patel SB, Patrick KS, Bell NH . CYP3A4 is a human microsomal vitamin D 25-hydroxylase. J Bone Miner Res 2004; 19: 680–688.

Usui E, Noshiro M, Ohyama Y, Okuda K . Unique property of liver mitochondrial P450 to catalyze the two physiologically important reactions involved in both cholesterol catabolism and vitamin D activation. FEBS Letters 1990; 274: 175–177.

Aiba I, Yamasaki T, Shinki T, Izumi S, Yamamoto K, Yamada S et al. Characterization of rat and human CYP2J enzymes as Vitamin D 25-hydroxylases. Steroids 2006; 71: 849–856.

Takeyama Ki Kitanaka S, Sato T, Kobori M, Yanagisawa J, Kato S . 25-Hydroxyvitamin D3 1-alpha-hydroxylase and vitamin D synthesis. Science 1997; 277: 1827–1830.

Lawson DE, Fraser DR, Kodicek E, Morris HR, Williams DH . Identification of 1,25-dihydroxycholecalciferol, a new kidney hormone controlling calcium metabolism. Nature 1971; 230: 228–230.

Zehnder D, Bland R, Williams MC, McNinch RW, Howie AJ, Stewart PM et al. Extrarenal expression of 25-hydroxyvitamin d(3)-1 alpha-hydroxylase. J Clin Endocrinol Metab 2001; 86: 888–894.

Beckman MJ, Tadikonda P, Werner E, Prahl J, Yamada S, DeLuca HF . Human 25-hydroxyvitamin D3-24-hydroxylase, a multicatalytic enzyme. Biochemistry 1996; 35: 8465–8472.

Jones G, Prosser DE, Kaufmann M . 25-Hydroxyvitamin D-24-hydroxylase (CYP24A1): Its important role in the degradation of vitamin D. Arch Biochem Biophys 2011; 523: 9–18.

Ellero S, Chakhtoura G, Barreau C, Langouët S, Benelli C, Penicaud L et al. Xenobiotic-Metabolizing Cytochromes P450 in Human White Adipose Tissue: Expression and Induction. Drug Metab Dispos 2010; 38: 679–686.

Li J, Byrne ME, Chang E, Jiang Y, Donkin SS, Buhman KK et al. 1alpha,25-Dihydroxyvitamin D hydroxylase in adipocytes. J Steroid Biochem Mol Biol 2008; 112: 122–126.

Haussler MR, Jurutka PW, Mizwicki M, Norman AW . Vitamin D receptor (VDR)-mediated actions of 1,25(OH)2vitamin D3: Genomic and non-genomic mechanisms. Best Pract Res Clin Endocrinol Metab 2011; 25: 543–559.

Kamei Y, Kawada T, Kazuki R, Ono T, Kato S, Sugimoto E . Vitamin D receptor gene expression is up-regulated by 1, 25-dihydroxyvitamin D3 in 3T3-L1 preadipocytes. Biochem Biophys Res Commun 1993; 193: 948–955.

Querfeld U, Hoffmann MM, Klaus G, Eifinger F, Ackerschott M, Michalk D et al. Antagonistic effects of vitamin D and parathyroid hormone on lipoprotein lipase in cultured adipocytes. J Am Soc Nephrol 1999; 10: 2158–2164.

Fisker S, Hansen B, Fuglsang J, Kristensen K, Ovesen P, Orskov H et al. Gene expression of the GH receptor in subcutaneous and intraabdominal fat in healthy females: relationship to GH-binding protein. Eur J Endocrinol 2004; 150: 773–777.

Christiansen T, Paulsen SK, Bruun JM, Overgaard K, Ringgaard S, Pedersen SB et al. Comparable reduction of the visceral adipose tissue depot after a diet-induced weight loss with or without aerobic exercise in obese subjects: a 12-week randomized intervention study. Eur J Endocrinol 2009; 160: 759–767.

Bruun JM, Lihn AS, Pedersen SB, Richelsen Br . Monocyte chemoattractant protein-1 release is higher in visceral than subcutaneous human adipose tissue (AT): implication of macrophages resident in the AT. J Clin Endocrinol Metab 2005; 90: 2282–2289.

Maunsell Z, Wright DJ, Rainbow SJ . Routine isotope-dilution liquid chromatography-tandem mass spectrometry assay for simultaneous measurement of the 25-hydroxy metabolites of vitamins D2 and D3. Clin Chem 2005; 51: 1683–1690.

Hojskov CS, Heickendorff L, Moller HJ . High-throughput liquid-liquid extraction and LCMSMS assay for determination of circulating 25(OH) vitamin D3 and D2 in the routine clinical laboratory. Clin Chim Acta 2010; 411: 114–116.

Mosekilde L, Nielsen LR, Larsen ER, Moosgaard B, Heickendorff L . Vitamin D deficiency. Definition and prevalence in Denmark. Ugeskr Laeger 2005; 167: 29–33.

Botella-Carretero JI, Alvarez-Blasco F, Villafruela JJ, Balsa JA, Vazquez C, Escobar-Morreale HF . Vitamin D deficiency is associated with the metabolic syndrome in morbid obesity. Clin Nutr 2007; 26: 573–580.

de Luis DA, Pacheco D, Izaola O, Terroba MC, Cuellar L, Cabezas G . Micronutrient status in morbidly obese women before bariatric surgery. Surg Obes Relat Dis 2011; e-pub ahead of print 29 October 2011; doi:10.1016/j.soard.2011.09.015.

Fish E, Beverstein G, Olson D, Reinhardt S, Garren M, Gould J . Vitamin D status of morbidly obese bariatric surgery patients. J Surg Res 2010; 164: 198–202.

Buffington C, Walker B, Cowan GS, Scruggs D . Vitamin D deficiency in the morbidly obese. Obes Surg 1993; 3: 421–424.

Geng S, Zhou S, Glowacki J . Effects of 25-hydroxyvitamin D3 on proliferation and osteoblast differentiation of human marrow stromal cells require CYP27B1/1a-hydroxylase. J Bone Miner Res 2011; 26: 1145–1153.

Holick MF . Vitamin D: extraskeletal health. Endocrinol Metab Clin North Am 2010; 39: 381–400.

Lorente-Cebrián S, Eriksson A, Dunlop T, Mejhert N, Dahlman I, Åström G et al. Differential effects of 1,25-dihydroxycholecalciferol on MCP-1 and adiponectin production in human white adipocytes. Eur J Nutr 2012; 51: 335–344.

Sun C, Qi R, Wang L, Yan J, Wang Y . p38 MAPK regulates calcium signal-mediated lipid accumulation through changing VDR expression in primary preadipocytes of mice. Mol Biol Rep 2011; 39: 3179–3184.
Acknowledgements
We thank the cosmetic surgeons at Grymers Clinic of Cosmetic Surgery, Aarhus, Denmark. We greatly appreciate the excellent technical assistance by Pia Hornbek and Lenette Pedersen.
Ethics declarations
Competing interests
The authors declare no conflict of interest.
About this article
Cite this article
Wamberg, L., Christiansen, T., Paulsen, S. et al. Expression of vitamin D-metabolizing enzymes in human adipose tissue—the effect of obesity and diet-induced weight loss. Int J Obes 37, 651–657 (2013). https://doi.org/10.1038/ijo.2012.112
Received:

Revised:

Accepted:

Published:

Issue Date:

DOI: https://doi.org/10.1038/ijo.2012.112
Keywords
vitamin D

adipose tissue

weight loss

VDR

cytochrome P450

1α-hydroxylase